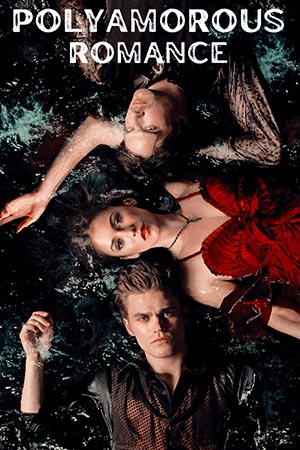 Den of Vipers is a dark fantasy romance. Roxy is a kickass character. She owns her bar. Her father is a lowlife and has a lot of debts. So she ends up selling, or he ends up selling her to this group of guys. Also, they are mobsters. The characters are legit psychotic.
You have the one guy who's in charge of everyone else. You have him as an intriguing brother. This cast of characters was so fun to read about. There is a different dynamic between Roxy and each of the guys. Read this book if you're in the mood for a real-world reverse harem mobster-type story.
7 Books Like Den of Vipers (Reverse Harem)
Den of Vipers is full of real-world themes like trauma, abuse, acceptance, self-love, self-growth, and stuff that is beautifully woven into a sexy story. The storyline itself follows basic mobsters fighting for the control of the city, which is the external plot that is happening.
But the internal plot is the romance between the main character and the harem of guys. Roxy has had a lot of physical abuse from her childhood, taking ownership of that. There are so many moments in this book where the author utilizes real-world themes of trauma. I will review 7 mafia polyamorous books similar to Den of Vipers. Let's go!
1. Resurrection: The Sainthood – Boys of Lowell High
Resurrection is the first book in the Sainthood series. This is not standalone, and this is high school bully dramatic. We have gang and past trauma. Everything in this is over the top and dramatic. Harlow is our main character, and it starts with her dad dying, and she goes to a party and hooks up with the four guys. She knows who they are, and she doesn't expect to see them again goes the whole summer without seeing them again.
Then the first day of her senior year of high school, the four guys walk in. They've all transferred because they are taking over the high school for their junior gang, so the gangs have senior members. Then if you're in high school, you're a junior member, and these guys are the head of the junior chapter for their gang, and she is trying to dismantle them.
Author: Siobhan Davis
Average Customer Review: (4.6 out of 5, on Amazon)
Category: Romantic Erotica
Available: Audiobook | Paperback | Kindle
---
2. Lilac: An Enemies-to-Lovers Romance
Lilac is about a girl, and she is a musician. She ends up joining one of her favorite bands, and something happens. If you're in a band for a long time, you're stuck with the same people's friendships. All that stuff ends up falling apart, and that's what happened in this band. She shows up. They don't want her there.
This book is full of rock star romance and reverses harem as Den of Vipers. You will see Braxton and her group of guys at the beginning, focusing on building up the music and focusing on that portion of the story. Slowly, their relationships grew from there.
Author: B.B. Reid
Average Customer Review: (4.4 out of 5, on Amazon)
Category: New Adult & College Romance
Available: Paperback | Kindle
---
3. Sacrifice (Tribute)
Like Den Of Vipers, this is a vampire polyamorous reverse harem-type story. Our main character is half-vampire, half-human. Her father ends up sending her off to the vampire to be human. There's chemistry she finds attractive upon meeting Rehz Akran. The next thing that she finds more attractive about him is that he doesn't buy anything with her.
In the beginning, he wants consent, and he wants her full consent to make an informed decision about whether she wants to be with him or not. In this world, when a pureblood vampire bites, it makes cum. So knowing that he wants it to make an informed decision and want to be with her, who wants to be with him of her own free will? They have this chemistry, and slowly they start to build this relationship, and she feels more comfortable with him.
Author: Kate Pearce
Average Customer Review: (3.8 out of 5, on Amazon)
Category: Science Fiction Erotica
Available: Paperback | Kindle
---
4. Idol Thoughts (H3RO)
This is about a very likable girl, and she lives in Texas. She has a powerful, persevering attitude. She finds out that her birth father recently passed away, and she is inheriting half of his company, a music label in the K-pop industry in South Korea. So she ends up going and taking over part of it.
Her half-brother is the villain of the story. You have this one group of guys who are not the main group in this record label, and she has to be their manager. We can tell that this will be a lot of fun and a great time. If you are interested in K-pop stories, this book is pretty much for you after Den of Vipers.
Author: J. S. Lee
Average Customer Review: (4.5 out of 5, on Amazon)
Category: Asian American Literature, Romance
Available: Paperback | Kindle
---
5. A Lady of Rooksgrave Manor (Tempting Monsters)
It's one of the books that many new people to the reverse harem genre have been reading quite lately. It is about Monster House and a sex freak girl, Esther. She is an escort for the monsters who pay membership, and she ends up enjoying what she does. Again, the main character is another strong, independent woman who accepts the monsters for who they are.
You see different characters from literary fiction like The Invisible Man and a couple of other ones that she gets into her harem. It had a ton of spicy scenes a lot of intrigue and mystery along the way as well. If you want to see some spicy monster romance like Den Of Vipers, this is one to read.
Author: Kathryn Moon
Average Customer Review: (4.5 out of 5, on Amazon)
Category: Historical & Paranormal Erotica
Available: Audiobook | Paperback | Kindle
---
6. The Beast (Wicked Villains)
The Beast is a Disney villain's retelling, and this takes place in the same world as the rest of Katee's stories do. The characters interact with each other because there's a club. It's called Hades, and or that's the name of the character that owns it, but it's underworld club. Moreover, everybody's a member of it, and they end up having BDSM relationships.
You have a polyamorous relationship, so all three are in a relationship together. These are quick, fun, and steamy reads. Check this book out if you like Disney retellings and Den of Vipers.
Author: Katee Robert
Average Customer Review: (4.6 out of 5, on Amazon)
Category: Romantic Suspense
Available: Audiobook | Paperback | Kindle
---
7. Knightfall (Tangled Crowns)
This is a fantasy reverse harem series, and in this world, there are more men than women. So having four men to one woman as a family unit is normal. It is about the Crown Princess who ran away. She finds a threat against her younger sister, who is now the acting crown princess. So she goes back to the palace to take care of her and faces the four men she jilted at the altar. It is another one where they take a little while to be nice to her, but you get there in this first book.
The magic system is interesting because you have a price to pay for any magic you use, similar to Den Of Vipers. Her price is hidden from the general public. There are many different things in the whole series and lots of vampire sex. So Princess is a lost virgin vampire queen, and her knights find her initially. There are all things that she didn't know. The plot gets bigger and bigger, and this reverse haram, she holds all the power. So all the men are good to her, and they will do anything she wants.
Author: Ann Denton
Average Customer Review: (4.4 out of 5, on Amazon)
Category: Romantic Fantasy
Available: Paperback | Kindle
---
More Hot Romance Books: 5 Books Like This Man