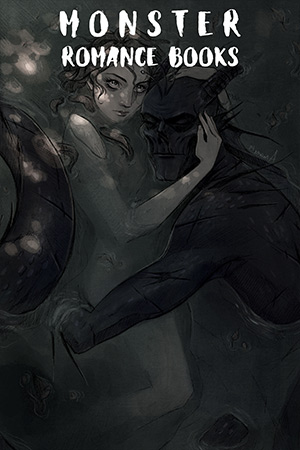 A monster is physically or mentally detestable, often an aberration in appearance and behavior. It is generally associated with the concept of evil, both in thought and action. There are evil monsters and good monsters. Evil monsters refer to villains, good monsters, heroes, or protagonists in the story.
Like humans, monsters have their own lives, world, society, love, and feelings. The supernatural power and giant look only differentiate monsters from the human. So, monster romance is the same as human romance in the fantasy genre. The story, plot, world-building, and character development all make monster romance or fiction fantastic to read.
7 Monster Romance Books
I don't count typical paranormal romance as a monster romance. Some alien romances do count, but I don't count the ones where the guy looks like a different colored human. In monster romances, the main character is legit a monster.
What's great about monster romance books is that many of them are on Kindle Unlimited. You could search the word monster romance on Google and get many hits. As a monster and alien lover, I have a big list. So, I will review my top 7 monster romance books for you. Let's do it!
| Name | Key Focus | Review (Goodreads) |
| --- | --- | --- |
| Morning Glory Milking Farm | A monster milker falls in love with his client. | 3.9 |
| Ensnared | An alien spider hero unexpectedly finds his mate who crashes lands on his planet. | 4.0 |
| His Beauty | A boy turns into a monster and wants to become a human while a girl tries to help him. | 3.3 |
| Feed | A fey and monster are coworkers, and their love story begins with a one-night stand. | 3.7 |
| A Lady of Rooksgrave Manor | Five different types of monsters' relationships with one human girl. | 4.0 |
| Bitterburn | A beast hero tries to break down his curse and turns into a human while a girl helps him. | 3.9 |
| His Human Nanny | A single alien father hires a nanny for his children, and their romance begins slowly. | 3.9 |
Monster Romance Books
1. Morning Glory Milking Farm (Cambric Creek)
Morning Glory Milking Farm went viral on TikTok. Even though it is a short book, it's still very slow in romance. The relationship between Violet and Rourke doesn't start to develop until halfway through the book. That's mainly because the first half is dedicated to violet learning how to milk miniatures. So, it's a miniature monster romance.
The miniature violet hero gets a new job as a milker, milking minotaur sperm. Miniature sperm has been commodified in this world, and they make money by selling it. One of Violet's permanent clients is our hero, Rourke. He's the only one she gets hot over when she milks him. They have cute conversations and cute banter together. Also, they don't meet up in person until the book's second half, but it is the sweetest thing once they do.
I loved how Rourke spoils Violet because he has such a filthy mouth. If you love size differences in your romances, this one will be perfect because miniatures are big all over. The writing might not be for everyone because it often flips through the past and present. But it did work for me. I love the slow-burn romance here and the setup of this monster world where humans and monsters coexist.
Author: C.M. Nascosta
Publisher: Meduas Editoriale
Tropes: Sci-fi, Age-gap, Slow-burn, Omegaverse
Number Of Pages: 252
Available: Paperback | Kindle
---
2. Ensnared (The Spider's Mate)
Ensnared in an alien romance with the most monstrous hero I have ever read. Also, it is a sci-fi alien romance with a spider hero. He's an actual giant spider, and it did not gross me out. Ensnared is the first book in a trilogy. The trilogy all follows one couple. It's another slow-burn romance, and the characters here don't even meet until 20% into the book.
Ketahn is our alien spider hero, and Ivy is our human heroine. He finds her when she crashes, lands on his planet, and steals her away to his layer. Moreover, he's super protective of her, and it's so sweet. Ivy is terrified at first of this giant spider guy, but she slowly warms to him, especially once they learn to try to communicate.
Ketahn slowly realizes that she is his mate. The romance is very unexpected, but I enjoyed it. If you are bored with it, I recommend skimming or skipping the parts with the alien queen and getting straight to the romance because it is exciting.
Author: Tiffany Roberts
Tropes: Aliens, Folklore, Forced-proximity, Fun
Number Of Pages: 346
Available: Paperback | Kindle
---
3. His Beauty
His Beauty is a Beauty and the Beast romance retelling. The Belle here is named Isla, and our beast hero stays a beast throughout the book. He does not turn back into a human. He is big and growly, beastly, and very furry all over. You'll mostly enjoy the enemies-to-lovers situation and slow friendship bonding.
The author adds some unique twists to the story to make it fresher. It's a quick and short monster romance novel. The development was weak, with many positive reviews and negative reactions. I recommend this one if you want to try to get into it because compared to the others, it's pretty light.
Author: Jack Harbon
Tropes: Erotica, Grief-and-loss, Kidnapping, Fairytales
Number Of Pages: 208
Available: Paperback | Kindle
---
4. Feed (Hunger Duet)
Feed is the shortest one on the list at around 50 pages. It is pure monster erotica. We have two main characters, Avirin and Pye. They are coworkers who do not like each other, but Avirin is a succubus. She needs physical relations one night, and the hero (Pye) shows up. Pye is fey but a unique type with different physical traits. Also, he's not the typical Fey you would find in a fantasy or dark romance.
So, the main characters have one night together, and the ending is fairly open-ended. It's pure monster smut. The author has a couple more monster hero romances, but I found this one has been my favorite so far. But don't expect too much romance in them. This one is perfect if you're looking for something more monster erotica. You can find content warnings in the blurbs.
Author: Aveda Vice
Publisher: Bad Bite LLC
Tropes: Transgender, Science Fiction, Fairies, Enemies-to-lovers, One-night-stand
Number Of Pages: 62
Available: Kindle
---
5. A Lady of Rooksgrave Manor (Tempting Monsters)
A Lady of Rooksgrave Manor is a reverse harem monster romance. Also, it's a historical, erotic romance with a human heroine named Esther, who becomes an escort when she gets a job at Rooksgrave Manor. For Monsters, she gets five heroes, a vampire, a sphinx shifter, a marble golem, a Dr. Jekyll and Mr. Hyde, and an invisible man. So, this human-monster romance does have your typical paranormal creatures like vampires and shifters, but it also does have more unique monsters.
The book is a quick read that is full of steam. Esther is a nymphomaniac and needs sex all the time. So, it's perfect that she has five heroes to help her. They all adore her, and she loves them. There is also the bisexual and gay representation that makes the story diverse. As an adult novel, I recommend avoiding it if you are not mature enough.
Author: Kathryn Moon
Illustrator: Jodielocks Designs
Tropes: Vampires, Historical, Forbidden, Angels-demons, Female-lead
Number Of Pages: 376
Available: Audiobook | Paperback | Kindle
---
6. Bitterburn (Gothic Fairytales)
Bitterburn is another Beauty And The Beast, a monster romance retelling. Instead of having a furry beast hero here, we have an ice-cold one. You can imagine what he looks like based on the book cover. But I imagined him as a white walker from Game of Thrones.
So, it is a gothic monster romance where the hero has been cursed to become a beast. Also, he's cursed to stay in his castle for ever and never allowed to leave. So, he is a prisoner, and the heroine (Amarrah) is the only one who can cross into his home and not die from it.
Amarrah starts settling in and making the castle home, and she slowly falls for the beast. The beast hero is pretty much a cinnamon roll. He's a sweetheart inside, and he loves to ask for consent. The plot, world-building, and theme are slightly weak compared to other retellings. Also, the ending was a bit boring, but the romance was cute. So if you want a monster romance on the sweeter side, this one is it.
Author: Ann Aguirre
Tropes: Gothic Romances, Fairy Tales, Grumpy-sunshine, Witches-witchcraft
Number Of Pages: 190
Available: Audiobook | Paperback | Kindle
---
7. His Human Nanny (Monsters Love Curvy Girls)
His Human Nanny is another alien sci-fi romance where the hero (Aegir) looks like the devil. I imagined him as Hellboy with the red skin because he's also got black horns, fangs, claws, and a tail, and he breathes fire. Aegir scares the crap out of our heroine (Riley) when they first meet. So he makes his new nanny faint when they first meet. So, this is a nanny alien monster romance that is pure fluff and fun.
We have a single alien dad hero who has twin babies and needs help with them. This is where our plus-sized heroine Riley comes in, and she has had no nanny experience before. But since this is her final job before she's free, she takes it and crushes on her boss.
They have the sweetest romance I have ever read, any nanny romance. But this book has some negative issues: predictable story, no depth to the character, and no real development in the relationship. Overall, you can enjoy it only for entertainment purposes.
Author: Michele Mills
Tropes: Billionaire Romance, Aliens-cyborgs, Single-parent
Number Of Pages: 126
Available: Paperback | Kindle
---
If you have any monster romance recommendations, let us know in the comment section. I am always waiting for a new one and love to hear from you. Don't forget to mention which one is your favorite one.