Hello,
This is Pauline Jackson. As a writer and blogger, I like to talk about popular books. My book review inspires you to read and save time. Also, I summarize the book and give you the best lessons or ideas to change your life. I always focus on self-development, business models, start-ups, motivation, and life solutions that help you achieve your goal. So, stay with me!
Pauline Jackson's Resume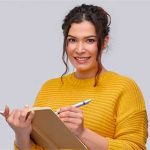 Education History
Institution: New York University.
Degree: Master of Arts in Literature.
Year of Graduation: 2019
Best Thesis.
President, Literature Club.
Institution: Hunter College.
Degree: Bachelor of Arts in Literature with Creative Writing.
Year of Graduation: 2015
Vice-President, Debate Club.
3rd Place, 2015 Best Short Story.
Work Experience
Editor
Big Sky Editorial Co.
May 2020 – June 2021
Big Sky Editorial Co, 10 E 40th St fl 20, New York, NY 10016, United States.
Meeting the needs of readers and authors/writers.
Edit the manuscript that has been changed according to the EYD language.
Prepare the manuscript to be publishable in collaboration with the assistant editor.
Content Editor
Harper and Partners Inc. is a global advertising firm that reaches online audiences.
March 2019 to August 2022 (3 years, 5 months).
Achieved a 25% increase in social media followers by developing a strong content strategy that lead to a 5% growth in sales within six months.
Boosted clients' brand recognition by 47% by developing new ideas and fresh content marketing strategies.
Increased our client base by 49% by seeking opportunities for partnership with advertisers.
Senior Copywriter
Schuster Digital Media Group.
November 2020 to January 2022 (1 year, 2 months).
Boosted our monthly output by 81% by creating daily articles, story ideas, and social media posts.
Improved the team's copy by 12% by identifying gaps in existing online content and collaborating with editors during research.
Produced online content and marketing copy by leading a team of writers and editors to promote the products and services of key clients.
Relevant Skills
Writer.
Digital Marketing.
Web Content Writing.
Expertise
Time Management (4/5).
Communication (4/5).
Problem-Solving (3.5/5).
Creativity (4/5).
Leadership (3/5).
Hobbies
Traveling.
Gardening.
Reading.
Volunteer Work, Awards, Affiliations, and Interests
Volunteer Teacher
Lily River Children's Foundation
2021 to Present
Every month, I volunteer to teach children ages 5 to 8 years old how to read and write in English.
Young Marketer of the Year Award
Talens Marketing Association
2022
I was recognized for my achievements as a role model in copywriting, author, digital marketing, and innovation.
Certifications
Online Certificate Courses 2020, Alison.Com
Book Creator Certified Author course 2022, Bookcreator.Com
Editing Courses 2019, Coursera.Org
Contact
mail: [email protected]
twitter: @bookavatar121
Pinterest: pinterest.com/bookavatar/
There are many blogs I have written on this website, along with some real reviews by me, which I think might be useful for you.
Keep reading all the articles here, and let me know what you think about this site using the contact form.
Thanks.