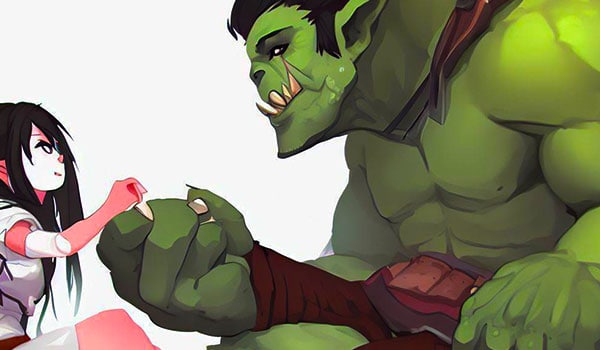 Orc romance refers to the portrayal of romantic relationships involving orcs in literature, movies, video games, or other forms of media. Orcs are fictional humanoid creatures that have become popular in fantasy settings, depicted as fierce, brutish, and warlike beings. Traditionally, many fantasy stories portray them as antagonists or enemies.
However, in recent years, some authors and creators have explored humanizing orcs and focusing on their culture and emotions. This has led to including romantic storylines involving orcs as central characters. These romances involve relationships between orcs and humans, other fantasy races, or even among orc characters.
7 Orc Romance Books
Orc romance can present various themes and challenges due to the cultural differences and prejudices in the fictional world. These stories explore acceptance, redemption, and understanding themes as characters from different backgrounds and species come together in love and companionship.
The popularity of orc romance reflects the ongoing evolution of the romance genre. It demonstrates that romance can be blended with other genres, such as fantasy, to appeal to diverse tastes and interests. I tried some Orc romance novels and will discuss 7 of them. Let's go!
1. The Lady and the Orc by Finley Fenn
The Lady and the Orc is a historical fantasy romance book. We follow Lady Norr, trapped in a loveless, childless marriage with a cruel lord. She finds her life disrupted when her home is attacked by a horde of orcs led by the fearsome Grimarr. Grimarr kidnaps Lady Norr, intending to use her as bait to end the ongoing war.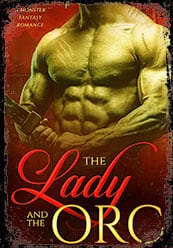 Despite being her enemy, Grimarr's powerful presence and captivating persona awaken unfamiliar desires within Lady Norr. He demands her complete surrender, including her loyalty, wedding ring, and future. As her husband's army pursues them, Lady Norr is torn between the risks of submitting to Grimarr's plan and the potential for a new life that could end the war. The main hook of the story is:
Does Lady Norr fall for Grimarr?
Who wins the war ultimately?
This book strongly resonates with anyone who has experienced parental neglect, spousal abuse, rejection, isolation, and feelings of powerlessness, particularly within loveless relationships. It is likely to trigger strong emotions due to its powerful portrayal of these challenging situations, offering a deep sympathy for those who have undergone similar circumstances.
2. The Half-Orc's Maiden Bride by Ruby Dixon
The Half-Orc's Maiden Bride is a paranormal orc novella in "Aspect and Anchor" series. This book portrays Lady Iolanthe, who her dishonest father sells into an arranged marriage. She hopes her husband-to-be will see past her flaws and love her for who she truly is. Surprisingly, her future husband is a Half-Orc named Agakor. At first, she is scared but soon realizes that Agakor is a kind and noble warrior who is much more than she hoped for.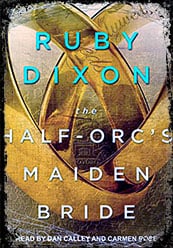 On her wedding day, Iolanthe feels blessed. She marries a kind lord who encourages her and cares about her pleasure. The wedding follows the Orc's unique customs, which are exciting and interesting. The story describes a pleasantly different approach to the typical orc-themed medieval setting. The female protagonist undergoes significant growth, transforming from a shy and self-conscious individual into a strong woman with the support of her orc partner.
I recommend it to readers who are seeking a light, slightly explicit read. However, I suggest that more details about Agakor's past and overcoming prejudice could have added depth to the story. Additionally, the Orc mating ceremony could have been further explored to enhance the primal aspect of the narrative. Overall, it's a fun, light-hearted story with romance and humor. However, there are times when Iolanthe feels that Agakor is too gentle, and she wishes for a bit more excitement.
3. The Duchess and the Orc by Finley Fenn
The Duchess and the Orc is the fourth book of the Orc Sworn series, which is a fantasy romance involving Orcs and humans who've been enemies for a long time. The Orcs, united under one leader, live in Orc Mountain, while the humans follow a traditional hierarchy.
In this series, Maria, a Duchess stuck in a terrible marriage, decides to take revenge on her cruel husband. He uses her money for his anti-Orc plans, leaving her unable to escape. Instead, she decides to ruin his reputation and visits Orc Mountain to make a deal with Simon, an Orc.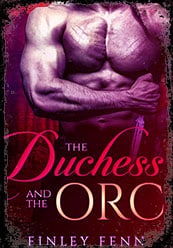 Simon is a tough, stubborn Orc who can be sweet and kind. He respects his clan's traditions but realizes they need to evolve. Maria initially struggles with the Orcs' uninhibited sexual culture but eventually grows and embraces her new life.
The story is spicy and graphic yet balances this with rich world-building and a developed storyline. Finley Fenn is praised for portraying Orcs, and Maria's transformation from a timid, fearful girl into a confident woman is also appreciated. The author recommends reading the series for a fuller understanding of the backstory.
4. Traded to the Orc by Tara Phillips
Traded to the Orc is the second installment in Tara Phillips' 'Orc Brides' series, focusing on new main characters – Taryn, a human with physical limitations, and Gedu, the healer Orc. The Orcs demand a bride as compensation after saving a village from a troll attack, and Taryn is chosen. She is taken to live with the Orcs and becomes part of a 'Bride Battle,' where Orcs fight for the right to be her partner.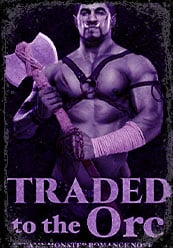 The protagonists are more developed than in the first book, with subtle hints leading toward their eventual relationship. Taryn's personality stands out, and Gedu's progression as a character is engaging. The romance between them is short yet intense and involves some fetishes, which align more with the characters than those in the previous book.
Gedu's stoic and reserved demeanor can make his feelings difficult to decipher, and having more insight into his thoughts could have made the romance more realistic. The book expands on the Orc culture introduced in the previous novel, offering an original take on the genre. There are some grammatical errors, but they don't significantly affect the overall story. The breeding concept continues from the first book, where Orcs desire human women to carry their offspring. This might feel peculiar, but it's a common trope in the genre.
5. The Midwife and the Orc by Finley Fenn
The Midwife and the Orc is the 5th Orc-human romance book in "Orc Sworn" series. In this one, Joarr and Gwyn are highly emotional characters facing personal struggles. Joarr, an orc, is seeking his place in Orc Mountain after losing his place among the Skai and not being fully accepted by the Bautul clan.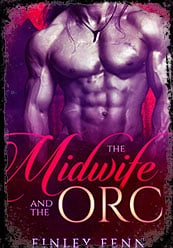 Gwyn, a human, wrestles with self-harm and the cultural differences between humans and orcs. She also battles mental health issues due to years of exploitation by men and witnessing the adverse outcomes when women's reproductive rights aren't respected.
Typical of a Finley Fenn book, the plot unfolds through arguments, betrayal, and mistrust between Joarr and Gwyn. The story gains depth as they struggle with these challenges, individually and together, leading to emotionally impactful scenes.
Fenn's signature style of revisiting characters from previous books is evident here. This book stands out for its spotlight on women's autonomy, mental health, and reproductive health and resonates especially with those empathetic towards these themes.
6. The Orc from the Office by Kate Prior
The Orc from the Office is a workplace adorable monster Oc romance set in a company where humans work alongside monster creatures. Janice, a human employee, accidentally bumps her elbow into Khent, an Orc from IT, drawing his blood. Unbeknownst to her, blood drawing sparks a mate bond in Orc tradition.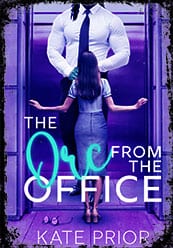 Despite the initial awkwardness, Janice and Khent form an endearing pair. The unique workplace setting, including HR's attempts to navigate this unusual situation, adds humor and charm to the story. This quirky mate romance is the start of a series, leaving the reader eagerly awaiting more.
7. Planet of the Orcs by Himataro Zukunashi
Planet of the Orcs is a light Orc manga romance series that centers around humanity struggling as a minority in a world dominated by Orcs and other monsters. The series has a unique twist as it presents the protagonist as a hero, unlike similar novels where the main character takes an antagonist role. The protagonist has been dispatched to 13 previous planets (alternative realities) to liberate humans from the tyranny of monsters.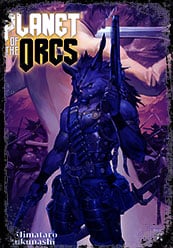 The first volume of the series is relatively brief, with 160 pages, containing seven chapters and an extra story. At this time, only two volumes have been translated into English. The hero is plunged into the 14th world with no resources or knowledge about it, and he is unaware that humans are a minority here. The series also features an Orc character named Black Dog to provide perspective from the monsters' side.
The story emphasizes the conflicts and internal power struggles among humans, despite being under the oppressive rule of the Orc majority. It paints a picture of a divided human society more concerned with personal power than collective liberation, almost suggesting a preference for subjugation and ruin under the Orcs.
One point of critique is the extensive focus on inconsequential characters and power dynamics, which seems unnecessary considering that this is the 14th world the hero has visited in a decade. The author spends considerable time detailing human society's flaws, such as treachery, corruption, and depravity, instead of focusing on the larger conflict with the Orc majority.
---
These books offer epic adventures, quests, and battles, giving us a thrilling escape into a fantastical world. This mix of romance and adventure appeals to those seeking a captivating and action-packed story.
Read more similar:
10 Romantic Fantasy Omegaverse Books
7 Alien Romance Books Like Ice Planet Barbarians
10 Magical Witch Romance Books