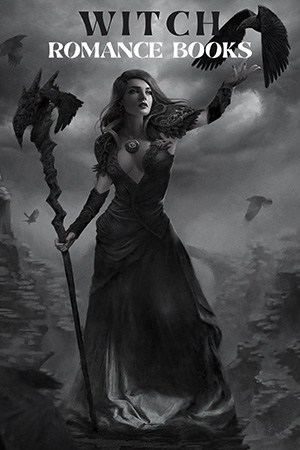 Throughout time, there have been many legends and tales associated with witches. Folklore related to witches has been around for hundreds, if not thousands, years. Witches have been blamed for virtually every problem imaginable. Throughout European traditions, witches were almost considered unmarried, middle-aged women. It was believed that a witch received her powers by signing a pact with the devil.
In the 1500s, a book was in circulation known as the Malleus Maleficarum. It was essentially a guidebook that instructed the reader on the best ways to identify potential witches and how to punish them once they were discovered. Over the year, the witch myth has become a more popular topic day by day, and many authors adopt witches to make their stories scarier and high fantasy.
Unlike demons and angels, witch romance is normal as a human relationship. They have vulnerability and feelings for other creatures like demons, men, or angels. If you want to read this type of romance book, follow me.
10 Witch Romance Books
Witch or witchcraft fits well in the fantasy or paranormal world. But when it comes to witch-human romance, we see them in our world. So many plots, characters, and tropes make the readers more enjoyable. As a fantasy reader, I have some witch recommendations for you. Now I will discuss my favorite 10 witch romance books. Let's do it!
| Name | Key Focus | Review (Goodreads) |
| --- | --- | --- |
| The Sacrifice | A witch is selected to sacrifice in a demon MC club, and the demonic hero struggles to save her. | 4.0 |
| Wolf Gone | A werewolf shifter can not control his power, and a witch helps him to solve this problem while they build a connection. | 3.9 |
| Strange Grace | A sacrifice story where a boy is trying to save herself from the devil and a witch is saving him from it. | 3.5 |
| These Witches Don't Burn | A lesbian witch is solving a mystery in her community and searching for her love on the way. | 3.7 |
| Written | A witch librarian discovers her superpower, and her professors make connections with her. | 3.8 |
| What the Hex | A demon and a witch are against each other to save their family, but a romance binds them together. | 3.6 |
| Stalked By The Kraken | A monster hero gets his mate, a witch, and their opposite situation makes them steamy. | 4.0 |
| The Magic of Discovery | A reverse harem story where four heroes try to save people from magic, and a witch makes them romantic. | 4.2 |
| Undead Girl Gang | A zombie-witch story that shows friendships, social issues, and feminism. | 3.7 |
| A Taste of Her Own Medicine | A black girl practices medicine for her society, where she struggles with many difficulties. | 4.0 |
Witch Romance Books
1. The Sacrifice (Seven Sins MC)
The Sacrifice is a YA witch romance where the demons have a motorcycle club and are trying to get back to the inferno. But the witches don't want to be massacred. So they have a treaty with the demons that once every generation, one of the witches will be sent as a sacrifice to the demons. The witches don't know what happens to the sacrifice. They never see them or hear from them again.
Our main character, Lenore, has to go in the sacrifice. So she goes to the Demons Motorcycle Club and doesn't have great control over her powers. As a result, it rains and rains. The demons need hot and dry, and they're always cold, so they cannot take the rain anymore. Then, demon hero Ly goes down and proposes to Lenore to stop the rain and make a deal.
So Lenore's the first witch ever to be released from the basement unless they've been there for decades. Ly's very protective of her, and he doesn't know why. Then she is his mate. That's a fascinating dynamic that the demons have with their mates and what happens when a demon loves a witch. The world-building is not good enough, but the storyline, plot, and characters are incredible to reread.
Author: Jessica Gadziala
Tropes: Demons, Devils, Futuristic, Mystery, Dark, Forbidden
Number Of Pages: 227
Available: Paperback | Kindle
2. Wolf Gone Wild (Stay a Spell)
Wolf Gone Wild is an urban fantasy with a fated mate and forbidden trope. Mateo is a werewolf shifter who thinks he's cursed because he can't control his inner wolf. So he propositions Evie, who is a witch. She specializes in breaking and fixing curses. Evie's family comes from a line of witches that do not help werewolves. So she's torn when she first meets Mateo. Do they have an instant connection? Mateo believes that Evie is his fated mate.
This one was fun because it's a grumpy sunshine romance. Mateo is a grumpy alpha male, and Evie is a sunshine, funny witch heroine who is a blast to read about. The series follows her family. Each book does follow a bunch of witches. Some of them do have a side plot of romance. So I am super excited to read them.
Author: Juliette Cross
Publisher: Juliette Cross Publishing, LLC
Tropes: Psychic, Vampire, Friends-to-lovers, Arc
Number Of Pages: 395
Available: Audiobook | Paperback | Kindle
3. Strange Grace
Strange Grace is one of my top five favorite books of all time, and it follows a polyamorous couple who follow a town where they made a deal and a bargain with a devil years ago. The bargain was that they would have the slaughter moon every couple of years, where they would sacrifice a boy. Because of their sacrifice, their town was very prosperous, wealthy, and healthy!
Years later, the sacrifice is coming up more and more, and things are going wrong. So our characters want to figure out what's going on. What was the bargain made so many years ago, and how do they fix it? The story follows three characters. One of the characters, Mairwen, is a witch, and that's how the witch aspect comes into it.
Mairwen's a descendant of one of the witches who made the bargain with the devil so many years ago. We also follow Arthur and Rune, who are heroes in the book and are also connected to the forest in their way. So it's a beautiful fantasy YA witch romance with a small sprinkle of polyamory. The synopsis is magical, and the world-building is unique, but the storyline is boring. I recommend listening to the audiobook because it's perfect for the autumn season.
Author: Tessa Gratton
Publisher: Margaret K. McElderry Books (Reprint Edition)
Tropes: LGBT, Horror, Demons, Love-triangles, Suspense
Number Of Pages: 400
Available: Audiobook | Paperback | Hardcover | Kindle | Audio CD
4. These Witches Don't Burn
These Witches Don't Burn an LGBT fiction with the paranormal world that has a sapphic romance. The heroine is an elemental witch, meaning that she can control the elements of fire, earth, and wind. So it is a cool version of Avatar. Is there something going on in her town? She lives in Salem, Massachusetts, which is very known for the Salem Witch Trials. Here she realizes that there is evidence of some blood magic going on, which is forbidden in her community. So she has to team up with her ex-girlfriend to figure out what is happening.
There is a new girl in town that she has a crush on, so she's navigating through the romance. As an emotional read, this book made me cry, and the ending was surprising. Also, it ends in a bit of a cliffhanger because of the mystery. The book's negative side is the toxic masculinity, weak character, and unrealistic plot. Overall, you can enjoy it if you want queer love with strong witchcraft.
Author: Isabel Sterling
Publisher: Razorbill
Tropes: Mystery, Thrillers, Suspense
Number Of Pages: 332
Available: Audiobook | Paperback | Hardcover | Kindle
5. Written (The Librarian's Coven)
Written is a reverse harem and paranormal gay romance with the witch. There are four characters, and they all have relationships with each other. Then there are other covens. It's a very common practice in the world, and one of the side characters in this non-binary is the main side character (witch). So we have the main character (Joanna) is the new librarian at a magical university, and all of the other love interests are professors.
First, Joanna doesn't realize that she has any magical powers herself, but she is drawn to the college. The professors are already in an established relationship and are interested in bringing her into their coven. So all of them are witches and have different types of powers. All of the characters are romantically involved with one another. You get all four of their different point of view and fall in love with them with every book.
Joanna is a scriven, so her magic is written, and she's unaware of it at the beginning. Griffins are very powerful, but they're also persecuted. So there aren't many of them in the country. The slow plot, insta-love, lack of chemistry, and weak character make the story boring for many readers, but the magic system and world-building are fantastic that you want to continue your reading. I recommend picking if you like steamy M/M, M/F, and menage witch scenes.
Author: Kathryn Moon
Tropes: Age-gap, Shifters, Fae
Number Of Pages: 226
Available: Audiobook | Paperback | Kindle
6. What the Hex
What the Hex represents enemies-to-lovers and fake-relationship with witches. The story follows our heroine, Catalina, who is Puerto Rican. She comes from a magical island that is very well known for witches and magical powers, which is cool. She has spent some time away from the island because she feels her power is drained and needs a little refresher.
Catalina is back with her family because one of her sisters is getting married and is the maid of honor. When she gets home, she realizes that something is off, and soon she discovers that a demon is trying to hijack the wedding and take over her family's power. She's one of the few people who has not been mind-controlled by this demon.
Then Catalina works with our hero, Diego. They were high school rivals and had very witty banter with one another. But they must work together to save the wedding and their family. So they work together, and the story follows the romance. I didn't feel connected to the characters, but I loved the audiobook because the narrator makes the story dynamic.
Author: Alexis Daria
Narrator: Jacqueline Grace Lopez
Publisher: Audible Originals
Tropes: Enemies-to-lovers, Fake-relationship, Magic
Available: Audiobook | Audio CD
7. Stalked By The Kraken (Monstrous Matches)
I found Stalked By The Kraken on TikTok of all places, and it is a monster hero romance with a witch heroine (Rose). You can read it alone or continue with the Monstrous Matches series. Gideon is an ancient sea creature, and he has tentacles. He is in town because he is searching for the ancient, rare gem that has been stolen. But he quickly realizes that other things are going missing in the town. Somehow, Gideon meets Rose. As soon as he meets her, he realizes she is his fated mate.
As a witch, Rose can see people's energies and souls and pair them together to meet their perfect match. She's come out of a bad relationship, so she's jaded, and our hero knows that. At first, Gideon watches from afar, but it's super-steamy when they meet. If you like heroes that are gone for heroines, this is it. The author did an excellent job creating interesting characters and a love story. This book is super sex-positive, and I recommend it. The hardcover is medium in quality, but the paperback is perfect for color, font, binding, and cover quality.
Author: Lillian Lark
Narrator: Nadia Day
Publisher: Lillian Lark
Tropes: Monsters, Omegaverse, Strong-female-leads, Pirates
Number Of Pages: 252
Available: Audiobook | Paperback | Kindle
8. The Magic of Discovery (Emerald Lakes)
The Magic of Discovery is shapeshifter's relationship and paranormal reverse harem menage. The main protagonist Saige is a green witch in a small town where she has a connection with four men. The four men work for a company that helps people grow into their power and catch bad guys who are abusing their magic.
So it is a witchy romance, and they are under false pretenses. They have a mission, but they don't tell her what it is. I saw the twist coming a mile away. But the smut scenes in this book were top-notch. The first scene happened 30%, and it was predictable.
Also, the boring plot and awful writing style take down the book. But I enjoyed the character dynamic, magical elements, and their relationship. You can read it if you love shifter, small town romance, or a witch with a male-male relationship. Otherwise, I don't recommend it enough.
Author: Britt Andrews
Narrator: Bridget Bordeaux, Jake Bordeaux
Publisher: Britt Andrews
Tropes: Small-town, Fun, Dark
Number Of Pages: 290
Available: Audiobook | Paperback | Kindle
9. Undead Girl Gang
Undead Girl Gang is a horror book because it has a zombies representation with a witch. Also, the story has a revenge plot to it. One of our heroines, best friends, has passed away, and she (Mila ) thinks it's connected to some murders of some other girls in her school. She does a spell to bring her friend back to life to at least figure out some answers. But it goes a little wrong, and she brings them back in a weird zombie way.
Mila does discover what is going on in the town. She is trying to find these girls' killers, and they all work together. I loved the characters, but the story has some lacking. I still recommend it because the writing is fantastic, and the book cover is so cute because the illustration is superb. Don't miss it if you want to see the action of Zombies vs Witches.
Author: Lily Anderson
Narrator: Rebecca Soler
Publisher: Listening Library
Tropes: Zombies, Disability, Feminist, Friendships, Social-issues
Number Of Pages: 305
Available: Audiobook | Paperback | Hardcover | Kindle
10. A Taste of Her Own Medicine
A Taste of Her Own Medicine is an interracial (African-American) small-town romance. Our heroine, Sonja, is a witch who practices medicine. In her time, African Americans in South Carolina and Georgia preserved their African heritage when brought to the United States. It is a magic and also a cultural thing that is primarily in those two states.
So Sonja practices medicine to help her people. Her mother is getting divorced and needs a way to support her family. So she wants to make skincare products and takes an entrepreneurial workshop from the hero, Atlas. Atlas is way younger than she is, not way younger. The only thing I didn't like was that she was insecure. Being older isn't an issue. Why do you care about this number? Also, I was annoyed that they had a pointless breakup because her ex-husband found out about them and criticized them.
The whole point of the book is that he criticized everything, had been a drain on her life, and wasn't supportive of her heritage. The familial aspect was good because her mother and sisters all practiced to a certain extent. So this contemporary story has not many magical aspects but many emotional struggles and self-discovery.
Author: Tasha L. Harrison
Publisher: Dirtyscribbler Press
Tropes: Single-parent, Age-gap
Number Of Pages: 384
---
Read similar books:
7 Fairy Tales Fae Romance Books
7 Mermaid Fiction Books About Sirens
5 Vampire Love Books Like Crave
5 Witches Fantasy Books Like Carry On