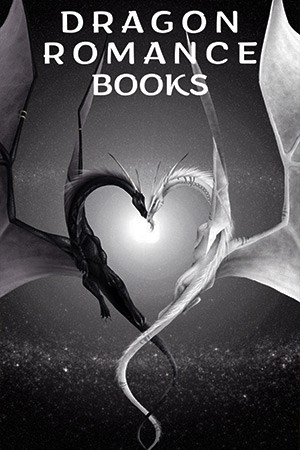 The dragons are wild creatures or oversized lizards, which is fine as a book concept. They were part of the group of mystical beings during the Western Middle Ages. In Oriental mythology, dragons were seen as celestial beings with power, similar to the gods in ancient Japan. In China, the dragon represents good luck and prosperity.
Though there are many variations of dragons, authors/writers represent them as powerful creatures, human beings, friends, love, enemy, and many more. After reading and watching Game Of Thrones by George R. R. Martin, I was a big fan of dragons. I am also waiting for the House Of Dragons series. I started the dragon story reading by dragon romance books that helped me keep on my flow and read more and more. If you are waiting to know about them, stay with me.
10 Dragon Romance Books
Most fantasy readers want dragons as heroes or villains and dragons as shapeshifters. So to visualize the love story author must make at least one protagonist as a dragon who can turn into a human or possess a human body to show their romance. I read many dragon love stories and found these scenarios familiar. Now, I will discuss my top 10 dragon romance novels for you. Let's fly!
| Name | Key Focus | Review (Goodreads) |
| --- | --- | --- |
| Fireborne | Two dragons show their friendship, integrity, love, and loyalty instead of their superpower. | 4.0 |
| His Majesty's Dragon | A boy finds a dragon egg where the dragon can talk with humans and present reality. | 4.0 |
| Dragonbound | A dragonslayer tries to save her sister, and on her mission, she falls in love with a dragon. | 3.7 |
| Heart of the Dragon | A Dragon King protects his supernatural clan while the heroine tries to save her brother, and their love begins. | 3.9 |
| Seraphina | In a dragon-human war situation, a girl finds her mate, who is a dragon, and their forbidden love struggles with war. | 3.9 |
| The Rage of Dragons | A revengeful story where the hero is on a mission, but he discovers an instant love, and his view changes slowly. | 4.3 |
| The Ninth Rain | Three queer people (vampire, witch, dragon) are solving the mystery of war and some suspense. | 4.1 |
| Tooth and Claw | A classic historical story that describes poverty, political intrigue, and class issue. | 3.8 |
| The Ruin of Kings | An orphan boy wants to discover himself and his superpower. | 3.8 |
| Eragon | A young boy starts a journey with his dragon (Eragon) and fights against an evil king to save people. | 3.9 |
Dragon Romance Novels
1. Fireborne (The Aurelian Cycle)
Fireborne is a Russian Revolution-inspired story. In a written-out interview, Rosaria Munda talked about as a political theory student because she studied political theory at Princeton. She would often wonder while learning and listening to all these historical events. What would have happened in those revolutions if dragons had existed? That is the coolest way to imagine these. It feels like historical fiction. But with dragons, they are so incredibly tragic and heart-wrenching.
The characters, examination of the trauma of the characters is phenomenal. The Dragons are not super magical the way that you find in other stories. They're almost so part of the society that they don't feel mythological, which makes sense because they wouldn't be if they were in that world. They almost feel overpowered horses.
Eventually, the dragons can breathe fire. But currently, when we start the story, we see that they haven't sparked yet. So, it's interesting to see the theories as to why they haven't. You even see at one point somebody thinking, that's because they're letting the peasants ride the dragons now. I learned friendship, integrity, love, and loyalty. Though the romance was a slow burn, I enjoyed the plot and story. Also, it is one of the best YA dragon fantasy romances I have ever read.
Author: Rosaria Munda
Publisher: G.P. Putnam's Sons Books for Young Readers
Tropes: Politics & Government, Dystopian
Number Of Pages: 446
Available: Audiobook | Paperback | Hardcover | Kindle
2. His Majesty's Dragon (Temeraire)
In the Temeraire series, I have only read the first one, His Majesty's Dragon, which is a Locus Award winner. It's similar to historical fiction inspired, but with dragons, the difference is that it's an alternate history. So, where Fireborne and Flamefall are fantasy settings, this one takes place during the Napoleonic era, and we have dragons. So you have an Air Force essentially, but they're dragons. At the story's beginning, the main character discovers a dragon egg.
The dragon hatches, and it could talk, which is so adorable. This dragon is so precious. You see the loyalty of the dragons to their riders, but the riders are not always loyal to the dragons, and they can be terrible, the same way you see human beings towards animals. So, it was one of the most heartbreaking things I have ever read. The romance plot is very short, graphics, and irrelevant, but the character's bonding is remarkable. If you like a historical adventure with the dragon, read the series.
Author: Naomi Novik
Publisher: Del Rey (Reissue Edition)
Tropes: Alternate History, Sci-fi, Adventure
Number Of Pages: 384
Available: Audiobook | Paperback | Hardcover | Kindle | Mass Market Paperback
3. Dragonbound
Dragonbound is about a girl named Virginia who is a fantastic dragonslayer because she comes from a family of dragon slayers. But unfortunately, she's not. Because of that, everybody makes fun of her and teaser. They sometimes ignore even her dad does. But when her older sister Celeste gets captured by the dragons' clan, Virginia is the only one who is going to rescue her.
Virginia doesn't know much about dragons, so she gets help from one of the dragons in their family's dungeon to help her rescue her sister. In this rescue mission, she falls in love with a dragon, Amelrik, who is our protecting hero. The story has a few dragon shifters, werewolves, or other animal shifters that make a plot twist. You must read if you like paranormal romance with dragons and adventure. I also recommend listening to the audiobook because the background sound and representation quality are outstanding.
Author: Chelsea M. Campbell
Publisher: Skyscape
Tropes: Shapeshifters, Action, Adventure
Number Of Pages: 290
Available: Audiobook | Paperback | Kindle | Audio CD
4. Heart of the Dragon (Atlantis)
Heart of the Dragon is the first book in the Atlantis series that focuses on Darius, a Dragon King of Atlantis. Being a dragon, he can shift into a full-sized dragon. Also, he maintains the peace there in Atlantis and is the guardian of one of the portals. There are two portals: an inner and outer palace. Darius is at the inner palace protecting the inner portal. One of the duties is that anybody who comes through that portal must die. This portal leads to the Amazon, where we meet our lovely female lead, Grace Carlyle.
Grace gets a mysterious package with a beautiful dragon necklace that her brother sends her, and she goes to the Amazon to meet him to work on an expedition for Atlantis. Darius is protecting the portal, and the story goes from there. So we get to see Grace and Darius fall in love. Also, we learned that Darius had been emotionally detached, especially since his youth, when his family was murdered. I liked Darius and Grace together and how they make their human-dragon romance work.
Author: Gena Showalter
Publisher: HQN Books (Reissue Edition)
Tropes: Werewolves & Shifters, Vampires, Alpha-males
Number Of Pages: 387
Available: Audiobook | Paperback | Kindle | Mass Market Paperback
5. Seraphina
Seraphina achieved Locus Award Nominee for Best First Novel. In this dragon world, the dragons and the humans have been at war for a long time, but they've established peace treaties in the time of Seraphina. Dragons live amongst people and take on the shape of humans to live in their cities. That's one of the conditions of their existence. So because of the dragon magic, they can look like humans and think very differently.
In the kingdom, Seraphina lives, and dragons must wear a bell to designate that they are dragons inside, not humans. So everyone's clear on that. The first book in the series is more of a court intrigue story. Also, the second one is more of a fantastical quest adventure, where Seraphina is a very distinctive character who can straddle that boundary between dragons and humans. She was partially raised by her music teacher, who is a dragon.
At the book's beginning, Seraphina becomes the young princess's music teacher. That's how she becomes a part of the court life. This book is the first choice for mystery, thriller, and dragon lovers.
Author: Rachel Hartman
Publisher: Ember (Reprint Edition)
Tropes: Medieval Historical Fiction, Mystery, Society-culture, Psychology
Number Of Pages: 381
Available: Audiobook | Paperback | Hardcover | Kindle | Audio CD
6. The Rage of Dragons (The Burning)
Despite having dragons in the title, they are not in the story, as you might expect, but they are at its core. The Rage of Dragons is a revenge story. We follow our main character, Tau, who wants a peaceful life. He is a part of an oppressed class of people and wants to do what he can to get out of a path laid out for him.
Then some things go down, and some terrible things happen. That sets Tau on this path of revenge. He is very tunnel vision when it comes to revenge. But despite how he sees himself, the rest of society starts to notice him because he is a part of an oppressed group. But he's proving that people of his class can be a threat. They can be as strong and skilled as those above them, which is a problem for their caste system.
To try to compete on an equal playing field, Tau ends up utilizing some tricks with the magic system as well as pushing himself beyond belief. So many other elements have to do with society as a whole. Tau falls into an instant love and lust in the middle of a mission. The only negative side of the book is the confusing plot and side characters. But I enjoyed the audiobook very much because of the narrative voice and narration style. So if you're somebody whose bookish buzzwords are the caste system, love, revenge, and dragons.
Author: Evan Winter
Publisher: Orbit
Tropes: Military Fantasy, War, African-American Fiction
Number Of Pages: 578
Available: Audiobook | Paperback | Hardcover | Kindle | Audio CD
7. The Ninth Rain (The Winnowing Flame Trilogy)
The Ninth Rain has a unique, exciting fantasy story I have ever picked up. It feels familiar in some ways, but it takes so many different things and combines them to become the freshest story. We follow the three main characters and their queer love because one of them is lesbian. Lady Vincenza (Vintage) owns a successful vine manufacturing company. Tormalin is a vampirish non-human, and Noon is a Fel-Witch.
They have some power to try and understand the history of the wars that always inevitably come to their world. But they know nothing about it because there are cycles throughout history and the last one happened so long ago. So everybody who would have been able to tell them about it from this magical race of people, all of those individuals are dead. While reading the whole book, you start to understand what's happening because many things will go wrong.
The author shows us a fantasy world of wild nature, alien, and human nature within all of its extremes. Also, the worldbuilding, mature characterization, and the story contain plenty of action and humor. The second half was boring, but the first half and the ending were surprising. Don't miss the book if you want dragon, magic, and queer. Please avoid hardcover because I found some problems with that, but the paperback is good for font, color, binding, and cover quality.
Author: Jen Williams
Publisher: Headline
Tropes: Norse Viking Myth, LGBT
Number Of Pages: 550
Available: Paperback | Kindle
8. Tooth and Claw
Tooth and Claw is set in the 1700s, an 1800s-esque world where all the inhabitants are dragons and live in grand houses. They're either born to the lower classes or wealthy families. The story's main characters are predominantly from a family whose father has died but has not left the family much money. Although they're from an aristocratic background, they don't have much to live off and find their way.
Many aspects of the world are very distinctive because they're dragons, and their characteristics and behavior are very fitting of dragons. This book's world has a slightly more diverse character range, political intrigue, and class discussion. It's a very well-thought-through planned story. But the story and mate romance plot are not unique. If you love paranormal history and dragons with regency romance, I recommend you check it out.
Author: Jo Walton
Publisher: Tor Books (First Edition)
Tropes: Comedic Dramas, Slow-paced, Sci-fi
Number Of Pages: 321
Available: Audiobook | Paperback | Hardcover | Kindle | Mass Market Paperback
9. The Ruin of Kings (A Chorus of Dragons)
The Ruin of Kings is a fantasy book about a boy named Kihrin who is about 16 years old and an orphan. One day he discovers that he is the long-lost son of a prince, and he is forcibly taken away from his adoptive family to live in the custody of this prince. His new family is cruel and manipulative, and he finds himself no better than a prisoner. Throughout the book, Kihrin realizes that there is something special about his past and destiny.
As Kihrin learns about his role in this greater prophecy involving gods and wizards, he grows from an orphan thief into a would-be hero as he tries to save the world. There is a dragon in one chunk of the story, and it's interesting how the author wrote this dragon. There are so many strong aspects of it, which hurt my overall experience while reading this book. The story is told in a dual timeline narrative. So at the beginning of the book, you enter the story with Kihrin in jail and the jailer's third-person point of view of Kihrin's story.
The next thing I did not appreciate about this book was that the family lineages and characters were confusing. So it was almost impossible to keep track of who was who and who was loyal to who. The plot itself was so good, and there were so many moving parts that kept me reading, and I wanted to figure out how everything would come together.
One of the major aspects of the book is a war between Gods and Demons. Also, I loved the worldbuilding, true dragon love, and the fantasy world. The author did a fantastic job of fleshing everything out and adding exciting elements to draw you into the story.
Author: Jenn Lyons
Publisher: Tor Books
Tropes: Action, Adventure, Mythical Creatures
Number Of Pages: 569
Available: Audiobook | Paperback | Hardcover | Kindle | Mass Market Paperback
10. Eragon (The Inheritance Cycle)
The books in the Inheritance Cycle series are chunky, well-developed, fantastical worlds with many different species and races. There are many political intrigue and foreign affairs, almost as well as one young boy's journey with his dragon. Our main protagonist, Eragon, discovers a strange blue stone in the forest near his village while out hunting. One day this stone hatches and turns out into a dragon egg.
So, Eragon has incidentally become a dragon rider. The Dragon Riders are a group whose stories have been told throughout the realms, Eragon territories since he was a little boy. But they died long ago, and the only dragon rider left is the evil king that rules most of the land and the area under which Eragon village comes. He is responsible for the destruction of most of the other dragon riders.
So Eragon's life has instantly changed. Things roll on from there like Lord of the Rings. Alongside the humans and dragons, there are major parts played by the elves and the dwarves. The middle story and the ending was not satisfactory, and sometimes I felt bored. So I only recommend this book for the adventure lover.
Author: Christopher Paolini
Publisher: Knopf Books for Young Readers
Tropes: Natural World, Witch-wizard
Number Of Pages: 528
Available: Audiobook | Paperback | Hardcover | Kindle
I would love any more Dragon Romance Book recommendations you have for me, particularly adult novels and series. So if you do have any recommendations, please share them with me. Until next time, Happy reading!
Read more similar books:
7 Spiritual Books About Angels
10 Fairy Tales Books About Elves
5 Paranormal Books Like The Vampire Diaries
15 Dark Fantasy Books About Demons
5 Magical Realism Books Like Piranesi