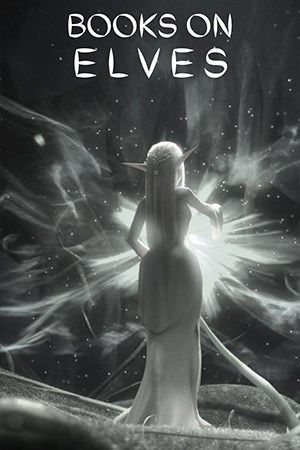 Elves represent the elements of earth, air, water, fire, ether, energy, and light. They are distinguishable to us by their pointy ears and often youthful looks. Being elfin in quality requires them to have a harmonious lifestyle with nature. They are known to be keepers of nature's wisdom and understand many secrets of the universe, the material, and the immaterial realms.
Earth elves live underground and in another dimension on top of the earth. Some have seen them in parallel worlds alongside ours in another space dimension. We cannot see until all of our senses are heightened, and we vibrate at the same level of frequency they are at.
So, the elves have a certain charm that brings certain sequoia to a fantasy world. We expect elves when we read fantasy books because we all love them. As a result, many popular movies and books represent elves, like The Hobbit, The Lord Of The Rings, and Harry Potter.
10 Books About Elves
The elves are nature guardians, keepers of the ancient wisdom of the universe and secrets of the fairy realm, and are not interested in harming humans as long as they do not destroy their shared home. Many elves and fairies have moved on to earthly worlds in higher dimensions in modern fairy books and are light-bodied.
Some have remained in spirit on earth, and if you catch a glimpse of one, they came to you for a reason: your soul evolution. Do you want to read more about elves? I will review my best 10 books about elves. Let's go!
| Name | Key Focus | Review (Goodreads) |
| --- | --- | --- |
| The Silmarillion | Epic mythology of elves and dwarves history. | 3.9 |
| Homeland | An elf is doing a role-playing game in a dark underground city with his morality. | 4.2 |
| The Elven | The story focuses on a man's journey with elves to save his village people from demons. | 4.0 |
| A Deal with the Elf King | A girl tries to escape from an elf king and protect herself from abuse and love. | 3.7 |
| The Last Smile in Sunder City | A detective searches for a vampire teacher in a magical world where crime always happens, and elves live. | 3.7 |
| Exile's Redemption | A dark elf is learning about her origins and uniting eleven people under a political barrier. | 4.2 |
| The Black Elfstone | A magical girl tries to save his brother from abuse and discover her rare magic. | 4.1 |
| Blood of Elves | A gothic story that shows different types of elves and their lifestyle. | 4.1 |
| The Elf and the Hunter | An elf girl shows her business skills and deals with people's criticism. | 4.3 |
| Cursed Prince | Two elves are dealing with curses and love. | 3.8 |
Books About Elves
1. The Silmarillion
This book shows how middle-earth came to be, how the elves came to be, and dwarves. What events led to The Hobbit and Lord of the Rings being possible in the first place? To know this answer, you need to read this.
Interestingly, this book was rejected by Tolkien's editor when he proposed it as a prequel to The Hobbit. Then it was only published posthumously by his son, Christopher Tolkien. You get to see an epic backstory and mythology of Middle Earth. I recommend it for the elves lover and fantasy readers.
Author: J. R. R. Tolkien
Narrator: Martin Shaw
Publisher: HarperCollins Publishers Limited
Average Customer Review: (4.8 out of 5, on Amazon)
Tropes: Literature, Mythology, Adventure, Fairy-tales, Emotion, Medieval
Number Of Pages: 386
Available: Audiobook | Paperback | Hardcover | Kindle | Mass Market Paperback
---
2. Homeland (The Legend of Drizzt)
This is part of the Dungeons and Dragons extended universe, the forgotten realms. It follows the story of Drizzt Do'Urden, the dark elf born into the evil underground city of Menzoberranzan. Here he is brought up to be a ruthless killer.
However, Drizzt's personality and worldview don't align with the philosophy and general way of being of men's brands. He is very moral with an acute sense of justice, which doesn't suit the cutthroat, evil, dark environment he grew up in.
So Drizzt decides to leave the underground world and journey into the light to become the erotic hero he is destined to be. Salvatore's writing is brilliant, beautiful, and especially good at fighting scenes. Overall, the story is decent but has some moral problems. You can enjoy sci-fi, fantasy, and adventure at a time. So don't miss it.
Author: R. A. Salvatore
Narrator: Victor Bevine
Publisher: Audible Studios
Average Customer Review: (4.7 out of 5, on Amazon)
Tropes: Dragon & Myth, Action, Adventure, Magic, Role Playing Games
Number Of Pages: 160
Available: Audiobook | Paperback | Hardcover | Kindle | Mass Market Paperback
---
3. The Elven (Die Elfen)
Die Elfen is a German fantasy series inspired by traditional Nordic folklore and epic sagas. It follows the story of Mandred, a human who journeys into the elf world to save his village from a demon. Then he goes on an adventure with two elves, Nuramon and Farodin, in a quest to save the woman they love from banishment.
So it is the series that got me wondering where the elves had gone in the first place. Also, it's super fun and gets better as it goes along. Hennen is super good with his character work. But this book has excessive and repetitive descriptive issues. If you love German literature, you can give it a try. Don't pick any hardcover because it has many issues and complaints, but the paperback is excellent for color, fonts, and binding.
Author: Bernhard Hennen
Publisher: Amazon Crossing
Average Customer Review: (4.3 out of 5, on Amazon)
Tropes: Fairy Tale, Myths, German Literature
Number Of Pages: 991
Available: Audiobook | Paperback | Kindle | Audio CD
---
4. A Deal with the Elf King (Married to Magic)
This book is about a human girl called Luella, abducted by the elf king to come and make spring happen in his world. Then a romance ensues, and it's a trashy romance novel. Elise Kova tries to portray Luella as having potentially been the victim of an abuser and manipulator before she meets the elf king who abducts her.
Our hero is boring, and the plot is predictable but satisfying in world-building. The story is adapted by Hades-Persephone and Beauty And The Beast retelling. If you like retelling stories and elf characters, you must read it.
Author: Elise Kova
Publisher: Silver Wing Press
Average Customer Review: (4.3 out of 5, on Amazon)
Tropes: Dark Fantasy, Folklore, Romance, Magic, Enemies-to-lovers
Number Of Pages: 345
Available: Audiobook | Paperback | Hardcover | Kindle
---
5. The Last Smile in Sunder City (The Fetch Phillips Archives)
I believed it was in the Jim Butcher's urban fantasy realm, which has awful magical creatures. But I was wrong! There is a noticeable lack of all fantasy races in fantasy literature these days dwarves, orcs, goblins, whatever. So, Luke Arnold decided to make up for everything by cramming everything here. This novel follows the story of Fetch Phillips, a man-for-hire detective. He is also looking into the disappearance of a teacher who's a vampire.
Incidentally, all of this occurs in a world where magic has vanished. So every single magical creature depended on magic to live. Then one day, the magic stopped. It's interesting because I've already read several series where the end game is to eliminate all magic. But this is the first one I read where everyone has to deal with the absence of magic. So, it's super exciting and super well written.
A lot happens in 350 pages. I'm not going to detail it here because I have book two lined up, and I want to analyze this in-depth. Introspection of Phillips turns out to be one of the people who contributed to magic disappearing and how he deals with essentially having betrayed all his magical friends daily. There's a solid understanding of psychology. So, it is one of the best books about elves and other supernatural creatures I've read this year.
Author: Luke Arnold
Publisher: Orbit
Average Customer Review: (4.2 out of 5, on Amazon)
Tropes: Crime, Private Investigator, Dystopian
Number Of Pages: 352
Available: Audiobook | Paperback | Kindle
---
6. Exile's Redemption (Chronicles of Shadow)
You're looking for elves, and Dungeons And Dragons inspire this book. We have shadow elves in this one who was exiled into the underground world. It follows the story of a Raven, a dark elf who fled the underworld to come to the surface, learn about her origins, and attempt to unite the elven people.
Then a portal opens, and a bunch of demons starts killing people. With the help of Raven, a 10,000-plus-year shadow elf and demigod, walk the earth. She learns to fight off the demon hordes and maneuver her way around elves and politics.
I enjoyed Lee Dunning's take on elves and politics. I have only read the first novel in Chronicles of Shadow, but I have big expectations for what comes next. Four books are available so far, so I will keep you updated on those. Please read them!
Author: Lee Dunning
Publisher: Wild Hunt Press
Average Customer Review: (4.6 out of 5, on Amazon)
Tropes: Military, Fantasy, Adventure
Number Of Pages: 309
Available: Paperback | Hardcover | Kindle
---
7. The Black Elfstone (The Fall of Shannara)
This is the ultimate page-turner, and it wasn't too much of a problem because it starts off a new story with a new set of characters. That only moment I felt a bit left out as they met a character. The book tells the story of Tarsha, who has a rare form of magic called Wish Song. Her older brother also has this. Only his magic is incredibly destructive, and he can't control it. He is sent away to go and live with their uncle.
After several years without news of him, Tarsha decides to see him and discovers that he's being abused. His uncle's treatment makes him worse rather than better. Tarsha decides to seek the help of the world's greatest Druid, who at this point in the story is the target of an assassination plot.
We get a lot of in-depth analysis into how the magic progresses and how he completely loses control and progressively delves into evil. Also, we get to see how he justifies his terrible actions inside his mind. Some unexpected plot twists are fairly predictable, and some characters are poorly present. Overall, you can enjoy the worldbuilding and magical scenes.
Author: Terry Brooks
Narrator: Simon Vance
Publisher: Random House Audio
Average Customer Review: (4.7 out of 5, on Amazon)
Tropes: Science Fiction, Epic
Number Of Pages: 318
Available: Audiobook | Paperback | Hardcover | Kindle | Mass Market Paperback
---
8. Blood of Elves (The Witcher)
The Witcher is a collection of short stories, and it was a particularly unpleasant experience. Every character has a strong personality and follows their internal logic so well. The story starts to build to an overarching plot that I can tell will be with the next few books, focusing on something that revolves around destiny and a chosen one. Having your main protagonist instead of being the chosen one, being the one looking after the chosen one, is enjoyable.
One of the issues I had was the writing style, and I wondered whether it wasn't down to Sapkowski as the actual writing, but more some translating issue. I don't particularly appreciate how women are represented in this book because they want to throw themselves at Carol. Overall, this series is on track to be remarkable, and the formula has changed to one giant story and remained awesome.
Author: Andrzej Sapkowski
Narrator: Peter Kenny
Publisher: Hachette Audio
Average Customer Review: (4.6 out of 5, on Amazon)
Tropes: Polish Literature, Magic, Gothic
Number Of Pages: 398
Available: Audiobook | Paperback | Hardcover | Kindle | Mass Market Paperback
---
9. The Elf and the Hunter
It is a manga with cuteness overload. Our protagonist Magritte is a little elf, and her trusted huntsmen are Yura. When you go to a dungeon or on a quest, you need many artifacts that can come in handy. Magritte has these abilities and is considered the best in the business, world-renowned for her magical creations.
Another thing I enjoyed about this is that she is tiny and gets a lot of backlash for this. People talk down at her or make fun of her because of her height. When you look down at someone, you look down at a child. So it's okay to talk down at them and patronize them. Small people deserve respect.
Author: Aoi Umetaro
Average Customer Review: (4.5 out of 5, on Amazon)
Number Of Pages: 160
Available: Paperback
---
10. Cursed Prince (Night Elves Trilogy)
The book is about two elves (Night Elf and High Elf) getting together to get lockets worn in the world of the dead and coming back. First, we meet Marroc, a High elf who is a cursed prince. At this point, we don't know that he's a cursed prince who has been jailed for over a thousand years. He can do small spells, and he has memory loss. His soul is stored somewhere or is kept in a safe somewhere. So he doesn't know what's happening.
Then we have Ali, a Night Elf who is an assassin. She's tasked to break into a bank robbery. So, she is doing this bank robbery with his brother, and she is to retrieve something that looks interesting. Marroc did a spell that says that whoever is going to retrieve his ring, his soul will bind itself to his perfect match. That's the story they capture. After that, she has dropped at the bank, and they jail her next to him, and then he realizes she is the same girl.
There were a lot of secrets. It's far from epic, and you can sense what's happening. The romance and character building are not satisfying for me. But I enjoyed the story and magic.
Author: C.N. Crawford
Narrator: Amanda Dolan
Publisher: Corey Press
Average Customer Review: (4.4 out of 5, on Amazon)
Tropes: Fantasy Romance, Mythology, Fae
Number Of Pages: 310
Available: Audiobook | Paperback | Kindle
---
Those are all the books that I found with elves in them. I still have some books with elves lined up. If you have any suggestions, I am open to them. On that note, do leave a comment. Tell me what you think.
Read more similar books:
15 Dark Fantasy Books About Demons
7 Fairy Tales Books Like Fablehaven Series
5 Folklore Books Like Land Of Stories
5 Folk Tale Books Like Kingdom Of The Wicked