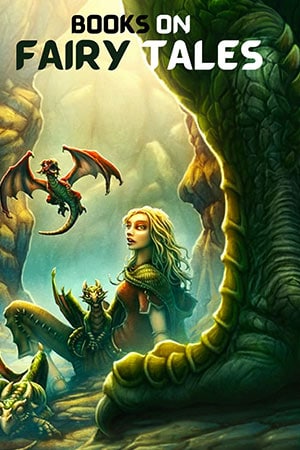 The Land of Stories by Chris Colfer is a children's fantasy and magic book. The book's based on many fairy tale aspects around the two brothers and sister. Alex and Connor are thrust into this storybook world.
Hence the name is the land of Stories, and they have to find their way back home. But the only way to do that is to collect the items needed for the wishing spell. To do that, they have to travel throughout the entire kingdom and collect the different elements that they need for the Wishing Spell. Follow me if you are waiting to read books like Land Of Stories!
5 Books Like Land Of Stories (Fairy Tales)
The Land of Stories follows fairy tales. There's nothing better than fairy tales, whether you're a child or an adult. We all can appreciate fairy tales in one way or another. The storybook happens to be a portal into the land of stories, and Alex and Conner find themselves in the land of stories, having all crazy adventures.
We see a good deal of the major fairy tale characters in this book, and it takes place after all these fairy tales have happened. We also see lots of interaction between all these fairy tale characters, and it was a great thing to read. I will review 5 books similar to Land Of Stories to read more. Let's go!
1. Keeper of the Lost Cities
The book is about a girl named Sophie Foster. She's 12 at the beginning of the first book, and she lives in San Francisco. When she was little, she hit her head. Ever since then, she's heard everyone's thoughts around her. So she's like a prodigy in school but has no friends.
In the very first chapter, We get she's in the museum. She's on a class field trip. Author Shannon Messenger gets right into it, which is good because the world she's building isn't the human world anyway.
You will find that Sophie is not a human, and that's why she can hear people's thoughts. She is an elf. So the founder is a Fitz, and this is a side character. He finds Sophie, then takes her to where she's supposed to be. It's called one of the lawsuits. She lives in the city, and she doesn't know what it's called the Old City. That's not supposed to be real for humans, and humans are banned from the lost cities.
The whole book is about her coming, and she's so behind everyone else her age. When she finds out her family's not her real family, she doesn't know her parents. She has to go and stay with these people she doesn't know. Then she starts at the magical school and can read people's minds. Like Land Of Stories, this book has many magical and adventure elements that you will love.
Author: Shannon Messenger
Average Customer Review: (4.9 out of 5, on Amazon)
Category: Children's Fantasy & Magic, Friendship Action & Adventure
Available: Paperback | Hardcover
---
2. Story Thieves
This is the first book in the series of Story Thieves. There are also three books in that series. It's about a girl named Bethany, and she has a new friend named Owen. Bethany is a book jumper, which means she can jump into books and end up in that book. She can do whatever she wants in the stories. Owen one day sees her jumping into a book. He finds out she can jump into books.
Now they have to get home before it's too late, because if you guys have heard of this time travel. You'll turn into stone if you're in time travel and see yourself there. If you're in a book and mess with the stories and characters and add things that aren't in it, it will ruin the whole book series. So they have to get home before they ruin anything else. The characters and world-building are very similar to Land Of Stories.
Author: James Riley
Average Customer Review: (4.6 out of 5, on Amazon)
Category: Children's Fantasy & Magic
Available: Audiobook | Paperback | Hardcover | Kindle | Audio CD
---
3. Escape from Mr. Lemoncello's Library
This is a middle-grade contemporary story about a 12-year-old boy named Kyle. He feels as though there's nothing special about him. He has a smart older brother and an athletic older brother. One thing about Kyle is that he loves games, and his favorite game maker of all time is Mr. Lemoncello. So when he hears that Mr. Limoncello is building a library in his community, he wants to check out this library because it's not going to be any other library.
So Mr. Lemoncello and his fellow library creators plan on having 12-year-olds spend the night in a lockdown to celebrate the library's opening. Kyle and a couple of his friends are lucky children who get selected to spend a night in the library. So when they go to the library, they realize that they will be staying there for a lot longer than they bargained for.
Mr. Lemoncello locks them in the library and tells them they have to find their way out. He left a bunch of clues and hints and stuff like that. So they have to go on quests and scavenger hunts, and they have to use their mystery detective and uncovering skills to find clues in books and various parts of the library.
There are holograms and mannequins of all dead authors who walk around and talk. There are all crazy technology and impossible things, so I consider this literary book fiction. You have some of Kyle's best friends like Miguel, Ikimi, and Sierra. Sierra is a fascinating character.
Then you have Charles, another kid in the library who's arrogant and stuck up. You have Haley, who's this snobby rich girl. So this book is the breakfast bunch meets Charlie and the Chocolate Factory meets Scooby-Doo. You get to see them talk about The Hunger Games and Land Of Stories.
Author: Chris Grabenstein
Average Customer Review: (4.7 out of 5, on Amazon)
Category: Children's Mystery, Detective, & Spy, Action & Adventure
Available: Audiobook | Paperback | Hardcover | Kindle | Audio CD
---
4. A Wrinkle in Time
Like Land Of Stories, A Wrinkle in Time is a sci-fi book. You're whisked off on this magical journey through time and space to save Meg and Charles Wallace from the impending black thing trying to suck the life out of everything. It is horrifying, and it's consuming everyone and everything we love.
We go to all of these different planets. We meet all of these different beings, these alien-type things. There are these three women, Mrs. Whatsit, Mrs. Who, Mrs. Which, who seemed to know all, and there's something very mysterious going on about them.
It's all rooted in this story of this girl being different from everybody else and learning that what makes her different and makes her stand out from society makes her great. Her greatest faults are her greatest strengths, and you will love seeing that throughout the book.
We see that with Meg and Calvin, who come along for the ride. We also see that with her little brother, Charles Wallace, a very odd five-year-old who talks in complete sentences. He is intelligent, and he might read people's minds.
Author: Madeleine L'Engle
Average Customer Review: (4.6 out of 5, on Amazon)
Category: Children's Time Travel Fiction, Classic
Available: Audiobook | Paperback | Hardcover | Kindle | Mass Market Paperback
---
5. Harry Potter and the Sorcerer's Stone
Sorcerer's Stone is filled with so many classic Harry Potter scenes. When Harry is at the zoo for Dudley's birthday and talking to the snake for the first time, the glass disappears, and that's the first view of Harry's magic. After 20 years of Harry Potter being released and after all the books have been published, J.K. Rowling is trying to push the fact that Slytherins are not all evil. They're not all bad, and they can be great wizards too. Even Ron explicitly says, "there has never been a witch or wizard who went bad who wasn't in Slytherin."
In Sorcerer's Stone, when Malfoy and Harry meet for the second time on the train, Draco tries to be nice to him cause he knows it's Harry Potter. Jo constantly sets us up for an expected reaction. He was using internal and external factors to set this up that this would be a tough, negative moment for Harry, but as it turns out, he ends up being the youngest Seeker in a century and is asked to play on the Gryffindor quidditch team.
We learn throughout the series that Hogwarts has protective enchantments. That's why things with electricity don't work at Hogwarts. You can't apparate in or out of Hogwarts. So why can they fly onto the grounds like that? A critical point in their security?
Nearing the end of the story, after Ron, Hermione, and Harry have figured out the stone is what's being protected inside Hogwarts, it's in the third-floor corridor. They're confident that Snape's going to steal it. They go after Dumbledore to tell him, but they catch McGonagall. This part of the story frustrates me because McGonagall is dismissive of them. You must give it the first chance if you like Land Of Stories.
Author: J.K. Rowling
Average Customer Review: (4.8 out of 5, on Amazon)
Category: Teen & Young Adult Wizards & Witches Fantasy (Best Seller)
Available: Audiobook | Paperback | Hardcover | Kindle
---
More Children Fantasy Books: 5 Books Similar To The Phantom Tollbooth