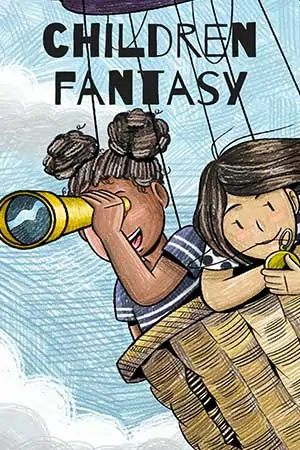 The Phantom Tollbooth by Norton Juster, illustrated by Jules Weisberg, is about Milo, a very bored boy with life. He has plenty of time but doesn't see anything worth doing. One day he finds a package in his room. It's been left there mysteriously, and this package contains a tollbooth which he drives through in his toy car because he has nothing better to do. Also, he is transported to this fantasy world where nothing's quite the same as it is here. He visits the island of conclusions, which you get to by jumping.
There's constant excitement and adventure, and Milo has to work his way through and solve all the problems he gets into, which is interesting to read. The author uses constant puns and wordplay, but he uses this to teach essential life lessons. If you want to read books like The Phantom Tollbooth, keep reading.
5 Books Like The Phantom Tollbooth (Children's Adventure Fantasy)
In The Phantom Tollbooth, Milo goes to the land of bullets, the land of words. While he was there, he learned the importance of wisely choosing words.
So Milo learned many lessons, and I appreciated how the author taught and made you think about the world. I will review 5 children's books similar to The Phantom Tollbooth to help your children learn ethics, morality, and life adventure. So let's go!
1. The Mysterious Benedict Society
Imagine yourself 12 years old, and you are looking at a newspaper. This newspaper advertisement asks for young, gifted children looking for special opportunities. You have to take several mind-bending, mysterious tests, and it's until you pass these tests that you are eligible for these very special opportunities, and only four kids can do it. These kids have to be resourceful. They have to be ingenious because of what they're about to do.
They're on a special mission. What kind of mission is that? You're probably asking you all save the world mission. They have to form a team, friendship, a pact because they have to rely on each other. A newly formed friendship is at stake, test their weaknesses and strengths. So that's basically what the mysterious Benedict Society is all about.
This book is very character-driven but revolves heavily around each character's character development and growth. Each of these kids is unique and different. They both have their strengths and weaknesses. Rainey is a very logical, smart character who can quickly solve puzzles. Sticky is a timid character, but his brain is like a computer. Whenever he reads a book, he downloads and memorizes all the information.
So he is the memory master. Then there's Kate, who is resourceful. She hangs around her waist, which is so cute and cool. Their relationship is significant, and the success of their mission relies heavily on them working together.
Like The Phantom Tollbooth, the book has many different backgrounds and personalities, and everyone has their strengths and weaknesses. A lot of action happens at the very end of the book. This mission that these kids had to compete with was saving the world. The plot was more a device for the characters to develop to test their friendship as a relationship for kids.
Author: Trenton Lee Stewart
Average Customer Review: (4.7 out of 5, on Amazon)
Category: Children's Mystery, Detective, & Spy
Available: Audiobook | Paperback | Hardcover | Kindle | Audio CD
---
2. The Witches
This book is about a little boy and his parents dying for his grandmother, and they go and stay at this hotel. There is a witches conference going on, thus unfolding the story. Having read it, I realize how amazing Anjelica Houston did on the ground high, which was phenomenal.
You've got his parents dying in this beginning, and kids can understand that can be a part of a storyline. There are illustrations by Quentin Blake, and these were particularly brilliant. You've got pictures like the one of his grandmother, who is always smoking a cigar.
The book explains witches who have no jobs. But this is not a fairy tale, and this is about real. You should pay attention to this. It is such a well-crafted work of fiction that it is enjoyable for someone of any age. There are also many little parts to working with innovative storytelling similar to The Phantom Tollbooth. There's a bit where the author says all you have to do if you wish to make a child very small is to look at him through the wrong end of a telescope.
Author: Roald Dahl
Average Customer Review: (4.8 out of 5, on Amazon)
Category: Children's Fantasy & Magic Books (Teachers' pick)
Available: Audiobook | Paperback | Hardcover | Kindle | Audio CD | Graphic Novel
---
3. The Secret of Platform 13
This book is set in London but also set in a magical kingdom. Like The Phantom Tollbooth, the main characters are wizards, mermaids, ogres, and other beautiful creatures. Their mission in this book is to go and save a prince of their kingdom because he was stolen nine years ago from book starts by this terrible woman who wanted to have a child. So she stole him away from his nannies at the time because they were visiting London to see the sights and visit relatives.
Nine years later, when they can go back to London because they're a magical kingdom, it's not always available to go. So they are charged with going and finding him. They find him, and they have to convince him to return. But some little side stories are going on, and a little bit of trouble when it comes to bringing back the lost friends. It's mishaps that are along the way.
They're very headstrong about what they want to do, but they still work as a team. Also, it's incredible because you can see that it's interesting. When people tried to pull down that part of the station and redevelop it, something always went wrong. An architect who wanted to build shops there suddenly came out and offered boils and went to Spain. When they tried to relay the tracks for electricity, the surveyors said the ground wasn't suitable. It was as though people knew something about Platform 13.
Author: Eva Ibbotson
Average Customer Review: (4.7 out of 5, on Amazon)
Category: Children's Dragon, Unicorn & Mythical Stories
Available: Audiobook | Paperback | Hardcover | Kindle | Audio Cassette
---
4. The Penderwicks at Last
It's the fifth book of the series. This is a beloved series for children. One thing that's so interesting about this five-book series is that there are five girl characters. So the four girl characters, Rosalyn, Skye, Jane, and then Batty, are the original four daughters that we meet in the first book. Then Penderwick gets married to a neighbor, Eantha, and she has a little boy Ben. They have a daughter together, Lydia. So each book is based around the daughter, who's 12 years old.
The fifth book is Lydia's story. Jeanne Birdsall did a nice plot twist to bring all the books back together to the original location of the first book, Arundel. They stayed in this place for the summer, where they met Jeffrey. They're on a big occasion, a big family reunion. What's also nice is they got Jeffrey's mother back into the story, and she's the evil mother who dislikes them and disapproves of them. She makes a lot of excitement to the story and helps to wrap it up. The adventure and plot environment is very similar to The Phantom Tollbooth.
Author: Jeanne Birdsall
Average Customer Review: (4.7 out of 5, on Amazon)
Category: Children's Siblings Books, Adventure
Available: Audiobook | Paperback | Hardcover | Kindle | Audio CD
---
5. The Borrowers
This one is a vintage book that was written in the 1950s. Author Mary Norton is from England, and she writes about these little people who live under the floorboards of homes and their little families and how they make their living as they go out into the homes. They look for things to borrow that they need, from food to supplies to anything that they can create something that they can use. Maybe a toothpaste cap becomes a glass for them. There's one older lady left with her housekeeper, and Ariadne is the little girl in the story and her parents.
They are stuck in their tiny home under the floorboards of the kitchen, and no one can see them. So they're the only ones left in this home, and they are leaving a living a solitary life. So one day, Arrietty convinces her father to let her go borrowing at night with him, and when she goes, she is seen by this little boy.
This little boy is staying with his great aunt. He was ill, and now he's recovering. So he's curious, and he doesn't tell anyone about this little girl, but he and she become friends. So I recommend the borrowers. It has stood the test of time. There are more books in this series like The Phantom Tollbooth. If you like the borrowers, you can continue reading.
Author: Mary Norton
Average Customer Review: (4.7 out of 5, on Amazon)
Category: Children's Fantasy & Magic Books
Available: Mass Market Paperback | Paperback | Hardcover | Kindle | Audio CD
---
Read More Children's Adventure Books: 5 Books Similar To The City Of Ember