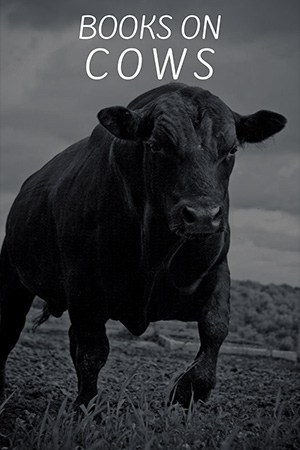 Cows are the foster mothers of the human race because they produce most of the milk people drink. They have an almost 360-degree panoramic vision and have a keen sense of smell up to five miles away. They use all of their senses to perceive their surroundings. But their sensory perception is different from a human's.
Understanding sensory perception in cows is key to understanding why cows behave the way they do. Children like cows and their nature to read. Many authors use cows for characterization and socialization. Stay with me if you want to know more about cows through the stories.
6 Books About Cows
When I was a child, my mom taught me about animals through books, and I was fascinated with them. So I can not ignore them and still read books representing cows, pigs, horses, lions, and other jungle animals. Now, I will review my top favorite 6 books on cows and other domestic animals. Most of them are for children, and two are for adults. Let's read!
| Name | Key Focus | Review (Goodreads) |
| --- | --- | --- |
| Click, Clack, Moo | The story between animals and farmers where animals want their rights. | 4.2 |
| Good Night Farm | The animals have families, and the story focuses on how they care for their families. | 4.0 |
| Holy Cow | Three animals are trying to survive and not turning into food. | 3.3 |
| Why We Love Dogs, Eat Pigs, and Wear Cows | The story focus on the brutality and behavior of human among animals. | 4.1 |
| The Story of Ferdinand | A bull tries to discover itself and struggles with difficulties. | 4.3 |
| Cows | The story focuses on how a psycho man turns into a cow for his sin and what happens afterward. | 3.2 |
Books On Cows
1. Click, Clack, Moo: Cows That Type
Have you ever wondered what would happen if animals could talk? In this book, you can explore this question fun and excitingly. Farmer Brown's cows have come across a typewriter. They now take it upon themselves to ask for or demand electric blankets in a cold barn at night by writing notes to the farmer.
Farmer Brown is forced to consider whether he should give the cows what they want or face the consequences of leaving them unhappy. He convinced the cows to stop asking for an electric blanket. Will the cows win the argument and take over the whole farm? Find out.
This book has a great story for young learners aged 5 to 8. The idea is the farmer is getting messages from the cows. That's how it starts, and he's wondering what the problem is. The cows are typing messages and leaving them for the farmer, a funny story. You have the chickens indeed. They say no milk and no eggs. Also, you've got a duck talking about: Okay, we'll exchange our typewriters for some electric blankets.
So, it's a lot of fun and simple to go through. You will get wonderfully funny pictures with vivid imagery, bright colors, and animated characters that add to the story. It was even named an honor book for its pictures. The humor and excitement of this story in vivid and colorful pictures and enjoyable storytelling elements combine to make for a book that is so much fun to read.
Author: Doreen Cronin
Narrator: Randy Travis
Publisher: Weston Woods Studios
Average Customer Review: (4.9 out of 5, on Amazon)
Tropes: Humorous Fiction, Fantasy
Number Of Pages: 32
Available: Audiobook | Paperback | Hardcover | Kindle | Spiral-bound
---
2. Good Night Farm
A nighttime routine makes nighttime a little easier for everyone in the family with three kids. That is a perfect addition to a bedtime story. Good Night Farm is a board bedtime book. So the pages are hard cardboard to hold up to your baby's super grip. It's amazing how much grip those babies have. So the book is perfect because it is all about saying good night to all farm animals.
You're taken through a farm and encounter pigs, cows, and horses, and how those animals prepare for the evening with their families and say goodnight. You'll encounter a little spot with each animal where kids can touch. They can pet the horse's mane when saying goodnight to the animal.
The touch and feel are nice in an interactive sense. It's also tied into a goodnight routine, showing animals going through their goodnight routine. So the story alone adds to that and the ritual of reading it.
Unlike many other board books aimed at babies, there is quite a bit of word on the pages, which makes this book great for babies, but as they age, they can see the words, say words, and repeat them. Also, babies can read the story themselves as part of the goodnight routine. So, if you love animals and teach your baby about them, pick it.
Author: Patricia Hegarty
Publisher: Tiger Tales
Average Customer Review: (4.8 out of 5, on Amazon)
Tropes: Sleep Issues, Nature, Science, Travel
Grade level: 1 – Kindergarten
Number Of Pages: 18
Item Weight: 1.1 pounds
Dimensions: 8.38 x 0.75 x 9 inches
Available: Boardbook
---
3. Holy Cow
The story is about a cow, a turkey, and a pig. But more specifically, cow Elsie is her name, and she is the main character named Holy Cow. But she escapes. So Elsie goes up to the window of the barn house because she notices that the latch on their gate isn't all the way closed.
Then she peeks into the window, sees them watching TV, and sees what happens to terrified cows. So she decides to escape, and she doesn't go alone. The pig and the turkey go with her.
You go with them on all these adventures, trying to survive as animals and not turning into food. You learn about Elsie's story during these adventures, which is fun. You can see it in this book if you're familiar with David Duchovny and his humor. I enjoyed reading it because it was funny. Adults that are kids at heart can appreciate this because of that aspect. Give it a try if you can get it from a library or see if it's for you.
Author: David Duchovny
Publisher: Farrar, Straus, and Giroux
Average Customer Review: (4.2 out of 5, on Amazon)
Tropes: Satire, Comedy
Number Of Pages: 224
Available: Audiobook | Paperback | Hardcover | Kindle | Audio CD
---
4. Why We Love Dogs, Eat Pigs and Wear Cows
The book was published in 2010. Fun fact: It was Melanie Joy's Ph.D. dissertation about why we love dogs, eat pigs, and wear cows. So you know that this is all scientifically proven, or otherwise, she wouldn't have received her Ph.D. The story is about animals and how we treat them.
The book describes the lives of millions of cows, pigs, and other domestic animals. The cruelty that stands behind the processes that go on in the system. It partly explains why most of the readers don't eat dogs. Still, it gives us some leeway to think and connect the dots on our own which is great. The author introduces us to Carnism, which is the opposite of vegetarianism.
Carnism is meat-eating, and vegetarianism is plant-eating. It can be compared to patriarchy and genocide. If you think about it, carnism is also based on prejudice and violence against animals. But Carnivores aren't necessarily bad people who don't know what's happening in the slaughterhouses and how the animals are treated. It's mostly those two options.
So the meat-producing factories are a whole new level of violence. The brutality involved in the process is unreal. That makes you question and rethink all the food choices you ever made. Many people that have been too exposed to the system of producing meat got PTSD.
You're getting nightmares and all other post-traumatic experiences. It even stands for post-traumatic stress disorder. I will not explain what happens in those factories in detail, but I hope you will read the book and see it yourself. Don't pick hardcover because paperback quality is much better than any other print. The paperback/kindle's font size and color combination are perfect for reading.
Author: Melanie Joy Ph.D., Yuval Noah Harari
Narrator: Heather Wynne
Publisher: Tantor Audio
Average Customer Review: (4.5 out of 5, on Amazon)
Tropes: Animal Rights, Food Science, Nature & Ecology, Psychology, Philosophy
Number Of Pages: 224
Available: Audiobook | Paperback | Kindle
---
5. The Story of Ferdinand
The story is about a bull who would rather smell flowers than fight in bullfights after Ferdinand accidentally sits on a bumblebee. He is mistakenly selected as a ferocious bull. When Ferdinand is taken to the bullfight, he lies in the middle of the ring and smells the flowers. Ferdinand is taken back to his pasture, still smelling the flowers, where he can be found today.
In 1938, this book ranked number one best seller in the United States. Ferdinand was dubbed the greatest juvenile classic since Winnie the Pooh. As a parent, if you're looking for a child's book, a classic, a number one bestseller, good reading skills, good teaching lessons, stirs the imagination, and is more than a run, then this book is for you and teachers' pick.
Author: Munro Leaf
Narrator: Brian Amador
Publisher: Listening Library
Average Customer Review: (4.5 out of 5, on Amazon)
Tropes: Cultural studies, Dystopian
Number Of Pages: 72
Available: Audiobook | Paperback | Hardcover | Kindle
---
6. Cows
The book is regarded as the most disturbing horror novel. It comes up in discussion a lot on the horror-lit subreddit. There are all different sexuality and animal cruelty with dogs and cows. So, I wouldn't recommend it to almost anyone unless you know what you're getting yourself into and are curious. While I was reading it, I wanted to know what would happen. So it's a tough one to pin down.
Our main character Steven lives with his mom in a little apartment. His mom's a horrible human who tortures him physically and mentally. So Steven's stuck there, and he watches TV all day. All he does is sit in his room, watch TV, and fantasize about having a life. He wants a wife and kids, and he wants to be happy.
One day Steven comes up with a plan to escape this bad situation. So he's trying to figure out a way to kill his mom and get out of there. He's got a girlfriend who lives a couple of floors above him. She's also a depraved human. So, there are no good people, and everyone's horrible in this book.
Steven gets a job at a slaughterhouse, killing cows. Going with the book's theme, every single person that works there is the worst person you've ever imagined. They all love killing. So after he works there for a while, they take him under their wing and start teaching him to be a lover of killing.
Then the second half gets into this territory where there are talking cows and another strange underground sewer stuff. I expected an American psycho type of reveal for a massive chunk of the book. I do not recommend this book unless you're brave to read it.
Author: Mr. Matthew Stokoe
Average Customer Review: (3.5 out of 5, on Amazon)
Tropes: Dystopian Fiction, Horror Literature, Psychological-thriller
Number Of Pages: 216
Available: Paperback | Kindle
---
Read more similar books:
5 Children's Fantasy Books Like The Phantom Tollbooth
5 Children Adventure Books Like The City Of Ember
7 Children Realistic Fiction Books Like The Penderwicks