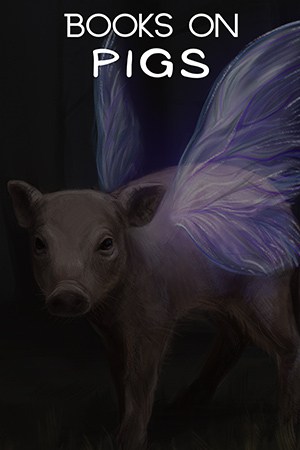 Pigs appear in traditional folklore, including one of the 12 animals making up the Chinese Zodiac. They also mean good luck to some cultures. For instance, in Germany, people commonly give each other a candy pig on New Year's Eve to wish you good luck in the coming year.
Pigs are familiar and often used in nursery rhymes and stories to teach a moral lesson. Did you ever hear the story of the Three Little Pigs? We will learn more about pigs through books.
5 Book About Pigs
Pigs are animals you might meet on a farm or in the wild. They are brilliant and considered as smart as cats and dogs. They are very social, and they like to cuddle together. Pigs talk to each other constantly and can make over 20 different sounds. So readers and writers love to read about pigs.
Children love seeing and reading them because they are cute, polite, and friendly. Now I will review my 5 favorite books about pigs as a focusing character. Let's see!
| Name | Key Focus | Review (Goodreads) |
| --- | --- | --- |
| The True Story of the 3 Little Pigs | A wolf is telling the story of pigs with himself. | 4.3 |
| The Three Little Pigs | The author shows three pigs' stories with graphic illustrations. | 4.0 |
| The Christmas Pig | The story focuses on the friendship between a boy and a pig. | 4.1 |
| Peppa Goes To London | It's an adventure of a pig in London. | 3.9 |
| Animal Farm | The story focuses on the animals' equality from a satirical point of view and shows animals' emotions. | 3.9 |
Book About Pigs
1. The True Story of the 3 Little Pigs
When you first look at the book cover, you don't know what to expect in the story because it still looks classic with the wolf blowing at the pigs. It's because he wears a suit, a bow tie, and glasses. That makes it seem a little more modern. Also, the newspaper makes it seem different from the original version. The illustrations overall are pretty classic.
It's told from the wolf's perspective. He goes through the story and tells us that he's not so bad and he didn't mean to knock down all the pig's houses. This book has won awards, but they're not pictured on here. It won the notable children's recording award in 2009, but no words are on the covers, and none of the characters are looking directly at you. But the pig's hoof makes it seem a little more interactive.
Also, its use as a newspaper makes it seem to the reader like some part of the story happened in the past. Overall, the author talks about how it's up to the reader to decide what they believe if they're going to believe Wolf's story of it or the original story that he is the big bad wolf. If you're interested in that and want to read more, I recommend reading this book about pigs because it is hilarious. Give it a try, and let me know how it goes.
Author: Jon Scieszka
Publisher: Puffin Books
Average Customer Review: (4.9 out of 5, on Amazon)
Tropes: Folk Tales & Myths, Fox & Wolf, Humor
Number Of Pages: 32
Grade level: Kindergarten – 3
Item Weight: 0.01 ounces
Dimensions: 8.5 x 0.12 x 10.5 inches
Available: Audiobook | Paperback | Hardcover | Mass Market Paperback | Audio CD
---
2. The Three Little Pigs
This book won the Caldecott Medal Award for its illustrations, and it's incredibly creative. The story has a comic book talk bubble. So you can keep the kids entertained and engaged with the story. It is a board book with nice graphics that shows the traditional three pigs storyline. The storyline continues on the page, but the characters do not act as the story tells them.
Another nice thing is that it's excellent for toddlers or babies, but it's also a padded board book if you can see it there. So it's got those two different textures for the kids with good graphics and colors. I recommend it if you're into tactile sensations for babies, teaching them the different things. The paperback quality is not good as the board book, and the library binding is average.
Author: James Marshall
Narrator: Fritz Weaver
Publisher: Weston Woods Studios
Average Customer Review: (4.7 out of 5, on Amazon)
Tropes: Fairy Tales, Folk Tales & Myths
Number Of Pages: 32
Available: Audiobook | Library Binding | Paperback | Board Book
---
3. The Christmas Pig
The story begins with the story of Jack Jones. The name isn't quite as realistic as you might expect from J.K. Rowling, but this is aimed at a kid's book. It is illustrated that it should be read to younger children rather than leaving them to read it themselves. The themes within it can touch on quite dark and moody at times. As you might expect from J.K. Rowling, she handles the themes of marital breakup, mixed families, anger, and jealousy expertly.
The first couple of chapters move along quite quickly and introduce the main protagonist, Jack, a very young child who likes to suck on the ear of his pet pig. So, the first few chapters talk about how Jack and DP (Dur Pig) have been abbreviated to become good friends. His parents then split up, and DP is always there to help Jack feel better during crises.
The author does an expert job of building this sense of connection to an inanimate object. So Jack's parents split up, and Jack moves to a new school. His mum meets someone new and starts dating and eventually marrying the guy, Brendan. Brendan has a daughter called Holly.
Holly becomes a teenager and a moody one at that. Without listing, it's hard to say what's happening in this story. If you're looking for the Harry Potter-style narrative, it's not there. It's a classic time running-out story; writing about magic is unparalleled. The paperback quality is not good enough, but the hardcover is impressive.
Author: J.K. Rowling
Narrator: Amaka Okafor, Rocco Padden
Publisher: Audible Studios
Average Customer Review: (4.7 out of 5, on Amazon)
Tropes: Adventure, Fantasy
Number Of Pages: 288
Available: Audiobook | Hardcover | Kindle
---
4. Peppa Goes To London
Peppa Pig's collection of 50 books is almost palm-sized. These books are ideal for getting your children started to develop reading habits. Common sight words and high-frequency words are used in these books to help your children visualize and entertain. They tell you the common characters so that you can refer back.
The ultimate Peppa Pig comes in a strong cardboard case with slip-on storage. The package is beautiful, and the cover page is thick and glossy. Illustrations are beautiful, like what we see in TV series. The book's binding is strong so that children can use it freely. My children love picking each of these books up, and they read at least one book a day, which is not enough but still good enough to get them started.
Author: Peppa Pig
Publisher: Ladybird
Average Customer Review: (4.8 out of 5, on Amazon)
Number Of Pages: 32
Item Weight: 7.6 ounces
Dimensions: 10.43 x 0.2 x 10.2 inches
Available: Paperback
---
5. Animal Farm
All animals are equal, but some animals are more equal than others. Animal Farm is a classic for a reason eternally relevant. A big group of animals is working on a farm, and humans own that farm. Eventually, they start to think they're getting a raw deal. The pigs are the smartest animals on the farm which will start a rebellion. So, they're going to throw the shackles of the humans off their backs.
The animals will run the farm, and they will seize control. There will be equality and paradise for all. Thus begins Animal Farm by the end of the book. I took two main lessons from reading this book. The first lesson is the importance of language.
The animals have undergone a revolution, trying to bring about equality. But the definition of what's unacceptable is constantly shifting. In the beginning, Snowball is seen as a heroic comrade in arms who's down for the revolution.
By the end, he's been whitewashed out of existence. History has been rewritten, and he's cast as the ultimate super-villain who's the true reason the Animal Farm isn't operating in a much better way, and they haven't achieved paradise. The point brings me to the second takeaway.
If you don't know what you're doing, there's a good chance that they will grab you in their panic. The problem is they haven't saved themselves. They've drowned you, and they're still drowning. That's what we see with Napoleon in this book. Be aware of content alerts! Pick this book if you can deal with any sensitive issue easily or not have any mental illness.
Author: George Orwell
Publisher: Signet
Average Customer Review: (4.7 out of 5, on Amazon)
Tropes: Censorship & Politics, Satire, Dystopia
Number Of Pages: 140
Available: Audiobook | Paperback | Hardcover | Kindle | Mass Market Paperback
---
Read more similar books:
5 Children Adventure Books Like The City Of Ember
5 Children Mystery Books Like The Westing Game
5 Dystopian Books Like Last Kids On Earth