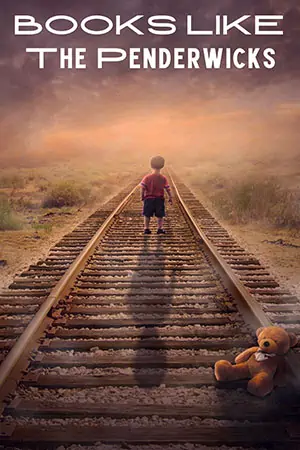 The Penderwicks by Jeanne Birdsall is juvenile realistic fiction. There are a couple of parts for different characters. They try to run away from home or run away to home. Also, there's a fun sequence involving a very mean ball. But in general, the book is more about self-exploration. That's the central theme and the driving force. Are these characters trying to figure themselves out?
So the main character of the book is the Penderwicks. He has four daughters who are Rosalind (12), Skye (11), Jane (10), and Batty (4). The other character that plays a big part in the story is Mrs. Tifton. She wants everything to be the way she wants it. Jeanne Birdsall explores the emotions and everything she processes through this book. If you're going to read books like The Penderwicks, keep scrolling.
7 Books Like The Penderwicks (Children's Adventure & Realistic Fiction)
The Penderwicks is one popular realistic fiction book with many crazy fans. As readers, we need to try reading something different, something that's not our norm. It helps us become better readers and understand what we love. Also, It's another thing to know why you like it. So, I want to talk about realistic fiction because even though it's not my favorite genre, there are so many great books, and for a lot of your teachers, it's their favorite type of book to read.
Realistic fiction is a fictitious story based in the real world, has real problems, events, or something that might have happened. It also can sometimes be more predictable. It is a type of genre that's a massive genre with many little subgenres or subtypes inside it. Realistic fiction helps us understand that life isn't easy or that you're not alone whatever you're going through. That's a powerful idea.
The idea is that we're not alone because sometimes, as human beings, that's something we feel constantly. Sometimes we think, and we can't shake that feeling, that this is our problem and we're the only ones who have this problem. If you read realistic fiction, you realize we're never alone and that what might be a problem for you, someone might have already found a solution.
So let's talk about some realistic fiction books similar to The Penderwicks.
1. Wonder
Wonder tells the story of a boy named August Pullman, who was home-schooled for a very long time, and he was born differently than we. He was born with an abnormality. His face is disfigured, and the story talks about how he adjusts to going to school with other kids again how his family adjusts to it. It's told from his sister's point of view, from his point of view, and it's a fantastic, well-written story.
One of the things I love about this book is that it never tells you what its face looks like, which means so much to me as a reader. It doesn't matter what he looks like. That has no part of the story. Who cares? It doesn't change who he is, and it doesn't change their personality.
As readers, sometimes we look for that information, but the story never does. It doesn't make a big deal about the fact, and it leaves it up to you. You decide how you want the child to look. But the story does an excellent job of telling the reader that it doesn't matter. I highly recommend it after The Penderwicks.
Author: R. J. Palacio
Average Customer Review: (4.8 out of 5, on Amazon)
Category: Children's Diseases & Physical Illness, Daily Activities
Number Of Pages: 320
Available: Audiobook | Paperback | Hardcover | Kindle | Audio CD
---
2. Counting by 7s
This was a bluebonnet for a lot of our readers. So if you were in fourth or fifth grade last year, there's a good chance you might have seen this book had it read to you or read it yourself. It is a story about a young girl named Willow, and she's an adopted child. It's hard to describe this book of love without giving away too many spoilers.
But unfortunately, a tragic event happens to her adoptive family, and she has to find a new family again. Here, Willow is like a savant. She is unbelievably intelligent and weird, and not everyone understands her or understands what she's going through. If you're looking for a personal story that has a character who has to adapt, this is an excellent book for you. I would consider this a problem novel. That's a type of realistic fiction like The Penderwicks.
Author: Holly Goldberg Sloan
Average Customer Review: (4.7 out of 5, on Amazon)
Category: Orphans & Foster Homes
Number Of Pages: 416
Available: Audiobook | Paperback | Hardcover | Kindle | Audio CD
---
3. The Great Trouble: A Mystery of London, the Blue Death, and a Boy Called Eel
It is a historical fiction in London during the cholera epidemic. Cholera is a sickness that people can get that can be pretty fatal. This is a story about the events and how a little kid, a street urchin, a street rat were able to help a famous doctor find the cause of the cholera epidemic of London, which resulted in a lot of deaths.
The main character in this story is a boy named Eel. He is rough and tumbles. He takes care of his community and his little brother. But he's got a weird backstory, and his life hasn't always been that great. Eel meets a lovely young and attractive doctor who takes them on a journey to help solve what could be causing all these random and rapid deaths throughout his neighborhood.
If you like reading about history, this is a great book to pick up at the end. It has some great notes about where the author got her ideas from, the facts in the story, and what happened during that time. You get to see many characters' similarities and themes similar to The Penderwicks.
Author: Deborah Hopkinson
Average Customer Review: (4.7 out of 5, on Amazon)
Category: European Historical Fiction, Mystery, Detective, & Spy
Number Of Pages: 272
Available: Audiobook | Paperback | Hardcover | Kindle | Audio CD
---
4. The Honest Truth
This is a challenging book to read, but an amazing story. It is about a young child who is ten years old. He has cancer, and he doesn't think he has long to live. So he runs away from home, takes his favorite dog with him, and wants to climb a mountain. It's a very dark personal journey. But at the end of it, it's about the power that we have inside of us. The moral lessons and beliefs are very inspired by The Penderwicks.
Many of us have someone in our life that unfortunately, has been touched by cancer. It is a very personal complex story, but it's a story about friendship love that we can get from our pets. Sometimes, we have these mountains that we can't climb in our lives. But trying to do so by yourself is almost a dangerous and deadly event in our life. We need other people to help us. I hope you pick it up in the library.
Author: Dan Gemeinhart
Average Customer Review: (4.7 out of 5, on Amazon)
Category: Survival, Mental Illness
Number Of Pages: 240
Available: Audiobook | Paperback | Hardcover | Kindle | Audio CD
---
5. Absolutely Almost
This is a fun book, and it's a story about a kid named Albie. He goes to school, and he's almost good at sports. He can almost do the math, but he's never quite there. The story focuses on Albie, and he has to go through some changes. His best friend is on a reality show, and their friendship starts to change a little bit. He has to go to a new school, and they're bullies.
I would suggest a problem novel if you like realistic stories. But you don't necessarily want to deal with something as heavy as a boy trying to the mountain with cancer. It is a bit more lighthearted fare. Albie's got some problems that he has to solve as The Penderwicks. He is a great character, and this one might look a bit thick.
Author: Lisa Graff
Average Customer Review: (4.7 out of 5, on Amazon)
Category: Children's Books on Disability & Babysitting
Number Of Pages: 320
Available: Audiobook | Paperback | Hardcover | Kindle | Mass Market Paperback
---
6. Out of My Mind
This book is about a young girl named Melody, who has a photographic mind. A photographic mind means that pretty much she has a powerful memory. She needs only to be shown something once and boom in the head what she sees.
But there's one problem with Melody, and she can't talk. She can't communicate, to speak, at least not very well. She goes to a school where she has this brilliant mind, and they're still treating her like she's a preschooler doing the same lessons over and over again.
This book does a great job of showing a window into what some of our students deal with at school. We are all very different. But no matter what, we are all unique, and we are all-powerful. So, this is a book that I would suggest to any students interested in some of our friends who have special needs.
Author: Sharon M. Draper
Average Customer Review: (4.8 out of 5, on Amazon)
Category: Family Life Fiction
Number Of Pages: 320
Available: Audiobook | Paperback | Hardcover | Kindle | Audio CD
---
7. Rules
It's another book about a young girl, but instead of the main character in this story having a disability, she's taking care of her brother, who has a disability. This is the story of a girl named Catherine who wants to live a normal life. But she's got a little brother, David, and he has autism. So, Catherine tries to take care of David as best she can.
She tries to teach him how to behave in public, how we should always keep our pants on around other people, how we should, how to act normal. That's the one thing she wants is to live everyday life. But it's hard for Catherine because she loves her brother.
But sometimes, she feels angry with her brother, like it's a burden she has to bear. Then she makes some new friends who are also a bit different. This is a beautiful, remarkable, amazing story. If you like The Penderwicks, then you must read it.
Author: Cynthia Lord
Average Customer Review: (4.7 out of 5, on Amazon)
Category: Medical General Psychology
Number Of Pages: 224
Available: Audiobook | Paperback | Hardcover | Kindle | Audio CD
---
Read More Similar Books: 5 Realistic Fiction Books Like Restart