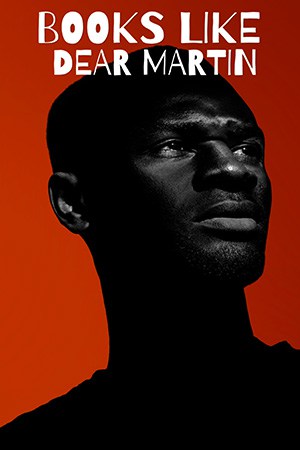 Dear Martin by Nic Stone is a realistic fiction about race and racism. It is the story of a 17-year-old boy named Justyce McAllister. He is Ivy League-bound, and he goes to a prestigious private school in Atlanta, Georgia. But when the book starts, he tries to prevent his on-again, off-again drunk girlfriend from driving home. He's trying to take the keys from her and everything.
It's already implied that the relationship is toxic. While Justyce is doing that, the police think he is trying to rob her girlfriend. She's biracial, but to the naked eye, she may look white. So he ends up being wrongfully arrested. After that happens, he starts a journal where he records his progress and tries to live like Martin. So that's where the title comes from a little further into the story.
If you want to read books like Dear Martin, stay with me. These books are a must-read to learn more about racism, how to fight it, address white privilege, have conversations with racist family members, and use your platform or stand up. Also, these books will be very much British-centred and American style.
7 Books Like Dear Martin (Realistic Racism Bio)
Dear Martin is a mirror of our life and situation. The fight for Black Lives Matter is not only for black people, and it's for everybody. All lives don't matter until Black Lives matter too. The race is based on how a person looks and their culture. It is a way to feel belonging to family and friends. Racism is the belief that some groups of people are superior and some are inferior because of their race. It is everywhere in our past, present and routinely favors whites.
Racism is why some groups get better health care, jobs, and education. Also, it is a real and damaging force in the world, especially for Black people, Indigenous people, and people of color. I want to get into the recommendations of the books today, which are not going to solve and end racism, but it's going to help you in steps to educating yourself. I'm still learning too.
So the books that are recommended are for everyone to read, whether you're black or white or brown or whatever. You can read these 7 books similar to Dear Martin, which are super helpful. So let's get straight into it.
1. Becoming
It's a number one international best-seller book where we get an insight into Michelle Obama's life. She's a black woman, and many of her experiences are shaped by her race. So it does focus on race, but not so much because she talks about her experience of becoming who she is and her journey through life. But all of it is shaped by her color. She talks about that a lot and her treatment in the White House as the first lady.
From a black perspective, you understand how much racism she and Barack received when they were in the White House. It gives you an understanding of American racism and why it shaped the way that it is. So you can see everything she's discussing is from the perspective of a black woman. It gives you an insight into how racism affects someone's life. The cover of this book also is incredibly beautiful.
Author: Michelle Obama
Publisher: Random House Audio
Average Customer Review: (4.8 out of 5, on Amazon)
Tropes: Black & African American Biographies, Political Leader Memoir (Best Seller)
Number Of Pages: 426
Available: Audiobook | Paperback | Hardcover | Kindle | Audio CD
---
2. Why I Am No Longer Talking to White People About Race
It teaches you why black people are tired of having to explain their existence. They often don't want to talk about why you shouldn't tell them anything you want. Little things that are called microaggressions, why they bother black people a lot, and why many have decided to no longer talk to around White about race. It's going to become a whole defensive thing. White privilege gets brought up, and people deny white privilege. Then you have to explain why!
This book explains and articulates perfectly why that is. So if you are a white person who reads this, you'll understand those little things. I love this book because it talks about the things that are not overt. Also, it is good for black people because it allows you to find the words, articulate what you feel, and realize that the things you might think are silly to mention.
Author: Reni Eddo-Lodge
Publisher: Audible Studios for Bloomsbury
Average Customer Review: (4.7 out of 5, on Amazon)
Tropes: Racism & Discrimination Studies
Available: Audiobook | Paperback | Hardcover | Kindle | Audio CD
---
3. Taking Up Space: The Black Girl's Manifesto for Change
It's a story of the realities of two girls (Chelsea and Ore), who go to Cambridge, and they talk about their experience as black women and how that was shaped by it. All the microaggressions they face and the curriculum they're studying get into a university experience for someone who's black and how hard it is, which is phenomenal.
Chelsea already did an amazing book. Everybody should read it if you're white. Once again, you better understand how to be an ally to your black friends at university when they're going through some of these things. You realize that you're not alone or crazy if you're black. Things you feel are real, and other people go through it. So if you're going to university, I'd recommend you read this before you go because it's super powerful and will give you insight into what black students face daily.
Author: Chelsea Kwakye
Publisher: Merky Books
Average Customer Review: (4.7 out of 5, on Amazon)
Tropes: Inclusive Education Methods, Social Activist Biographies
Number Of Pages: 336
Item Weight: 7.7 ounces
Dimensions: 5 x 0.9 x 7.75 inches
Available: Audiobook | Paperback | Hardcover | Kindle
---
4. Diversify
June Sarpong highlights groups often marginalized in our society, including women, those living with disabilities, and the LGBTQ community. Diversify uncovers how a new approach to how we work, learn and live can help us reach our maximum potential, lessen the pressures on the state, and solve the most stubborn challenges that we face.
So the reason why I love it is that it tackles all aspects of different marginalized groups in our society, including black people. Also, she tackles it and gets into it well, and lets you see how each group chuckles at the face. You can help and give a helping hand and become an ally essentially.
Author: June Sarpong
Publisher: HQ, First edition
Average Customer Review: (4.6 out of 5, on Amazon)
Tropes: Government Social Policy, Social Justice, Feminism & Race
Number Of Pages: 288
Item Weight: 9.9 ounces
Dimensions: 5.08 x 1 x 7.8 inches
Available: Paperback | Hardcover | Kindle
---
5. We Are Displaced
Malala Yousafzai gathers a group of girls who have been displaced, and she talks to them about the situations in their lives, how it's been changed, and how education has been affected. I'm recommending this book because it gives you insight into the people you will be helping or the people you're standing up for in their lives. Also, it helps you to understand how they got to where they are and how they feel.
When we talk about race, diversifying, accessibility and equality, we use terms and forget that these are actual people that we're discussing. This is what that book does. It allows you to meet the young girls who are displaced, who are going through these things, and they tell their stories themselves. Each chapter is a story from each girl.
Author: Malala Yousafzai
Publisher: Little, Brown Books for Young Readers
Average Customer Review: (4.8 out of 5, on Amazon)
Tropes: Civil & Human Rights, Social Activist Biographies
Number Of Pages: 224
Available: Audiobook | Paperback | Hardcover | Kindle | Audio CD
---
6. Brit(ish): On Race, Identity, and Belonging
This book tackles race, identity, and being a person living in Britain, understanding the history of Britain, and how you can help dismantle those institutional systems that are racist. The book cover is quite edgy and different from the other covers. So it says in this personal and provocative investigation for her, explores a very British crisis of identity.
We are a nation in denial about our past and our present. We believe that we are the nation of abolition but forget that we are the nation of slavery. So this is a story of how and why this came to be and an urgent call for change.
Author: Afua Hirsch
Publisher: Random House Audiobooks
Average Customer Review: (4.7 out of 5, on Amazon)
Tropes: Racism & Discrimination Studies
Number Of Pages: 367
Available: Audiobook | Paperback | Hardcover | Kindle
---
7. How to Argue With a Racist: What Our Genes Do (and Don't) Say About Human Difference
This book gets into history, science, race, and reality. The author touches on the scientific reasons you cannot be racist and how we're all bound together genetically, biologically, and historically. When you argue the racist, let's not based on emotions or feelings, it's based on facts.
It also works in what's happening with it today because many people forget the reasons why black people are all over the world. The author talks about arguing the racism, which is a vital manifesto for the 21st century understanding of human evolution and variation. It does help you understand the lives of women in different parts of the world, and it predominantly focuses on Africa.
Author: Adam Rutherford
Publisher: Tantor Audio
Average Customer Review: (4.4 out of 5, on Amazon)
Tropes: Physical Anthropology, Anti Racist, Nonfiction Science
Number Of Pages: 224
Available: Audiobook | Paperback | Hardcover | Kindle | Audio CD
---
Read More Similar Books: 5 Racism Memoir Books Like Born A Crime