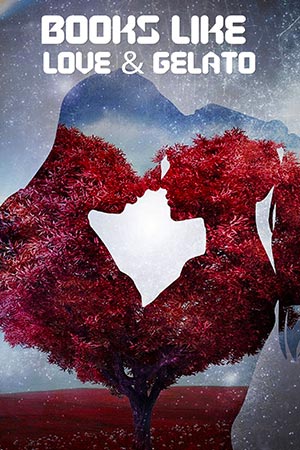 Love And Gelato by Jenna Evans Welch is a young adult contemporary romance with a cultural aspect. The narrator for this book is Rebecca Russ, who had a lot of intonations. The first character talked and thought were two different ways of speaking. So sometimes, it can be difficult to make a difference. When you have a good narrator, it's easier to separate the two. First of all, this story is very cute and cheesy.
Our first character, Lina, lived with her mother in the United States. Unfortunately, her mother died from cancer, and her last dying wish was that Lina meets her father in Italy. But the word in Italy, she meets her father and finds her mother's old journal. While she reads this journal, she finds out that her mother did a lot of sightseeing while she was in Italy.
So she decides to go to all the places where her mother went to be a little closer to her. She discovers things that she never knew about her mom as she reads the book. That leads her to an adventurous little path. Not too adventurous, but a little bit throughout her stay in Italy because she's only supposed to stay for the summer. She meets this guy named Ren, and he is super hot. He helps her on her journey to finding her well. So it was interesting to see this grief. Do you want to read more books like Love and Gelato? Stay with me.
7 Books Like Love And Gelato
Love And Gelato have a plot twist with Lina's mother's journal, which fits the storyline. Ren and Lina have a love interest, and it evolved in a super nice way. They start as friends, and it evolves very slowly. It doesn't go like love at first sight, and we end up kissing after two days.
So it was interesting to see their relationship grow into something much more interesting than the beginning. If you want to keep your interest alive, try these 7 books similar to Love And Gelato. Let's begin!
1. Anna and the French Kiss
The story is about Anna, whose father sends her to Paris for her senior year of high school to study at the School of America. She's not happy about this because she's being sent away from her friends. In particular, she started things with a boy who had a crush on him. They kiss, but she gets to the school, and she feels very out of place. Then she meets a boy named Etienne St. Clair, and he's super attractive. Everyone loves him.
However, Etienne has a girlfriend, and they've been together for a long time. Some important aspects to this book add some complexity and diversity. One of the main things I liked about Anna's appearance is that she has a gapped smile as Lina in Love And Gelato.
Author: Stephanie Perkins
Average Customer Review: (4.6 out of 5, on Amazon)
Category: Europe & Russia Fiction, European Geography & Cultures Fiction
Number Of Pages: 382
Available: Audiobook | Paperback | Hardcover | Kindle | Audio CD
---
2. Twice Shy
The story is about Maybelle and Wesley's romance. Maybelle is the girl who is trying to make ends meet. She works at a shitty job she hates that doesn't appreciate her, but she does what she's told. She is a pushover for her job and her friends, a coworker who loves to take advantage of her. One way that this coworker took advantage of her was by catfishing Maybelle. So Mabel quits her job, ready to make a new life herself live in this beautiful new house of hers.
But then she arrives, and it turns out this estate is rundown. In the last few years of her great aunt Violet's life, she was an insane hoarder. So not only is the estate rundown but there's also a ton of crap inside the house. She has to share this estate with the groundskeeper, Wesley, and more. On top of that, to make things even more complicated, Wesley is the guy that maybe a coworker catfished her with the fake profile, used Wesley's face in his photos.
So Mabel fell in love with Wesley as a different person. She and Wesley meet how they first start their romance, even though it gets off to a very rough start. The struggle and characters development is very similar to Love And Gelato. If you love grumpy sunshine tropes, you will love this book.
Author: Sarah Hogle
Average Customer Review: (4.2 out of 5, on Amazon)
Category: Sports Romance
Number Of Pages: 319
Available: Audiobook | Paperback | Kindle
---
3. Take a Hint, Dani Brown (The Brown Sisters)
This book is also a fake dating romance. Dani is a Ph.D. student, so she teaches some classes at the university, and Zafir works in security. So Zafir works at the front desk as the front guard. Dani stops to chat a little bit every morning and gives each other coffee and snacks. So they are pretty good friends. But then, during a fire drill, Dani accidentally ends up stuck in an elevator, and Zafir opens this elevator to save Dani. He carries her princess style and his arms outside the building where everyone else is. Also, he's all gorgeous and heroic-looking.
People take photos and videos of it, and they go viral. So this is when the whole fake relationship starts. Zafir runs a charity that deals with mental health for athletes for rugby players because he was a former professional rugby player. Because of this video of him carrying Dani going viral, his charity is also going viral. It's giving a ton of publicity and donors to his charity. So he asked Dani to continue faking this little relationship to help his charity.
Dani is allergic to anything romantic and emotional. So, she refuses to fall in love or have anyone fall in love with her. But Zafir has had the biggest crush on Dani since he first met her. That's the primary source of conflict for the romance between them. If you are a fan of Love And Gelato, you must read it.
Author: Talia Hibbert
Average Customer Review: (4.5 out of 5, on Amazon)
Category: Multicultural & Interracial Romance
Number Of Pages: 376
Available: Audiobook | Paperback | Kindle | Audio CD
---
4. Life's Too Short (The Friend Zone)
This is a fun read at friends to lovers, slow burn in the way that the heroine refuses to allow love in her life. The main reason why this heroine Vanessa does not want to ever fall in love is that she may have ALS. Als is a disease that affects the nervous system. If you have it, it is fatal. There's a whole ice bucket challenge. A few years ago, that was about ALS and Vanessa's family. It took her mother and sister, so Vanessa expects to die before 30, which sounds depressing.
Abby Jimenez can make the story feel as lighthearted as possible, mainly because Vanessa lived by the motto, life's too short, do what you want. She's chronicled her life and her travels. Moreover, she's chronicled every fun thing she's ever done because she expected to die young. But then she gets custody of her niece, which puts a cramp in her travel YouTuber lifestyle.
Vanessa has to take care of a kid. That's where the hero comes. He is a hot lawyer and neighbor named Adrian Copeland. He ends up helping Vanessa one night, getting grace to stop her crying and getting her to sleep. From there, it snowballs to them hanging out almost every day, having dinner and lunch together.
Adrian takes care of grace when Vanessa is busy, and an excellent and lovely friendship develops between them. There's a whole host of issues with Vanessa's very messed up family, and Vanessa's adamant that Adrian and Kendall fall for her. He cannot develop any feelings for her. They have to be strictly friends. Like Love And Gelato, It's a romance which means happily ever after at the end.
Author: Abby Jimenez
Average Customer Review: (4.5 out of 5, on Amazon)
Category: City Life Fiction
Number Of Pages: 385
Available: Audiobook | Paperback | Hardcover | Kindle | Audio CD
---
5. Anchored Hearts (Keys to Love)
It's a second chance romance between Anamaria and Alejandro. These two were high school sweethearts, but they broke up about a decade ago when Alejandro wanted to leave Key West to travel the world to pursue his photography career. But Anamaria didn't want to leave Key West to leave her family, at least not as permanently as Alejandro wanted to.
Alejandro is back in Key West after a decade because he broke his leg during a photography stunt. Everyone is trying to meddle in Anna and Alejandro's second chance, trying to get them back together. It is such a slow burn. Neither of the main characters wanted to get back together.
They still did have messy feelings for each other, but they have both completely moved on. There wasn't much romance until towards the end of the book, which is a little bit too late for me. It does have the perfect vibes for a vacation beach read like Love And Gelato.
Author: Priscilla Oliveras
Average Customer Review: (4.1 out of 5, on Amazon)
Category: Hispanic American Literature & Fiction
Number Of Pages: 338
Available: Audiobook | Paperback | Library Binding | Kindle
---
6. Dial A for Aunties
I was so excited to read this one because it is super Asian. The heroine comes from a Chinese Indonesian immigrant family, and the plot sounded awesome. The heroine kills her date, and she gets the help of her mom and three aunties to get rid of the body. I still wanted a little bit more so with Meddy and her family. We get a blend of Chinese and Indonesian cultures.
They live in Southern California, which has a huge Asian population. When Meddy lives with her mother, she wants to leave and do her own thing besides working for her family's wedding planning business. But she feels guilty that the rest of her cousins left her mom and her. Then one night, she's roped into a date that her mom set up. Their mom pretended to be Meddy and talked with this guy online on an app, and he went anyway. But then, when the day goes sour, and the guy gets a bit too handsy, Meddy tasers him while he's driving. They get in an accident, and now he's dead.
Meddy has no idea what to do, so she dumps the body in the trunk of the car and drives back home. That's where her mom and aunts come to the rescue. Unfortunately, they don't have time to get rid of the body because they have a wedding to set up for that weekend.
They were so over-the-top and hilarious, and they got up to so many shenanigans trying to get rid of the body. There is a second chance romance between Meddy and her college sweetheart. Nathan is the owner of the Island Resort, where the wedding is taking place, and that's how they reunite. The long-distance relationship and plot match with Love And Gelato.
Author: Jesse Q. Sutanto
Average Customer Review: (4.2 out of 5, on Amazon)
Category: Humorous American Literature
Number Of Pages: 320
Available: Audiobook | Paperback | Hardcover | Kindle
---
7. The Soulmate Equation
This one has an interesting setup with a dating app and twist. We have a heroine, Jess, who's a single mom. She gets invited to participate in a DNA-based matchmaking company, and they touch upon the company's goal is very eugenics. So Jess spits in a tube, and they do their whole DNA matchmaking thing. She's matched up with the person they think would fit her the best. Then she gets ninety-eight percent compatibility, which is the highest rate they've ever had with one of its founders, Dr. River Penna.
River and Jess do not get along, so they are stupefied that they are a possible match and a ninety-eight percent match at that. But with the company about to go public and to need some money because one of her clients dropped. They make a deal for Jess and River to pretend a date and for them to see where this whole matchmaking thing can go. They were so fun and adorable. There was a bit too much of the whole technical parts, the sciencey parts to make it engaging its enemies to lovers.
Author: Christina Lauren
Average Customer Review: (4.4 out of 5, on Amazon)
Category: Women's Humorous Fiction
Number Of Pages: 365
Available: Audiobook | Paperback | Hardcover | Kindle | Audio CD
---
Read More Similar Books: 15 Emotional Romance Books