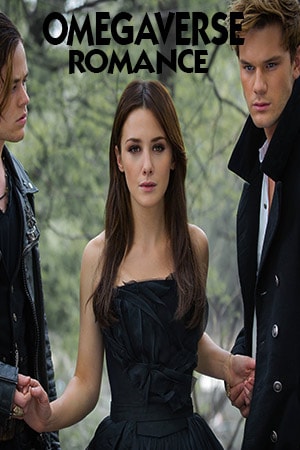 Omegaverse tends to be very lewd. There are Alphas, Betas, and Omegas. Alphas rule the world, and Betas are workers. Then Omegas are breeders, and they are valued for their breeding ability. Also, there is only one that Alphas can breed. But they're also weak and often don't have rights. They often have a bad place in the world where they don't have any rights. Moreover, they're at risk to everybody because they provoke uncontrollable lust and the people around them when they are in heat.
Alphas often lock them up and keep them safe and protected, with no freedom or say. So it's not the easiest genre to hop around and see if you like because a lot of times, you're going to read things past your comfort zone. Are you waiting to read books about Omegaverse? Stay with me!
10 Omegaverse Books (Romance & Fantasy)
Omega is the only one that can mate with Alphas and create other Alphas most of the time. Every omega-verse book has its twists, but usually, that's how it goes. It's so sexually driven because the females or males that are the Omega will technically go into heat.
Moreover, they will be going into a sexual frenzy and want to have sex all the time. Therefore, this can be done poorly, where it feels more like an excuse to put raunchy material into a book, which is fine. As a fantasy lover, I have some Omegaverse stories to recommend. So, I will review 10 Omegaverse books for you and give you the basic story. Let's begin!
| Name | Key Focus | Review (Goodreads) |
| --- | --- | --- |
| Forbidden Flame | Both hero and heroine are struggling with war and trying to learn from their mistakes. | 3.9 |
| Baby & the Late Night Howlers | An omega heroine in damsel in distress and her alphas are protecting her and making a reverse harem. | 4.0 |
| Alpha Breeds | A human omega girl is in an alien world where she finds her alpha warlord, and the story unfolds. | 3.8 |
| Omega Academy | A human omega has discovered herself as Omega and finds many alphas who protect her in any situation. | 4.0 |
| Andorra Sector | A human girl mistakenly turns into an omega princess, and her Alpha tries to understand her. | 3.9 |
| Kian | In human society, many women discover themselves as Omega, and their alphas try to mate with them. | 3.7 |
| After the Fade | A poor omega girl is sold to the alpha world for mating only, but a romance starts with the girl. | 3.7 |
| Stolen by the Wolves | A biking alpha kidnaps his omega girl, and their rivalry relationship becomes romantic. | 4.0 |
| Alien Desire | A space cadet girl crashes lands on an alien planet where love is forbidden, so her mate struggles for it. | 3.7 |
| Broken | In a horror situation, a forced proximity relationship discovers many powers and themselves newly. | 3.5 |
Omegaverse Novels
1. Forbidden Flame (Ruthless Warlords)
Magnus Avitus is the outcast warlord, and his uncle killed his father and blamed him for it. His twin brother is still with his uncle, and he hears that his uncle ordered the weapon, and he intercepts it. It turns out that it's this Omega. So the deal is Omega tends to be irresistible. But Amora has toxicity and kills like burns alive anybody who touches her and can't control it.
It's very harmful and traumatic for her because she has been forced repeatedly to kill people, and she can't do it. Magnus gets the weapon, then makes some mistakes, but he learns his lesson. Also, they find a way to be together and win the battle. Amora is very attracted to him.
Also, Omegas can't resist outlets. They can resist if it's not their Alpha. In addition, there are all different levels that the authors choose to do or not to do. But this one, she can resist other alphas, and he's the alpha for her. If you like omegaverse romance, this book is the first choice.
Author: Alison Aimes
Average Customer Review: (4.3 out of 5, on Amazon)
Category: Science Fiction, Dark Romance
Available: Paperback | Kindle
---
2. Baby & the Late Night Howlers (Sweet Omegaverse)
This one is a reverse harem with a motorcycle club. They are a pack of Alphas, and we have Omega, who grew up as a breeder. Baby is one of the rare Omega that presented as Omega later in life. So she's the full adult when she learns that she's an omega, and the beta from this alpha crew saves her because she's in a crowded bar of Alphas. So he saves her, and she ends up choosing their alpha pack, even though they're not the richest and not the most powerful.
Consent is essential in this book, and it is even discussed how, even though she's reacting, that's not consent. That is unusual for Omegaverse. There is a male-male relationship, and some bad alphas do not consent. They are trying to get an omega, but her Alphas are so good. If you want m/m omegaverse, you must read it.
Author: Kathryn Moon
Average Customer Review: (4.5 out of 5, on Amazon)
Category: Erotic Literature & Fiction
Available: Paperback | Kindle
---
3. Alpha Breeds (Alpha Horde)
In this series, the Omegas are humans from Earth, and humans don't realize they have an omega. A college girl, Kingsley, accidentally stumbles until a poor little thing ends up in the alien world. But all the Omegas belong to the king. You cannot mate, and it's illegal.
Loven is the general, the horde's warlord, the Alpha Army. He's not the king, so he can't keep Kingsley. But he does because she's his mate. Also, it sets off a chain of events that we follow throughout the series, as each Alpha makes his own decision.
The Omega will be overcome with insatiable lust towards the Alphas, and there's purring stuff to soothe them. The Alphas are going to take advantage of that. But nothing super bad is going to happen to the heroines. The Alphas will protect them for everyone else and the Alphas while not giving them freedom or consent. Besides that, they treat their Omega fairly well and honestly want nothing more than to make their Omega happy. I loved the world-building and their relationship and caring for each other.
Author: Milana Jacks
Average Customer Review: (4.4 out of 5, on Amazon)
Category: First Contact Science Fiction
Available: Audiobook | Paperback | Kindle
---
4. Omega Academy: A Reverse Harem Omegaverse Romance
This is another reverse harem. So there's the female Omega (Lana), and three male alphas create the circle. It is a very powerful mating thing that has happened in a thousand years, the last one that destroyed the world. But Lana is a human who knows nothing about Alphas. Then they are trying to protect her.
A mean girl wants to mate one of them, and they all feel this main connection. Then something else makes this Omega valuable and desired, but you don't find it in the first book. They are aliens, but they are all different species like humanoids. For a reverse harem reader, Omega Academy is the best omegaverse book.
Author: Lily Archer
Average Customer Review: (4.3 out of 5, on Amazon)
Category: Fantasy Romance, Magic, Aliens
Available: Audiobook | Paperback | Kindle
---
5. Andorra Sector (X-Clan)
This one is a little bit darker. The first 60 percent of the book, The Alpha (Ander Cain), is not good to Katriana Cardona, not because he's trying not to be good to her, but because he does not understand the world. Ander breaks her, and another woman gets so mad at him. But once he realizes what he's done, he actively tries to make up for it. So, it's super sweet to her from that point on.
This book is like a Snow White retelling, and Katriana is an omega princess that he finds in the snow, and they're going to overthrow her evil stepmother, the queen. She is a human and gets taken by the wolves. They give her a shot that turns her into a wolf and turns out an omega. So, there has never been this hard human that was Omega before. The audiobook is interesting for the narrative, and the paperback/kindle is also worth picking.
Author: Lexi C. Foss
Average Customer Review: (4.4 out of 5, on Amazon)
Category: Gothic Romances
Available: Audiobook | Paperback | Kindle
---
6. Kian (The Boundarylands)
It's the first book of The Boundarylands series. Every book in the series can technically be read by itself, and you don't have to read it as a complete in-order series. In this series, you have General Society, which comprises Betas and Alphas, who don't know that they're Alphas until puberty and are technically a little more aggressive. They're bigger, and their bodies are different. So they send them to what is called the Boundarylands. Also, it's the big reserve given to the Alpha to have their land, their economy, and Betas don't cross over into their territory.
When it comes to Omega's women, they don't know that they're Omegas until an alpha touches them. Many women in society are afraid to cross the border off chance they get touched by alpha and find out there and Omega. These rumors about Alphas are that if you are an omega, they'll take you as a sexual slave. But women don't want to do that.
At the beginning of the book, Kian (Big alpha man) drives Paige out to the boundary lands after thinking she is flirting with another guy. Once they crossed the border, he dumped her out of the car, and she was forced to try and walk back into a beta territory. The plot and characters are good, but the story is slow and sometimes boring. Overall, you can enjoy it if you love shifter romance.
Author: Callie Rhodes
Average Customer Review: (4.2 out of 5, on Amazon)
Category: Werewolf & Shifter
Available: Paperback | Kindle
---
7. After the Fade (Rise)
This is a dystopian world where Alphas and Omegas are something that people know about in society. It's not hidden, and you have a rich and powerful alpha family. Then you have the rest of the world that is living in poverty. The main female character is Alex, and she is an omega. She is sold to this family as a plaything for all three sons whenever they want. In this universe and most Omegas are made to have sex with Alphas. There are lots of twists and turns in this book.
Alex comes into a situation knowing that she has to have sex with every one of these brothers whenever they back in her. Moreover, she's straightforward because that's how society is in this book. So there are a lot of trigger warnings for people that are more sensitive to this material.
Matthew starts to fall for her when she gets to the house, and he's the only one. The other two brothers see her as a slave. So it's interesting to see their relationship developing. But also, both of them are very accepting that they live in a society where he can't take her.
Author: Kamryn Foxe
Average Customer Review: (4.3 out of 5, on Amazon)
Category: Women's Fantasy Fiction
Available: Paperback | Kindle
---
8. Stolen by the Wolves (Viking Omegaverse)
Our heroine is a Christian woman, and our hero (Thrain) is a Viking. In this world, they're shifters. Their behaviors are very wolf-like in a lot of omega verse books. Vikings are very pagan. So they come from two different societies. Tamsin is the story's heroine, and she is a little Christian girl who grew up in a society where they frown on alpha and Omega. They think of it as a curse rather than a gift like the Vikings. So she's constantly punishing herself for her existence.
Thrain is smuggled into her kingdom dressed as a priest. So Tamsin starts confiding in him because he is dressed as a priest and builds their relationship that way. Later, she finds out who he is when he kidnaps her and her sister. She's furious at him because they have a moment when he's dressed as a priest.
Author: Lyx Robinson
Average Customer Review: (4.4 out of 5, on Amazon)
Category: Nordic Myth & Legend Fantasy, Historical Fantasy
Available: Paperback | Kindle
---
9. Alien Desire (The Alpha Prince of Astia)
Emma is a space cadet who crashes lands on a planet. Her crew dies, and she alone is forced to take refuge at a refueling station on this planet. It's a snowy planet, and she lives alone for a while until another ship crashes and lands on the same planet. Also, she drags the body of this alien man into her little station and cares for him (Tor). When he wakes up, he realizes she is an omega and human society.
In this book, Alphas and Omegas are not a thing that exists. So Emma has no idea what he's talking about. Tor doesn't speak English initially, and we don't have alpha omegas in our world. He is from a different universe. Further, he can communicate with her via a little computer that he works on about 30 percent of the book.
Tor is from a society where love doesn't exist. They find an omega and breed with them. But Emma is human and doesn't know the alpha-omega relationship. So when he starts to make these moves on her, she's not responding, and he thinks it's very weird, and they do certain things. They're forced to be close because there's one fueling station on this otherwise desolate planet.
Emma tries to play chess with Tor, and as she's teaching him, he gets it in his mind that if he learns this game and beats her at it, she will breed with him. So there's a lot of time where they're playing chess, and he's trying hard to understand the game. It's cute once he beats her because he thinks he will get his reward.
Author: Hannah Haze
Average Customer Review: (4.3 out of 5, on Amazon)
Category: Sci-Fi Fantasy
Available: Paperback | Kindle
---
10. Broken (Omega's Destruction)
We have much non-consent between alpha and Omega because Quinn goes into heat. Tobias Kahler claims her and then continues to abuse her. Quinn runs away to another alpha she used to be with. Then the guy returns and gets her, and she's currently trapped in a room.
They have stuff happening that makes them stuck together. Also, they make some big choices here, and it's a very dangerous idea if done in real life. As the title suggests, Quinn is broken and full of trauma. The story was solid, but there was a lack of romance and writing. Also, the plot is weak, but the characters are awesome. Don't pick any hardcover because of quality issues, but the paperback is fantastic for font style, color, and page quality.
Author: Eva Dresden
Average Customer Review: (3.9 out of 5, on Amazon)
Category: Erotic Horror
Available: Paperback | Kindle
---
Please let me know in the comment section if you have any recommendations or questions. I am waiting for your opinion and your Omegaverse novels reading order.
Read More Similar Books:
7 Possessive Alpha Male Romance Books