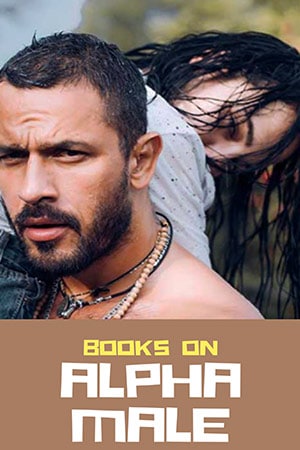 The alpha male is the dominant character who doesn't need a girl the right way, and they essentially show power and confidence. They're acting all masculine and aggressive, and they want to lead.
Women like this type of man because they feel secure and safe. Many books and movies are available on this male trait. I am going to review the top 7 books that are based on the alpha males. Let's start!
7 Books About Alpha Males (Fiction & Romance)
As an alpha male, you have a unique and deep personality. So the relationship, communication, and other social environment are not as usual to others. I am going to review 7 books about alpha male characteristics. Let's go.
1. Fifty Shades of Grey
The book starts with the main character, Anastasia Steele. She is a literature student at Washington State University. For publishing purposes, she interviews a famous entrepreneur named Christian Grey. The first thing she notices is that Christian is drop-dead gorgeous and handsome. This is where Anna starts to see some of Christian's somewhat controlling and domineering personality traits.
Christian Grey likes someone who is a bit more submissive in his endeavors. He has rules outlined in the contract for his submissive's sleeping, eating, and dressing habits. As the weeks progressed, Anna hoped that Christian would become more emotional. Christian is hoping that Anna will sign the freaking contract. Christian does eventually open up a little bit to Anna. He had a rough childhood and was introduced to this DSM lifestyle by an older woman.
Anna is starting an internship at a publishing house. But her mind is still focused on Christian Grey. After a few weeks, Anna and Christian fall in love and have a relationship, regular date, and more unusual sex. So it ends with them breaking up because Anna wants more, not more. She wants more of the right things and less of the other stuff. But Christian can't give her what she wants.
You will discover that the Christian is dominant when you find out that he has a pass with Mrs. Robinson or when Anna leaves. It is fun and exciting to read. You can read the whole series because it's one of those like pleasure reads. The other two books are: Fifty Shades Freed and Fifty Shades Darker.
Author: E. L. James
Average Customer Review: (3.9 out of 5, on Amazon)
Category: Contemporary Romance
Available: Audiobook | Paperback | Hardcover | Kindle
---
2. Beautiful Disaster
This book is about a girl named Abby, and she's considered the good girl in this story. She's 19 years old and a college student. As an uncommon girl, you see that she doesn't go to parties, drink, or swear. She wears cardigans that make her a big girl. At the story's beginning, she goes to a legal fighting rink with her friends. That's a bad influence. There, she meets Travis Madox.
Travis Maddox is the main love interest in this story. He is the cliche fighter, alpha male (dominant character), and muscular. The author presents him as an arrogant and bad boy. Abby thinks she doesn't want to do with him when he tries to pursue her. But Travis literally will not leave her alone. He calls her pigeon a nickname. They have a lot of chemistry together. Many plot twists happen to where their relationship grows.
There was that one part where they broke up. It's like their relationship was chaos at some point, but it was beautiful, disastrous. Every girl wants a bad boy to change for her and be good for her. That's what happened in this book. I was never bored and loved it so much.
Author: Jamie McGuire
Average Customer Review: (4.4 out of 5, on Amazon)
Category: Women's Fiction
Available: Audiobook | Paperback | Hardcover | Kindle
---
3. Bared to You
This book is about Gideon Cross, a seriously elite, secretive type, and alpha characteristics guy. He's a millionaire who owns many businesses, companies, and advertising company-owned hotels. Then there is our protagonist, Eva Tramell. She has a past, and it's hinted at a couple of times. She meets Gideon Cross at the same place that she is now working at. It's called CrossFire because Cross is his last name, and he has a dark side.
Gideon doesn't open himself up to other women, but he does open up to Eva. Eva was raped by her stepbrother when she was young. This book does have a lot of twists in it. Both lead characters have a past, and they both share nightmares about their past as they're together. Also, it's a physical attraction that what's bringing that brings them together. If you love romance, excitement, and attraction-based books, you can read this book undoubtedly.
Author: Sylvia Day
Average Customer Review: (4.4 out of 5, on Amazon)
Category: Romantic Suspense
Available: Audiobook | Paperback | Hardcover | Kindle | Audio CD
---
4. This Man
This Man is a famous trilogy that follows Ava. Ava is a 26-year-old interior designer, and she is heading off to an appointment in a hotel-like building called the Manor. The girl would fall in love with the rich man owning the company or building where they work. Everything looked like she had imagined, like lots of business people around. Then she enters his office and expects an overweight man. When the chair turns around, she sees a super young, good-looking, attractive man called Mr. Jesse Ward.
Ava doesn't come very far because Jesse won't let her run. She knows that it will be instant heartbreak if she does or lets herself in with Jesse. He's not keeping her hostage or anything. So this book is about secret love with a dominant character. The major mystery in this entire book is how old Jesse is? However, this seems to be a big point throughout the book: how old is he now? It is a very long book at 435 pages. So be prepared to spend a hot minute reading this book.
Author: Jodi Ellen Malpas
Average Customer Review: (4.2 out of 5, on Amazon)
Category: Urban Fiction
Available: Audiobook | Paperback | Kindle
---
5. Until November
This book is about a woman named November. November is a young woman who has been living with her mother in New York for her whole life. She and her mother don't have the best relationship. This is because the mother is very rude to her. So the girl gets in contact with her dad and leaves New York to leave with dad, Tennessee.
Then she starts working. She holds a business degree and works at dad's strip club doing the books. So it starts with that because the first time November meets with a man named Asher Mason. The man is so rude to her, and she's so sassy back to him, and it's great. But they don't show any interest in each other at all.
That's not how it will happen because this is an adult contemporary romance book, and they're not going to hate each other for the whole book. So they realize fate has another plan for them. It goes about that and the struggles that they go through. November is awesome, and she stands up for herself. But Asher is different. He's one of those like cavemen, alpha dominant men. It was overprotective in a good way. He cared for her and wanted her to be safe and feel safe. There are so many things that happen in this book, from being attacked.
Author: Aurora Rose Reynolds
Category: Literature Anthologies & Short Stories
Available: Audiobook
---
6. Reaper's Property
At the beginning of this book, a letter talks about how people did not understand the culture. It is about a girl who is 22 named Marie. She got married when she was like 19. She got married out of high school to someone she thought she loved and quickly realized it wasn't who she loved. Her husband was doing bad things to her. So she decided to move in with her brother, who works for the MS gang.
So it flashes back to the past when Marie first meets the gang and then becomes friends with them, especially Horse. Horse is the motorcycle guy. Marie goes back and forth once she starts liking Horse, and they develop a relationship. When her brother betrays the club, Horse gives her an ultimatum. So a lot of it's the buildup of the relationship and flashing back between the past and the present.
If you're new to motorcycle romances because the main character doesn't know the motorcycle world. So you're introduced to it along with her. There was much angst here because Horse likes her, and he doesn't want to admit that because she denied him.
So he obviously would want her to be an old lady. He's trying to keep his pride and not give them what they want. If you're new to it, you probably will get into this because it does help explain the embassy world to you. It is the best book about alpha males. The romance is perfect, and I recommend it.
Author: Joanna Wylde
Average Customer Review: (4.5 out of 5, on Amazon)
Category: Erotic Fiction
Available: Audiobook | Paperback | Mp3 CD | Kindle
---
7. Reflected in You
This book is the second sequel, where the first is 'Bared to You.' Seven Reasons inspired the series to Seven Years. It's not so much the dominant subordinate thing. It's more of them needing control because of their past. It gets into Eva's insecurities about Corey, and it gets into his past. So we work through things in their relationship that is dangerous to one another, like certain dangerous traits. They think that they're not good enough for the other.
Eva, in this book, regressed quite a bit to an immature over that was not in the first book. She has some petty jealousies that were addressed in the first book. Yet, when she returned to this, it was blowing up again. Gideon is trying so hard to the point where he is the one remembering the couple's therapy. Many emotions were mentioned when he talked about the doctor's wife how he screwed her. I am satisfied with the ending of a book, so I recommend you to read the book.
Author: Sylvia Day
Average Customer Review: (4.6 out of 5, on Amazon)
Category: Contemporary Romance Fiction (Editors' pick in Best Romance)
Available: Audiobook | Paperback | Hardcover | Kindle | Audio CD
---
Read More Book On Male:
7 Possessive Alpha Male Romance Novels
5 Books Like Man's Search For Meaning