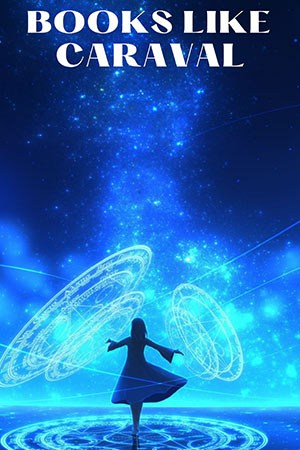 Caraval by Stephanie Garber is a debut fantasy novel that follows the story of the two sisters named Scarlet and Tella. They live under the watch of their extremely controlling, manipulative, and abusive father. In this world, however, there is this performance called Caraval, and it is a circus type of performance that happens once a year. Scarlet has always been fascinated by Carnival, and she has always wanted to see this performance.
So she's been writing letters to Master Legend, the man who runs Caraval ever since she was a little kid, begging him for a ticket to see the show. However, by the time she's 17 years old, her father has arranged for her to marry this man. At that time, she gets a ticket to go and see Caraval. However, she has never left the island where she lives, and she does not want to disobey her father because of how controlling and abusive he is. But she wants nothing more than to see this performance.
Her sister Tella is far more of a risk-taker, so she decides to plot a way to get Scarlet, to be able to get off the island and see this Caraval performance. Tella gets help from this sailor, Julian, and the three of them end up sailing off to go to Caraval. However, by the time they get there, they find out that Tella has been kidnapped, and this entire performance is based on who can find Tella first. So the way that Caraval works is that the audience gets to participate in the show.
Scarlet is terrified because her sister has gone missing, and she wants nothing more than to find her. Along the way, she finds out that there's a lot more going on to Caraval than she expected in the first place. There's a lot of magic, mystery, and suspense. If you want to read books like Caraval, follow me!
10 Books Like Caraval (High Fantasy, Romance, Adventure)
Caraval has been compared to The Night Circus by many different people. The atmosphere, magic, and mysterious sense are similar to the Night Circus. But the entire plot of this story and the characters' direction is very different. In contrast, Caraval is very much a fast-paced and action-packed story. So if that's more of your thing, here are 10 books similar to Caraval for you. Let's go!
1. The City of Brass (The Daevabad Trilogy)
Like Caraval, this series has the most dynamic and fascinating characters and heart-wrenching political plotlines. You're also going to get some heart-wrenching romance in there as well. The story opens up with our main character, Nahri. It's set in the 1800s in Cairo, and we follow her as she is a thief to make ends meet.
However, she steals the wrong thing one day, and she accidentally unleashes a trapped Jinn Warrior named Dara. Dara sweeps Nahri away to a faraway and very magical city of Brass. She also discovers that her family history has connections to not only a specific magical ability but also was very central to the politics within the city.
This is multiple tales, and I cannot emphasize how political it is. You're following different characters on all sides of a very complicated and painful conflict between different religions. Nahri is quickly thrown into the center of this conflict, and it's not something that can be solved overnight or within one book. Throughout the series, you go through multiple time skips, and it's also not as straightforward as it seems. The story expands in unexpected ways.
Author: S. A. Chakraborty
Average Rating: (4.6 /5)
Category: Historical Fantasy, Cultural Heritage Fiction
Number Of Pages: 533
Available: Audiobook | Paperback | Hardcover | Kindle | Audio CD
---
2. Spinning Silver
I love this book for many reasons, including the romance from the writing style is captivating to the historical setting. You're following different points of view of girls in different social standings within this historical time. So this book is a historical fantasy story that is also a retelling of Rumplestiltskin.
One of the points of view, as we follow, is Miryem. She is the daughter of a moneylender. They are ostracized in town. Her father is not the best moneylender.
So her family is very much in debt. Miryem decides to take up the profession for herself to try to save her family and makes an unexpected deal with a magical individual. If she can turn silver into gold, she can escape her fate. So Miryem tries to weave her fate and capture her destiny. This magical figure is very central to the story, similar to Caraval. Also, it is a standalone, so it's a beautiful book to pick up and fly through.
Author: Naomi Novik
Average Rating: (4.6 /5)
Category: Mythology & Folk Tales
Number Of Pages: 465
Available: Audiobook | Paperback | Hardcover | Kindle
---
3. House of Earth and Blood (Crescent City)
This story is a steamy romance set in an urban fantasy story, but Sarah Maas also does a fantastic job fleshing out the world and the magic. So it's also still incredibly entertaining and action-packed as Caraval. A massive plot shift occurs early in the story, transforming the overall reading experience and making fun.
Bryce, in her opinion, lives the perfect life. She spends her days working in an archive at a job she generally likes. She spends her nights partying with all of her best friends until her entire life is turned upside down one night. She finds herself in the middle of an investigation into a horrifying crime. Moreover, she will do anything to get her revenge.
Enter in our other main character, Hunt, a fallen ark angel, involved in the magical police force. Our two main characters link up to try to solve this crime. The story's center is within Crescent City, a very realized urban fantasy setting. It's a very cool urban fantasy setting with different sections of the city controlled by different magical creatures.
Each section also has its government and structure at play. There are magical artifacts and power plays happening between the different divisions. All of this is seen through the eyes of a very fast-paced investigation and a very steamy. I found this book incredibly entertaining. It was a page-turner with a romantic plotline.
Author: Sarah J. Maas
Average Rating: (4.7 /5)
Category: Action & Adventure Fantasy Romance
Number Of Pages: 803
Available: Audiobook | Paperback | Hardcover | Kindle | Audio CD
---
4. Jade City (The Green Bone Saga)
This is more of an action-packed, incredibly political, and intense urban fantasy story that has well-written and steamy romantic subplot lines. Jade City is not a romance story by any stretch of the imagination, but you follow so many different character points of view. Also, there are romantic subplot lines that are so well written and steamy that you can't help but appreciate them.
If you're not familiar, The Green Bone Saga is set on the fictional island of Kekon. There is a powerful substance called Jade, where you're stronger, faster, better than everyone else around you. But only certain people can harness the power of Jade. Two major crime families control the production and distribution of Jade in the area.
In the Green Bone Saga, you're reading different points of view of one single crime family and follow characters at various positions within this organization. Lots of family drama, backstabbing, and action between these two families also heat up. You can relate the worldbuilding and theme with Caraval.
Author: Fonda Lee
Average Rating: (4.4 /5)
Category: Fantasy Action & Adventure
Number Of Pages: 560
Available: Audiobook | Paperback | Hardcover | Kindle
---
5. Finnikin of the Rock (Lumatere Chronicles)
Like Caraval, this is a YA fantasy trilogy. Melina Marchetta is more known for her contemporary stories, and her ability to write relatable and heartbreaking characters shines within this trilogy. Each book follows a different main character's point of view throughout the trilogy. You're following a variety of heartbreaking and emotional romantic plotlines that will stay with you forever. I've read this series so long ago and still think about all of these characters.
The series provides justice, and that are so many fantastic characters that you follow through a large expanse of time that you will want to bleed for. They're unique, and their journeys as individual characters and seeing them fight for what they want in their love is extraordinary. The first book is a prequel to the last two books within this trilogy. But it primarily follows our main character, Finnikin, and he is from The Land of Tree.
Ten years before the start of this novel, an imposter murder the royal family and sets upon a curse on the land, trapping a part of the populace within the borders of the land itself. At the beginning of the story, Syndicate is approached by a young woman who is a novice, telling him that the prince of this lost royal family is alive and he must go on a quest with her to reunite and break the curse.
But as he begins this journey, he realizes that this young woman might be holding some secrets back. This story is good. It's about generational conflict and the search for home and belonging. Also, It has some of the best romances and why you will find it's excellent.
Author: Melina Marchetta
Average Rating: (4.4 /5)
Category: Loners & Outcasts Fiction
Number Of Pages: 416
Available: Audiobook | Paperback | Hardcover | Kindle | Mass Market Paperback
---
6. A Song of Wraiths and Ruin
This series has Hate to Love Romance. Two faded individuals who do like each other and have to kill each other for various very complicated circumstances. So it creates a lot of dramatic scenes and tension with a dual POV story similar to Caraval. One of those characters is Malik, who is seeking to start a new life with his sister and the prosperous town of Zintan after they've both fled their war-torn hometown.
However, upon their arrival, Malik's little sister is kidnapped by the desert spirit to get his younger sister back. He strikes an impossible deal: to kill off the Crown Princess of Ziran to save his little sister, Nadia. The second POV we follow is Karina, the crown princess herself, facing an incredibly difficult political situation at the book's opening. Her mother, the previous ruler, has been assassinated. So she realizes that the court surrounding her is threatening mutiny, and she doesn't know who to trust.
Karina decides to pursue the only thing she feels will save her from this dire political situation: trying to resurrect her mother using ancient magic. It requires the beating heart of a king. The only way to obtain this heart is to marry the winner of the upcoming Solstice competition.
As you can see, the fates of these two characters are on a collision course to collide in so many different and dramatic ways throughout this first book. Also, it makes it perfect timing to pick up this fantastic first book to the Duology, which also has a very intense and dramatic romantic plotline.
Author: Roseanne A. Brown
Average Rating: (4.6 /5)
Category: Multicultural Fiction & Romance
Number Of Pages: 466
Available: Audiobook | Paperback | Hardcover | Kindle | Audio CD
---
7. An Ember in the Ashes
This is another dual POV, a fantasy story with a very intense plot, politics, action, romance, and angsty. Pacing can be problematic within a series, but Sabaa Tahir did fantastically. We're entertaining throughout these books, making them a page-turner and fun to read. But this is a Roman military-inspired story.
One of our main characters is Laia, part of the Scholar Group that the current military power has subjugated. At the beginning of this book, her brother is arrested, working as a rebel. She makes a deal with the rebel group that if she becomes a spy for them, they will work to try to break him out of prison.
The other main character we follow is Elias, a mighty soldier at a very elite military school. Their fates and lives begin to intertwine. The politics grow quite a bit from there. The story explodes quite dramatically from a political aspect, making it incredibly enjoyable. But the real draw of the story is the romance between the two main characters, the expansion of the magic, and the introduction of some other fantastic side characters.
The multi-POV aspect of the story does it justice as well. It allows us to get to the heads of not only our two main characters, as the story expands, other characters as well. So, It's a fun and action-packed series with a fantastic sizzling romance that will carry you through all four books. If you like Caraval, you must read it.
Author: Sabaa Tahir
Average Rating: (4.6 /5)
Category: Dystopian Fiction
Number Of Pages: 446
Available: Audiobook | Paperback | Hardcover | Kindle | Audio CD
---
8. A Discovery of Witches (All Souls)
This is a very over-the-top romance story between a witch and a vampire set in an academic and incredibly pretentious Oxford setting. That provides a wonderful ambiance to this overall romantic story as Caraval. The story follows our main character, Diana, a witch and scholar currently working at Oxford on her research.
At the beginning of the story, she is in the library doing a bunch of analyses on various manuscripts as she focuses on archival history. She calls for a specific manuscript that hasn't been able to have been called for hundreds of years, which sets the spark on a variety of magical conflicts within this world.
Some demons and vampires exist. But these different magical creatures don't interact with each other.
They're supposed to lay low in the human world. At the beginning of the story, Diana runs into Matthew, who also happens to be teaching at Oxford. Their love story begins from there.
A bunch of dramatic political things also begin to explode. You have to suspend your disbelief because they're also incredibly annoying, but at the same time, it's so hard to put down. If you're looking for a very dramatic urban fantasy romance story set in our world in our time, it is a good one to check out for you.
Author: Deborah Harkness
Average Rating: (4.6 /5)
Category: Paranormal Romance
Number Of Pages: 579
Available: Audiobook | Paperback | Hardcover | Kindle | Audio CD
---
9. The Night Circus
The Night Circus takes on its personality in its atmosphere like Caraval. It is a magical circus that travels around the world. Everybody who comes in contact with this circus is in love with it and doesn't quite know how it operates. That is because it is the arena for a magical competition. It's not an offensive competition. It's more of a display of their abilities.
At the beginning of the story, you get to meet the two main characters, and one of them is a magician trained by somebody who has an innate ability. One of them was a magician trained by somebody who gave them the skills to have magic.
When they were very young, they were pitted against each other in this competition. This story is told so beautifully. Throughout the book, there are many things woven in and out that you don't know what is building up. You get to experience how the circus was built. The circus plot and action are very similar to Caraval.
Author: Erin Morgenstern
Average Rating: (4.5 /5)
Category: Metaphysical & Visionary Fiction
Number Of Pages: 387
Available: Audiobook | Paperback | Hardcover | Kindle | Audio CD
---
10. Shatter Me
This is one of the most popular books in the dystopian genre about a girl named Juliette. She lives in a new world where there is a society called the re-establishment, and they are in charge of everything. Global warming has hit, and everyone freaked out. There was no food for everyone. Animals started dying off in the world epidemic. The re-establishment took over the world. Juliette has a lethal touch. Whenever she touches someone, they inevitably die. She thinks it's a curse.
As we first start the story, Juliette is imprisoned. She's living in an isolated cell, alienated from society. Then a person shows up. They're a love triangle in this book. Warner is a part of this love triangle. He wanted to take Juliette's powers and use them for his gain. Like Caraval series, the story was gripping. The characters became way more interesting than they were in the beginning.
Author: Tahereh Mafi
Average Rating: (4.5 /5)
Category: Supernatural, Dystopian Romance
Number Of Pages: 338
Available: Audiobook | Paperback | Hardcover | Kindle | Audio CD
---
Read More Similar Fantasy Books:
10 Fantasy Romance Books Like From Blood And Ash
5 YA Fantasy Books Like The False Prince
5 Fantasy Adventure Books Like Gregor The Overlander