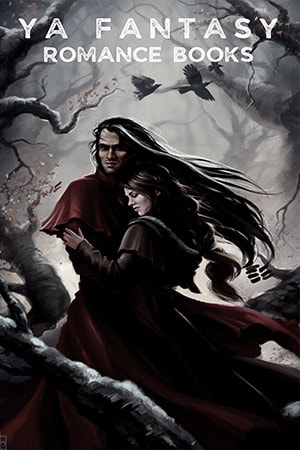 Fantasy is a genre of speculative fiction which can be mythology, fairy tales, or folklore. YA fantasy romance books include imaginary elements like magical creatures, love, the supernatural, and imaginary worlds in which a plot cannot occur in the real world. The key with romantic fantasy, more than anything else, that separates it from all other genres is the element of magic. That's different from saying that a story, movie, book comic can't share aspects from multiple genres.
The famous genre is YA modern fantasy romance, which started in the 19th century. It found success in the 20th century. For a long time, authors who wanted to write in this genre had to write them for children because fantasy for kids was more acceptable than fantasy for adults. For years, Tolkien's The Lord of the Rings was considered a children's book. Attitudes toward the genre began to change in the 1950s and 1960s with the advent of the Sword-Sorcery subgenre of fantasy literature.
The first breakthrough was in 1977, with Terry Brook's debut novel, The Sword of Shannara. This book topped the New York Times best sellers list. Some big ones include High Fantasy, also known as Epic fantasy, Low fantasy, urban fantasy, paranormal romance, magical realism, dark fantasy, and the pre-mentioned sword and sorcery. I have a reading list that I'm going to share with you. Stay with me!
7 YA Fantasy Romance Books (Paranormal/Magical Love Story)
Young adult fantasy romance has roots that are so deeply entwined into our psychology and our history. It taps into that part of our humanity that looked to the stars and painted on the walls of caves thousands of years ago. As a romance reader, I always try to read at least one fantasy romance per week. I have read 100+ fantasy romances and have a list, especially for young adults. Let's talk!
| Name | Key Focus | Review (Goodreads) |
| --- | --- | --- |
| Keeper of the Lost Cities | A mind-reader girl finds another mind-reader boy, and they form a relationship. | 4.4 |
| Daughter of the Pirate King | A pirate kidnaps a girl for a mission, and their adventure develops more feelings. | 4.0 |
| Shatter Me | A girl has the magical power to kill anyone by touch and struggles with it. | 3.9 |
| The Bridge Kingdom | A girl has to marry a King for a mission, but they form something unexpected. | 4.0 |
| Entreat Me | A father and son deal with a curse, and a woman falls in love with the son. | 4.1 |
| Throne of Glass | An assassin girl fights for a championship. | 4.1 |
| The Prison Healer | A prison healer tries to save a kingdom and forms a romantic relationship. | 4.2 |
YA Fantasy Romance Books
1. Keeper of the Lost Cities
Keeper of the Lost Cities YA magical fantasy romance series, which won the California Young Readers Medal for Middle School/Junior High. The main character, Sophie, can read minds, and she thinks she is the only person ever to be able to read minds until she's on a field trip with her class. Here she meets another boy who can read minds also. He whisks her into a magical world where she discovers that everything she knows isn't everything to know. That's the best way to describe it.
The whole series has so much heart, magical powers, adorable names, and cute little romances, but it also has a layered plot. If you haven't read the series yet, pick up the annotated copy because that will include annotations from the author and illustrations. I recommend it to everyone who wants an adventure with magic and romance.
Author: Shannon Messenger
Narrator: Caitlin Kelly
Publisher: Audible Studios
Tropes: Adventure, Magic, Love-triangles, Sci-fi, Mystery
Number Of Pages: 496
Available: Audiobook | Paperback | Hardcover | Kindle | Audio CD
2. Daughter of the Pirate King
Daughter of the Pirate King is an excellent series to get you into the fantasy world that achieved Evergreen Teen Book Award Nominee. If you grew up or loved Pirates of the Caribbean, you will love it. Our heroine, Alosa, allows herself to be captured by pirates and taken aboard their pirate ship. She let it happen because she has a secret task. She is trying to get a pirate map aboard the pirate ship because we learn there is the best banter in the duology.
Also, it's so light and fast-paced you will burn through the entire duology. There's a little bit of romance which is rememberable. The storyline, plot, dialogues, narration, characters, and world-building are excellent for enjoying a fantasy romance. From the first page, the story makes you interested, and cliffhanger to read the last page. So, please take it.
Author: Tricia Levenseller
Narrator: Marisa Calin
Publisher: Macmillan Audio
Tropes: Slow-burn, Enemies-to-lovers, Fairytale-retelling, Dark
Number Of Pages: 311
Available: Audiobook | Paperback | Hardcover | Kindle
3. Shatter Me
Shatter Me is a dystopian fantasy love story for young adults, which won Arab American Book Award Nominee for Children's/Young Adults. It's a very good segway into this genre. Our main character, Juliet, can't touch anyone without potentially killing or hurting them in a major way. The re-establishment takes her, and she's put into an asylum where she can't hurt anyone. One day she wakes up, and someone is in her cell. The whole series is so good to get you into fantasy magic.
The author gets you into ships, and if you need to learn what ships are, that's when you want people to characters to be other. So you're going to have some ships in this series. Writing isn't for everyone, and I acknowledge that, but I think it is addictive. The character growth is excellent. You will want to read all of it. There are six main books and then novellas in between. All the books have their purpose and different fantasy elements, making the series trending on BookTok.
Author: Tahereh Mafi
Narrator: Kate Simses
Publisher: HarperAudio
Tropes: Dystopian, Love-geometry, Superheroes
Number Of Pages: 338
Available: Audiobook | Paperback | Hardcover | Kindle | Mass Market Paperback
4. The Bridge Kingdom
The Bridge Kingdom is a young adult fantasy romance series and the first book's title. Our heroine (Lara) has been training with all her sisters since birth to be a spy to infiltrate the rival kingdom. It's because they've been promised a wife from their realm to the leader of the other kingdom who owns the bridge. So Lara is the one chosen to marry King Aren.
From the start, it's her goal to take him down and kill him. But she starts learning things and falling for him, which is a slow burn. There's one moment when he thinks he's sleeping, and nothing happens in 200 pages. They like each other but don't want to because they're rivals and married from the beginning. We have a marriage of convenience, and there's a cliffhanger at the end. Moreover, there's a lot of political intrigue and connections with people. If you love a strong female lead, then pick it.
Author: Danielle L. Jensen
Narrator: Lauren Fortgang, James Patrick Cronin
Publisher: Audible Originals
Tropes: Arranged marriage, Action, Politics
Number Of Pages: 356
Available: Audiobook | Paperback | Hardcover | Kindle | Audio CD
5. Entreat Me
Entreat Me is a YA paranormal steamy romance with fairy tales that won RT Award. It is a friend-to-lover and slow-burn standalone love story. I found similarities with Beauty and the Beast retelling, but it's unique. In the beginning, we get to see a father and a son. They're both cursed, and it's in cycles where it hits them, and they become beasts and want to kill everybody around them. Our heroine's (Louvean) sister is in love with the hero's son. That draws them together because her father is in debt to someone and to pay it off.
So they go to their kingdom, and Louvean goes with her sister, where she falls in love with her dad. Louvean is a widow, so she's already lost someone. Her husband died from an illness. They fell for each other physically first, and they had great chemistry. But there's a lot of complexity to the curse.
I listened to the audiobook and would recommend this one from the same author next time. I found some quality issues with the hardcover, but the paperback is good enough for font size, color, cover, binding, and page quality.
Author: Grace Draven
Narrator: Stacey Holmes
Publisher: Dreamscape Media, LLC
Tropes: Horror, Arc, Witches-wizards, Strong-woman, Possessive-hero
Number Of Pages: 323
Available: Audiobook | Paperback | Kindle | Audio CD
6. Throne of Glass
Throne of Glass is an epic fantasy romance, dystopian, and mystery series for young adults. The series is quintessential YA fantasy which is so fun. The first book follows Celaena, who is an assassin. She is put into a harsh jail where she is left there to die because of her crimes. One day she's pulled from her jail duty tasks and thrown into a room with the prince and the captain of the guard.
One day the kind hosts a competition to find the King's champion. So Celaena competes in the games esque to be the champion. There is fantasy and romance, which are so exciting. We are growing with Sarah J. Mass throughout the series. The audiobooks are fantastic to listen to at any moment, especially at night. I want to reread this so that I can continue on the series. I recommend this if you're a beginner or new to fantasy romance.
Author: Sarah J. Maas
Narrator: Elizabeth Evans
Publisher: Bloomsbury Publishing Plc
Tropes: Mystery, Demons, Royals, Fae
Number Of Pages: 406
Available: Audiobook | Paperback | Hardcover | Kindle | Flexibound
7. The Prison Healer
The Prison Healer is a high fantasy and dark YA romance. I love the series with my entire being. The story follows Kiva, who is sent wrongfully to prison, and she happens to have a natural knack for healing. So she becomes the prison healer. One day the rebel queen was captured and brought to this jail, which is a big deal. She is tasked with keeping the girl alive.
The queen has to compete in these trials so she can live. So it's bananas characters in these books that are straight-up wholesome. Before the series, I have never cared so much about the characters' well-being in a book. I love Kiva for being a YA female lead and fierce.
The worldbuilding and magical elements are engaging, and the slow-burn angsty romance makes the story more lovable. I recommend the audiobook after the main book. This helps you to feel and enjoy the mystical vibes and magical background.
Author: Lynette Noni
Narrator: Jeanette Illidge
Publisher: HMH Young Readers Audio
Tropes: Arc, Mental health, Family
Number Of Pages: 416
Available: Audiobook | Paperback | Hardcover | Kindle | Audio CD
---
More Young Adult Fantasy Romance Novels You Might Love:
The Selection by Kiera Cass: This series takes place in a dystopian future where girls compete for the prince's heart and have a chance to become the next queen. The story follows America Singer, who falls in love unexpectedly.
Shadow and Bone by Leigh Bardugo: The story follows Alina Starkov, a young orphan. She discovers her latent magical abilities and is thrust into a world of power. So, she struggles to control her newfound powers and face the dangerous politics of the kingdom.
The Cruel Prince by Holly Black: This first book in The Folk of the Air series tells the story of Jude. She is a mortal girl raised in Faerie's unsafe world after her parents are murdered. She struggles with her feelings for the cruel Prince Cardan and complex politics.
Serpent & Dove by Shelby Mahurin: In this story, a young witch flees her coven and settles in Cesarine, where witches are hunted and forced into an arranged marriage with a witch hunter. She hides her true identity while struggling with growing feelings for her enemy-turned-husband.
An Ember in the Ashes by Sabaa Tahir: This novel is set in a brutal world inspired by Ancient Rome, where a slave seeks to free her brother from imprisonment by infiltrating the military academy as a spy. Meanwhile, a soldier dreams of escaping the oppressive regime. Their paths cross, and together they face difficult choices, dangerous adversaries, and a simmering romance.
Those are my best YA fantasy romance novels that you should check out. They combine elements of fantasy, romance, and coming-of-age themes, creating an engaging and immersive reading experience for readers of all ages, particularly teenagers and young adults.
Let me know down below if you have any other recommendations for me. So please leave them down below. I would love to read more.
Read more similar books:
7 Fantasy Monster Romance Books
10 Magical Witch Romance Books