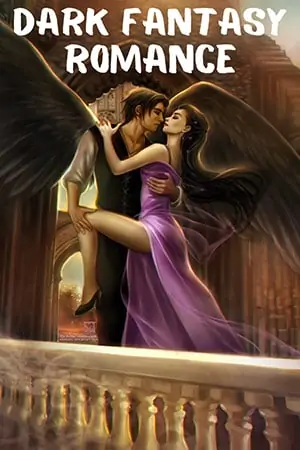 Dark Romance Fantasy books are a subgenre of romance and fantasy fiction that combines dark themes, high stakes, and passionate romantic relationships set in a fantastical world or an alternate reality. These books are set in worlds filled with magic, mythical creatures, complex lore, and medieval or otherworldly settings. The world-building is typically rich and detailed, encompassing unique cultures, histories, and magic systems. However, unlike traditional romance, these books cover more intense, sometimes taboo, and morally complex relationships.
Teens and young adults love this because it easily fits this age. You can explore mature, gritty, and explicit themes. This can include morally gray characters, anti-heroes, kidnapping, enemies-to-lovers dynamics, power imbalances, etc. Most dark fantasy romance movies are based on books like Twilight, Maleficent, Huntsman, Red Riding Hood, etc.
10 Dark Romance Fantasy Books (Fictional & Myth)
If you like dark romance books, you are in the right place. I have a big list to present as a fantasy and romance lover. I will discuss the top 10 dark romance fantasy books to read anytime. They feature tension, passion, and conflicts that challenge societal or cultural norms of the fantasy world. Beyond the romance, a significant plot involves wars, political intrigue, power struggles, betrayals, and personal quests. Let's go!
| Name | Key Focus | Tropes |
| --- | --- | --- |
| Rhapsodic by Laura Thalassa | A siren indebted to the mysterious Night King faces love and danger in a world of fae. | Fae romance, enemies-to-lovers, past debts, urban fantasy, immortal and mortal romance, mysterious hero, magical realm, power dynamics. |
| A Promise of Fire by Amanda Bouchet | A powerful seer on the run is captured by a warlord, leading to romance, magic, and political intrigue in a mythic world. | Enemies-to-lovers, magic users, hidden identity, fantasy realm, gods and mythological beings, captive romance, warrior and mage pairing, prophesied destiny. |
| A Touch of Ruin by Scarlett St. Clair | Hades and Persephone navigate their tumultuous relationship amidst challenges from the mortal and Underworld realms. | Modern mythological retelling, god and mortal romance, Underworld politics, forbidden love, power dynamics, urban fantasy, emotional turmoil, revenge plot. |
| Radiance by Grace Draven | Two individuals from different species, wedded as a political alliance, find unexpected love amidst mutual repulsion and societal expectations. | Arranged marriage, enemies-to-lovers, interspecies romance, cultural differences, mutual respect, fantasy realm, political intrigue, beauty standards, slow-burn romance. |
| Her Soul to Take by Harley Laroux | A young woman's encounter with a mysterious and dangerous demon spirals into a dark, obsessive romance with high stakes. | Demonic romance, forbidden attraction, dark past, power dynamics, supernatural elements, curse and redemption, seduction, soul-binding, enemies-to-lovers. |
| Black Sunshine by Karina Halle | A young woman discovers her hidden lineage and is thrust into a world of vampires, leading to a passionate and perilous romance. | Vampire romance, forbidden love, hidden heritage, dark secrets, supernatural underworld, mentor and protegé relationship, urban fantasy, self-discovery, ancient curses. |
| A Curse So Dark and Lonely by Brigid Kemmerer | A modern girl is transported to a cursed kingdom, where she meets a prince doomed to repeat a deadly season, sparking a transformative love. | Beauty and the Beast retelling, alternate worlds, cursed prince, strong-willed heroine, slow-burn romance, redemption arc, fantasy realm, disability representation, time loops. |
| The Shadows Between Us by Tricia Levenseller | A cunning young woman schemes to woo the elusive Shadow King with the intent to kill him, but unexpected romance and intrigue complicate her plans. | Enemies-to-lovers, dark romance, court intrigue, power dynamics, ambitious heroine, mysterious ruler, love amid betrayal, hidden agendas, fantasy realm. |
| From Blood and Ash by Jennifer L. Armentrout | A maiden chosen for a sacred ritual struggles with treachery, forbidden love, and ancient secrets in a world teetering on the brink of chaos. | Forbidden romance, chosen one, vampires and werewolves, dark secrets, duty versus desire, enemies-to-lovers, rebellion and uprising, prophecy and destiny, protectors and guardians. |
| Wicked Saints by Emily A. Duncan | A cleric capable of speaking to God's allies with a rogue prince and a blood mage, involving love and revenge in a world scarred by a divine war. | Enemies-to-lovers, dark magic, divine intervention, rebellious prince, hidden powers, political intrigue, religious conflict, forbidden rituals, fantasy realm warfare. |
Dark Romance Fantasy Books List
1. Rhapsodic: The Bargainer
The Bargainer series consists of Rhapsodic, A Strange Hymn, The Emperor of Evening Stars, and Dark Harmony. The series starts with Callypso Lillis, who is not an ordinary girl but a siren. She killed her stepfather and found a card leading to Desmond Flynn's bargainer. Des decides to help her clean up her mess, but not for free. The bargainer is always bargaining for a price for a favor he might try to collect whenever she asks him for a favor.
Callypso would collect a beat that would form a bracelet around her wrist, and it's the bracelet that a Buddhist monk wears. She starts to develop a crush on Des, and she calls him back again and again. So she ends up having a lot of beads on her bracelet, which are favors that need to be repaid eventually. But something happened, and he went away, and they were separated for seven years until he returned. As it turns out, Desmond is the bargainer. He is also the king of the Night Kingdom and the other world filled with fairies.
Des returns after seven years and tells Cally he needs her help. There were a lot of female soldiers missing, and when these women were returned, they were lying idle in a casket. They're in a permanent state of being asleep, and there's a baby with them. It's a demon baby. But these babies can prophesy, and they prophesy they are bad stuff for both Desmond and Cally. Then, men keep disappearing as well. It's all the doing of a guy called the Thief of Souls. So that's the gist of the entire story.
At the beginning of the book, we are presented with the question of why Des had to leave Cally seven years ago. As we keep on reading, we finally get to see the answer. If you love dark romance with fantasy elements, then try this trilogy.
Author: Laura Thalassa
Average Rating: 4.5/5
Category: Paranormal & Urban Fantasy
Available: Audiobook | Paperback | Kindle
2. A Promise of Fire (The Kingmaker Chronicles)
This follows a young lady called Cat, who lives in three different kingdoms. She is running away from people from her past. She has a sinister and mysterious past, although we don't necessarily know what that is when we first start reading her story. We know that she is trying to hide away from many people who have been horrible to her. So she's hiding in a circus, which is always good but quickly becomes something different.
It will be a mysterious story about her life, how she escaped and evaded these captors, and the magic that she had. It's evident early on that she has a powerful magic that she's trying to keep hidden within the circus. She doesn't escape because the character who captures her has a magical rope that manages to trap her. Things start to get a bit iffy as time passes, and they form this love relationship.
However, even with all of that said, there are some steamy erotic moments within this. The ideas of these magical powers and how the world was set up were interesting. Our main character has Dragon Breath, which is she can melt people. Although it has some fun elements initially, we get another character named Griffin.
Author: Amanda Bouchet
Average Rating: 4.5/5
Category: Greek & Roman Myth & Legend, Dark Romance
Available: Audiobook | Paperback | Mass Market Paperback | Kindle | Audio CD
3. A Touch of Ruin (Hades X Persephone)
This series may be good if you enjoy Greek mythology because it retells Persephone and Hades. Persephone is a journalism student, living like a normal mortal human being. She wanted to experience human life and get out of her mother's control.
Hades is the god of the underworld. He also owns a club in the human world where he makes a lot of bargains and deals with human beings. Generally, Hades is the winner who doesn't play fair. So, one night, Persephone's friend drags her to the club. They get in, and it's hard, so they're super excited.
Persephone goes to the VIP section because she's invited there, and she ends up playing a poker game with Hades, and she accidentally deals with Haiti. So Hades says that she has six months to create life in the underworld; if not, she will have to stay in the underworld. Persephone is an impossible task because she has no control over her powers. She has not been able to create any form of life yet. That's the context of the series. This series is perfect for somebody who loves dark romance fantasy.
Author: Scarlett St. Clair
Average Rating: 4.6/5
Category: Dark Fantasy Erotica
Available: Audiobook | Paperback | Hardcover | Kindle | Audio CD
4. Radiance (Wraith Kings)
The story is about a girl named Ildiko and a man named Brishen. They're from two different royal kingdoms. There's the unessential royalty as in the royalty, but they're unimportant. So they're used as pawns in a scheme of kings and queens. So it is about how friendships can grow into something more beautiful, stronger than anything. They end up loving each other more than they ever realized that they would ever love each other.
This book takes care of the emotions of their actions instead of the details. Some sex scenes in books are a bit too detailed. The two main characters focus more on the emotion of what they are doing for each other than the actual details of what they are doing. So, this is in a different realm entirely.
Author: Grace Draven
Average Rating: 4.5/5
Category: Paranormal Romance
Available: Audiobook | Paperback | Kindle
5. Her Soul to Take (Souls Trilogy)
Her Soul to Take is a new adult dark horror romance that follows Rae and Leon's two main characters. Rae is a paranormal investigator. She has a YouTube channel devoted to paranormal investigations and goes hunting. One day, she meets Leon, who is, in fact, a demon.
They meet, and they have some conversations. It's not too in-depth or anything like that, so she summons him one day. He has this reputation for being this deadly demon who kills anyone, anything that summons him. As you can probably tell, it's a dark romantic fantasy, so he doesn't kill her. He falls for her and vice versa.
So Leon ends up wanting to protect her by all means necessary. Her Soul to Take is the first book and will be a trilogy. The author does note that the trilogy will be interconnected stand-alone. The content and trigger warnings follow graphic sexual scenes, violence, and horror elements.
Author: Harley Laroux
Average Rating: 4.5/5
Category: Dark Fantasy, Erotic Thrillers (Best Seller)
Available: Paperback | Kindle
6. Black Sunshine: A Dark Vampire Romance (Dark Eyes)
The story of this book follows our main heroine, Lenore Warwick. She's twenty-one and a college student. She starts to feel as if someone is watching her. Then she gets kidnapped by a mysterious vampire bounty hunter, and it's a romance between her and the vampire bounty hunter.
We see the main heroine get kidnapped and adjust to her new surroundings. You also get a lot of info-dumping in the middle part of the book, which slows down the pacing of this book. The writing becomes a bit more clunky and denser because we're trying to convey all this information to our main character, who is new to this world.
It's a dark romance fantasy book, and the author includes trigger and content warnings at the beginning. This book is for you if you are looking for some dark fantasy, steamy vampire goodness.
Author: Karina Halle
Average Rating: 4.3/5
Category: Vampire Suspense, Paranormal & Urban Fantasy
Available: Audiobook | Paperback | Kindle
7. A Curse So Dark and Lonely (The Cursebreaker Series)
This is a Beauty And The Beast retelling with a twist. It is a dual-perspective story that follows our two main characters, the cursed prince and the other a girl named Harper. The curse works because this perpetual season will restart our prince, Rhen.
If he does not succeed in these three months, having a girl fall in love with him, he will become a rage monster that goes around and kills many people. He's killed people close to him because he cannot control this monster once this happens. He goes back to his human form, and the season starts over. The way to break this curse is to make a girl fall in love with him within the season.
They have not been successful thus far, so he has his guard, Grey, go into this world. He's permitted to go into our world once a season to pluck a girl out of the world and hope she will fall in love with the prince. If he fails to have Harper fall in love with him, he will forever stay as a beast. So the circumstances are high. He is pretty much hopeless, doesn't feel like there's a chance, and Harper is constantly thinking. There's a lot of character growth that's explored throughout the story.
Author: Brigid Kemmerer
Average Rating: 4.5/5
Category: Dark Fairy Tale & Folklore Adaptations
Available: Audiobook | Paperback | Hardcover | Kindle
8. The Shadows Between Us by Tricia Levenseller
This standalone novel introduces Alessandra, a cunning and ambitious second daughter with a dark secret. She plans to woo the Shadow King, marry him, and kill him to take his kingdom. However, they grow closer, intrigue, power plays, and unexpected passion ensues. Levenseller weaves a tale of dark allure, where characters operate in moral gray areas. The book is a thrilling exploration of ambition, power, and love in a world where shadows hold secrets.
9. From Blood and Ash by Jennifer L. Armentrout
In a land where mortals and ascended beings coexist, Poppy, the Maiden, is both revered and isolated, awaiting her Ascension. Hawke, a guard with mysterious intentions, upends her world. Armentrout combines rich world-building with a slow-burn romance filled with tension, betrayal, and forbidden love. We see freedom, choice, and destiny when Poppy struggles on her path amidst dark secrets and looming threats.
10. Wicked Saints by Emily A. Duncan
The first entry in the "Something Dark and Holy" series, this book covers a centuries-long war between two countries. Nadya, a cleric who can commune with gods, finds her path intertwined with Malachiasz, a defector with secrets. Duncan crafts a tale steeped in dark magic, political intrigue, and a romance that challenges beliefs and boundaries.
5 Steamy Dark Romance Fantasy Books
Here are five steamy dark romance fantasy books:
A Court of Mist and Fury by Sarah J. Maas: The second book in Maas's "A Court of Thorns and Roses" series, "A Court of Mist and Fury," deepens the tale of Feyre Archeron after the events of the Under the Mountain. Feyre's journey is interwoven with a steamy, tension-filled romance with Rhysand, the High Lord of the Night Court, exploring trauma, recovery, and identity themes.
Maas combines intricate world-building, including the vibrant and seductive Velaris, with deep emotional character development. The result is a novel filled with passion, danger, and the challenges of facing love in a world filled with political intrigue and ancient power struggles.
Kingmaker Chronicles by Amanda Bouchet: Beginning with "A Promise of Fire," the "Kingmaker Chronicles" introduces readers to Cat, a seer with powerful abilities, and Griffin, a warlord who captures her for his ambitions. Set in a world where gods interact with mortals and magic is real, their relationship is charged with tension, mistrust, and undeniable attraction. Bouchet's writing is evocative, blending the thrill of dark fantasy elements with steamy romance scenes and presenting a complex dynamic of love amidst war and power struggles.
The Black Dagger Brotherhood series by J.R. Ward: Starting with "Dark Lover," this series introduces a group of vampire warriors defending their race against the Lessening Society. Each book focuses on a different brother and their romantic entanglements, filled with passion, danger, and the supernatural. Ward's world is dark, with characters bearing tormented pasts and facing grave threats. The blend of intense action, intricate vampire lore, and sizzling romance makes this series a standout in steamy, dark romance fantasy.
Captive Prince trilogy by C.S. Pacat: This series, which starts with the "Captive Prince," revolves around Prince Damen, who's betrayed and sent as a slave to the enemy kingdom ruled by Prince Laurent. In a world rife with political intrigue, betrayals, and power games, the relationship between Damen and Laurent evolves from enemies to unexpected allies and passionate lovers. Pacat's narrative is dense with courtly machinations, and the steamy, tension-filled relationship between the two protagonists unfolds against a backdrop of revenge and kingdom politics.
The Tairen Soul series by C.L. Wilson: Opening with "Lord of the Fading Lands," this series follows Rain, the last Tairen Soul, as he tries to save his dying race. He meets Ellie, a simple woodcarver, and recognizes her as his true mate. They face their intense connection and a great evil threatening the Fading Lands. Wilson creates a world of magic, mythical creatures, and ancient battles. The romance between Rain and Ellie is passionate, complicated by societal norms, and interspersed with steamy relations.
Each series offers a unique mix of dark fantasy elements with passionate romance, ensuring readers are captivated by the plot's thrills and the complexities of love in fantastical settings.
---
These novels can be both thrilling and heart-wrenching, offering us an immersive experience that combines the allure of fantasy with the intensity of dark romance.
More Dark Romance Books:
Books Like All The Ugly And Wonderful Things
Dark Fantasy Books About Demons
Magical YA Fantasy Romance Books