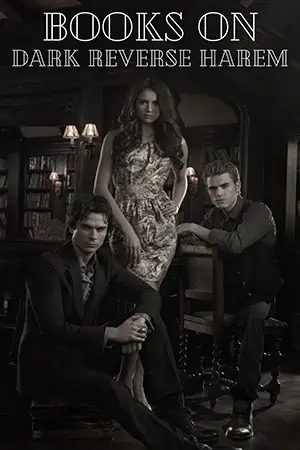 Reverse harem romance focuses on the main character, and she has three or more love interests. Some other rules fall into this subgenre, but that's the most agreed-upon definition of the subgenre. It's one of my favorite subgenres within the romance genre.
There are many types of the reverse harem, and the dark one is trendy among readers. It is because the reverse harem fits the paranormal world with the werewolf, Dracula, and vampire. If you want to read dark reverse harem books, keep scrolling!
10 Dark Reverse Harem Books (Polyamorous Relationship)
I already cover reverse harem romance writing tips in this blog and review some popular reverse harem books. Now, I have some requests from you to present some dark reverse harem. So I want to talk about it and recommend some books that I like most. I will review 10 dark reverse harem books for you. Let's go!
10 Dark Reverse Harem Books List
1. Sugar Daddies
This book is about Katie Smith, who lives in this small town. She wants to get out of there to seek money. So she was searching for sugar daddies on the sugar daddy website. Then she saw a page where two sugar daddies offered a very generous allowance for the sugar baby. But there was one condition she would be with both of them, or they wouldn't be like a ripple.
Katie wouldn't become their sugar baby if she didn't accept both of them. A part of why they did this role is because both of them are very hot. But there is one that is a little older and not as open. So a lot of them fall in love with the other one. There were some scenes where I didn't know what was happening because it was very bold, and there was a lot of dirty talking.
The focus was much more on the sugar daddies. They were hotter, especially together. They were a couple before she came along, the sugar baby. If you like fantastic adult scenes in the dark reverse harem, check this one out.
Author: Jade West
Average Customer Review: (4.3 out of 5, on Amazon)
Tropes: Menage, Age-gap, Alpha-male, Emotional-angsty
Number Of Pages: 444
Available: Audiobook | Paperback | Kindle | Audio CD
---
2. Hate (Madison Kate)
The book's story is dramatic, dark, and angsty, but more from the girl's point of view. So I'm going to explain what happened. Kate decides to go out on Halloween night with her friend to see the fight competition. As a daughter of the mafia, she likes a mafia guy. But he has a few enemies.
So it's very dangerous for her to go out. There is a fight or shooting in the middle of the fight, and then she has to escape. But she separates from her friends, and the three very handsome hot guys protect her.
There's a moment when one of them gives her a jacket. The jacket's pocket has an incriminating piece of information, but they didn't know about that. So when she is pulled over, the police find out, and she's arrested. When she goes back to her town, she discovers that those three guys live in her house, and she is pissed.
Kate wants revenge. I loved how her barriers started to go down a little bit through the book because she started it being very guarded. The three guys had to live in the same house, and she was pissed. They had the little games where they pissed each other off, and she never backed down from any of it. So that's why I liked her for that, and it was an enjoyable and dark reverse harem series.
Author: Tate James
Publisher: Silverton Agency
Narrator: Brooke Daniels, Lucas Webley
Average Customer Review: (4.6 out of 5, on Amazon)
Tropes: Suspense, Dark Mystery, Heroine-alpha, Bully, Enemies-to-lovers
Number Of Pages: 418
Available: Audiobook | Paperback | Kindle | Audio CD
---
3. First Comes Blood (Promised in Blood)
This was the most angsty book I have ever read in my entire life. I wanted to finish it and knew what would happen because this ended in a cliffhanger. The story follows Chiara, daughter of Coldlake (mayor). Coldlake is a scary man, and he invites some women for dinner, and Chiara doesn't know why. It's her birthday, and she knows that her dad offered her hand in marriage to the most dangerous guy in the whole town.
There are so many scenes in the first chapter and many POVs. There was an exciting scene where Lorenzo Scava (protector) used the cable of a knife. Also, there was lots of spending scenes and polyamorous relationship that I should not spoil. Read this mafia romance book if you're used to dark reverse harem romance and filthy non-consensual scenes.
Author: Lilith Vincent
Average Customer Review: (4.3 out of 5, on Amazon)
Tropes: Organized Crime, Age-gap, Virgin-heroine
Number Of Pages: 326
Available: Paperback | Kindle
---
4. A Lady of Rooksgrave Manor (Tempting Monsters)
We follow Esther, who works at a manor, and the family it's going broke. So she needs another job. Guess who offers her that job? A random guy, a doctor that always went to the manor, but no one knew what he did. When he entered the room, there was a buzzing sound, and the lady of the house started screaming, a very suspicious type of scream.
So the heroine in this one, Esther, is very sexually liberated. While those things are happening in the Lady of the Manor bedroom, she gives herself some self-love in the hallways. When the doctor sees that, he's instantly attracted to her. So this place ends up being a hotel for monsters.
I loved how different their names sounded and how different their personalities were. One of them was a marble statue, and the other was a vampire. They worked so well together, and no one was left out.
In the first scene, they were all together. Also, there was a lot of voyeurism involved in a Victorian vibrator. Have you ever heard of that? You have to read this gothic romance with a reverse harem relationship if you haven't.
Author: Kathryn Moon
Average Customer Review: (4.5 out of 5, on Amazon)
Tropes: Paranormal Erotica, Historical, Vampires, Strong female lead
Number Of Pages: 376
Available: Audiobook | Paperback | Kindle
---
5. Dirty Daddies
Our heroine, Carrie Wells, has been going through the adoption system. So she's been going through many houses, and she's never had a family. A man helped her, and he always had a crush on her. He knows that she's challenging with the families, but it's because she's frustrated. Also, there's so much sexual tension happening between them.
One day Carrie proposes to him to take her to his house. But the man rejects her because that's strictly forbidden. So instead, he leaves her at his friend's house, and his friend is the opposite version of him. They go to this friend's house, and he leaves her there. Carrie makes a little bit of a mess. So there were many spanking scenes and a little bit of voyeurism. This reverse harem is very dark and emotional to read.
Author: Jade West
Publisher: Audible Studios
Narrator: Stacey Holmes, Joel Leslie, Smutty McDiarmid
Average Customer Review: (4.1 out of 5, on Amazon)
Tropes: College, Age-gap, Angsty, Deliciously filthy, Emotional
Number Of Pages: 283
Available: Audiobook | Paperback | Kindle | Audio CD
---
6. Baby & the Late Night Howlers (Sweet Omegaverse)
I am favorable toward the same author for the reverse harem because they write many good books, and I want to read them all. This book is more of a werewolf situation with Omegaverse thing. The story is about a girl looking for her nest and having an agency. They give her smells, and there's one specific that she likes most. She tries to get that nest, and they are the most dangerous ones.
They are emcees and not the most wealthy. So the girl goes through this period where she isn't from their nest, but she's testing the waters, seeing the situation. The devil's tango scenes were excellent. She doesn't stay with all the guys from the pack, but it's fun to see all of them love her and they worship her. So if you like omegaverse romance stories with a dark reverse harem, you must pick it.
Author: Kathryn Moon
Publisher: Kathryn Moon
Average Customer Review: (4.4 out of 5, on Amazon)
Tropes: Motorcycle-club, Male-male, Shifter
Number Of Pages: 428
Available: Audiobook | Paperback | Kindle
---
7. Polaris (Stardust)
Polaris is the sixth book in the Stardust series. This is a slow-burn, adventurous reverse harem book about an 18-year-old girl (Haley). It's her birthday, and she goes into town. She lives secluded from everyone with her father, and she has one friend, and that's about it.
Haley meets the guy. He ends up being a part of something else. How do these things go and end up saving her? Her father disappears. So, she's looking for her father. They're trying to save her. Knox, Theo, Chase, Liam, and Jackson are North Star, and Haley has a huge crush on them.
What will happen to them? Guess! I'll not spoil it because it's a twist. So please read this best dark reverse harem, discover the twist, and enjoy their romance.
Author: Autumn Reed
Publisher: Tantor Audio
Average Customer Review: (4.6 out of 5, on Amazon)
Tropes: Contemporary, Polyamorous, Slow-burn, Friendship
Number Of Pages: 350
Available: Audiobook | Paperback | Kindle | Audio CD
---
8. Queen Takes Knights (Their Vampire Queen)
A virgin vampire queen, Shara Isador, has been on the run since she was a teen when her parents died. She knows that she's being chased by the demonic creatures that only she can see. One night, while she thinks she's at the end of her rope, she's being hunted.
So, she doesn't know where to move. Two men come to her rescue, and they tell her that not only are they vampires, that they are also vampires that worship a lineage of queens. Shara happens to be from a specific lineage of vampire queens. So that's where our story starts.
There are only two love interests, but the reverse harem contains three or more. So this book has that none of the other books I read have, which is a genuine poly relationship. We get to see the bond between our main character and the two individual men, but these men already have a pre-existing relationship before the beginning of the book. Everyone in this book has a relationship and emotional or physical bond with each other.
The author did a good job creating this fascinating, unique vampire world that I haven't read anything about before. If you're looking for something vampire, I might recommend this one. There's a lot of creativity and uniqueness in the world this author has created, and I want to continue this series.
Author: Joely Sue Burkhart
Publisher: Tantor Audio
Average Customer Review: (4.4 out of 5, on Amazon)
Tropes: Erotica, Urban-fantasy, Vampires, Love-triangle, Mythology
Number Of Pages: 190
Available: Audiobook | Paperback | Kindle
---
9. House Of Vampires (Lorena Quinn)
This is also the first book in a series. We follow a young woman named Lorena. She's recently been told that her grandmother has passed away, and she has come into some inheritance. She has to go to her grandmother's home, live there for six months, and collect the cash to claim her inheritance. So Lorena thinks this is easy. But she's never had a close relationship with her grandmother because her father is estranged from his mother.
However, when Lorena arrives in town, she's part of some prophecy that her future child will bring magic back into the world. Also, the father of her child is supposed to be one of the sons of Dracul! Now you can see where the reverse harem thing fits into the story.
I would not consider this a perfect reverse harem at all. It is because it doesn't focus on any of the relationships between her and any of the vampires. It's very focused on the plot, which would be fine, except there's so much plot in a short book.
The little scenes that Lorena did get were entertaining, and she deserves a book series. Moreover, the only thing that this book did bring to me was the feeling that I needed to read better paranormal reverse harem books.
Author: Samantha Snow
Publisher: BMB Digital USA LLC
Average Customer Review: (4.3 out of 5, on Amazon)
Tropes: Magic, Suspense, Possessive-alphas
Number Of Pages: 185
Available: Audiobook | Paperback | Kindle
---
10. Gilded Mess (Three Bears)
Our main character's name is Goldilocks. She's in her early thirties, and at this point in her life, she is not happy with her life. So far, she hasn't accomplished much, and she tries different things all the time, but she never sticks to anything. At the beginning of the book, she and her boyfriend move into a shady cabin in the woods.
Goldilocks jumped into this relationship. She finds out that her boyfriend is cheating on her when they move in. So she essentially trashes their cabin and steals some of this stuff. Then she runs into a much nicer cabin in the woods, and she breaks a nicer cabin, uses their facilities, eats their food, and falls asleep on their furniture.
She knows that three brothers own this cabin, and these three brothers are bear shifters. There's the beginning of a story. The writing is fine and fun, but each of the three brothers fits a specific archetype that you see in romances.
One of the brothers is a young, fun, very flirty type. We also have a soft, quiet type of brother. Then the third brother is the only one who doesn't like our main character because she broke into their house, and he's very protective of what he owns.
So I did enjoy this one as enemies to lovers also. There's this plot that was thrown in at the end. The author was trying to create some unnecessary conflict for her, but there was already another conflict brewing. Also, there was one scene that might turn off many people.
At the same time, it made me uncomfortable because I would count that as a threesome. But two of those thumbs are brothers, so that's a problem with this book. Overall, it's a rom-com dark reverse harem book, and you will enjoy it.
Author: Colette Rhodes
Average Customer Review: (4.5 out of 5, on Amazon)
Tropes: Humor, Retellings, Shapeshifters, Forced-proximity, Small-town
Number Of Pages: 269
Available: Paperback | Kindle
---
Let me know if you've ever read within the genre or if you have any favorites that you'd like to recommend to me. I'd like to hear anything you have to say in the comments below. Feel free to share your opinion.
---
Read more similar books:
12 Contemporary Reverse Harem Books
Top 7 Reverse Harem Bully Romance Books
10 Reverse Harem Academy Books
7 Reverse Harem Books Like Den Of Vipers