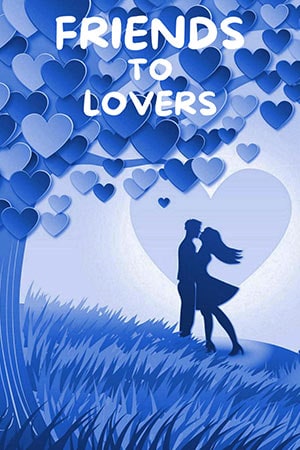 Friends to Lovers is a popular trope in literature, especially in the romance genre, where two characters start as friends before developing romantic feelings for each other. These books explore the complexities and challenges of transitioning from a spiritual to a romantic relationship. They cover fear of ruining the friendship, misunderstandings, or the thrill and uncertainty of seeing a close friend in a new light.
In these stories, friendship serves as a solid foundation for the romantic relationship, giving the characters a unique and deeper emotional connection than in stories where the characters fall in love upon first meeting. This trope allows for rich character development and can make the romantic climax feel especially rewarding.
There's so much jealousy, angst, tension, and build-up between the two friends in the friends-to-lovers trope. It's so obvious they want to be together. They love each other so much, but they don't want to break off their friendship or ruin what they have. So, as time passes, they create new chaos and stories that make a new relationship or break the friendship.
20 Friends To Lovers Books
The idea of friendship evolving into romance is a common life experience for many, making these stories incredibly relatable. Because the characters start as friends, there is a deeper emotional connection, making their eventual romance more satisfying. The stakes in these relationships are higher because they involve a pre-existing friendship, making the conflict and resolutions more meaningful.
Opposite gender must attract each other, and in friendship, it is easy to make this attraction fast and strong. When we share our feelings and life stories and get support from friends, we like to spend time with him/her. Our common mental behavior is to express ourselves and get support.
So, most good friendship turns into something deeper, called love or attraction. It can be physical or mental, depending on them. I am going to talk about 20 friends-to-lovers books. Beyond the romantic relationship, these stories also explore the social dynamics among groups of friends, which can add another layer of depth and realism. Let's go!
1. Love and Other Words
This book is told from the past and present perspective when Macy was young. Her mom passed away, and her dad got the lake house that they go to every weekend. At this lake house, she walks in on the first day there, and there is a boy (Elliot) sitting in her bedroom on the floor reading a book. They make the little closet that they have into a library. They became best friends every weekend and had hung out since elementary school. Elliot is the only one who understands her.
Macy looks forward to her weekends with him. He is such a cute, wholesome, little nerdy reader boy. She's going through a lot with her mom passing away, and he's always there for her and wants to talk about it with her. But she's closed off throughout their whole high school experience. Then, in the present perspective, they're no longer friends or lovers.
One day, they reunite at a coffee shop. The next day, Elliot comes up to her and proposes for friendship. The book starts with them meeting as kids and adults reuniting and going back and forth. Also, you're watching them fall in love as kids and watching them fall in love as adults, all the way to the buildup of what happened between them. So that is a great friend to lovers to start with childhood friends.
Author: Christina Lauren
Average Rating: 4.6/5
Category: Humorous Fiction
Available: Audiobook | Paperback | Kindle | Audio CD
2. Him
This is a trilogy, but you can read it as a standalone. It is also friends to lovers between two boys and a hockey romance. They go to this camp every summer for hockey when they are teenagers. These two boys are best friends; one is in the closet, and the other is straight. There are flashbacks of them having this moment together when they were younger.
After what happened, the one friend in the closet breaks off all contact with his best friend. He feels guilty about his feelings, and four years later, they're in the hockey playoffs, competing against each other. Jamie is straight and has a girlfriend. He is so confused why he got cut off by his best friend and confronted him at their game at the hotel. Moreover, it is their romance from there. There's a lot of sexual questioning. The buildup is so intense because they're both so confused by the situation but obsessed with each other that they can't stop.
Author: Elle Kennedy, Sarina Bowen
Average Rating: 4.7/5
Category: LGBTQ+ Romance
Available: Audiobook | Paperback | Hardcover | Kindle | MP3 CD
3. The Problem with Forever
This book is about Mallory, who has had a rough upbringing through foster care. She has gone through so much trauma that she rarely talks and has bad anxiety. She's a quiet girl who only talks when necessary, and she has been dealing with a lot of PTSD from her childhood. So she was in the foster care system with this boy named Ryder, who was a year older than her.
Ryder would protect her when they were in the house. He always looked out for her and took the hits for her. Also, he sacrificed himself for her multiple times to keep her safe as a kid. Mallory was so grateful for him and didn't know how she would have survived without him until one night when they were kids. Something horrible happened at their foster house, and they were separated, and they hadn't seen each other. Mallory decides it's time for her to go to public school, overcome her fear, and go to class, her last class of the day, and Ryder is in it.
Ryder is super popular and has a girlfriend. They look at each other and realize this whole past that they had together with their shared trauma. They've gone through the same stuff, and she's been so noticeably affected by it. In contrast, Ryder seems perfectly fine until they start getting closer. Mallory is uncovering how much of his past he hasn't resolved and hasn't gotten past that she's been working on for all these years. It was good friends to lovers because their bond was so strong.
Author: Jennifer L. Armentrout
Average Rating: 4.5/5
Category: Orphans & Foster Homes Fiction
Available: Audiobook | Paperback | Hardcover | Kindle | MP3 CD
4. The Fourth Time Charm (Fulton U)
This is the fourth book in the Fulton U series, but it can be read alone. But I recommend reading the whole series because this book hits so differently from friend to lover. They are LJ and Marisa. They don't want to lose their friendship. It is a strong bond of friendship, their whole lives. They've always been there for each other. Marisa followed him to this college because she missed him so much. They lived together. So there's the roommate trope because they're best friends.
LJ confesses that he did try to be more than friends with her at one point, but it didn't work out, and they didn't want to risk losing their friendship. So he's been in love with her in secret, and he tells his friends that. Marisa's dad is the football coach, and LJ is on the football team. Marisa has a bad relationship with her dad, and he's taking that out on LJ. and benching him and not letting him play. There's so much drama in this book, but they finally get to be together, and it's so satisfying.
Author: Maya Hughes
Average Rating: 4.4/5
Category: Sports Romance
Available: Audiobook | Paperback | Kindle
5. People We Meet on Vacation
Two college friends (Poppy and Alex) hang out every summer and go on vacations once a year to see each other. There have been platonic best friends that are opposites attract like he's super uptight, and she's super spontaneous. They go on these vacations together, and it's so fun. So it's past-present perspective love, except it flashes to when they were in college and started going on these trips together yearly.
So it shows each of their summers and then flashes to the present when they are not going on these trips anymore. Something happened, and they had a falling out. But they are about to reunite because the boy's brothers are getting married, and Poppy is invited to see each other at this wedding.
Poppy is gearing up to see him, and she invites him to go on a vacation with her, like a reuniting trip. Also, you're trying to figure out why they aren't friends anymore. What happened between them? They start to turn into lovers. They have a falling out. They become enemies, and then they reunite with lovers.
Author: Emily Henry
Average Rating: 4.3/5
Category: Romantic Comedy
Available: Audiobook | Paperback | Library Binding | Kindle
6. Archer's Voice
This is so wholesome, and the characters deserve the world. They are the true definition of soulmates. Bree's father passes away, and she decides to pack up and hunt for her safety. She moves to a small town where she thinks no one can find her, and she gets there a little cottage. On her first day there, she bumps into a man.
Archer looks at her, then walks away and doesn't say anything. Bree is intrigued by him and starts asking around the town. She's getting to know people, getting a job, and meeting her neighbors. She starts asking everyone about him, and they're all told that they haven't talked to Archer. There are many rumors about him.
They have a little connection moment, but he does not speak. So, there is a language barrier. Archer is so innocent and so wholesome. Everyone in his town misunderstands him. No one will even give him the chance to get to know him. When Bree gets to know him and their romance, he is so cute. So, all of his energy and love are focused on Bree, which is so good. They become friends and start hanging out every day. It takes a while to start unfolding, and she has to take charge.
Author: Mia Sheridan
Average Rating: 4.7/5
Category: Women's Domestic Life Fiction
Available: Audiobook | Kindle | Audio CD
7. Bright Side
This book is about a girl named Kate. She has a childhood best friend named Gus. They've been friends their whole lives. Their parents were friends. Kate decides that she's going to go out of state to college. She keeps in contact with Gus, but the relationship is not with Gus. In the beginning, the romance would be between Gus and Kate. But then you see the perspective between Kate and this boy named Keller. Who's Keller? You meet him when she goes to college. She's still best friends with Gus, but she befriends Keller.
Gus was in love with her the whole time. But Kate and Keller strike up a friendship there in the same friend group. He worked with the coffee shop she goes to every morning. They start hanging out, and their relationship is so cute. Both of them keep many secrets, and you can tell that they have a lot of secrets from each other. Moreover, they're best friends but surface-level friends because they don't want to bring each other.
Keller is catching feelings for her. Kate is catching feelings for him, but she is very reserved because she doesn't want to tell him what she's going through. Keller tells her about everything in his life, what he's been hiding. She meets his whole family. So, she meets everyone, and she's still in denial.
Author: Kim Holden
Average Rating: 4.7/5
Category: College Romance
Available: Audiobook | Paperback | Kindle | MP3 CD
8. 99 Percent Mine
This one is my brother's best friend slash childhood friend's romance. It's a slow burn forced proximity with the tension of being the brother's best friend. Darcy would have an attitude, and Tom was super sweet and soft-spoken. She always called him the perfect man. In addition, they're forced to work on renovating a house together.
There's so much tension, so much longing, and angst. Tom is so sweet and tries not to have a relationship with her because he doesn't want to upset the best friend, but she throws herself at him. She does not care. It's called 99 percent mine because he's 99 percent of her brother's friend and only one percent of her. But then, slowly throughout the book, as their connection deepens, she earns 99 percent of him.
Author: Sally Thorne
Average Rating: 4.0/5
Category: Women's Friendship Fiction
Available: Audiobook | Paperback | Hardcover | Kindle | MP3 CD
9. Maybe Someday (Maybe)
In this book, the main girl (Sydney) finds out her long-term boyfriend has cheated on her with her best friend. So she's forced to move out. But she has nowhere to go. So she moves in with her neighbor (Ridge), who she always sees playing his guitar on the balcony, who also happens to be deaf. So there's a language barrier there, and the only thing they have in common is that they both love music.
That is how they bond, and that's how they form their connection. It's so special and so unique. But there's the barrier. Ridge has a long-time girlfriend, and there's a specific reason they can't break up. So the tension between them, too, as friends wanting to be more.
Author: Colleen Hoover
Average Rating: 4.6/5
Category: Contemporary Literature & Fiction
Available: Audiobook | Paperback | Kindle
10. A Pizza My Heart: Brother's Best Friend Romcom
This one is childhood friends to lovers slash brothers, best friend. They've been friends their whole lives until Foster Marlett moves away. He gets engaged while he's away, and he comes back. He's broken up with his fiancee, going on all these online dating dates at the restaurant where Wren works. So they start going on fake dates to train him.
After his failed marriage, he explains why he had to leave, and a romance unfolds. Then there's a whole series after that of different characters from the books. It's super fun; a lot of angst you're in. If you want a quick, fun, easy read, you could continue with the series.
Author: Teagan Hunter
Average Rating: 4.4/5
Category: Satire Fiction
Available: Audiobook | Paperback | Kindle
11. Wherever You Are (Bad Reputation Duet)
The story has friends to lovers, enemies to lovers, and age-gap romance tropes. Garrison and Willow meet in high school, and they become friends. She's a new girl. Super shy, super quiet, super reserved. Willow finds out a lot about her family, and she runs away from home and finds out that her real family is famous.
They're the people from the Addicted series, and Garrison is a bad boy. He's been terrorizing the neighborhood with his friends, and her family hates him and his friends. So it's a classic good girl and bad boy romance. Garrison has a bad reputation, but he is such a softie, and she is so soft.
Author: Krista Ritchie
Average Rating: 4.6/5
Category: College Romance
Available: Audiobook | Paperback | Kindle | Audio CD
12. The Truth About Heartbreak
This is the only book about a couple, and they (River and Rhett) are childhood friends slash brother's best friend. River has gone through the foster system. She had an abusive family, finding solace in her adopted brother's best friend. She's always had a crush on him, but Rhett acted that way because they couldn't be together.
They connect again, and he's engaged, but they have this connection that they can ignore, and there are miscommunications. So it is another deep friend to lovers about a girl coming from a broken home, then reuniting with her childhood friend years later. There's a barrier in the way because he has a fiancee, but there is another deep, dark reason why he can't break up with her. Also, there are so many secrets that are unveiled in this book.
Author: B. Celeste
Average Rating: 4.4/5
Category: Contemporary Romance
Available: Audiobook | Paperback | Kindle | Audio CD
13. The Deal (Off-Campus)
The first book in the Off-Campus series is The Deal. This book is about a girl (Hannah) who's super smart and meets a hockey player (Garrett) who's failing one of his classes and needs help. She ends up helping him to continue playing on the hockey team and continue passing his classes. But she has also gone through so many trigger warnings for sexual assault.
Garrett helps her get over that, and they do not use each other, but they have this beneficial symbiotic relationship where they help each other. This couple stuck with each other so much, dealing with major issues. They help each other, and a romance unfolds.
Author: Elle Kennedy
Average Rating: 4.6/5
Category: College Romance
Available: Audiobook | Paperback | Kindle | MP3 CD
14. A Love Letter to Whiskey
This book only reads if you can put up with very slow-burn miscommunications missing each other because there's not been on the same page for years, timespan. Jamie and Brecks meet in high school. They become such good friends. He's dating her best friend, and they click and hit it off as friends. Brecks is committed to her best friend. The best friend breaks up with him. They have had a bit of a moment ever since. They have this little time together where they have some romance.
It has expanded over the years. Stuff happens where Jamie has to move back to another state, so they've separated again. Brecks has to move to a different state when she finally comes back, and they miss each other. But the friendship, romance, and passion these two characters have for each other don't want to give up on each other.
Author: Kandi Steiner
Average Rating: 4.5/5
Category: Campus Romance
Available: Audiobook | Paperback | Kindle
15. Broken Knight (All Saints High)
This book is about childhood friends-lovers, jobs, or best friends their whole lives. The kids have been friends since they were literal newborns, and it's so obvious that they love each other. But they don't want to admit it. Knight, in this book, is unafraid to tell everyone he loves her. Luna is the more reserved one. She's a little bit older than him, too.
She has gone through a lot of trauma to the point where she chooses to be mute, but they have a strong connection. She doesn't have this connection with their family to communicate, and they figure out ways to talk and be friends. They were kids, and slowly but surely, he gets her to open up even more and more throughout the book. This book has so much jealousy because they're friends, and they don't want to admit their feelings.
Author: L. J. Shen
Average Rating: 4.6/5
Category: College Romance
Available: Audiobook | Paperback | Kindle | Audio CD
16. My Favourite Half-Night Stand
A group of friends, like Big Bang Theory, one girl, many guys. They're all professors, and our main girl is Millie. They all go on a dating website to get a date for a work function at night.
Millie has a one-night stand with one of her friends, and she ends up catfishing him, and it's a big mess. It was so entertaining, and you will love the friend group so much and how it became friends to lovers.
Author: Christina Lauren
Average Rating: 4.4/5
Category: Romantic Comedy
Available: Audiobook | Paperback | Kindle | Audio CD
17. Getaway Girl (Girl)
This book is about a girl who doesn't have a good relationship with her family. But she's back in town for one of her relative's weddings, and her relative doesn't show up. So the groom is left there and runs out of the church, and she's his getaway girl, and she takes him away. He's about to be some politician.
He hangs out at her house, and they become good friends. There are all platonic feelings initially, and a relationship develops. So it's friends to lovers without any feelings whatsoever in the beginning, and they help each other out. Then, it turns into something more.
Author: Tessa Bailey
Average Rating: 4.5/5
Category: Contemporary Romance
Available: Audiobook | Paperback | Kindle
18. Josh and Hazel's Guide to Not Dating
Josh and Hazel know each other in college. Then, fast forward to Hazel's teacher, and she runs into Josh at a party. He's friends with her friends, and they start hanging out. Then, they go on double dates with people they set each other up with. Later, they end up together after the date, but they don't want to make it serious.
So they started as friends, and they have friends with benefits, things going on, and it turns into something more. There's a common theme of friends helping each other date and then realizing they like each other.
Author: Christina Lauren
Average Rating: 4.5/5
Category: Women's Fiction
Available: Audiobook | Paperback | Kindle | Audio CD
19. Before Jamaica Lane (On Dublin Street)
This is book three in the Dublin Street series. It can be read as a standalone. You'll have some characters you don't know from other books, and this is Olivia's story. Olivia is a librarian. She's very bookish by her best friend, Nate. He's very much the lady's man, super outgoing. They hang out a lot.
Nate starts getting jealous when she starts dating other people. So it's super fun to watch them realize they like each other when they didn't know the potential was there while helping each other date. It's hilarious and contains so angsty.
Author: Samantha Young
Average Rating: 4.6/5
Category: Erotic Fiction
Available: Audiobook | Paperback | Kindle
20. Anna and the French Kiss
Anna is forced to go to boarding school for her senior year of high school in France. She knows no French, and she has no friends and family. So she's all alone, and she meets this friend group, and they immediately hit it off. Étienne has a girlfriend. Clair and Anna become such good friends, giving each other advice. Clair finds something out about his family, and she helps him through it.
They hang out all the time and are not done with it yet. They start to like each other and start writing music together. It is the angsty friends to lovers, where they have to be friends because they can't be together.
Author: Stephanie Perkins
Average Rating: 4.6/5
Category: Multicultural Fiction
Available: Audiobook | Paperback | Hardcover | Kindle | Audio CD
5 Friends To Lovers Steamy Romance Books
Beautiful Disaster by Jamie McGuire: This story features Abby and Travis, who start as friends facing college life together. As they grow closer, the tension becomes palpable, culminating in a steamy relationship that challenges them unexpectedly.
Sincerely, Carter by Whitney G.: Carter and Arizona have been best friends since childhood, but they have never been interested in each other romantically. That is until one day when the lines between friendship and love blur, leading to sizzling moments.
The Deal by Elle Kennedy: In this story, Hannah and Garrett are friends from the same college. Garrett is a hockey star who needs help with his grades, while Hannah needs a date to make her crush jealous. What starts as a quid pro quo soon evolves into a spicy romance.
Before Jamaica Lane by Samantha Young: Olivia and Nate are best friends who share everything except the secret attraction they both feel. When Olivia seeks Nate's help to improve her dating skills, their chemistry reaches a boiling point.
Wait for You by J. Lynn (Jennifer L. Armentrout): Avery and Cam meet in college and quickly become good friends. Both have painful pasts and are not looking for a relationship. However, their friendship soon evolves into something far more intense and passionate.
5 Friends To Lovers Fantasy Books
Queen of the Tearling by Erika Johansen: This book introduces Kelsea Raleigh, who has been raised in hiding because she's the rightful Queen of the Tearling. As she grows closer to her Queen's Guard, particularly the enigmatic Lazarus, the lines between friendship and love blur.
Graceling by Kristin Cashore: Katsa is a Graceling, born with an extreme skill that isolates and empowers her. Her friendship with Prince Po starts with a shared purpose, but their emotional connection deepens, leading to a complex and compelling relationship.
A Court of Thorns and Roses by Sarah J. Maas: While the main love interest isn't initially a friend, Feyre's relationships evolve in complex ways throughout this series. Friendships forged in the first book set the stage for more intense romantic relationships in the sequels.
Shadow and Bone by Leigh Bardugo: Alina and Mal are childhood friends who grew up in an orphanage. When Alina discovers she has a unique power, their friendship is tested but deepens into something more as they struggle with a war-torn world filled with dark magic.
The Name of the Wind by Patrick Rothfuss: The friendship between Kvothe and Denna gradually evolves, displaying elements that could be interpreted as romantic. However, it's tinged with complexities and challenges inherent to a fantasy setting.
5 Friends To Kovers Books Kindle Unlimited
Punk 57 by Penelope Douglas: Misha and Ryen are pen pals who have never met, and they've been friends for years. When they finally do meet but don't recognize each other, the story takes a turn from friendship to a romance filled with tension.
Blitzed by Alexa Martin: Brynn and Maxwell have been friends for years, hanging out at Brynn's bar. But when Maxwell starts seeing her as more than a friend, their relationship evolves into something more intense and passionate.
My Best Friend's Ex by Meghan Quinn: When Emma moves in with her best friend's ex-boyfriend, Tucker, the two develop a close friendship. Over time, they can't ignore the chemistry between them and must decide whether to act on their feelings.
Let's Get Textual by Teagan Hunter: Delia and Zach become fast friends after a mistakenly sent text message. They decide to meet in person, and the emotional connection they'd developed translates into undeniable physical chemistry.
Fake It Til You Break It by Meagan Brandy: Demi and Nico are friends from childhood, but their families want them to be more. They pretend to date to get their families off their backs, only to realize they might not be pretending after all.
5 Friends To Lovers Webcomics
Let's Play by Mongie: Follows the lives of young professionals living in the same apartment building, mainly focusing on Samara and her neighbors. The comic covers various relationships, including friendships that show signs of evolving into something more.
Lore Olympus by Rachel Smythe: Though mainly a retelling of the Hades and Persephone myth, there are secondary characters like Eros and Psyche whose relationship transitions from friendship to love.
I Love Yoo by Quimchee: Shin-Ae, the protagonist, finds herself involved in the lives of two brothers. While friendships are a major part of the story, there are hints at potential romantic progressions.
My Dear Cold-Blooded King by lifelight: A young woman named Mei is involved in political intrigue but also forms meaningful relationships. One of these relationships starts as friendship and has potential for romance.
Age Matters by Enjelicious: A 29-year-old woman ends up in a contract relationship with a younger man, and while their relationship starts as a business arrangement, their friendship grows, and there are hints at something deeper.
These webcomics offer not just compelling friends-to-lovers narratives but also rich visuals that add another layer to the storytelling.
---
These books are a great way to escape from the real world, offering satisfaction from seeing characters you've become invested in finding happiness.
Read More Similar Books:
15 Young Adult Enemies To Lovers Books
15 Brothers Best Friend Romance Books
10 Childhood Friends To Lovers Books
Dads Best Friend Romance Books