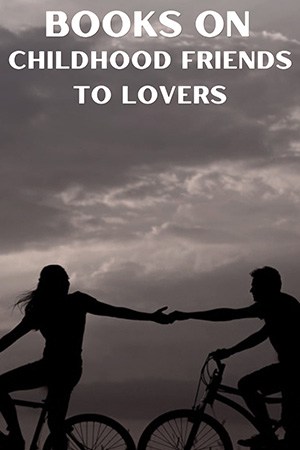 I'm going to be making recommendations for Childhood Friends To Lovers romance books. This trope is random and can often come with many other tropes involved in these books. However, whenever a book has this element, it makes it unique and exciting to read. I love when characters do have a little bit of back story.
These books tend to have some big plot twist or an enemy element. So there's always something fun and exciting going on within these books. I'm excited to share with you my recommendations. A lot of these are favorites of mine. So if you want to read childhood/babyhood friends to lovers story, stay with me.
10 Childhood Friends To Lovers Books
Childhood is our best time to feel love entirely with a deep mind because we can only focus on our relationship. We are always busy with our work, dreams, and family in middle age. So we can not give proper time for quality romance or relationship. We frequently fall in love with our friends during teenage or school time. These are the sweetest memories in our lives that we can not deny or forget.
I always search for the childhood friends trope as a romance reader because it reminds me of the sweet past. So I read many childhood friendship romance books. Now, I will review 10 childhood friends to lovers books for you. Let's begin!
| Serial | Name | Key Focus (Plot) | Reviews/Ratings (Goodreads) |
| --- | --- | --- | --- |
| 1 | About Tomorrow | Friendship with the neighbor and long-distance relationship but no contact. | 3.9/3k+ |
| 2 | Little Lies | A protective hockey player who loves his friend's shy sister. | 4.1/10k+ |
| 3 | A Thousand Boy Kisses | A strong female character finds her love again with many difficulties. | 4.1/76k+ |
| 4 | Bad Boys Break Hearts (The Boys) | A good girl and bad boy relationship with bully aspects. | 3.7/9.5k+ |
| 5 | Room Hate | A struggling girl meets her childhood friend again in the same living house. | 3.9/57k+ |
| 6 | Bully (Fall Away) | High school bully scenario and neighbors-to-enemies-to-lovers | 3.9/145,700+ |
| 7 | Punk 57 | A high school project mate turns into a lover with a revengeful plot. | 3.9/202,700+ |
| 8 | Him | Two childhood friends make a second-chance romance in their sports field. | 4.3/43k+ |
| 9 | Cruel Prince (Royal Hearts Academy) | Two best friends turn into enemies, and a dark romance ties them. | 4.0/27k+ |
| 10 | Corrupt (Devil's Night) | Multiple friendships and their relationship with suspense. | 3.8/104,300+ |
Childhood Friends To Lovers Books Lists
1. About Tomorrow
This book follows a girl (Sailor) who would go and stay with her grandmother in New Hampshire every summer. She had some neighbors, one of them including a boy (Creed). Sailor was close friends with his sister, but she had a crush on the boy. At that time, they were all friends growing up during the summer.
One year, something happens, and Sailor never goes back to New Hampshire. Years later, after she's graduated college, she runs into Creed again, with whom she's completely lost contact and hasn't seen since she was a child.
So they start to get close again, and things happen with that. It is a fantastic book and a fast read, but I did have a little bit of a problem with the ending. There was a plot twist that I wasn't super sold on, but I'd love it if you would read the book and let me know your thoughts on it. I want to hear what anybody else has to say about it.
I enjoyed the chemistry between these two characters, and the angst of them getting to know each other again in a completely different time of their lives is fascinating. Abby Glines always has a way of writing characters that makes her books very easygoing but enjoyable to read. So I highly recommend these childhood friends to lovers relationship.
Author: Abbi Glines
Average Rating: (4.5 /5)
Tropes: College Romance, Second chance, Beta-hero, Love-triangle
Number Of Pages: 214
Available: Audiobook | Paperback | Kindle | Audio CD
---
2. Little Lies
This is a spinoff from the series, but you can read it as a standalone. The story is about Lavender Waters, who grows up with a big family. In this family, her brothers have a friend, Kodiak. He's closer to the brothers, but I consider them childhood friends. Something tragic happens to this girl when she's younger.
As Lavender grows up, this has a lasting effect on her. She's very sheltered because of it, and she decides to move away from college and stay with her brothers. There she sees this childhood best friend, Kodiak, who she had and who moved away when she was younger. Kodiak was always her protector because of the horrible thing that happened to her. He always was close to her and was trying to be around her to be there if anything bad were to happen.
They lose contact when he moves away. But now they're back at college together. I love this book so much because it was fun to read, and the angst between these two characters is incredible. Try it if you like the brother's best friend trope with the childhood love story.
Author: H. Hunting
Publisher: Audible Studios
Narrator: Teddy Hamilton, Stella Bloom
Average Rating: (4.6 /5)
Tropes: Hockey, Slow-burn, Brothers-best friend, Forbidden, Shy-heroine, Enemies-to-lovers
Number Of Pages: 307
Available: Audiobook | Paperback | Kindle | Audio CD
---
3. A Thousand Boy Kisses
It's a phenomenal book, and the characters are phenomenal. We follow Poppy, who grows up. She gets this next-door neighbor, Rune. They immediately hit it off and become best friends. Then they grow up a little bit and end up dating once they get to high school. Since seventh grade, they had been together at their school, and nobody questioned them. But then Rune has to move away, and he is from a different country, so his family has to move back.
Before moving away, they tell each other that they can do long distances. They'll text and call each other. But after a bit while, Poppy completely stops talking to him, and they lose touch. A couple of years, Rune ends up moving back into the house that he grew up in next door to her, and they're forced to be around each other again.
But there's an uncomfortableness because he doesn't know why Poppy dropped off the face of the earth. So a lot goes on from there. It gets a little crazy, but it's a beautiful story. If you can endure the sadness, I highly recommend this childhood best friends to lovers story.
Author: Tillie Cole
Publisher: Blackstone Audio, Inc.
Average Rating: (4.6 /5)
Tropes: High School, Strong-female-characters, Virgin-heroine-hero, Heart-breaking
Number Of Pages: 316
Available: Audiobook | Paperback | Kindle | Audio CD
---
4. Bad Boys Break Hearts (The Boys)
This book is another wonderful childhood enemy/friend to lovers. It's about our heroine Aurora who grows up again with a neighbor and is best friends. But she ends up moving away and doesn't tell him anything when she moves. Then they find each other again in college, and Mascen Wade has rage toward her. So they have crazy angst between them, but they get to know each other again. The story goes from there.
It's a good girl, bad boy situation. Wade has walls up, and he's super rude, and Aurora wants to know what's going on with that. So another connection gets formed when they're in college, and it goes from there. If you like bad boy good girl romance with a friendship aspect, you must read it and listen to the audiobook.
Author: Micalea Smeltzer
Publisher: Podium Audio
Average Rating: (4.3 /5)
Tropes: College, Baseball, Cheating-heroine, Rockstar, Angsty
Number Of Pages: 372
Available: Audiobook | Paperback | Kindle
---
5. Room Hate
We follow two people who grew up as friends, and they have a falling out. They had a woman who was very close to them and very special to them. She passes away and leaves behind a beach house that she gives equal ownership. So they both own half of the house, and they don't realize that until they show up the same summer to stay there together. Neither of them is going to leave.
So they have to stay together, even though they have bad tension between them because of unresolved issues from when they were younger. There's so much crazier stuff in this book, and it makes fun. I love the characters in this childhood feeling because Penelope Ward has a charismatic writing style. Also, the book cover is very fashionable and hot.
Author: Penelope Ward
Publisher: Insatiable Press
Award nominee: Goodreads Choice
Average Rating: (4.4 /5)
Tropes: Music Fiction, Love-triangles, Slow-building-romance, Unplanned-pregnancy, Alpha-male, Fun
Number Of Pages: 280
Available: Audiobook | Paperback | Hardcover | Kindle | Audio CD
---
6. Bully (Fall Away)
This is a series, but the first book follows two characters who are again neighbors. Moreover, they're best friends. One summer, the boy moves away for the summer to stay with his dad. He's so rude, and he doesn't have time for his old best friend. This girl is so sick of him, but she doesn't stick up for herself ever. So she will stick up for herself in her senior year of high school. The story begins there.
It is a tense, angsty, enemies lovers arc. You'll see how that unfolds throughout the story. Penelope Douglas, one of my favorite authors, does romance so well. You will see that if you read this bully romance book. Many of you ask me for high school recommendations, which is good because they are seniors in high school. Also, you get to see the longest childhood friendship and their development day by day.
Author: Penelope Douglas
Publisher: Tantor Audio
Award nominee: Goodreads Choice
Average Rating: (4.5 /5)
Tropes: Dark, Women's Fiction, Alpha-male, Hates-to-lovers
Number Of Pages: 333
Available: Audiobook | Paperback | Kindle | Audio CD
---
7. Punk 57
This is another high school romance with childhood friends to lovers plot. It follows two characters (Tate and Jared). When they were younger, they both went to different schools, and their schools had a pen pal program. As these two characters have gender-neutral names, they get assigned to be pen pals, even though one is a boy and one is a girl. So they become pen pals, but they end up writing to each other beyond little school projects. Then they become lifelong pen pals up into high school.
Jared ends up going to this girl's school, and he enrolls in her school. They're finally physically with each other, but only Jared knows that it's her. Tate doesn't know that it's him. So the story flies from there. Jared has some dark secrets that he's holding on to, making enemies to lovers arc, along with his childhood friends. This book has the highest seller record, and the paperback quality is very rich.
Author: Penelope Douglas
Publisher: Audible Studios
Average Rating: (4.5 /5)
Tropes: Bully, Pregnant-heroines, Revenge, Sweet-heart-warming
Number Of Pages: 343
Available: Audiobook | Paperback | Kindle | Audio CD
---
8. Him
This is a duology. So there are two books about the same characters, and this book follows two boys who grew up going to hockey camp together. They're friends, and they're younger. One night, something happens when they're at hockey camp that makes them stop talking and grow up. Then they end up back at this hockey camp as counselors sharing a room. Also, they have to confront what happened when they were younger and work together at this hockey camp.
I love the characters in this one, and the camp atmosphere is so fun. Elle Kennedy does great hockey romances, and this MM romance is one of my favorites from her. It's so sweet, and it's a decent childhood friend to lovers book. You will love the history these characters have together and how they overcame their past issues. So I recommend it to all types of readers.
Author: Sarina Bowen, Elle Kennedy
Average Rating: (4.7 /5)
Tropes: Tattooed-hero, Sports, Male-male, Arc, Humor
Number Of Pages: 360
Available: Audiobook | Paperback | Hardcover | Kindle | Audio CD
---
9. Cruel Prince (Royal Hearts Academy)
It is the first book of the Royal Hearts Academy series. The story follows Dylan and Jase, who were best friends when they were younger. Something happens that makes them drift apart, making Jase hate Dylan. I'm not going to tell you why because that spoils the book. Dylan comes back to their high school, and Jase tries to make Dylan's life miserable.
Then Dylan finds out why Jase hates her, and she starts to hate herself. That whole series is so fantastic. I love Ashley Jade's writing. So I recommend the series if you haven't read it already. The author represents unique childhood friends to lovers romance, which is best for me. I don't like the hardcover quality, but the paperback is perfect for reading.
Author: Ashley Jade
Average Rating: (4.5 /5)
Tropes: Dark theme, Abuse
Number Of Pages: 408
Available: Audiobook | Paperback | Hardcover | Kindle
---
10. Corrupt (Devil's Night)
This book has some very dark, twisted elements. If you're into that, you will love it. Our heroine, Erika, lives in a very wealthy community. She's grown up very close to this family called the Crist family. Within the family, they have two sons, Trevor and Michael. Trevor is Erika's age. They've consistently grown up being best friends. Everybody's always shipping them together, have said they're going to get married. But Erika has always been enamored with Michael.
Michael is Trevor's older brother. He's the star of the basketball team in high school, and he's never paid Erika any attention. So Erika does start dating Trevor in high school. Michael is the star of the basketball team in high school, and he's involved in a gang. He and three other high school basketball team members are part of the Four Horsemen group.
They're known for is on doubles night, which is the night before Halloween. People are scared of them, and nobody messes with the four horsemen. In high school, something happens where all of them end up in prison except for Michael.
Erika was somehow involved in that night, but we don't know-how. So that was three years ago. We've now fast-forwarded three years into the future. Erika is now 20, and she's been in college for a year, but she's switching schools. She wants to be on her own, and she happens to be going to a college in the same town that Michael is now, a professional NBA basketball player.
So, this book is good because it jumps around in perspective. There's so much tension, angst, dark and twisted themes. Also, the childhood trope is minor, and the story focuses on the sport. It's a big problem for me, and I don't recommend it enough.
Author: Penelope Douglas
Publisher: Tantor Audio
Average Rating: (4.4 /5)
Tropes: Romantic Suspense, Unrequited, Hated-the-heroine, Tattooed-hero, Steamy, Mystery
Number Of Pages: 516
Available: Audiobook | Paperback | Kindle
---
Those are all of my childhood friends-to-lovers book recommendations. It's a lot of books that I talk about, but it happens to be one of my favorite tropes, so I hope you guys enjoyed the review nonetheless. Let me know your favorite one and give us some recommendations.
---
Read More Similar Romance Books:
20 Friends To Lovers Romance Books
15 Brother's Best Friend Romance Books