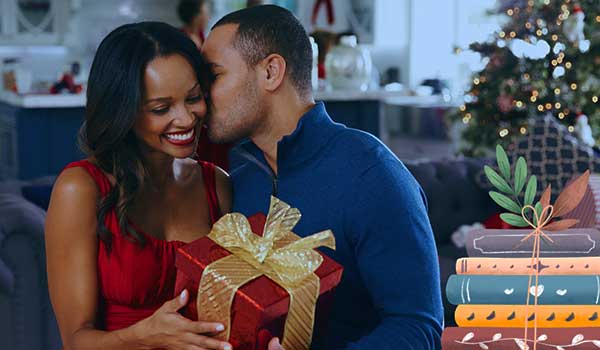 Spicy Christmas romance novels refer to romance novels set during Christmas that contain mature or explicit romantic content, marked by heated and passionate scenes between the main characters. These books typically mix festive holiday elements with intense romantic dynamics. The combination of romance and Christmas emphasizes hope, love, giving, and new beginnings.
10 Spicy Christmas Romance Books
The "spicy" elements stimulate readers' imaginations, making them more engaged and immersed in the story. Like other forms of escapism, a steamy Christmas romance offers a break from daily life, transporting readers to a world filled with romance, drama, and holiday magic.
Here are ten popular spicy Christmas romance novels you'll enjoy. These books combine the warmth and coziness of the holiday season with the passion of romance, providing us with a blend of feel-good festive cheer and excitement. Let's begin!
| Name | Tropes | Average Rating (Goodreads) |
| --- | --- | --- |
| The Boss Who Stole Christmas by Jana Aston | Humorous, Small-town, Workplace-Romance. | 3.8/5 |
| Hot Winter Nights by Jill Shalvis | Workplace Romance, Wounded Hero, Small-Town Setting, Age Difference, Protective Hero, Brother's Best Friend, Forced Proximity, Hero in Pursuit. | 4.0/5 |
| Merry Inkmas by Talia Hibbert | Enemies to Lovers, Tattooed Hero, Workplace, Bad Boy, Strong Heroine, Class Differences, Redemption Arc, Slow-Burn. | 3.6/5 |
| Christmas Eve at Friday Harbor by Lisa Kleypas | Widower Hero, Small-Town, Opposites Attract, Healing From Past Wounds, Magic Realism, Second Chances. | 3.7/5 |
| An Ex for Christmas by Lauren Layne | Friends to Lovers, Second Chance, Love Predictions, Childhood Friends, Neighbors, Flirty Banter, Unrequited Love Realization. | 3.9/5 |
| The Trouble with Mistletoe by Jill Shalvis | Second Chance, Friends to Lovers, Strong Female Lead, Tortured Hero, Business Rivals. | 3.9/5 |
| Brazen by M. Malone & Nana Malone | Enemies to Lovers, Forbidden Romance, Family Secrets, Alpha Male, Strong Female Lead, Danger and Suspense, Love Triangle, Hidden Identity. | 4.4/5 |
| Deck the Halls by Mary Higgins Clark | Crime, Suspense, Thriller. | 3.6/5 |
| One Hot December by Tiffany Reisz | Fake Relationships, Friends to Lovers, Matchmaking, Romantic Comedy, Family-Centric Plot. | 3.8/5 |
| Holidate by Monica Murphy | Fake Relationships, Friends to Lovers, Matchmaking, Romantic Comedy, Family-Centric Plot. | 3.8/5 |
Spicy Christmas Romance Books List
1. The Boss Who Stole Christmas by Jana Aston
The Boss Who Stole Christmas is a YA novella in a holiday romance series. The story follows Holly Winter, an employee who's reluctantly enamored with her gruff and seemingly unapproachable boss, Nick Saint-Croix. When Holly is obligated to accompany Nick on a business trip to Germany during Christmas, tensions rise and sparks fly against the backdrop of Christmas markets and holiday festivities.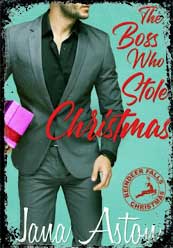 Themes: The central relationship starts with tension and conflict but transforms as the characters get to know each other better. The setting adds another layer of complexity to the relationship. They have to face their professional roles alongside their personal feelings. The Christmas setting provides a festive backdrop and brings the characters closer as they participate in holiday traditions.
Style and Structure: The novella is written in first-person, mainly from Holly's perspective, making her emotions and thoughts immediately accessible. The dialogue is snappy, and the story moves quickly, reflecting its shorter length. Aston does an excellent job of injecting humor and steamy scenes that complement the romantic development between the characters.
Analysis: Despite the book's short length, Aston gives depth to her characters, making them relatable and believable. The chemistry between Holly and Nick is palpable. The tension builds steadily, leading to a satisfying climax and resolution. The book contains a good dose of humor, making it a light, enjoyable read. Due to its novella status, some readers find the story rushed or wanting more development and backstory.
As a holiday romance, it adheres to certain tropes that make the story somewhat predictable for seasoned readers. If you're looking for a festive and fast-paced read to get you into the holiday spirit, this novella is right for you.
2. Hot Winter Nights by Jill Shalvis
Hot Winter Nights is part of Jill Shalvis's Heartbreaker Bay series and is a standalone contemporary romance novel. The story revolves around Lucas Knight, a private investigator, and Molly Malone, the office manager at Lucas's agency. When Molly inadvertently becomes involved in a case meant for Lucas, they work together to solve it. They struggle with the complexities of investigating a suspicious Santa ring while dealing with holiday festivities, and the two discover that they share more than just professional chemistry.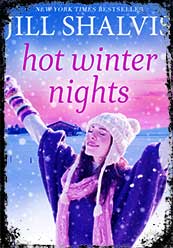 Themes: The story wonderfully covers mystery and romance. Molly and Lucas join forces to solve the case. The theme of partnership extends from professional to personal life. Set against the backdrop of the Christmas season, the book captures the holiday spirit in all its warmth and charm, adding an extra layer of romantic potential.
Analysis: The setting in an investigative agency is rife with tension and stakes, which adds another dimension to Molly and Lucas's relationship. The novel is written in the third-person perspective, allowing the reader to gain insights into Molly and Lucas's internal dialogues. Jill Shalvis is popular for her witty dialogue and well-crafted scenes that combine humor, drama, and emotion. The story's pacing is well-balanced, allowing the romance and the mystery to unfold naturally.
Molly and Lucas are well-developed characters with their own fears, ambitions, and vulnerabilities. This makes for a deeply engaging read as they both grow and evolve. The chemistry between the protagonists is electric and believable. Shalvis writes sizzling scenes that match the emotional depth of the characters. The book has humor and touching moments, making it an all-rounded, feel-good read.
3. Merry Inkmas by Talia Hibbert
Merry Inkmas is a contemporary adult romance novella that covers the love story between Cash Evans and Bailey Cooper. Cash, a tattoo artist with a complicated past, finds himself inexplicably drawn to Bailey, a college student working part-time in a café. With the Christmas season as a backdrop, the pair struggle with the complexities of love, class differences, and personal baggage.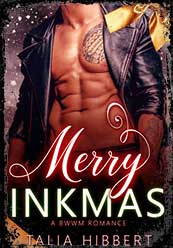 Themes: Both characters come with their issues and past traumas. Their journey towards love is also a journey towards self-redemption and growth. The story subtly explores the challenges and prejudices related to class differences. The Christmas setting offers an environment of hope and renewal, aligning well with the personal transformations that the characters experience.
Style and Structure: Talia Hibbert adopts a dual first-person perspective in this novella, allowing for an intimate view into the minds of both Bailey and Cash. Her writing is sharp, filled with British wit, and she excels in dialogue that feels real and lived-in. The pacing is brisk but well-calibrated to the novella's shorter length.
Analysis: Despite the shorter format, Hibbert succeeds in developing layered, relatable characters. Both Bailey and Cash are compelling in their individuality and complexity. The emotional arcs are well-structured and satisfying. You root for Bailey and Cash as a couple and people trying to better themselves. Hibbert knows how to write steamy and respectful romance, emphasizing consent and emotional connection.
Because it's a novella, some readers may feel the story wraps up too quickly, leaving them wanting more time to explore the characters' lives. If you're looking for a story that's quick to read but leaves a lasting impression, "Merry Inkmas" is an excellent choice.
4. Christmas Eve at Friday Harbor by Lisa Kleypas
Christmas Eve at Friday Harbor is the first book in Lisa Kleypas's Friday Harbor series. The story revolves around Mark Nolan, a man who suddenly becomes the guardian of his six-year-old niece, Holly, after the tragic death of his sister.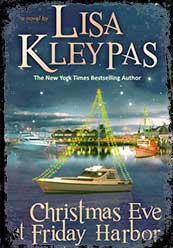 Mark is unprepared for the responsibilities but tries to provide Holly with a loving home. Their lives turn interesting when they meet Maggie Conroy, a toy shop owner who has suffered her share of tragedies. The novel is set against the picturesque backdrop of Friday Harbor and unfolds during the holiday season, giving it a magical Christmas touch.
Themes: The book explores the challenges and rewards of unexpected parenthood and the idea of constructed families. Mark and Maggie have past wounds, and their journey towards love is also a path to healing. The Christmas setting contributes to the novel's enchanting atmosphere, symbolizing hope and new beginnings.
Style and Structure: The book is written in third-person omniscient, giving readers insights into the main characters' minds and some of the supporting cast. Lisa Kleypas's style is descriptive with a focus on emotional subtleties. The pacing is leisurely, allowing for character development and gradual plot progression.
Analysis: Kleypas excels in writing emotionally resonant scenes. The characters feel real, and their struggles are relatable, making readers invested in their happily ever after. Throughout the book, Mark and Maggie are nuanced characters who grow as individuals and a couple.
Even six-year-old Holly is a well-realized character with her emotional arc. The town of Friday Harbor is almost a character in itself. The rich descriptions make the setting come alive, adding a layer of magic to the story. The book takes its time to set up the characters and situation, which might not appeal to those looking for an immediately gripping story.
If you're looking for a story that warms your heart and takes time to develop its characters, this book is well worth reading.
5. An Ex for Christmas by Lauren Layne
An Ex for Christmas is a contemporary steamy romance novel that follows Kelly Byrne. She is convinced that a psychic's prophecy will lead her back to one of her ex-boyfriends as her true love just in time for Christmas. With the help of her best friend, Mark, Kelly sets out on a mission to reconnect with her exes during the holiday season, only to find that what she was looking for might have been right in front of her all along.
Themes: This story explores the blurred lines between friendship and romantic love, raising whether the best relationships are rooted in friendship. Kelly revisits her past relationships and goes through a journey of self-discovery, realizing what she truly values in a romantic partner.
Analysis: The novel is infused with the spirit of Christmas, with themes of hope, joy, and love woven into the narrative. Lauren Layne writes in a first-person point of view from Kelly's perspective, creating a conversational and engaging tone. The novel is well-paced, balancing humor, romance, and holiday festivities. It adheres to the romantic comedy and incorporates classic elements like misunderstandings, comedic situations, and a satisfying resolution.
One of the book's biggest strengths is the undeniable chemistry between Kelly and Mark. Their banter and deep emotional connection make their relationship authentic and engaging. If you're a fan of romantic comedies set during the holidays, this book ticks all the boxes: humor, emotional depth, a dash of festive magic, and romance.
6. The Trouble with Mistletoe by Jill Shalvis
The Trouble with Mistletoe is the second installment in Jill Shalvis's Heartbreaker Bay series. Set in the quaint neighborhood of Cow Hollow in San Francisco, the story follows Willa Davis (owner of a pet shop) and Keane Winters, who walks into her shop one day in desperate need of a cat-sitter. The chemistry is instant, but their history and present complications make things far from straightforward.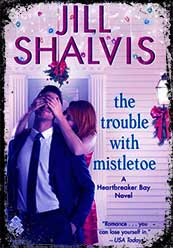 Themes: Both characters have emotional baggage and past experiences that have shaped their outlook on love. This story explores the beauty of second chances, not only in romance but in life in general. It also showcases the strength and support a close-knit community or a group of friends can offer.
Analysis: This spicy Christmas romance book captures the magic and coziness of the holiday season, making it an ideal read for those looking for a romantic Christmas story. Jill Shalvis employs a third-person viewpoint to narrate the story, alternating focus between Willa and Keane. Her writing is light and engaging, laden with dialogue that contributes to the pacing and character development.
Both Willa and Keane are well-drawn characters. Willa is charming and kind-hearted, while Keane is mysterious yet vulnerable. Their depth makes for an engaging read. Shalvis knows how to build chemistry and sexual tension between her characters, making for some sizzling romantic scenes.
The book balances light-hearted humor with emotional depth, capturing moments that tug at the heartstrings while also making readers smile. Like many romance novels, this one follows a formulaic plot structure that may be predictable for those familiar with the genre.
While entertaining, some secondary characters aren't as fully developed, serving more as plot devices or comic relief. This book is a must-read for anyone seeking a romantic escape, especially during the holiday season.
7. Brazen by M. Malone & Nana Malone
Brazen is an adult contemporary Christmas romance novel that forms part of the duet series. The story centers on Oskar, a self-assured, powerful businessman, and Hailey, a strong-willed woman who won't let anyone push her around. When their worlds collide, sparks fly, but their secrets and pasts threaten to unravel the delicate fabric of their budding relationship.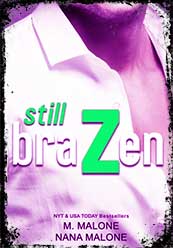 Themes: One of the key themes is how secrets and betrayal can dramatically affect new and old relationships. The story explores the power dynamics in a relationship where both are incredibly strong-willed.
Analysis: The novel covers the sensual tension and chemistry between two people who are almost allergic to commitment but can't deny their attraction. The Malones use alternating first-person perspectives, allowing us to get into the minds of both primary characters. The writing style is smooth and engaging, filled with clear descriptions and dialogue that brings the story to life.
Both Oskar and Hailey are multidimensional characters with their fears, insecurities, and aspirations, making them relatable and authentic. The authors do an excellent job of building tangible chemistry and tension between the characters, making you invested in their relationship. The story mixes surprising twists and turns that keep you on the edge of your seat.
8. Deck the Halls by Mary Higgins Clark
Deck the Halls is a holiday romance novel about Emily, a dedicated event planner and a cynical businessman (Jack) who thinks love and Christmas are overrated. When their paths cross during the holiday season, both realize they need what the other offers.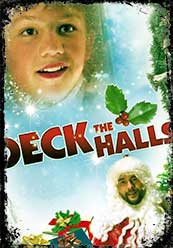 Themes: This book does a great job of encapsulating the true essence of Christmas, from the joy and love to the pain of memories that resurface during the holiday season. The central romantic theme focuses on how two people who initially appear to be opposites can complement one another perfectly.
Analysis: Through love and the magic of Christmas, the characters go on a journey of self-discovery, learning to overcome past traumas and open up to the possibilities of a new future. The book is written in third-person narration, and the story flows smoothly with a blend of internal monologues, dialogues, and descriptive passages. The chapters alternate between the viewpoints of Emily and Jack, offering a balanced perspective.
Alexis Anne does a beautiful job of crafting characters with layers. Emily and Jack have pasts that have shaped them, and their emotional journeys are compelling. The chemistry between Emily and Jack is palpable, and the romantic tension is effectively built up throughout the narrative.
The author beautifully captures the holiday season's warmth, excitement, and nostalgia, making it a perfect read for Christmas lovers. But the story doesn't break new ground in the romance genre. The narrative follows a somewhat predictable pattern that can not surprise seasoned readers. So, this is a charming book for those who enjoy holiday romances filled with emotional depth and genuine characters.
9. One Hot December by Tiffany Reisz
One Hot December is a spicy holiday romance that centers on Flash, a rebellious, tattooed welder, and Ian, her straight-laced boss. When the two are thrown together during the company's holiday festivities, what starts as a casual fling becomes an exploration of deeper emotions and unexpected complexities.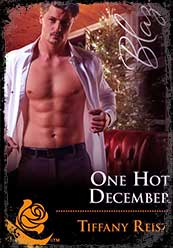 Themes: The story taps into the excitement and danger associated with forbidden love. Flash and Ian navigate the potential pitfalls of an office romance. Both characters go through a journey of self-discovery, grappling with who they are and what they can become together.
Analysis: The story uses the Christmas season as a catalyst for change, introspection, and romance. It is written with a dual point of view, letting us see the world and its complexities through the eyes of both Flash and Ian. Tiffany Reisz employs humor, wit, and emotional intensity to tell the story, and the pacing keeps readers engaged from start to finish.
Both Flash and Ian are not your typical romance protagonists. They are multi-faceted, with flaws and vulnerabilities that make them relatable and real. The tension between them is almost palpable, offering an emotionally charged and sensual reading experience.
While the book offers fresh takes on romance tropes, some aspects, such as the office romance and holiday setting, may feel clichéd to some readers. The steamy scenes are numerous and quite explicit, which is not everyone's cup of tea. If you're looking for a book to heat your holiday season or enjoy stories of unconventional love, this book won't disappoint.
10. Holidate by Monica Murphy
Holidate is a contemporary romance novel written by a New York Times and USA Today bestselling author known for her romance novels. In "Holidate," the story revolves around Candice, who dreads attending events without a date. She doesn't want to endure her family's pity or her ex-boyfriend's snide comments. So, she decides to hire a fake boyfriend for the holidays. Enter Charlie, a guy willing to be Candice's "Holidate" for all the festive events.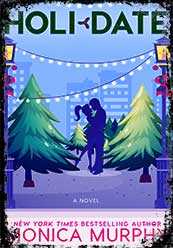 The book's premise hinges on the "fake relationship" trope, where two characters pretend to be in a relationship for mutual benefit but then develop genuine feelings for each other. As the story unfolds, Candice and Charlie face their feelings amidst holiday events and family dynamics. This spicy romance is perfect for those who love romance with holiday settings and enjoy stories that mix humor, tension, and genuine emotion.
---
These books portray complex human emotions, desires, vulnerabilities, and growth. This allows readers to connect with, relate to, or learn from the characters' journeys.
Read More:
10 Christian Romance Books Like Redeeming Love