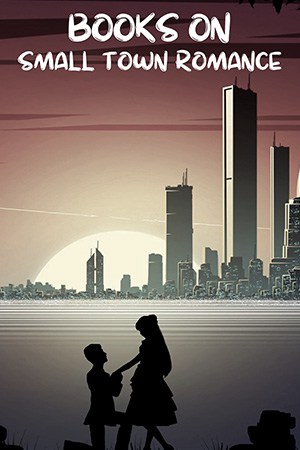 Small town romance represents a couple around a small town where all the stories grow. The main characters are always in a struggling mood because life in a small town is pretty competitive. Many romance writers set this trope with family crisis, migration, strong female lead, single parents, second chance love stories, etc.
Books with small town romance show us the real scenario of lifestyle, culture, and many historical aspects. Also, the relationship or romance in a small town can be suspense, thrill, mystery, paranormal, or fantasy. You can read or write this romance with any tropes because it fits well in all genres.
10 Small Town Romance Books
A small town has all the diversity as a big town/city because life is always colorful in any place. But romance varies from town to town because of the cultural, religious, and social facts. So the romance in small-town is slightly different compared to other places. I try to read at least one small town love story per month as a romance reader. So I have an extensive list of them. I will review the top 10 small town romance books for you. Let's go!
1. It Happened One Summer
In this book, we are following Piper, who is a socialite. She has been spoiled her whole life, and one night she makes a huge mistake at a rooftop party. So, her stepfather sends her to a very small town in Washington. There she meets Brendan, who is a fisherman. They could not be more opposite.
Piper is very bubbly, and Brendan is very grumpy sunshine dynamics here. But they work so well together. Like any Tessa Bailey book, you get some excellent sexy talk. Brendan is a naughty boy.
This book is more than grumpy sunshine, small town romance. Piper goes to this small town, and it's the town that her father is from and grew up in. Her father died, so she never knew him or his family. She goes to this town, and she can connect with her grandma and father through the people in this small town.
When Piper finds herself, she changes her ways because of this town. The city grows on her, and it changes her whole perspective on life. So if you have not read this one for some strange reason, pick it up.
Author: Tessa Bailey
Publisher: HarperAudio
Narrator: Charlotte North
Average Customer Review: (4.4 out of 5, on Amazon)
Tropes: Contemporary, Romcom, Women's Fiction, Husband-material, Arcs, Mental-health
Number Of Pages: 397
Available: Audiobook | Paperback | Kindle | Audio CD
---
2. The Simple Wild (Wild)
This book brought me to tears, and it's such a beautiful story. The story follows Calla Fletcher, who is an influencer. She posts many things on Instagram/blog, and she's very into fashion. So that's what she posts about. Calla lives in Toronto with her parents. Her dad hasn't ever been a huge part of her life, but she finds out that he is sick. So she decides she's going to fly to this very mini town in Alaska and spend his last days with her father.
There's that aspect that makes this book emotional. But also there is Jonah, who works for her father, and Jonah is a pilot. He is very grumpy and makes Calla's life miserable when she's first there. But the way this two banter and go back and feed off each other, I loved them so much. This is more of a clean romance in mini town.
Author: K. A. Tucker
Publisher: Simon & Schuster Audio
Average Customer Review: (4.6 out of 5, on Amazon)
Tropes: Family, Suspense, Love-triangle, Inspiration, Slow-burn, Emotional
Number Of Pages: 390
Available: Audiobook | Paperback | Kindle
---
3. Coldhearted Boss
Our main protagonist is Taylor, who has always struggled financially. She's working at this hotel as a maid and trying to keep her family afloat. One day she is at a bar, trying to drown her sorrows. There she meets Ethan. They have this immediate chemistry and attraction to each other. Then they get to talk, and the drinks are flowing. So their minds aren't right, and they make out in the bathroom.
Taylor's judgment is a little impaired from the alcohol, but she's also very desperate. So she decides that she will steal Ethan's wallet, thinking that she'll never see him again. She needed money to get home. But a couple of months later, she is now trying to get a job at this construction company. Here, she realizes that Ethan is her boss! She does romantic comedy like no other.
The thing that stood out to me in this book is Taylor. She was hardworking and had everything stacked against her, but she didn't want a handout. The author represents her as a strong female character who worked very hard for her money and to put her family in a better place. So you will like Taylor and her relationship with small town love trope.
Author: R.S. Grey
Publisher: Audible Studios
Average Customer Review: (4.5 out of 5, on Amazon)
Tropes: Humor, Angsty, Alpha-male, Arcs, Workplace, Second-chance
Number Of Pages: 330
Available: Audiobook | Paperback | Kindle | Audio CD
---
4. Rustic Hearts (Poplar Falls)
Our heroine is Sophia Lancaster. Her mom moved her to New York City when she was 12, and there was a reason why she moved her way. But her mother never told her why. So Sophia has not been back to the tiny town of Poplar Falls since she was 12. At the beginning of this book, one of her aunts calls her and says, Hey, you need to come back. So Sophia stays on this ranch, and she meets a ranch hand named Braxton.
Braxton does not want to be around Sophia at all, but Sophia is very much intrigued by him, and she wants to be around him. So they get to know each other. Also, Sophia falls in love with this family that she's never known and loves the little town. It was super cute and an excellent start to the series, so I highly recommend this town romance book.
Author: Amber Kelly
Publisher: Tantor Audio
Narrator: Noah Michael Levine, Robyn Verne
Average Customer Review: (4.6 out of 5, on Amazon)
Tropes: Western, Brooding-hero, Hate-to-love
Number Of Pages: 280
Available: Audiobook | Paperback | Kindle | Audio CD
---
5. The Coppersmith Farmhouse (Jamison Valley)
This is the first book in a Small Town Romance series. In this book, we follow Gigi, who has inherited this farmhouse from a very good friend who she was taking care of. When he passed, he left her this house. Gigi is a single mother, so she packs up all of her things and moves to a very small town in Montana.
There she runs into Jess, who is the town's sheriff. So there is a big misunderstanding at the beginning of this book that makes Jess immediately despise Gigi. That makes him feel like he's so mean to her to hurt. He makes all these comments all the time.
But the more he gets to know her, the more he realizes this isn't the case. Jess is a very over-the-top alpha hero, and I love that type of hero. So I have read a few of the other books in this series, and they are so good, and I recommend the series.
Author: Devney Perry
Award nominee: Goodreads Choice
Publisher: Devney Perry
Average Customer Review: (4.3 out of 5, on Amazon)
Tropes: Mystery, Suspense, Jealous-possessive, Insta-love, Single-parent, Curvy-heroine
Number Of Pages: 352
Available: Audiobook | Paperback | Kindle
---
6. The Wreckage of Us
In this book, we follow Hazel, who lives in a very small town, and one of the only places to work in this town is on this ranch. So Hazel is desperate for money, and she wants to go and work as a ranch hand. Then she goes for an interview.
At first, the guy who owns the ranch is very much against a woman working on the ranch. But he decides to give her a chance, and she meets Ian, who is the owner's grandson. They have a past from high school, and they don't like each other.
Ian is also very confused about why she's working there and why his grandfather even hired a girl to do all this manual labor. But Hazel is bound and determined to prove herself, and Ian gives her hard work that no one wants to do. Then this one is also a roommate to lovers of romance as well. Ian's grandfather finds out, and he makes Ian invite Hazel to come and live with him in his house.
So, you get to see enemies to lovers, roommates to lovers, and small town teen romance. Britney Cherry is no stranger to writing emotional romances, and both Hazel and Ian go through a lot of stuff. So it is such a beautiful book to read twice.
Author: Rock Engle
Publisher: Brilliance Audio
Average Customer Review: (4.4 out of 5, on Amazon)
Tropes: College, Drama, Musician, Family-friendship
Number Of Pages: 367
Available: Audiobook | Paperback | Kindle | Audio CD
---
7. Heart Bones
Beyah has had a hard life, and she has been through a lot at the beginning of this book. Her mother overdoses, and Beyah is left with nowhere to turn to other than her father, who has never been a huge part of her life. So her dad lives in a beach house on this tiny little peninsula. There she meets Samson, who is overall very mysterious.
Samson hides behind his camera because he loves photography and keeps secrets of his own. Beyah and Samson seem to be two completely different worlds because Samson lives in a house by himself. But it turns out that they have more in common than they think. So it is a story about two broken people finding love and healing in each other. This book is so much more than a summer romance, and there are ways that I connect to this story.
Author: Colleen Hoover
Publisher: Audible Studios
Average Customer Review: (4.6 out of 5, on Amazon)
Tropes: Drama, Heartbreaking, Angst
Number Of Pages: 338
Available: Audiobook | Paperback | Kindle | Audio CD
---
8. Archer's Voice
It is an emotional light and sweet mini town, friends to lovers romance. The story follows Bree, who moves to a small town after losing her father. So, she's trying to start over and find a new job and a place to live. One day, while going to the grocery store, she bumps into a man named Archer.
Archer doesn't talk to her, and she's immediately intrigued by him. So she asks around town and learns that he is mute and that the town has outlasted him a little bit. So Bree tries to become his friend, and emotions develop. At first, they develop a good friendship where Bree gives effort. They fall in love with each other. So, it is super sweet, heartfelt, and a fantastic read.
Author: Mia Sheridan
Publisher: Tantor Audio
Average Customer Review: (4.7 out of 5, on Amazon)
Tropes: Erotic, Disability, Abuse, Shy-hero, Shocking-twists, Fun
Number Of Pages: 345
Available: Audiobook | Paperback | Kindle | Audio CD
---
9. Crave (The Gibson Boys)
This is the third book in The Gibson Boys series. I do recommend the entire series because I did enjoy it. But the third book is my favorite. The rest of the books that you either gave a chance. I would recommend reading them in order, but you can read standalone. This book follows a bunch of brothers. There are brothers and then one cousin that each finds love. It all takes place in one small town.
Macklan and Hadley were high school sweethearts, and they planned on getting married. After high school, they had big plans for the future, and something happened that separated them. Hadley moved away, and now a few months later, she is back in town, and she's determined to form somewhat of a friendship with Macklan. But every time that they try to talk, they end up arguing, and fighting always leads to another.
Throughout the book, we see a second chance romance and hates to lovers a little bit. So you see them slowly trying to acknowledge their past, talk about that, and then fall back in love. It was so emotional fantastic steamy small town romance. Adriana writes many small town stories, so I highly recommend checking out her books.
Author: Adriana Locke
Publisher: Umbrella Publishing Inc.
Average Customer Review: (4.5 out of 5, on Amazon)
Tropes: Dark, Brooding hero, Famil fiction
Number Of Pages: 334
Available: Audiobook | Paperback | Kindle
---
10. Irresistible (Cloverleigh Farms)
I have read all five books, and book one is Irresistible. This series follows five sisters who each find love, and each book is a different trope. The first book is an age gap, nanny, single dad romance. Book two is an enemy to lovers, second chance romance. Book three is a friends-to-lovers romance, and book four is a single mom, friends-to-lovers romance. They're all fun.
These books are also emotional yet sweet and very impactful in a way. I recommend this series if you want something very dramatic and over the top. You will feel so fun, dramatic, and addicting throughout the series.
Author: Melanie Harlow
Publisher: MH Publishing LLC
Average Customer Review: (4.5 out of 5, on Amazon)
Tropes: Military Fiction, Age-gap, Single-parents, Boss-coworkers, Pregnancy, Friends-to-lovers
Number Of Pages: 301
Available: Audiobook | Paperback | Kindle
---
Last Words
Those were all of my recommendations for the best small town romances. I do have a few more that I could recommend, but these were the ones that came to mind when I initially thought of a small town love story. Let me know if you have read any of these and what your thoughts were. If you have any other town romance recommendations, leave them down below. Let me know what romance recommendation you want me to do next. Happy reading!