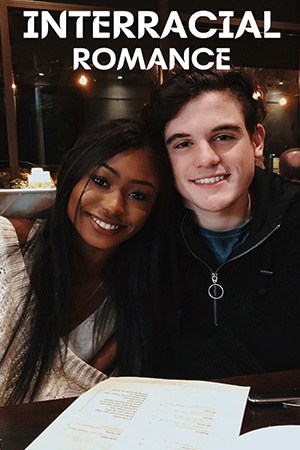 There's a difference between African women and American women. But the difference comes from how women are raised in Africa compared to America. The difference also comes from the culture, norms, society, beliefs, and the different values women are taught as they grow up. So American women are more independent. In Africa, women still have family structure values and need men to raise kids.
At the core of every woman, there's hyperbole. It is the woman's nature that she will always want to choose, a man who can provide both resources and security for her and her offspring, the kids. It comes naturally that a woman will always want to choose a man who can provide for her, who has good genes. That's how to work evolution. You can't fight it, and It doesn't matter whether she's African or American. Also, you can not fight against the connection of love between a black woman and a white man. It's also a natural process, and we love to see it.
15 BWWM Romance Books (Interracial/Multiculture Romance)
BWWM (black woman white man) is not so popular in the romance genre but has huge fans. This is not like the usual romance because it has a struggling theme against race and society. In most of these books, you get to see the difficulty and racism, and the lovers are trying to escape it.
Day by day, interracial or multicultural relationship is increasing. So it's going to be the popular category of romance. Now I am going to review 15 BWWM romance books for you. Let's go!
1. Roots of the Wicked
It sounds a bit misleading, but you're blown away when you read the story. In the story, we meet Chase and Jax. Jax Saint is mixed with Haitian and Dominican. She owns a software company where she does antivirus computing. She's brilliant, smart, edgy, and she's all piercing and tattoos. Then we meet Chase, who is a billionaire white guy. He's a company CEO and hires Jax company to do stuff. They needed Jax to come in, and she goes in, and Chase is blown away.
So Chase has instantly attracted her. However, Jax is not about that life. She doesn't easily give in to cheese, and she has a lot of trauma. When she was younger, she was forced into prostitution. However, she does not let this define who she is. But these things are revealed to Chase. The fire and passion between Chase and Jax are delicious.
Author: Keta Kendric
Average Customer Review: (4.6 out of 5, on Amazon)
Category: Black & African American Romance Fiction
Available: Audiobook | Paperback | Kindle
---
2. Let Me Be Your Motivation
In this book, we meet black woman Jordyn and white man Amir. Amir is an NFL football star, and he's accustomed to getting women. His attitude towards women stings that he talks to them however he wants because he can get whoever he wants. But Jordyn isn't that.
So when we meet Jordyn, she is getting married to Amir. Then when she's at the altar and when the pastor asks about the objection, someone stands up and says yes. She said, I'm pregnant with Amir's child and married two weeks ago.
What is Jordan going to do? They meet and feel nice chemistry because Jordyn is not the typical woman. Amir likes her personality. It meshes so well that you could see it beyond the book's pages. After what she's been through, she deserved this.
Amir was going through a breakup, so they both met when they had come out of their relationship. So he broke up with his good friend. Jordyn's relationship ended, and they met this vulnerable point in their life. Both of them are the total opposite of what their partners will love.
Author: Tay Mo'nae
Average Customer Review: (4.6 out of 5, on Amazon)
Category: African American Literature
Available: Audiobook | Paperback | Kindle | Audio CD
---
3. Fearless
In this book, we meet Zariah Washington (Black Girl) and Vassili Karo Resnov (White Boy). They come from entirely different worlds. Zariah's father is a police officer, so she's going down the law enforcement road. Vassili's family is connected to the Russian mob, but he is not. So he is into sports as an MMP fighter. That's how the book starts, and I loved it.
Zariah's best friend was beaten by her boyfriend. So Zariah wants to punish him. But she ended up in the wrong gym and went after the scariest individual dare. She did come down, and Vassili told her that we would look for this person and deal with it for you. Then they developed excellent friendships. They had a spark and chemistry. They were out of contact due to her being in college. As soon as she graduated college, things picked up from there.
Vassili was into his fighting, trying not to get involved in his family's illegal business. His sole focus was on fighting in the ring. The story ends on a cliffhanger, so be mindful of that. Many things were going on in this book that made it very interesting in that you had police relations and cultural differences in an African-American. That made the story so interesting.
Author: Amarie Avant
Average Customer Review: (4.5 out of 5, on Amazon)
Category: Multicultural Romance
Available: Audiobook | Paperback | Kindle
---
4. Miscegenist Sabishii
This book is about Tony and Nikki. Tony is Japanese-American, and Nikki is African-American. Nikki goes to an interview, and she gets a job. Her supervisor is Tony. Yeah. Tony grew up in a predominantly black community, so he looks one way outside, but he's black on the inside. Nikki wasn't ready for that. She wasn't looking for anything.
Although Tony was the supervisor, they formed a good relationship. Nikki then thinks that Tony is black enough, and they go out. She hooked up with a black guy that played her. But Tony was right there, and he was there supporting her. They got a good thing going. Then the issues came with the parents because Tony's mother kept setting him up with a Japanese girl because she wanted Japanese babies. In terms of Tony being Nikki's supervisor and on top of all of that, you had race issues. This was an entertaining read.
Author: Pepper Pace
Average Customer Review: (4.4 out of 5, on Amazon)
Category: Black & African American Romance
Available: Paperback | Kindle
---
5. Persaud: Beautiful Liar
Our hero Ryan Persaud and heroine Keva Nixon have been put in the past. Ryan is a big CEO, so women are always trying to use him. He doesn't know who to trust, and he falls in love with them, and they use him. The story begins with Ryan and his ex. He believed that she was cheating on him. Then he takes a break. He goes to America, and his company is British. But he needs a break from the situation.
In America, Ryan meets Keva. They form an instant friendship. They are both business savvy because she runs her own business, looking to expand and return to the community. So they hit it off, and they embark on this relationship. However, Ryan believed that it is all key if he tells the truth but not fully.
So Ryan was lying by omission because of his trust issues and past relationships. He decides he will not tell Keva who he is. He would know if she liked him for who he is. But it turns out that when she discovers she's hood because she's not about games, she has been hurt in the past.
Author: L.C. Riley
Average Customer Review: (3.8 out of 5, on Amazon)
Category: Contemporary Romance
Available: Paperback | Kindle
---
6. The Deep End
The Deep End is a brother's best friend romance and how that BWWM love story. It will have a lot of tension and build up in the deep end. We meet Leo (white boy) and Kira (black girl). Leo's into swimming, and his best friend is Kira's Brother. However, he is attracted to her, and he puts up this barrier because he doesn't want to cross any type of boundaries. One day, Kira was drawn in, and he came in and saved her. They have a moment and then nothing, and they try to keep their space.
They tried to stay in their lane for four years. But after that, things pick up between these two individuals. Something happens to Kira, and Leo decides to get serious and take things to another level. It's going to be steamy as well because four years of this tension that is built, it's going to explode.
Author: Deanna Grey
Average Customer Review: (3.6 out of 5, on Amazon)
Category: Multicultural & Interracial Romance
Available: Kindle
---
7. If I Ever Fall in Love: (The Yellow Meadows)
This one is going to have so much drama. This book will be juicy because you have an Afro-Latino woman and an Irishman. On top of that, they have a forced proximity relationship or fake relationship, and they get married. So there's this marriage of convenience in this fake relationship. How is this going to work?
We meet Thad and Marcela, and Marcello has lost her job. She became undocumented in the USA. She lost her job and didn't have anywhere to go, and she met Thad. He is a very flirty musician, and he gives her a proposal to get married. Obviously, he would have his reasons for that. Although things start as fake relationships, they will turn into something real.
Author: Amy Oliveira
Average Customer Review: (5 out of 5, on Amazon)
Category: Multicultural Contemporary Romance
Available: Paperback | Kindle
---
8. Be My Reason (Make It Marriage)
It is centered around a single dad who is a contractor that wants to tear down some type of historical structure. Then you have the heroine who is against this, and they're enemies. So things will be spicy between the main characters and a single dad. Many questions arise: What happened to his wife? Why he's a single dad?
Author: Nia Arthurs
Average Customer Review: (4.4 out of 5, on Amazon)
Category: Black & African American Romance Fiction
Available: Kindle
---
9. Choices: An Eron Romance
The heroine (Chloe) has a boutique. She has given up on it. However, she's at a point in her life where she wants to settle down. There's this guy who wants to settle down and start a family. As soon as she's about to do that, in comes a doctor. His parents died and left him property in this small town.
When sparks fly between the hero and the heroine, Chloe forgets about the first guy being her only option to settle down and have a family. Now she has new dating options, and you see new things. Also, you get to see how intercultural/multicultural romance work well.
Author: ROSE FRESQUEZ
Average Customer Review: (4.5 out of 5, on Amazon)
Category: Contemporary Christian Romance
Available: Audiobook | Paperback | Hardcover | Kindle | Audio CD
---
10. The Mixtape
This is another small-town BWWM romance. The cover gives you all the fall vibe, taking place in a small town in Colorado. Also, this book is going to make you cry and emotional. It talks about a musician called Oliver (white man). He lost his band member and his twin brother, and he has been using alcohol to deal with the pain and debt.
Then we have Emery (a black woman), a single mom working as a bartender trying to keep a roof over her head and take care of her daughter. She's not getting any type of support. She is struggling financially and emotionally. So you have these two characters dealing with so much in their lives. When they first meet, they both fall in love with each other.
Author: Brittainy Cherry
Average Customer Review: (4.5 out of 5, on Amazon)
Category: Multicultural & Interracial Romance
Available: Audiobook | Paperback | Kindle | Audio CD
---
11. The Love Bet (Love Unexpected)
In this book, we're going to see healing and emotional walls coming down and hearts being mended. The heroine (Luz) has a phobia of commitment. She works for a sex and relationship magazine, so she writes columns about hooking up and the act of dating. But she's not into dating and being in a relationship. Then her editor gives her the assignment to write a Valentine's Day piece.
Luz ends up meeting her ex, and now her ex is Evan. He is taking this as the perfect opportunity to get back with her because they broke up and did not break up under good circumstances. So this book is going to be juicy and emotional. There is about a second chance BWWM romance that pulls at my heartstring. Are they going to get back together? What exactly does he regret? Why did they break up?
Author: G.L. Tomas
Average Customer Review: (4.2 out of 5, on Amazon)
Category: Hispanic American Literature & Fiction
Available: Audiobook | Paperback | Kindle
---
12. Never Too Late For Love
This book gives me drama vibes, but not the type of drama I'm usually into. It is an older couple's romance. We meet two intercultural couples, Samantha and Clayton. Samantha is a powerful, independent businesswoman, and Clayton owns the business. He is a billionaire. They were both previously married.
Now they decide to embark on some type of relationship. Samantha was not expecting her boss to come and super off her feet, but he did only for her ex through legal issues and caused problems. You will see what the ex-husband did and how this relationship between her boss and herself began. So it's a billionaire office romance between an older couple.
Author: J A Fielding
Average Customer Review: (4.0 out of 5, on Amazon)
Category: Black & African American Urban Fiction
Available: Kindle
---
13. 713 Main St. (Cherry Falls)
Our heroine, Cora, has been blunt in the past. She's not looking for any type of relationship. Now, she runs a cafe. It's located in the middle of town. She's pretty busy and doesn't have any type of dating life. One day our hero, Grayson, came to her cafe. They have a strong connection. It's going to be for this period. Her past comes back to haunt her, and who is there to help grease the flame?
The person passing through the small town and I enjoy reading small-town romances around this time. The blurb is interesting. Is it that the cafe is located on 713 main streets? This book also books twenty-eighth in the Cherry Falls romance, so check it out. It's a complete standalone.
Author: Mika Jolie
Average Customer Review: (4.1 out of 5, on Amazon)
Category: Short Story Anthologies & Collections
Available: Kindle
---
14. Make Me Stay
In this book, We meet the deaf beauty Avery and hero Donavan. They were friends growing up. However, Avery's father disapproved of their friendship, and then he took the time to learn sign language to communicate. She fell in love with music because of him. Things were going so well.
Then one day, Avery and her father disappeared, and Donavan didn't know what to do. Seven years later, they're able to reconnect. This book is going to make me laugh and cry. Try this one if you love childhood friends to lovers romance, and multicultural relationships.
Author: Amarie Avant
Average Customer Review: (4.3 out of 5, on Amazon)
Category: Fiction Urban Life
Available: Audiobook | Paperback | Kindle | Audio CD
---
15. Their Unexpected Marriage Of Convenience (Big City Dreams)
This book is about a marriage of convenience, billionaire romance, and surprise marriage. Kevin and Denise went to Vegas, and they unexpectedly got married. They liked each other, but they weren't expecting to get married. We can get a divorce. No, they could not because Kevin's father was dying, and he wanted to see his son happy and settle down and get married. So they pretended to marry.
This is a fake relationship and marriage of convenience. Will they stay married? But they get a divorce after his dad kicks the bucket? What is going to happen? How long will they continue being or pretending to be happily married? Is it that halfway through their deal, they're going to call it quits despite his dad still being alive? If you want to know the answers, then read this book anytime.
Author: Cynthia Shaw
Average Customer Review: (4.3 out of 5, on Amazon)
Category: Black & African American Romance
Available: Kindle
---
Read More Similar Racism Memoir Books: 5 Books Like Born A Crime