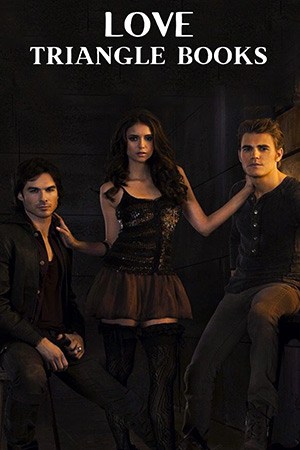 The love triangle is a romantic relationship involving three people that plays an integral part. The two romantic interests come from vastly different backgrounds and represent themselves and the world they come from. These backgrounds could be anything from social class to paranormal. But it also means that the protagonist has to choose which partner she wants and which world she wants to be a part of.
A clear example of this is Twilight, where Bella must choose between Edward and Jacob and the vampires and werewolves. The vampires are cold, mysterious, and reserved, whereas the werewolves are passionate, warm, and familial. Bella then has to choose what life she can see herself in and who she wants to be with. But she chose the wrong team, Jacob, forever. Another example is in The Notebook, where Allie has to choose between Noah and Lon Hammond, but also between the comfort and stability that Lauren can provide versus the passion and instability of Noah.
Unlike Twilight, this isn't a balanced love triangle. We know who Allie will choose, and Lon only serves as a potential roadblock to their love. But it's an example of the trope nonetheless. Similarly, another example is Rose, Jack, and Cal from Titanic. So when the protagonist must choose between them, they're also choosing between the two versions of themselves that they are in these relationships.
15 Love Triangles Books (Triad Romance)
Love triangle is a most-read trope which widespread and includes Twilight, The Hunger Games, Throne of Glass, Pretty in Pink. Most love triangles are annoying and boring because they're so shallow. They don't dig into the character's internal conflict. Everything is so surface-level and stagnant that you can predict what will happen by page one. Who wants to read a book like that?
So is there a way to make this plot device interesting? Rule number one, the love triangle, should not be simple. This pretty much applies to any type of storytelling. I read many triad relationship books that list the best and most complicated love triangle stories. I will review 15 love triangles books for you that gives you also suspense and a thrilling vibe. Let's go!
1. Clockwork Prince (The Infernal Devices)
If you are not familiar with the shadow of the world of the Shadowhunters that Cassandra has built, then you need to get on the train. This is an amazing shadow world parallel to our world where you race Nephilim, and the Nephilim are charged with protecting humans and the world from demons.
The story takes place in the 1890 Victorian era of London. It's with the London Academy. The main players in this book are Will, Jem, and Tessa. Will and Jem have a unique bond and closest relationship. So they are as close as they can ever be. Tessa comes into the situation and folds very nicely into their dynamic. It is the adventures that they have together.
Will is a very dark character, but Jem loves him no matter what. He is very kind, compassionate, giving, loving, caring, but he also is dealing with a terminal situation. So they're their dynamic gets sticky very quickly. As the reader, we can see that both of these gentlemen are falling for Tessa, but Tessa does not see it. So, it gets a complicated triangle love situation.
Author: Cassandra Clare
Average Customer Review: (4.8 out of 5, on Amazon)
Category: European Historical Fiction, Dark Fantasy
Available: Paperback | Hardcover | Kindle
---
2. Thoughtless
This is book one of the Thoughtless series. There are five books in the series, and you should read them all. In this one, our main character is Kiera, from her point of view. Also, it is heart-wrenching because you feel Kiera's plight. Kiera is very immature, and that is part of the reason why she gets herself in this situation. But she's in a two-year-long relationship with her boyfriend, Denny.
They have gone to the same university together. Denny is from Australia, and Kiera is from the U.S. They embark on a cross-country trip, and they're going to stay together. Denny came over for an abroad study program, and he met Kellan. He is in a band, so he calls them because Denny gets a new job in an advertising agency. So they stay with Denny, and things happen.
It's a love triangle, messy, sticky, and sad romance because you will feel Kellan's and Denny's situation. It breaks your heart in so many ways because it's how love can hurt so much pain. When you know that love is a beautiful thing, but when it's misdirected, it's hard. You want not only because you see the love between Kellan and Kiera, but you also see the love that Kiera has for Denny as his best friend, as the person who's only been there.
Author: S.C. Stephens
Average Customer Review: (4.3 out of 5, on Amazon)
Category: Women's Friendship Fiction
Available: Audiobook | Paperback | Kindle | Audio CD
---
3. Even If It Hurts
This is about three characters, Oliver, Lance, and Chloe. Also, it is a new adult because it starts when they're in college and then proceeds after college. It starts with Chloe is talking to her best friend, and she is getting ready to embark on a semester-long trip where she studies in the UK in London. Here she can enjoy the party, and the story embarks from there.
You're going to be upset and know that it will be angsty and drama. There is a love triangle. It's about loving two people so immensely and so powerfully and not wanting to hurt anyone. My heart broke for Chloe to see her struggle and emotion. Both Lance and Oliver are favorites for her. But she has to choose one, and it's a tough decision to sacrifice her favorite one.
Author: Marni Mann
Average Customer Review: (4.3 out of 5, on Amazon)
Category: Contemporary Romance Fiction
Available: Audiobook | Paperback | Kindle
---
4. The Kiss Thief
It is slightly different from the other stories because it's a mafia romance. Mafia princess Rossi is part of the outfit. She has everything laid out, and she knows who she's going to marry, and she knows what's going to happen. But things don't quite work out the way that she has intended. There is some revenge plot here where some mafia dynamics intertwine with politics and what that all means love to hate.
There's an age gap with a love triangle. While this is angsty and emotional, it's not the typical as we talked about in these other books. They are moving forward as a couple and trying to get past this revenge and dealing with broken characters. They are so angry that they can't see what they have in front of them. Therefore, they make a lot of mistakes as a result. But it's also about growth and development for what you want and then forgiveness.
Author: LJ Shen
Average Customer Review: (4.4 out of 5, on Amazon)
Category: Multicultural & Interracial Romance
Available: Audiobook | Paperback | Kindle | Audio CD
---
5. Heartbreak Warfare
It has a lot of trigger warnings for PTSD, sexual assault, and being a prisoner of war. This one's about a woman (Katy) in the military. In the beginning, she leaves behind her husband (Gavin) and her child, and her husband is eight years older than her. They met when she was 18 and got married young. Katy loves her husband. He's also part of the military, but she is going on deployment to be a medical assistant there.
So she's not on active duty, but she is sent overseas to be medical, and she instantly has an attraction to another guy (Briggs) who's very playful. Briggs is the typical bad boy who doesn't care about the rules. But Katy is faithful to her husband, and she can't deny that she likes Briggs. Also, she does everything in her power to stay away from him.
Briggs still likes to push her buttons and has a nickname for her. Then she visits with him to the local town, and they are ambushed and kept prisoner together. So Katy has a connection with him, and when she gets home, she has to figure out what she's feeling. It was very angsty and emotional, and I would recommend it.
Author: Heather M. Orgeron
Average Customer Review: (4.8 out of 5, on Amazon)
Category: Military Romance
Available: Audiobook | Paperback | Kindle | Audio CD
---
6. Serenading Heartbreak
It is a romance about a girl (Stevie) who grew up and fell for her brother's best friend (Everett). Everett is a rock star but a very damaged guy. He doesn't have a good home life, and he hangs out a lot with their house growing up. Also, he ends up saying he does have feelings for her. Then he goes off on tour with her brother, and they hit it big, and he stops communicating with her.
So she decides to move on with this sweet guy. Then the other guy keeps coming back into the picture, and she doesn't know what to do. Stevie falls into the love triangle and can't choose. It was very emotional because she's in college when she gets back into contact with the guy from her past.
Author: Ella Fields
Average Customer Review: (4.4 out of 5, on Amazon)
Category: Sports & College Romance
Available: Paperback | Kindle
---
7. Something in the Way
This book is also a love triangle about a young girl, Lake. She falls for a guy (Manning) working on the construction site next to her, and he does his best to push her away. They end up having to go to the same camp together. But her sister ends up being like the same guy. So it's a love triangle between her, her sister, and this guy, which would normally bother me. This ends on a cliffhanger, and it's very emotional.
Lake feels guilty because her sister likes him. She likes him because he's hot and feels an emotional connection. But she's too young. As a sweet sixteen-year-old teenager, Lake creates this immediate connection, but she holds it for a long time. You will see her dedication and struggle where you think she is very mature and adult.
Author: Jessica Hawkins
Average Customer Review: (4.4 out of 5, on Amazon)
Category: Family Fiction Sagas
Available: Audiobook | Paperback | Kindle
---
8. One True Loves
It is women's fiction but also deals with romance. Our main character is married to the love of her (Emma Blair) life. Then he (Jesse) goes missing because he's a nature photographer. So he ends up going missing in a helicopter and presumed dead. Emma moves back home, and she connects with Sam from her past. He always liked her, and she became a different person.
Then they get engaged, and her husband shows up alive. So Emma doesn't know what to do. She's engaged to Sam, but Jesse's husband has come back. It's much different than your typical romance. If you don't want as much romance heavy of a love triangle, you will enjoy this one.
Author: Taylor Jenkins Reid
Average Customer Review: (4.4 out of 5, on Amazon)
Category: Romantic Comedy
Available: Audiobook | Paperback | Library Binding | Kindle | Audio CD
---
9. Strange Grace
It's a polyamorous relationship because all three of our main characters are interwoven. They're all in this beautiful, angsty romance, gut-wrenching relationship. We follow a town (Three Graces) that has dealt with a devil. Years ago, a witch and a devil made a pact in a forest deal to protect their town and be very prosperous. So they didn't have to deal with any death, illness, shortness of food.
Everything was perfect in this town. But in return, they had a thing called a Slaughter Moon, where every couple of years they sent in a boy to be sacrificed by the devil, and some boys made it out in. Some boys didn't make it out, and that was the sacrifice they made every year. Polyamorous relationship features our main characters, Mairwen, Rhun, and Arthur.
I love their dynamic together. They all have known each other since they were kids. They feel like the bargain with the devil has gone wrong, or they don't know the entire story of what the bargain even was all those years ago. So the three of them go into the forest to discover the town's secrets. Their reverse harem relationship works so well because they are all connected. There's no jealousy, no characters that have more time with each other. It's so seamless how they flow together. They're all struggling with their own identity, and together they become stronger and more confident.
Author: Tessa Gratton
Average Customer Review: (4.4 out of 5, on Amazon)
Category: Thrillers & Suspense
Available: Audiobook | Paperback | Hardcover | Kindle | Audio CD
---
10. Sugar Daddy (The Travis Family)
This is part of The Travis Family series. There are four books in the series. Lisa Kleypas is a very popular historical romance author, but this is one of her new adult contemporary romances. The story follows our main character, Liberty Jones, and her life at a very young age. She ends up being responsible for her younger sister, which follows her finding herself.
It's such a beautiful story with a love triangle that follows Lisa's first love, Hardy's childhood crush. They have this immediate chemistry and love for each other. But Hardy leaves small town to make a name for himself, and Liberty continues with her own life. She does a lot of questions about her past and her mother, and she ends up running into an older gentleman who is linked to her mother, or that sugar daddy ends up becoming a fatherly figure to him.
Then the second love interest is that guy's son, Gage. Liberty finds herself under the spell of a billionaire tycoon, a sugar daddy. But the relationship goes deeper than people think, and Liberty begins to discover secrets about her family's pasts. Two men, one woman, a choice that can make or break her a woman. You'll root for every step of the way a love story you'll never forget.
Author: Lisa Kleypas
Average Customer Review: (4.6 out of 5, on Amazon)
Category: Western Romance
Available: Audiobook | Paperback | Hardcover | Kindle | Mass Market Paperback
---
11. Learn My Lesson (Wicked Villains)
It is the second book in the Wicked Villain series. This entire series takes a very dark twist on Disney villains, and they become the love interest and heroes in the story. The story follows Meg and Hades and Hercules, and it follows all of them being in this intense polyamorous relationship.
The book has an overarching plot, but their time spent together and these steamy moments. It has a little bit of a BDSM situation, so again, check the trigger warnings if that's not your vibe.
Author: Katee Robert
Average Customer Review: (4.5 out of 5, on Amazon)
Category: Romantic Suspense
Available: Audiobook | Paperback | Kindle
---
12. Three Blind Dates (Dating by Numbers)
The story follows Noely Clark, who is focused on her career and hasn't had the best luck in dating. She is a TV host and decides to join a dating app and become part of her TV talk show. It's like this whole series of her being on this dating app and finding the one, so it's a funny comedic book. So Clark joins a dating app, and she ends up getting matched with three guys, and they're all titled by their dating app name.
We have the suit, the rebel, or the jock, and she goes on dates with all three of them. I'm not going to tell you who she ends up with, but again, I love who she ends up with. They fit well so perfectly. The dates were super sweet, and it was a very evenly balanced love triangle.
Author: Meghan Quinn
Average Customer Review: (4.5 out of 5, on Amazon)
Category: Romantic Comedy
Available: Audiobook | Paperback | Kindle
---
13. Taking Chances
It's about this girl named Harper. She grew up on base because her dad runs everything, so she never went to regular school. She can get exposed to a lot of stuff. So when she moves away to college, she's thrust upon, and she ends up dating a guy named Brandon. But she likes her roommate's brother named Chase, and it's a big pile jumper.
Harper had so many problems with relationships. She thought it was downgrading to girls, and it didn't send a good message. She can not forget Brandon or Chase, and she wants both. But it is tough to continue or handle two lovers, and it's not fair. So you will see the most complicated love triangle here.
Author: Molly McAdams
Average Customer Review: (4.5 out of 5, on Amazon)
Category: Coming of Age Fiction
Available: Audiobook | Paperback | Kindle | Audio CD
---
14. Collide
We have our leading lady, Emily, who recently has moved to New York with her boyfriend, Dillon. Her mother had passed, and she got an apartment with her best friend, Olivia. So we learn a little bit about Emily and Dillon's relationship. But Gavin is our leading man. Emily has a job at a restaurant, and she makes it to order very randomly. The regular delivery guy didn't come in, so she was doing a favor for her boss on her way home, and she took the delivery up to this tower. Here she meets Gavin.
Gavin tries to come on to her. He tried to get her number, and she was with Dillon. So she pushes him away, and she gets out of there. Then the next day, he ordered the food from when he went to the restaurant. Again, he tries to get her number and name, but Emily says Molly is. He gives her his number, and she throws it away.
A little bit later, Gavin finds out that her name is not Molly, and she's Dillon's girlfriend. So Emily meets Dillon through her friend Olivia, and Dillon happens to come down with Olivia's brother. When Emily catches Dillon kissing Monica, she's upset and tries to leave. Then Gavin's worried about her. So he takes her back to her place, and they start kissing.
Author: Gail McHugh
Average Customer Review: (4.4 out of 5, on Amazon)
Category: Romantic Erotica
Available: Audiobook | Paperback | Kindle | Audio CD
---
15. From Ashes
This follows the three characters, Cassidy, Tyler, and Gage. Tyler and Gage are cousins. Tyler and Cassidy grew up as neighbors next door to each other. While Tyler had a nice, privileged life, Cassidy had a much worse upbringing. Her parents continually beat her every day, and it was to the point that she never thought she was going live some days.
It was heart-wrenching to hear about all of this. Tyler is Cassidy's savior, and that's the only reason she's ever stuck around because she didn't want to lose Tyler. So a few weeks before her 18th birthday, Tyler takes her away and goes down to Texas. They start college and live with his cousin, Gage. When Cassidy first meets Gage, she seems overwhelmed. Tyler realizes that they like each other, but he likes Cassidy.
So it starts the upbringing of a huge tornado mess that is coming. He tries to convince both Cassidy and Gage that they don't feel that way about each other. But they end up denying their feelings for over a year and a half.
Author: Molly McAdams
Average Customer Review: (4.6 out of 5, on Amazon)
Category: Women's Friendship Fiction
Available: Paperback | Kindle
---
Read More Similar Books: 12 Contemporary Reverse Harem Books