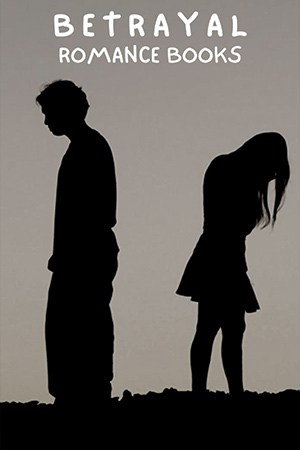 Romance books about betrayal show us strong friendships and loving characters at first. Then one of the two characters betrays the other for a reason they believe is more important than friendship. Let's say one friend is so desperate for money because she needs to pay rent that she sells her best friend's necklace, the last item they had of their mother. Another betrayal that moves readers emotionally is when the relationship is one-sided. One character is fully invested, but the other is not so much.
The main character loves his girlfriend and is willing to go out of his way for her. But while the girlfriend seems nice initially, she's only using him for some perks. Maybe she's trying to make someone jealous. Whatever the case, when the girlfriend's true intentions surface and the main character realizes the relationship is one-sided.
However, the authors make the main character happier by pulling off this betrayal. This betrayal moves readers, despite possibly realizing that the girlfriend is bad news. It works because we watch the main character get the life he wants. We're rooting for his happiness amid a train wreck in the making.
Therefore, the betrayal is not so much a shock as it is painful to watch. It's when you watch a scary movie and know someone is about to lose their arm, but you can't help but look at the screen until their arms get chopped off. If you are waiting to read betrayal romance story, follow me.
7 Betrayal Romance Books
Betrayal romance doesn't have to be big to move us emotionally. Simply sharing a secret or kissing the other person's partner, or telling a lie about the other person can do the trick. Besides, smaller betrayals are something almost all of us can relate to because they happen to us in one form or another. So, when we read this love story, we can relate to the characters. I have a list that I want to share with you. I will talk about my 7 favorite betrayal romance books. Let's go!
| Name | Key Focus | Review (Goodreads) |
| --- | --- | --- |
| Balance | On a sports field, a gymnastics girl falls in love with her coach, and they cheat on each other. | 4.0 |
| Bittersweet Surrender | A couple is in marriage counseling where the wife secretly meets the coach and makes a relationship. | 3.8 |
| The Truth about Heartbreak | A girl feels for her brother's best friend, who already has a girlfriend. | 3.7 |
| Forbidden Fling | A girl spends a vacation with her boyfriend and has a deep relationship with his dad. | 3.6 |
| Ecstasy | A love triangle story where college students make multiple relationships and betray each other. | 3.9 |
| Wanting Mr. Cane | A college girl and her dad's best friend secretly build an age-gap romance. | 3.9 |
| Spring Semester | A relationship breaks for betrayal, but it reforms again. | 3.5 |
Betrayal Romance Books
1. Balance (Off Balance)
Balance is a sports erotica that is about Adrianna and Kova. Adrianna is a gymnast and an Olympic. She wants to be at a gym where she can train at the level she needs to be training at to compete in the Olympics. So her father has a friend, Kova, who has a gym. He's a former Olympic gymnast, and she goes to train with him. Adrianna is living here, doing her own thing off this gym with Kova. Kova is her coach, Adrianna is his athlete, and their romance is taboo.
Also, it's a significant age gap love story, and there is betrayal because Kova does have a girlfriend. She's in play for the majority of the series. In many of the series, Kova must be secretive about their relationship. This series is so dramatic that it happens throughout the five books to uncover my favorite couple of all time. All of them cover betrayal romance. I like when both characters betrayal to be together. That makes it so dramatic. The plot, writing, and dialogue are average, and there is no chemistry. If you want a steamy age-gap romance, check it out.
Author: Lucia Franco
Narrator: Sarah Puckett
Publisher: Pink Flamingo Productions
Tropes: Angsty, Taboo, Bad-boy
Number Of Pages: 610
Available: Audiobook | Paperback | Kindle
2. Bittersweet Surrender (Bittersweet)
Bittersweet Surrender is the first book in the Bittersweet series. It follows Charley and Will. Charley is married, and Will is her husband's marriage counselor. It starts with a bang or messing around with stuff. Charley and her husband have been together for eight years. They're a lot of different things that happen in their marriage.
So, they are in marriage counseling. But Charley's ready to be done with this marriage. When she meets, she is prepared to be done for a different reason because she wants to be with Will, who is her doctor technically. That's not allowed, but it is their forbidden cheating romance. It's super hot, dark, and dramatic. Sometimes I felt bored and excited the readers had mixed opinions about the story. If you want to read marriage betrayal romance, pick it.
Author: Q. B. Tyler
Narrator: Lacy Laurel, Alexander Neal
Tropes: Dark, Marriage, Forbidden, Mental-health, Love-triangle
Number Of Pages: 344
Available: Audiobook | Paperback | Kindle
3. The Truth about Heartbreak (The Truth About)
The Truth about Heartbreak is the first book in a duet, but you don't have to read book two. Book two is my personal favorite, but it's a companion. So it doesn't follow River and Everett, even though you see them in book two, because I can't spoil those romances. When River was twelve, she was adopted by a family. It was a couple. Then they had a son, Oliver and Ollie. Ollie has a best friend, Everett. When River comes into this family, Everett is always around a lot anyway. So she gets to know him, but she's shy and closed off.
River's not in a perfect place, and she immediately likes Everett. So it's the brother's best friend, and their timing never lines up. This book is told in the present, and you see certain past flashbacks. You do see that, but it is their romance and the present. In the present, Everett has a girlfriend, River. Everett can't stay away from each other.
This is an emotionally punched book where the Bittersweet duet does have some emotional punches, more in the second book. Everett has a girlfriend in this, but she does not compare to the love that Everett and River have for each other. There is so much betrayal in this that makes you root for them. It makes you want them to make the timing work for each other. If you are waiting for high school betrayal love, you must check it out. The hardcover has a lousy quality issue, but the paperback is good enough for color, font size, cover, binding, and paper quality.
Author: B. Celeste
Narrator: Nelson Hobbs, Stephanie Wyles
Publisher: Tantor Audio
Tropes: Social abuse, Suspense, Small-town
Number Of Pages: 484
Available: Audiobook | Paperback | Kindle | Audio CD
4. Forbidden Fling (Secret Fantasy)
Forbidden Fling is a comedy romance with a boyfriend's dad, cheating, and forbidden age gap relationships. Our heroine, Neveah, is on vacation with her boyfriend. Some of his frat brothers and his dad at his dad's beach house. While they're on vacation, they're all her boyfriend is doing is wanting to hang out with his brother. He's not giving any attention to her. So, Neveah starts getting attention from his dad, and she takes advantage of it as she should.
Neveah starts hooking up with his dad. It's very short, spicy, and straight to the point. There's no romance whatsoever. It's about these two having a good time together, which doesn't end in a happily ever after. But I was satisfied with the ending as both characters were satisfied. So there's betrayal in it where Neveah betray her boyfriend. The story and plot are straightforward. So, read it if you like age-gap smutty romance with a disloyal heroine.
Author: Kat Taylor
Publisher: Trinkets and Tales LLC
Tropes: Forced proximity, Alpha-man, Spicy
Number Of Pages: 44
Available: Audiobook | Paperback | Hardcover | Kindle | Audio CD
5. Ecstasy
Ecstasy is a mental-health reverse harem romance. It's so toxic even outside of the betrayal element of this. This one follows Zara, Eli, and Alex. So it is a love triangle as well. But Zara and Alex are in a relationship, and Eli is Alex's roommate. Zara gets with him a little bit at the beginning of the book. Zara and Eli don't necessarily stay away from each other.
Also, Zara is a drug addict and is off to college, and she is in a relationship with Alex. Alex is a football player, and he's a big partier which isn't necessarily the best for Zara. They have a very toxic relationship. Zara has always had her interest piqued by Eli, and he's a very mysterious character. You don't understand his motives.
Neither guy is good for Zara, but she doesn't know what is good for her. She indulges both of them. So one is a little different because it's not technically betrayal to be with each other. After all, Zara is a betrayal of Alex. It's a book that you must read to understand the whole dynamic. The story is set on a college campus with a sports background, with very dark characters.
Author: KV Rose
Publisher: ISBN Canada
Tropes: Suspense-thriller, Psychopath, Anti-heroine
Number Of Pages: 404
Item Weight: 1.15 pounds
Dimensions: 5.5 x 1.01 x 8.5 inches
Available: Paperback | Kindle
6. Wanting Mr. Cane (Cane)
Cane is a trilogy about high school romance and betrayal relationships. The first one Wanting Mr. Cane follows Cane and Kandy. When Kandy was younger, she saw her dad's best friend (Cane) come over. She has only had eyes for him ever since then. Now she's graduated high school. She's getting ready to go off to college, and she has decided that she wants to make her move. It's an age gap, dad's best friend romance. So it is a very taboo relationship.
Kane and her dad are genuinely best friends. Kandy has a good relationship with her dad, too. So they cross the line, and there's never returning from this. But they can't deny their attraction where the betrayal comes. Kane has a girlfriend, also.
So, he makes it clear that it's only physical between them, but Kandy always wants more. That whole situation carries on throughout the trilogy. Ultimately, Kandy and Cane don't care about the consequences. So it is very dramatic hot erotica. The plot, writing style, and story were unique. Don't miss it!
Author: Shanora Williams
Publisher: CreateSpace Independent Publishing Platform
Tropes: Slow-burn, Law-enforcement
Number Of Pages: 314
Available: Paperback | Kindle
7. Spring Semester (Campus Tales)
Spring Semester is another YA college romance with betrayed hero and heroine. It's the third book of the Campus Tale series. You don't have to read the first two, even though I recommend one and two. The first one is student-teacher, and the second one is dad's best friend and boss-employee vibes. The third one here follows Everett and Leighton. They are childhood best friends to lovers vibes, but they are in college, and their timing has never worked out for them to be together.
They were together when they were younger, and they hooked up once to get it over with each other. But they've never been full-on boyfriend and girlfriend before. Everett has a girlfriend, and Leighton is sleeping with someone.
The book starts with them two hooking up, and they were a betrayal to be together. But things can never be easy; something pops up and goes from there. They're ultimately betrayed because they love each other. There is also miscommunication and accidental pregnancies that make the story angsty and fun.
Author: Q.B. Tyler
Publisher: Independently
Tropes: Friends-to-lovers, Arc, Angst, Second-chance
Number Of Pages: 191
Available: Paperback | Kindle
Those are my best betrayal romance novels recommendation. Let me know if you have any suggestions or have already read one. Also, share your thoughts about this trope. Happy romance reading!
Read more romance books:
15 Second Chance Romance Books