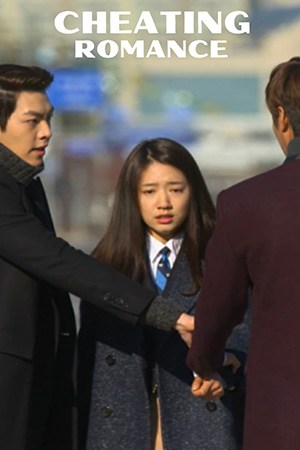 If you cheat or a character cheats, it doesn't mean they're bad. There are so many different types of cheating, if you will. When we have a romantic story that includes questionable behavior on the characters, that doesn't get addressed negatively. If there's cheating in a book, it should serve a purpose to teach a moral lesson. It's there for shock value. Also, it doesn't push the story that much farther.
There are many stories where a girl will be in a love triangle or a love hexagon. They open up physically, emotionally, whatever to other people, and it's very common. People have their first relationships, and they're learning the rules of relationships. So they're not going to be perfect. They're going to make mistakes. But when the main characters are consistently negatively pushing boundaries, that isn't very good, and it doesn't get talked about very often.
Emotional cheating is not physical, but that's when you form an intense bond with someone else. You maybe don't act on your urges, but it's like you are putting this other person ahead of your actual relationship, or you are doing things that make you feel guilty.
If you're doing something that you feel guilt over or something like that, you probably shouldn't do that. Some people don't consider cheating because emotional connections can be stronger than physical. Sometimes that's part of getting older, going through life, and learning. If you want to read cheating romance novels, you are on the way.
Top 15 Cheating Romance Books
Cheating romance is a very common occurrence in romantic-themed stories. Love triangles turn into cheating, crossing the blurring the line, doing the things that maybe shouldn't be doing.
If your main character is portrayed as this innocent victim girl trying to find her true love and there are no repercussions of these actions, then people reading it might get their ideas of relationships from this. It might create a false idea of cheating and what is acceptable. So think about it with your personality and morality. Now I will review 15 cheating romance books for you. Let's go!
1. The Truth about Heartbreak (The Truth About)
This book is about a foster child (River). She is in the wrong place, and she gets adopted by a family. She now has an older brother. Their relationship blossoms, and they grow close together. He has a best friend named Everett. He's the same age as him, and he ends up liking River. The relationship transforms into deeper and more sexual. This push and pull that they go through for years.
Everett moves on, gets a new partner, and continues his relationship on the day low. It is one of those books that hurt you with the main character. It is because Everett was so in love with her, and she was so in love with him. But he cheated on her. Also, He kept it in the dark. You want to feel the feels.
Author: B. Celeste
Average Customer Review: (4.4 out of 5, on Amazon)
Category: Romantic Suspense
Number Of Pages: 482
Available: Audiobook | Paperback | Kindle | Audio CD
---
2. What He Doesn't Know (Best Kept Secrets)
It's about a married couple (Charlie & Cameron). There's been some stuff that's happened, and Charlie has changed a lot. She's healing and going through a lot of trauma. Her partner is very absent. Cameron's not doing what he used to do. So the way that their life used to be is so different, and their relationship has lost the spark.
Charlie's a primary school teacher. She goes to school one day for work, and she bumps into one of the new teachers who was the first love of her life back when she was a young teen. So this is a love triangle romance. Charlie is trying to decide who to love more. She needs a strong man who always cares and loves her. The new teacher is caring and lovable, so she wants to take the chance.
Their relationship develops strong, and Charlie keeps it secret from his husband. You can say that she cheats on her husband. If you consider the overall situation, then you feel something else. So it's all of your opinions.
Author: Kandi Steiner
Average Customer Review: (4.4 out of 5, on Amazon)
Category: Marriage Fiction
Number Of Pages: 320
Available: Audiobook | Paperback | Kindle
---
3. Something in the Way (Something in the Way)
The story is about a young girl (Lake Kaplan) who is 15, and she meets this construction worker (Manning) who's working next door to her house. Manning is a lot older than her. There is a connection, and you can feel it on the pages when you're reading it. But he knows he's older, so he doesn't look at her like that. Then he chooses to start looking at her as a little sister, even though he knows he has feelings for her.
Lake has an older sister (Tiffany) who is around the same age as Manning. Tiffany is very much the underachiever of the family, and everyone's obsessed with her. She's so smart and going to go to an Ivy League school. She knows that her sister has a crush on this guy.
So, Tiffany decides to date. Manning goes along with it. Then Lake feels very sad and is very angry with her cheater sister. After some years, when Lake is an adult, she looks hot, and Manning can not hold himself to get in touch with Lake.
Author: Jessica Hawkins
Average Customer Review: (4.4 out of 5, on Amazon)
Category: Family Saga Fiction
Number Of Pages: 410
Available: Audiobook | Paperback | Kindle
---
4. Balance (Off Balance)
Lucia Franco loves to put a little bit of cheating in her books. So obviously, this is very taboo and dark. Kova is a Russian male coach in the gymnastics world, training for the Olympics. He's in his thirties and has a Russian girlfriend (Katija). Our heroine, Adrianna Rossi, is a sixteen-year-old who has an Olympic dream. So her coach is Kova, and he treats her very abusive.
Katija and Kova had been together when they were kids in Russia, and both their mums were prostitutes. It's a whole situation and their back story. So, she's very protective over Kova. But he is not in love with her. Kova cheated not only Katija but also Rossi. So it is very heartbreaking for both of them and exciting to see what happened with Kova.
Author: Lucia Franco
Average Customer Review: (4.5 out of 5, on Amazon)
Category: Erotic Literature & Fiction
Number Of Pages: 610
Available: Audiobook | Paperback | Kindle
---
5. Even If It Hurts
This book is about an American girl, Chloe. She goes to the UK for a semester to study at university, and she meets Oliver. She rocks her world, makes her fall in love with him, and he falls in love with her, too. They have a fantastic semester together, but the sad thing is that she has to go back to the States once the semester is up, and there's no way out of it. So that in itself broke my heart.
Years down the track, Chloe marries, she falls in love again. Her husband (Lance) is beautiful, and their romance is amazing. She ends up getting a job in Amsterdam years later. Also, it's one of those jobs where she has to work for three months. Then she can go back home for three months.
So she's in between the states and Amsterdam every three months. This situation helps her to meet Oliver, and their romance develops. Chloe loves both Oliver and Lance. So it is a love triangle with a cheating wife trope.
Author: Marni Mann
Average Customer Review: (4.3 out of 5, on Amazon)
Category: College Romance
Number Of Pages: 289
Available: Audiobook | Paperback | Kindle
---
6. The Day of the Duchess (Scandal & Scoundrel)
This book is the third book in the Scandal & Scoundrel series. It is set up from the first chapter of the first book, where Duke of Haven (Malcolm Bevingstoke) has not been into his wife. He has been cheating on her. So she is sick of it and ready to live her life. At the beginning of this book, after seeing how he's treated her a bit in the past, we see that she wants a divorce. She makes a Big Bang on the floor of Parliament, and she wants a divorce.
Malcolm agrees to divorce her if she can find her replacement, the person to be his next duchess before she goes. He plans to win her back throughout this. So this book is a very emotional cheating romance. It's very powerful, especially if you have read through the arc of it through the story because you have a dark picture of Malcolm going into this book.
Author: Sarah MacLean
Average Customer Review: (4.4 out of 5, on Amazon)
Category: Regency Romance
Number Of Pages: 400
Available: Audiobook | Paperback | Hardcover | Kindle | Mass Market Paperback
---
7. Wicked Abyss (Immortals After Dark)
The book's story is about Abyssian and Princess Calliope, who goes by Lila. They were fated mates through time. Lila's a reincarnation of that woman, and he has a lot of anger towards his previous mate because she cheated him over. So Abyssian takes it out on her. Now she's been sent to his keeping by some people to try to get her redemption, to bring her back into her community.
Lila's a fairy princess, but as she spends time as his captive, he begins to see that she's completely different from that woman of the past. Even if she may be a reincarnation, she is a much different woman from men. He has the gravel at this book when he realizes that he has messed up. This book doesn't get brought up as much as other Kresley Cole books.
Author: Kresley Cole
Average Customer Review: (4.7 out of 5, on Amazon)
Category: Paranormal Romance
Number Of Pages: 400
Available: Audiobook | Hardcover | Kindle | Mass Market Paperback
---
8. Never Sweeter (Dark Obsession)
This book is a tough one. If you have body issues or plus-size characters who are a little bit tough on themselves, be cautioned. The heroine (Letty) doesn't do that too much. But she does reflect on some bullying she's been through, particularly an event caused by the hero (Tate) of this book. It left her in pretty bad straits. Now they're running back into each other.
A few years later, they're at the same college. Tate is looking to make it up to her, and Letty avoids him. Her mental health went through the wringer. All of these things, there's no way she is ever going to trust him again. So he begins his epic grovel. For me, the thing is the bullying in this book, though some of it's unrealistic. A lot of it felt more real than a lot of bullying. It's not the everyday bullying that people deal with when they're overweight or in school. It still hurts you when it's happening.
Author: Charlotte Stein
Average Customer Review: (4.1 out of 5, on Amazon)
Category: Women's Friendship Fiction
Number Of Pages: 237
Available: Kindle
---
9. Filthy Dark (Five Points' Mob Collection)
It is book three in the Five Points' Mob Collection series. The story has a secret baby trope. It has some flashbacks in it, and these two (Aela and Declan) were lovers when they were young. But Declan was with her quote-unquote best friend. For some reason, he was having an affair with her. Then some crazy thing goes down, and her friend dies. Declan says that he never wants to see her again because he's trying to rescue her and send her away, and Aela happens to be pregnant at that time.
So that's what happens in the past. The way that this heroine comes back into our hero's life is pretty amazing. It's been 16 years. Her son is a teenager, and she raised his kid. In a non-typical fashion, he isn't even mad for a second. He immediately starts planning how to woo this woman back and tells his family. So these are people in their late 30s who realize how they have made mistakes and wouldn't have done them back then.
Author: Serena Akeroyd
Average Customer Review: (4.6 out of 5, on Amazon)
Category: Romantic Suspense
Number Of Pages: 378
Available: Paperback | Hardcover | Kindle
---
10. The Ugly Duchess (Fairy Tales)
We have Theodora Saxby, who married James Ryburn, a pirate. She is not the prettiest girl back then, but he needs her money. So he ends up wooing her, and then he goes away, but he comes back. Saxby is who everyone wants around her, and she wants away from James.
So James needs to apologize and win his duchess before he loses the greatest thing ever. This book has a beautiful grovel, steamy scene, and beauty awfulness. Also, it is part of a fairy tale retelling series, which is so exciting. Try this book if you like a historical time frame with fairy tales and cheating romance.
Author: Eloisa James
Average Customer Review: (4.3 out of 5, on Amazon)
Category: British & Irish Literary Fiction
Number Of Pages: 237
Available: Audiobook | Paperback | Hardcover | Kindle | Mass Market Paperback
---
11. A Heart of Blood and Ashes (A Gathering of Dragons)
This is one where we see all of the horrible things that the hero (Maddek) does to our heroine (Yvenne) from the first time they're on the page together. When we start to see things unravel, we understand our hero's perspective and know why he's doing this. Yvenne is the best heroine who has ever existed for romance. She's amazing, and she gives him a chance after chance until a certain point. At that time, Maddek strikes.
There are some particular moments because even when Maddek is trying to cringe, he's never had to grovel before, and he's not doing a great job. It's poor magic. But how he pledges his love and proves himself at the end is unique. This is a man who is humbled by his stupidity and cruelty.
Author: Milla Vane
Average Customer Review: (4.4 out of 5, on Amazon)
Category: Action & Adventure Romance
Number Of Pages: 555
Available: Audiobook | Mass Market Paperback | Kindle | Audio CD
---
12. Target on Our Backs (Monster in His Eyes)
It is the third book in the Monster in His Eyes trilogy. The heroine (Karissa) is cheating/groveling in this one. Also, it is a mafia story with an age-gap romance. There's a little bit of a captor captive, and there are some things that the hero (Naz) has done that the heroine can't imagine. He doesn't know how she could ever forgive.
Later on time, Naz proves that he would ruin everything for her. So many of this series is the hero's groveling, but he is a little exasperated by the time we get to see that. That's a bit of a twist. Also, Karissa did some groveling too.
Author: J.M. Darhower
Average Customer Review: (4.7 out of 5, on Amazon)
Category: Organized Crime Thrillers
Number Of Pages: 332
Available: Paperback | Kindle
---
13. Prince of Dreams (The Stokehursts)
The story takes place in London in the 1870s. So it's the late Victorian era that is about a Russian prince named Nikolas. He has had a thing for a while, and Emma is about to be proposed to someone else. So he makes a move, does a little bit of a slimy maneuver, and positions himself as the one to be with her. Also, he does a bit of wooing of her, but everyone warns her to stay away from him.
Emma is a little bit fool. So, Nikolas can manipulate her without too much work. It's hard to respect her in the very beginning because of him. This book is broken into three parts. So the first part is him wooing her and then getting married, which happens early on. Then the second part of this book is about their marriage, and it becomes clear that Emma is starting to fall for him now. But he never married her with plans to love her because he's too broken.
So he's tricked his way into her life, become her husband. It is painful to watch, but then something happens. He shows that he's changed because he has fully ruined things with Emma that it will take more than some smiles.
Author: Lisa Kleypas
Average Customer Review: (4.5 out of 5, on Amazon)
Category: Victorian Erotica
Number Of Pages: 416
Available: Audiobook | Paperback | Mass Market Paperback | Kindle | Audio CD
---
14. Lessons in Corruption (The Fallen Men)
It is an MC student-teacher romance. So if that's something you're are not into, let you be warned. Our hero King is known as a big shot. His family is a part of this motorcycle gang. So he's a bad boy, but he also has a sweet side. He's in high school, and his teacher is Cressida Irons, who's gotten out of a bad marriage. She is older than this boy character. So there is a bit of an age gap relationship as well.
Somehow they end up having this relationship, and it's interesting because, again, it's a dynamic that we don't see a ton. Cressida has a sweet husband, so her romance with students is cheating and forbidden. There are three books in the series, and the first two also have the bad boy good girl context. So look into it if you're interested.
Author: Giana Darling
Average Customer Review: (4.5 out of 5, on Amazon)
Category: Contemporary Romance
Number Of Pages: 380
Available: Audiobook | Paperback | Hardcover | Kindle
---
15. Bad Habit (Bad Love)
This one follows a girl (Bry) obsessed with her brother's older best friend, and he's (Asher) the ultimate bad boy who has a tortured past. He's broody and mean, but she grows up being utterly obsessed with him. However, he's totally out of her league and older than her. Then one day, he also happens to disappear from her life, leaving.
Asher comes back, and he's so horrible to Bry. Bry has no idea why, and she's trying to figure it out while also battling like hurting herself. She's still obsessed with him and has been in love with him since she was younger. But he's horrible to her, and you get to find out why, and it's great. It's a fast read, but it's an enjoyable one.
Author: Charleigh Rose
Average Customer Review: (4.4 out of 5, on Amazon)
Category: Coming of Age Fiction
Number Of Pages: 348
Available: Audiobook | Paperback | Kindle | Audio CD
---
Read More Similar Books: 5 Cheating Husband Romance Books