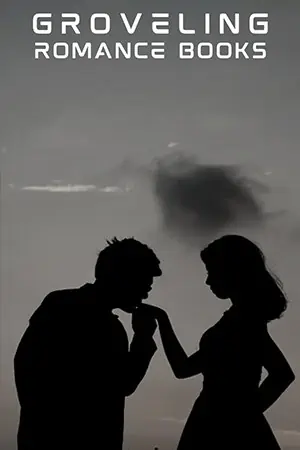 Grovel is reasonably informal. To grovel is what you'll have to do when you ask your worst enemy for a favor. Books about groveling romance show the hero or heroine will have to bring themself down in status to be humble, almost lying on the floor.
One of them is trying to gain sympathy to reform the relationship. Sometimes characters grovel to achieve their desire or goal. So, we find the secret lies and cheating while reading, but the other character does not know about it. If you want to read groveling romance, keep scrolling.
7 Groveling Romance Books
Groveling romance happens in the book or story and in real life. We make mistakes and break our relationship but try to fix it by groveling again.
So, it's my favorite romance trope, and many readers always talk about it in BookTube/BookTok community. Now, I'm going to share with you 7 groveling romance books with a groveling hero and heroine. Let's go!
| Name | Key Focus | Review (Goodreads) |
| --- | --- | --- |
| The Mistake | A hockey player likes a girl on his campus and wants her at any cost. | 4.0 |
| Unbreak My Heart | A military guy and his nanny make a one-night stand and get pregnant. | 3.9 |
| Ghosted | A guy leaves his pregnant girlfriend and becomes a Hollywood superstar. | 4.0 |
| By a Thread | A waitress and a businessman become enemies, but romance happens after joining as an employee. | 4.1 |
| Before Jamaica Lane | A friendship turns into romance suddenly. | 4.3 |
| Marriage for One | A grovel hero tries to control a girl and make trouble in marriage. | 3.9 |
| A Kingdom of Dreams | A strong heroine tries to save her sister, and she falls in love with the kidnapper. | 4.2 |
Groveling Romance Books
1. The Mistake (Off-Campus)
The Mistake is book two in the Off-Campus series, and we are following John Logan, a hockey player. He can get any girl he wants. He is a junior at Briar University, and he meets Grace, who is a freshman. Grace is his opposite in every way. She tends to babble, especially when she gets around guys she thinks are attractive.
One day Logan shows up in her dorm for some reason. They hit it off, watch a movie together, and one thing leads to another. Grace goes to spend the summer with her mother and gets a complete makeover. She comes back her sophomore year and makes Logan grovel.
The things that Logan does to get Grace back are hilarious. Logan is my favorite of the series because there is more than meets the eye with him. He's an enjoyable person. But in his personal life, he is dealing with many problems. If you want college groveling sports romance, pick this book.
Author: Elle Kennedy
Publisher: Bloom Books
Tropes: Friends-to-lovers, Virgin-heroine, Arc
Number Of Pages: 336
Item Weight: 9.7 ounces
Dimensions: 5.5 x 0.84 x 8.25 inches
Available: Audiobook | Paperback | Kindle | Audio CD
2. Unbreak My Heart (Fostering Love)
Unbreak My Heart is the first book in a series, but the entire series can be read as a standalone. In this book, the story follows Kate, Rachel, and Shane. They grew up together, and they were best friends. Rachel and Shane get married and have three kids together. At the beginning of the book, Rachel passes away. Shane is in the military, and he's gone a lot. So Kate has been around the kids and decides she will step in and help Shane when he deploys.
Shane is pissed at the world he lost, who he thought was the love of his life, the mother of his children. He is struggling so hard, and he takes it out on Kate. Kate is there to help him. On the first anniversary of Rachel's death, Shane always goes and gets the hotel that he and Rachel used to spend their anniversaries at. Shane gets so drunk. Kate goes there to ensure he is okay, and they have sex. Then that one-night stand leads to Kate getting pregnant. So a lot is going on in here.
Shane must show her that he wants her and is sorry. The only negative side of this book is the lack of romance. The story, plot, and dialogue are all good to read. I adore the book so much. If you like military romance with the groveling hero, check it out.
Author: Nicole Jacquelyn
Narrator: Alastair Haynesbridge, Charlotte North
Publisher: Hachette Audio
Tropes: Enemies-to-lovers, Alpha-male, Emotional
Number Of Pages: 368
Available: Audiobook | Paperback | Kindle | Audio CD
3. Ghosted
Ghosted is a second-chance high school romance. We are following Kennedy and Jonathan, who were high school sweethearts. One thing leads to another, Kennedy gets pregnant. Jonathan has a problem with alcohol. He is an alcoholic and makes a terrible decision to leave Kennedy and his daughter. Then he left the town and went to Hollywood.
After years, Jonathan is now a big Hollywood actor, and he is currently filming somewhere near the town where they grew up. So he is back in town, wants to make things right, and has to prove to Kennedy, who has gone through so much and she's been so strong and raised their child. It was such a good second chance romance, and a good grovel here. I recommend you to read the book.
Author: J. M. Darhower
Narrator: Joe Arden, Maxine Mitchell
Publisher: Tantor Audio
Tropes: Pregnant-heroine, Hate-to-love, Arc, Single-parent
Number Of Pages: 452
Available: Audiobook | Paperback | Kindle | Audio CD
4. By a Thread
By a Thread is a funny workplace romance with a grumpy groveling hero and sunshine heroine. Author Lucy Score's slow-burn romances are a little intimidating, but I love them. The story is about Dominic and Ally. The way that they meet is hilarious. Ally is struggling and working as a waitress. She has a few different jobs but works as a waitress. Her father is very ill in a home, and she is trying to pay for her father's care while also trying to take care of the house.
Dominic and his mother own a magazine. It's called Thread, a fashion magazine. One day he and his mother are going to the pizza place that Ally is a waitress at, and they have a no cell phone policy. Dominic comes in on his cell phone, and Ally takes his phone. He does not like that, and he is very rude to her. So, Ally gets back at him by when she goes to make his pizza because he ordered pepperoni. Dominic gets Ally fired from this job.
A couple of days later, she's at a bus station. Dominic's mom is at the same bus stop. She offers a job to Ally. Then Ally starts working at the magazine. So, it's forced proximity because they're working together. It is also a grumpy sunshine romantic comedy. The tension and the chemistry are so good, and the grovel is top-notch in this one.
Author: Lucy Score
Narrator: Erin Mallon, Sebastian York
Publisher: That's What She Said Publishing, Inc.
Tropes: Humor, Grumpy-hero, Workplace
Number Of Pages: 582
Available: Audiobook | Paperback | Kindle
5. Before Jamaica Lane (On Dublin Street)
Before Jamaica Lane won Goodreads Choice Award Nominee. We have Nate and Olivia. Olivia has lived in Scotland for quite some time. She is a librarian, and she has an excellent friend group. Among this friend group is Nate. Nate is her opposite in every way. He is a man whore, but he has reasons for being that way. One day, a guy who Olivia is interested in enters the library, but she doesn't know how to conduct herself around men. Also, she's not very experienced in the bedroom.
So Olivia asks Nate, who has all of his experience, to help teach her how to be more confident around men and do things in the bedroom. They become friends because they constantly hang out, and then lines blur. When Nate finally realizes he has feelings for Olivia, he freaks out, and then the groveling ensues because he realizes.
So he has a lot of making up to do. The series is an older one, but it's a goodie. The character development, storyline, dialogue, and plot are all excellent. I listened to the audiobook, which was fascinating for me. I found some bad quality issues with hardcover, but the paperback is fantastic for color, font size, cover, binding, and paper quality.
Author: Samantha Young
Publisher: Berkley (Reprint edition)
Tropes: Comedic Dramas, Shy-heroine, Emotional, Angsty
Number Of Pages: 432
Available: Audiobook | Paperback | Kindle
6. Marriage for One
Marriage for One is a slow burn, marriage of convenience groveling love story. The book is about Jack and Rose. They are strangers at the beginning of this book, but they both have something that each other wants. So they enter into this marriage of convenience. It's more of a business deal than anything Jack has. Jack is not very truthful about why he wants to enter this marriage. That comes out later in the book. They both think that they're going to get what they want, and then they're going to go their separate ways.
That's not how it's going to play out. The romantic tension in the book is so good. Jack is so cold and standoffish. Rose counts the number of times that Jack smiles in this book. It is another grumpy sunshine romance where Jack is obsessed with Rose.
The book's premise was confusing for some readers who shared their experience on BookTube and BookTok community. But the funny parts and romance were fascinating, making me a cliffhanger sometimes. Read it if you like suspenseful marriage romance.
Author: Ella Maise
Narrator: Stella Bloom, Lance Greenfield
Publisher: Audible Studios
Tropes: Talkative-heroine, Slow-burn, Multi-pov, Smut
Number Of Pages: 520
Available: Audiobook | Paperback | Kindle | Audio CD
7. A Kingdom of Dreams (Westmoreland Saga)
A Kingdom of Dreams is a historical romance set in England in 1497. This book did win a reader award for Best Romance in 1990. It features Jennifer Merrick and Royce Westmoreland, the Wolfe Duke of Claymore. Jennifer, in the book, is strong. She's fierce.
Royce loves her because she's not timid. That's why he learns to love her. The author shows you how you can make a strong heroine, independent and bold, without taking away from the time period and making it inconceivable, which is what some newer authors do.
The book starts with where Royce works for the King of England. He's loyal to him. They're having some problems with the Scots. So Royce's army kidnaps Jennifer and her sister Brenna from a convent, and he holds them hostage until they get what they want. But it ends with Jennifer and Royce having escapades and falling in love. It's an excellent groveling heroine romance set a little farther back in 1497, but I enjoyed it.
Author: Judith McNaught
Tropes: Medieval, Alpha-hero, Annoying-heroine
Number Of Pages: 464
Available: Audiobook | Paperback | Mass Market Paperback | Kindle | Pocket Book
Those are my best grovel romance novels recommendation where the hero cheats and grovels. Please tell me in the comment section if you have any opinions or recommendations. Happy romance reading!
Read more romance books:
5 Cheating Husband Romance Books