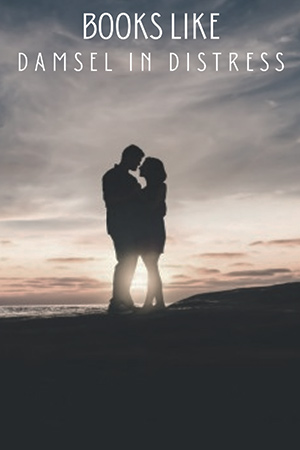 A damsel in distress refers to a young woman in trouble with the implication that the woman needs to be rescued by a prince in a fairy tale. There have been many damsels in distress throughout stories and history. The word damsel derives from the French damsel or a double dare, meaning young lady. By definition, it normally refers to women.
Damsels in Distress technically cover a vast genre, and there's plenty of room for more discussion. They've been in mythological stories, older films, modern films, books, comics, and even video games. Also, this trope can be in comedies, action films, drama, fantasy, horror, and with little restriction. A woman being silenced, restrained, helpless, sometimes with power and submissive dynamics at play can easily be part of the enjoyment of damsels in distress books/films.
7 Damsel In Distress Books (Trouble-making heroine and life-saving hero)
Some people think damsels in distress and film are sexist and use women as objects or trophies for men to desire and win as a reward. Sometimes a damsel in distress is a very useful element to add to the story. Now there are dozens of ways damsels can be used as part of the plot. There are many different ways damsels in distress are applied in films or books.
So, many strong women in film and TV end up in peril, but it doesn't lessen their qualities. To give you the enjoyment, I will review 7 damsel in distress books for you. Let's begin!
| Name | Key Focus | Review (Goodreads) |
| --- | --- | --- |
| New Moon | A vampire hero is trying to save a human heroine, and their romance grows. | 3.5 |
| Eclipse | A love triangle story shows the two heroes always trying to protect a heroine from bad vampires. | 3.7 |
| Rock Chick | A woman is dealing with the past and struggling with the present until she finds her love. | 4.1 |
| Lev | A broken, poor female character is starving for food, a rich hero is trying to save her, and their romance begins. | 4.1 |
| The Iron King | In the world of fey, a girl is trying to escape, two boys are helping her, and their relationship blooms. | 3.8 |
| These Broken Stars | An alien romance story takes place after a war in a dystopian world. | 3.9 |
| Hopeless | In High school, a rival relationship turns into a love story with much drama. | 4.2 |
Damsel In Distress Books
1. New Moon (The Twilight Saga)
New Moon has made me realize a lot of things about marketing. But anyway, when we left off with Twilight, Bella and Edward were pretty happy. Bella still wants to be the vampire, which is highly justified because she wants to be Edward's equal. But Edward insists that she must stay a human because he doesn't want to dam her soul. That's a huge thing in this book.
Edward truly believes that she's better off as a human. He doesn't want to condemn her to the life he has, much to the point where he's not listening to her. Also, this is the life she wants to be a vampire. There are some interesting parallels that you can draw here. One is young suicide, and another one is premarital sex. As the book continues, becoming a vampire is more and more akin to premarital sex. But Bella is getting older, and she doesn't like it. She has her birthday party, and things go wrong.
You start hanging out more and more with Jacob, and it's all her ways of trying to cope with this severe depression that this has put her in. I think that New Moon does a fascinating job of showing Bella as a damsel in distress and that she doesn't even remember what happened in those months before she woke up.
When we think back on Twilight, especially when we think about the movies, we only think of the marketing. The marketing was the love triangle. It was Team Edward versus Team Jacob. It was very irritating because Jacob needs to take a hint, but it's triggering and annoying. I highly recommend you start rereading Twilight because it leaves many clues.
Author: Stephenie Meyer
Narrator: Ilyana Kadushin
Publisher: Listening Library
Average Customer Review: (4.7 out of 5, on Amazon)
Tropes: Vampires, Werewolves, Mental-illness, Angsty
Number Of Pages: 563
Available: Audiobook | Paperback | Hardcover | Kindle | Mass Market Paperback
---
2. Eclipse
Eclipse is the third book in the Twilight Saga, which comes out as the Twilight Zone, Moon, Eclipse, and Breaking Dawn. The book was attached to my hands, and my eyes were glued to the pages, and I couldn't stop reading it. Our damsel-in-distress heroine, Bella, is in love with Edward, but she's also in love with her best friend, Werewolf Jacob Black. So Bella is torn between Jacob and Edward.
In the beginning, Bella can not get in touch with Jacob, even if she tries. One day she writes a name, and Charlie passes it onto Bella to pass on to Jacob, and he finally answers Bella. As part of the book, I loved Stephenie Meyer's handwriting. That makes it much more realistic, a great aspect of the book.
In the end, Edward proposes to Bella, and she finally agrees. Edward sends Jacob a wedding invitation, and Jacob runs away. That's how the book ends, and it is exciting to see what happens next. Overall, The Twilight series has huge fans with mixed reactions, and Eclipse has many negative and positive reviews.
Author: Stephenie Meyer
Narrator: Ilyana Kadushin, Matt Walters
Publisher: Listening Library
Average Customer Review: (4.7 out of 5, on Amazon)
Tropes: Magic, Shapeshifters, Love
Number Of Pages: 629
Available: Audiobook | Paperback | Mass Market Paperback | Kindle
---
3. Rock Chick
There are eight books in this series, and then there's a novella that Kristen Ashley writes at the end. The story is about a girl named Indy Savage, who is about 30 years old, and she's beautiful. She owns a coffee shop, and her dad is a cop. Her mother died when she was very young. Her dad's best friend is also a cop and has several children. So it's about them all growing up together.
At the point where this story starts, Indy is in trouble. Rosie's coffee shop barista has gotten into problems with a mob. So she's trying to protect him. Lee is her best friend, and it's part of the family that they were friends with growing up. She's their best friend trying to help her. So she takes Indy and Rosie to her brother Lee's house because Lee is out of town for them to be safe for a while.
Indy has had a crush on Lee since she was a child, and he has never reciprocated those feelings. One day, Lee finds Indy in bed, progressing from there very quickly and getting steamy. This book's two main problems create many negative reactions: one is annoying characters, and another is a boring plot. Overall the action, romance, and suspense are enjoyable.
Author: Kristen Ashley
Narrator: Susannah Jones
Publisher: Audible Studios
Average Customer Review: (4.5 out of 5, on Amazon)
Tropes: Adventure, Humor, Mystery, Friends-to-lovers, Crime
Available: Audiobook | Paperback | Kindle | Audio CD
---
4. Lev (Shot Callers)
This book is a little bit of a deep drama, so it's not light and happy, but it is so beautifully well-written. Some things quoted from the book were great, and I felt they needed to be on billboards! Anyways, you start this book with a broken female character, Mina, who is starving to death. She's almost accepted the fact that it is going to be her last day on Earth. Does that make sense? So, it's heartbreaking, and she decides that she will fight because she is a damsel in distress.
Mina will steal some money and buy herself something to eat so she can survive another day. There's a strip club, and she realizes that maybe everyone will be so busy looking at the strippers that she'll be able to steal someone's wallet and get some food. She accomplishes stealing a wallet. There's a seven $100 bills in her wallet, and she takes one of them as soon as she dies. Then she's caught by Lev, the male lead of the book.
Lev immediately notices that she's in a bad place in her life and gives her three options, the last of which is that he'll give her some food and a job. She takes that one because she doesn't want to steal, and she does want to go hungry. You'll learn about all of that and know why she ended up on the streets and how her life has been there. So, it's emotional to know these types of things happen.
When the book started, and there was the scene of her talking about starving to death, I thought that was an intense scene. Then as I read, there's this other scene where Lev buys Mina some food through a fast-food drive-through, and Mina is crying while she eats it. So it makes you appreciate your life. Since Mina says she has a place to stay, Lev realizes that Mina is not quite telling the truth and that by a place to stay, she means this dumpster that she sleeps next to love.
Throughout the book, you will have different times when Mina will believe that Lev is looking down on her. I love books with great, amazing depth in their characters and this book blew me away. Avoid the hardcover because I found many quality issues but the paperback is good for fonts, color, and page quality.
Author: Belle Aurora
Narrator: Jennifer Blom, Edward Thomas
Publisher: Dreamscape Media, LLC
Average Customer Review: (4.5 out of 5, on Amazon)
Tropes: Dark, Abuse, Friendship, Alpha male, Arc, Mafia, Disability
Number Of Pages: 370
Available: Audiobook | Paperback | Kindle
---
5. The Iron King (The Iron Fey)
The Iron King is about a young girl named Megan Chase. One day when she returns from school, she finds out that her brother has been kidnapped and taken to the world of Fey. So, it is a damsel in a distress situation. The only way she can get into the world of the Fey is through her best friend, Rob. That is where our story takes place.
I enjoyed the storyline and found that it had many layers to it. It wasn't straightforward, so the storyline always had different things. There was only one character in this entire book that I did not enjoy reading: the Queen of Summer. Megan's best friend, Rob, is more or less the comic relief in the story, and he did have me laughing quite a bit. Also, the relationship between him and Ash is great.
The only issue I have with this book is that I found that Ash, the Winter Prince, was introduced way too late into the storyline because it doesn't give enough time for the romance to develop. But it didn't take away from the story. I recommend this book and the series if you have not read it.
Author: Julie Kagawa
Narrator: Khristine Hvam
Publisher: Harlequin Books S.A.
Average Customer Review: (4.4 out of 5, on Amazon)
Tropes: Fairies, Love-triangle, Royalty, Demons
Number Of Pages: 363
Available: Audiobook | Paperback | Library Binding | Kindle
---
6. These Broken Stars (Starbound)
We have two main characters, Lilac and Tarver. They are aboard a spaceship called the Icarus. Then something happens. The spaceship is pulled from hyperspace and plummets towards a planet; these two are the only survivors. This book is written with dual points of view, but it was nice to see distinct voices. I was able to differentiate between the two characters, and I didn't get confused at all.
I often have this issue with books with multiple points of view, but this one was done well, and it was nice having interesting characters. Lilac has so much more to her than meets the eye. She's pretty intelligent and learned some exciting skills you don't expect from her. There's more to her character and past, and it was interesting seeing all of this unfold throughout the story.
Then we have Tarver, who is a bit of a different character. He's a soldier, so that explains it. But again, there's more to him than you first expect. So I loved the character progression of these characters and their dynamics. There's a lot of suspense and tension, but more so creepiness. The mystery was quite scary and took you to mind. Also, it is a roller coaster ride for your emotions.
Author: Amie Kaufman
Publisher: Little, Brown Books for Young Readers
Average Customer Review: (4.5 out of 5, on Amazon)
Tropes: Space Opera, Dystopia, Aliens, Enemies-to-lovers, Slow-burn
Number Of Pages: 350
Available: Audiobook | Paperback | Hardcover | Kindle | Audio CD
---
7. Hopeless
We follow our heroine, Sky. Despite living a pretty sheltered life, Sky has quite a reputation for herself, constantly rebelling against her mother's strict rules. Now she's moving from home, school to high school to public high school, and she has to confront that reputation. But when she meets Holder, a guy with a reputation that rivals her own, she finds herself curiously attracted to him and can't figure out why she's so compelled to him.
The writing of this book was good if a little corny at times. The one thing that I hated was most of the characters' names, and that's a personal preference. I understand it's Colleen Hoover's thing. Sky was an interesting character, but at the same time, she was hard to read because she was super erratic. You never knew what she would do, and she felt sure of herself, but at the same time not. As the plot unfolded, it made sense and became easier to read.
Holder was an odd character. I found him very difficult to figure out because he was confusing. The book's first part felt like unnecessary drama, thrown in for plot reasons. The relationship wasn't developing. They weren't learning about each other, which was weird. Then the second part was absolute chaos that kept on getting more chaotic. So there are many mixed reviews of this book. Read it if you love school drama and damsel-in-distress heroine books.
Author: Colleen Hoover
Publisher: Atria Books (Original edition)
Average Customer Review: (4.6 out of 5, on Amazon)
Tropes: Male-lead, American Literature, Erotica, Drama
Number Of Pages: 416
Item Weight: 1.05 pounds
Dimensions: 5.31 x 1 x 8.25 inches
Available: Audiobook | Paperback | Library Binding | Kindle | Audio CD
---
If you have any recommendations, let me know in the comment section and share this article with your friends. Keep connected with me.
Read more similar books:
7 Books For Marriages In Trouble
15 Best Bodyguard Romance Books
15 Love Triangles Books In Bestseller