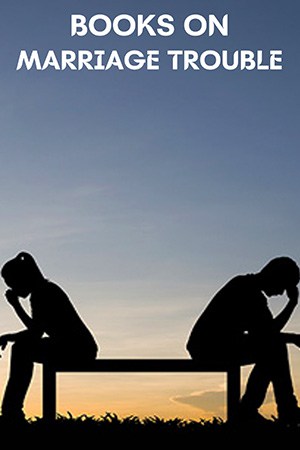 It is helpless in a frustrating feeling that consumes your mind and ravages your heart. It steals your sleep. You desperately want to know how to save your marriage, but you have no answers. You don't even know if it's possible to save your marriage if your spouse wants out, especially when they repeatedly say that it's over. He gets furious when you try to talk about it sometimes, he yells. Other times he displays no emotion at all, but the message is always the same.
You're making it worse and driving me to leave faster when you try to do anything to save our marriage. They say that trying to save the marriage is pushing further away. Many books are based on marriages in trouble stories. Most of these stories are real-life-based that you want to read.
7 Books For Marriages In Trouble
Should you give up and accept that it's over instead of continuing to ask how to save your marriage? You may be thinking if there is hope, and I shouldn't take that it's over. Are there magic works? If your partner leaves you and moves on, there can come a time to accept that your marriage is over and find a path to a different life in a new relationship. There is a definite consequence when you accept that it's over emotionally, mentally, and physically disconnected from your partner.
I will review 7 books for marriages in trouble. If you have a marriage crisis, you will like this book because the stories of these books reflect your daily life. Let's go!
1. The Bromance Book Club
This is the first book in the Bromance Book Club series, but you can read the rest of the series as standalone. So in this book, we are following Gavin. Gavin is a pro baseball player, and he and his wife have recently separated. They're not divorced yet, but they are having some issues. Gavin is pretty desperate. He does not want to get a divorce. He loves his wife and children, and he wants to be back home with them.
Many things contributed to them finally separating. But the main one that Gavin is very reluctant to tell anyone is that his wife has been faking orgasms for quite a few years now. So his fragile male ego is hurt, and he acts like an idiot after finding that out. When Gavin finally confides in his friends what is going on with him and his wife, they take it upon themselves to help him. By helping him, they invite him to join their book club.
So this is a bunch of guys on his team or just friends of his that they get together. They read romance books to try and help them with their relationships or help them get a girl. They get Gavin in on it. Also, he is slowly trying to win back his wife. It is a unique take on the marriage in trouble because many are super emotional and deal with heavy topics.
Author: Lyssa Kay Adams
Average Customer Review: (4.3 out of 5, on Amazon)
Category: Sports Romance
Available: Audiobook | Paperback | Library Binding | Kindle
---
2. Love Her or Lose Her
This book follows Dominic and Rosie, high school sweethearts who happened to get married. They have always had a picture-perfect relationship. Dominic was all about Rosie, but lately, things have changed. There is still chemistry and attraction between them, but it's almost as if they've lost their spark. They don't talk anymore and don't spend time together. Rosie tried to talk to Dominic and tried to get through to him.
So she finally decides that she will move out while they go to marriage counseling. She finally got Dominic to agree to go, and their marriage counseling was hilarious. The counselor has quirky, very off-the-wall exercises for them to do. At first, Dom does not have it, but he wants things to work out with Rosie. He loves her and adores her. Dom is a total alpha, and the way he shows his love language is acts of service. Rosie wanted him to do it, and he wanted desperately to have their marriage work out.
During this counseling, they learned how to work with each other. When they were younger and in high school, what was working before needed to grow and develop as they got older?
Author: Tessa Bailey
Average Customer Review: (4.3 out of 5, on Amazon)
Category: Contemporary Romance
Available: Audiobook | Paperback | Hardcover | Kindle | Audio CD
---
3. Frayed Silk
This one is Ella Field's debut novel, and when you read it, it's incredible. We are following Lia and Leo. At the beginning of this book, Your heart is breaking for Lia. She is so desperate for a divorce from her husband. They have been married for ten years. They have two children, and things were going perfectly. But a few months ago something happened and her husband, Leo, completely shut down and he will not talk to her. He refuses to give her a divorce, and Lia doesn't know what to do. She is desperate for something to change.
So Lia volunteers at a homeless shelter. There, she meets a very young, attractive guy named Jared. He makes it very obvious that he is interested in Lia. At first, they become friends, and Lia is using him to try and get a reaction out of Leo to see if he still cares, to see if he would even care at all. It turns into more, so there is a bit of cheating in this one. Leo shows the reaction that comes from him when he finally realizes what Lia is doing with Jared. This one is so emotional, especially for a debut novel.
Author: Ella Fields
Average Customer Review: (4.3 out of 5, on Amazon)
Category: Contemporary Romance Fiction
Available: Paperback | Kindle
---
4. Passions of a Wicked Earl
This is a historical romance, and we are following Morgan. He is the oldest Lyons brother, also known as the Earl of Westcliff, and he has been betrothed to Claire. He is eight years older than her, and when the time finally comes for them to marry, Claire is very nervous. She's very scared. So she asked for help from Morgan's brother. The plan that Stephen comes up with to try and make her more comfortable and less scared is dumb, to begin with.
But Claire goes along with it, and instead of it helping her, it ends up completely ruining any chance that Claire and Morgan had for love. He is pissed. They go their separate ways after they are married. Now it's three years later, and Claire shows up at his townhouse, and she has two requests.
So the first one is she wants to help her sister, and she needs Morgan's help. Her sister is about to go into the season, and she wants her to have a good season. Then the second is for them to work on their marriage and to have a true marriage. Claire is determined to fight for their love and to have a marriage that she knows they both deserve.
Author: Lorraine Heath
Average Customer Review: (4.3 out of 5, on Amazon)
Category: Historical Romances
Available: Audiobook | Paperback | Hardcover | Kindle | Mass Market Paperback
---
5. The Day of the Duchess
This is book three in the Scandal and Scoundrel series. We follow Malcolm Bevingstoke, Duke of Haven, and Serafina or Sarah, the Duchess of Haven, in this book. They have married a little over three years ago, and this book is told in the past and present. So in the past, we're getting glimpses of there.
Malcolm is forced to marry Sarafina after believing that she has set a trap for him to get a title and get his money. This breaks him. He's pissed because he thought they had real and would have a marriage. So after they married, they went their separate ways. At the beginning of this book, Serafina burst into a parliament meeting and demanded a divorce from Malcolm. So Malcolm says, I'll give you your divorce, but you have to help me find my next duchess because he wants an heir.
Serafina moves into his home, and they spend so much time together. It takes a long time for them to get through everything that happened. Sarah has to work hard to forgive him for things that have happened. So Sarah is working through that, and Malcolm is working through his things. He is grieving the loss of their child as well. Plus, he's trying to trust Sarafina after believing that she set him up and that what they had wasn't.
Author: Sarah MacLean
Average Customer Review: (4.4 out of 5, on Amazon)
Category: Regency Romance
Available: Audiobook | Paperback | Hardcover | Kindle | Mass Market Paperback
---
6. All Your Perfects
In this book, we follow Quinn and Graham, and they have a very unconventional start to their love story. They have been married for seven years now. They are completely in love, but some things are out of their control, which has changed some things. Moreover, they're trying to work through them.
This book is told in the past and present, and you're getting in the past relationship, how they first met. Then, many in the present, you're dealing with some very heavy stuff that is weighing down on them and making their relationship hard to work through. What they're dealing with in the many resent is so heavy that you get glimpses of their sweet story when the past comes. It lightens the mood.
Author: Colleen Hoover
Average Customer Review: (4.6 out of 5, on Amazon)
Category: Psychological & Family Life Fiction
Available: Audiobook | Paperback | Library Binding | Kindle | Audio CD
---
7. Lady Isabella's Scandalous Marriage
This is book two in the Mackenzie's and McBride series. In this book, we follow Isabella and Mac. Mac and Isabella married six years ago. They eloped, and it created a big scandal. Then three years after they got married, they separated, which created an entirely new scandal. Isabella left Mac because he dealt with things that she couldn't handle anymore. She had been hurt by him so many times, and she did not want to be hurt again. So she decided that it was time for her to leave.
Isabella is such a strong heroine. She left Mac but still loves and cares for him. It's been some time since they have seen each other, and Mac claims that he has changed and Isabella is trying to work through something. There's a bit of a mystery in this book, so they're spending a lot of time together. He is slowly trying to win her trust back.
Author: Jennifer Ashley
Average Customer Review: (4.4 out of 5, on Amazon)
Category: Scottish Historical Romance
Available: Audiobook | Paperback | Hardcover | Kindle | Mass Market Paperback
---
Read More Abusive Romance Books: 5 Books Like My Dark Vanessa