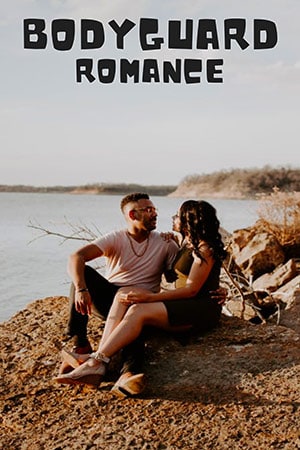 Bodyguard romance books are a sub-genre of romantic fiction where one of the protagonists is assigned to protect the other, typically from some form of danger or threat. This sub-genre combines elements of suspense, danger, and romance.
The allure of this sub-genre lies in the intense emotional and physical closeness forced upon the characters. Due to the inherent nature of the bodyguard's job, they must stay close to the person they are protecting, leading to a forced proximity trope. This setting naturally accelerates the development of romantic feelings despite the dangerous circumstances surrounding them.
Typical elements or tropes in bodyguard romance books include:
Forced Proximity: The characters are stuck together due to the protective detail, leading to accelerated romantic tension.
Forbidden Love: The bodyguard and the protectee know they shouldn't get involved due to professional boundaries, but they can't help their feelings.
Danger and Suspense: There's typically an external threat that necessitates protection, adding elements of suspense and tension.
Slow Burn Romance: The protectee and the bodyguard start with a strictly professional relationship, gradually developing deeper emotional intimacy.
Trust Issues: The protectee may initially resist having a bodyguard, leading to conflicts that eventually resolve as trust is built.
Reading bodyguard romance books offers us a blend of tension, romance, and adventure. These novels combine the thrill of danger with the intimacy of romance, creating compelling narratives where love blossoms amidst adversity.
15 Bodyguard Romance Books (Protective Hero)
A bodyguard is a trained protective guy who gives safety and protection. Nowadays, girls can be bodyguards if they perform best. As a bodyguard, you are not allowed to love your clients, and it is forbidden. But we humans like to break the rules and do the forbidden work. As a result, bodyguard romance is popular and common in our society. But it remains forbidden romance as well.
Bodyguard romance books can take you worldwide, from glitzy ballrooms to secluded safe houses, from bustling cities to exotic locales. The proximity between the bodyguard and the protectee leads to heightened emotional stakes. Watching their relationship evolve from professional to personal can be a tantalizing experience for readers. The professional boundary between a bodyguard and their charge can create a "taboo" or "forbidden" aspect to their romance, adding another layer of tension and allure.
I am going to discuss 15 bodyguard romance books for you. These books feature threats, dangers, and action sequences. Let's go!
| Name | Storyline | Tropes |
| --- | --- | --- |
| Twisted Games by Ana Huang | A childhood friendship turns into a complicated romance amidst secrets and loyalties. | Friends-to-lovers, slow burn, second chance romance, angst, forbidden love, family drama. |
| Beyond Eden by Catherine Coulter | A fashion model reunites with her past love, now a private investigator, as they confront danger and a haunting shared trauma. | Second chance romance, suspense, mystery, dark past, danger, healing, protector. |
| American Royals by Katharine McGee | The personal and political dramas of America's royal family as they face love, duty, and destiny. | Alternate history, forbidden romance, love triangle, duty vs. love, sibling rivalry, royal drama. |
| The Princess Fugitive by Melanie Cellier | A runaway princess forms an unexpected alliance with a mysterious protector as they confront danger and secrets. | Royalty, enemies-to-lovers, hidden identity, adventure, betrayal, protector-heroine dynamic. |
| Always by Jody Hedlund | A noblewoman and a commoner defy society's expectations as they struggle with love and adversity in medieval England. | Historical romance, forbidden love, class differences, strong-willed heroine, duty vs. heart, societal expectations. |
| Brass Carriages and Glass Hearts by Nancy Campbell Allen | A steampunk retelling of Cinderella where an ambitious young woman and a mysterious ambassador face intrigue, danger, and a growing romance. | Fairy tale retelling, steampunk, enemies-to-lovers, mystery, magic, masquerade balls, class differences. |
| Broken Vow by Sophie Lark | A mafia princess is caught between loyalty to her family and the forbidden allure of an enemy. | Mafia romance, forbidden love, enemies-to-lovers, danger, suspense, betrayal, dark romance. |
| The Princess and the Rogue by Kate Bateman | A Russian princess in disguise seeks refuge in London, only to fall for a dashing Bow Street Runner determined to protect her. | Historical romance, hidden identity, protector-heroine dynamic, danger, intrigue, forbidden love. |
| Out of the Blue by Kathryn Nolan | A rebellious woman and a brooding park ranger discover passion and love amidst the wild backdrop of a national park. | Opposites attract, nature setting, slow burn romance, brooding hero, adventure, forbidden attraction. |
| Dangerous Beauty by Aiden Snow | Amidst crime, danger, and secrets, an ex-special ops soldier must protect a woman he's grown dangerously close to. | Romantic suspense, protector-heroine dynamic, military hero, dark past, danger, high stakes. |
| A Duchess a Day by Charis Michaels | A determined lady enlists the help of a rough-around-the-edges protector to secure her freedom, leading to unexpected passion and love. | Historical romance, protector-heroine dynamic, marriage of convenience, opposites attract, class differences, spirited heroine. |
| Dearest Rogue by Elizabeth Hoyt | A blind noblewoman and her bodyguard face the dangerous streets of London, finding love amidst threats and intrigue. | Historical romance, protector-heroine dynamic, forbidden love, disability representation, class differences, danger and suspense. |
| Royally Endowed by Emma Chase | A brooding royal bodyguard and a spirited young woman navigate forbidden feelings as they are drawn irresistibly closer. | Contemporary romance, protector-heroine dynamic, royal romance, forbidden love, opposites attract, slow burn. |
| Her One and Only by Becky Wade | A fierce female bodyguard is assigned to protect a reckless NFL star, and sparks fly as they grapple with their growing attraction amidst danger. | Contemporary romance, protector-heroine dynamic, opposites attract, sports romance (NFL), danger and suspense, spirited heroine. |
| Guarding Temptation by Talia Hibbert | A protective older brother's best friend and a younger woman find themselves succumbing to forbidden desires while in close quarters. | Contemporary romance, brother's best friend, age difference, forbidden love, danger and suspense, close proximity. |
Bodyguard Romance Books List
1. Twisted Games: A Forbidden Royal Bodyguard Romance
This is the second book in the Twisted series. It is about Bridget, the princess of this European nation, and her new bodyguard, Rhys Larsen. She takes on Rhys as a bodyguard when her current bodyguard goes on paternity leave. Then, we see them over the next few years of their relationship, which starts antagonistically and becomes a partnership.
Rhys is super alpha. It's great to see this woman in control and empowered, who controls Rhys in the bedroom, throne room, and other special places. There was some dirty talking, and it was quite fun. It will remind you of the Princess Diaries.
Author: Ana Huang
Average Rating: 4.4/5
Category: Action & Adventure Romance Fiction
Available: Paperback | Kindle
2. Beyond Eden
This book is about a woman named Eden, a supermodel, and someone is trying to hurt her. So there is an ex-police officer who has become her bodyguard now. This couple has a lot of backstories because when Eden was 16 years old, she was raped by her brother-in-law, a prince.
Her sister was married to this European prince, and she was severely traumatized and blamed for it. She was treated horribly after the assault happened, and her family didn't let her press charges, and her brother-in-law stayed her brother-in-law. She transformed, became a supermodel, and we got to where we are now. So, she still has severe trauma around sex.
But we have Taylor, who becomes Eden's bodyguard, and he falls for her and is ready to dig in and see if they can make something work. There's a lot of trauma that's going to come up. Then there's also someone who's trying to kill her because that's the plot of this.
Author: Catherine Coulter
Average Rating: 4.5/5
Category: Crime Thrillers
Available: Audiobook | Paperback | Hardcover | Kindle | Mass Market Paperback
3. American Royals
After the Revolutionary War, America separated from the monarchy in the United Kingdom. So, the George Washington family has become this royal family in the United States. We have three siblings, the oldest of whom will become the next queen. She has two younger siblings. The oldest has been on the straight and narrow-path to becoming queen. Also, she doesn't interact or socialize with many people except her bodyguard.
So there are some romantic feelings there. It is a twisty historical bodyguard romance book told from four perspectives. Further, if you are interested, It's certainly a riveting young adult read.
Author: Katharine McGee
Average Rating: 4.4/5
Category: Mate Seeking, Romantic Comedy
Available: Audiobook | Paperback | Hardcover | Kindle | Audio CD
4. The Princess Fugitive: A Reimagining of Little Red Riding Hood
We have a princess who has grown up in a very strict, harsh environment. In contrast, she is very much used to being cold and very cut off emotionally from the people around her to survive in her environment. There is a threat to the princess' life, which leads them on a whole adventure, and the bodyguard is the only one who goes with her.
We get to see how her sense of self and her idea of her future change as the story goes on. There's a novella after this where we have other bodyguards who end up falling for each other, which is super cute.
Author: Melanie Cellier
Average Rating: 4.8/5
Category: Wizards & Witches Fantasy, Coming of Age Fiction
Available: Audiobook | Paperback | Kindle | Audio CD
5. Always (The Lost Princesses)
This is the first book of The Lost Princesses trilogy. At the start of this prequel, we have three orphaned princesses who must be removed from the threat at the castle. One bodyguard from the castle and one of the lady's maids to the queen must take these children to safety. They are leaving everything else behind to protect the young members of the royal family.
We see how these two escape and what happens to them as they try to keep the royal family safe. A great, sweet bodyguard romance story. It's a short novella, and then after that, in book three of the series, we get to see them as parents. And we get to see how their role in these children's lives has progressed as they've become more mature adults.
Author: Jody Hedlund
Average Rating: 4.7/5
Category: Medieval Historical Fiction
Available: Paperback | Kindle
6. Brass Carriages and Glass Hearts (Steampunk Proper Romance)
This is the fourth in a Steampunk fairytale retelling series. In the Steampunk world, we have the main girl named Emmeline (Cinderella). Still, she's a political activist who wants to speak up for people discriminated against in their community.
Detective Oliver has to tame everything down when her rallies and things get too worked up. Also, he protects her multiple times from people who want to silence her voice. So, we see how these two characters have a few enemies to lovers in this story.
Author: Nancy Campbell Allen
Average Rating: 4.6/5
Category: Clean & Wholesome Romance
Available: Audiobook | Paperback | Kindle | Audio CD
7. Broken Vow: A Dark Mafia Romance (Brutal Birthright)
This is the fifth book in the Brutal Birthright series. It follows Raylan and Riona. Riona is a lawyer, and she is part of a mafia family. Something happens when someone tries to kill her and her brother from the other. There's an Irish and Italian family. Raylan is a bodyguard who is protecting her, and she needs this.
Something happens, and they have to leave the city. So he takes her to his family ranch to get her out of harm's way. That's when their romance develops. It's forced proximity because she cannot leave. She's trying to work. So it is interesting how Raylan takes on being a bodyguard because it's different from others. They are super professional, and Raylan is laid back, but he does his job accurately and best.
Author: Sophie Lark
Average Rating: 4.6/5
Category: Romantic Suspense
Available: Audiobook | Paperback | Kindle
8. The Princess and the Rogue (Bow Street Bachelors)
This is the third book in the Bow Street Bachelors series. You do not have to read the first two. They come up because the three guys in the series in each book are all friends. So you get the couples, but it's not a continuation of their story. You don't even see the female character until this book. Sebastien, our main male character in this book, is rarely seen in the first book, either. You only have to know that he doesn't want to get married. He doesn't believe in love.
We have our main female character, who is Anna Brown. It retells Princess Anastasia and the Disney fairy tale, whatever myth you call it. Anna leaves Russia because she finds out her brother died, and someone who wants to marry her and take the throne is after her. She's visiting Paris from Russia, so she runs away with her lady from Russia, from Paris to England. Moreover, she's a very educated woman.
Sebastien goes to the brothel house to put it nicely and looks for someone for the night, and he meets Anna. But Anna is a whore that works there, and he's trying to shoot his shot. Then it goes down, not in the best way. Sebastien becomes her bodyguard. He's an unofficial bodyguard, but he's forced to do it because his aunt asks him to, and he won't say no to her. So it's a different bodyguard romance, but he is protecting her.
Author: Kate Bateman
Average Rating: 4.5/5
Category: Regency Romance
Available: Audiobook | Mass Market Paperback | Kindle
9. Out of the Blue
Cope McDaniels works as a bodyguard, where he works for a security firm. This company hires him to protect the company's new face, and Serena is a surfer. She's a good professional surfer. They hired her as an ambassador and wanted to protect her. So they hire the security firm who is our main hero, Cope. They are forced together now.
Some so many twists and turns came up. It was so cold with how the author wrote the story because you don't see it where it's a bodyguard and a surfer. It dives into her being a woman in the industry.
Author: Kathryn Nolan
Average Rating: 4.5/5
Category: Romantic Suspense
Available: Audiobook | Paperback | Kindle
10. Dangerous Beauty
We have our main female character, Evalina. She is the wife of a Russian mob boss. She runs away, and she is trying to get away from him. Then you realize while she's trying to tell her story, she's opening up to the bodyguard. But she doesn't know that's a bodyguard. She thinks it's this guy that she met in this city where it's in Mexico. The Russian mob boss has hired Naz's company to keep tabs on her.
He interacts, falls in love with her, and has feelings for her. Also, he's trying to distance himself because he knows that's not a good idea. But Evalina is kept as a captor when she opens up about what happened to her. She was a ballerina, and she caught his attention through her performance. She's starting to have feelings for him. Interestingly, this is a mafia romance where the bodyguard struggles with love.
Author: Aiden Snow
Average Rating: 4.4/5
Category: Romantic Suspense
Available: Audiobook | Paperback | Kindle | MP3 CD
11. A Duchess a Day (Awakened by a Kiss)
We have our heroine, a retelling of Snow White and the Huntsman. She is supposed to marry a guy that her family has found. So they assign her a bodyguard, a recently released man from prison. If he doesn't want to return to prison, he must bodyguard this woman until marriage. But they end up falling in love, and he agrees to help her find another wife for the man she's supposed to marry so that they can get married.
Author: Charis Michaels
Average Rating: 4.2/5
Category: Regency Romance
Available: Audiobook | Mass Market Paperback | Kindle | Audio CD
12. Dearest Rogue (Maiden Lane)
This one is an age gap. The heroine is blind, and the hero is injured from being on the job when he was an inspector. He is her private bodyguard, and she wants him really bad. But he feels like he's too old and injured, and it won't work out. But Lady Phoebe is coming for James Trevelyan, and she will make it happen. She's going to make it happen, and it's delightful.
Author: Elizabeth Hoyt
Average Rating: 4.6/5
Category: Gothic Fiction
Available: Audiobook | Paperback | Hardcover | Kindle | Mass Market Paperback
13. Royally Endowed (Royally)
It follows the sister of the girl who married the prince's sister-in-law. She's now part of this royal family. Therefore, she has to have her bodyguard. The bodyguard is he has a British accent. They have a six-year age gap, which isn't a big deal, but she is a little younger and does time skip a little bit initially.
One part of this book was where she wanted to live independently and found an apartment. She's moving in, and her bodyguard refuses it. It was a mess of an apartment and a rundown apartment. But that was the only thing that she could afford. She didn't want to ask her sister and brother-in-law for money, and that part was funny.
Author: Emma Chase
Average Rating: 4.6/5
Category: Contemporary Romance
Available: Audiobook | Paperback | Kindle
14. Her One and Only (Porter Family)
This is about a female bodyguard. She is protecting a gentleman. He is an NFL star, and he has a stalker. His team hires a bodyguard to protect him, and this bodyguard becomes a woman. She's very strong, can hold her no matter what, the youngest of a family of boys. So, we get to see this great dynamic between these characters. If you want to read a unique bodyguard love story, try it.
Author: Becky Wade
Average Rating: 4.7/5
Category: Christian Mystery & Suspense Romance
Available: Audiobook | Paperback | Library Binding | Kindle | Audio CD
15. Guarding Temptation
It's about their brother's best friend, and Nina is voicing certain things online, and she's being targeted for that. So she goes to her brother's best friend (James Foster), with whom she has had a past. He dated someone she knew, which was interesting because they were forced to be together. Interestingly, they go to the police because she's being targeted, and they brush it off by thinking. Also, It does talk about some interesting topics as well.
Author: Talia Hibbert
Average Rating: 4.1/5
Category: Black & African American Romance Fiction
Available: Paperback | Kindle
5 Fantasy Bodyguard Romance Books
Here are five fantasy romance novels that feature bodyguard or protector themes:
Master of Crows by Grace Draven: In a world where a god's curse is slowly consuming a warlock, a young slave woman, Solene, is sent to spy on him but becomes his apprentice and protector. Their deepening relationship evolves amidst dark magic and looming threats.
The Queen's Gambit by Jessie Mihalik: This is a sci-fi/fantasy blend where the main character, Samara, is a rogue queen running from her past. A mercenary named Valentin is hired to track her down, but their roles shift as he becomes her protector against greater galactic threats.
Radiance by Grace Draven: While not a traditional bodyguard story, this novel is about two from different races who are bound in a marriage of convenience. As they grow closer, they end up protecting each other from various threats, both political and supernatural.
Heart of Obsidian by Nalini Singh: This is a part of Singh's Psy-Changeling series. The story revolves around Kaleb, a powerful Psy with a dark reputation, and Sahara, a woman he's been searching for. Though their relationship is complex, Kaleb takes on the role of Sahara's protector against the dangers of their world.
Rhapsodic by Laura Thalassa: This book features the Bargainer, a fae, and Callie, a siren. Their complicated past involves debts and promises. As Callie is thrust into the dangerous world of the Fae, the Bargainer takes on a protective role.
5 Royal Bodyguard Romance Books
Royal bodyguard romances combine the allure of royal life with the intense dedication and protection offered by bodyguards. Here are five romance novels that center on the relationship between royalty and their protectors:
The Protector by Jodi Ellen Malpas: British royalty is under threat, and Jake Sharp is the man assigned to protect the heiress, Camille Logan. As the danger surrounding Camille grows, so does the attraction between the two, leading to a passionate and intense relationship.
The Controversial Princess by Jodi Ellen Malpas: Princess Adeline of England is known for her rebellious nature. When her security is threatened, a new bodyguard, Josh Jameson, is assigned to her detail. Their relationship defies the norms, leading to a forbidden romance.
Royally Guarded by Elle Christensen: The story of a prince in need of protection and the woman sworn to guard him. Mirella and Prince Aiden's relationship blossoms from protector and protectee to passionate lovers.
Guarding the Princess by Loreth Anne White: Princess Shoshauna of B'Ranasha is saved from a deadly ambush by a mysterious mercenary, Zakhar. He vows to protect her, and their bond grows as they journey together to reclaim her rightful throne.
The Royal Bodyguard by Lindsay Emory: Princess Caroline of Hesslop is on the run after a public debacle. Her protector, Nick Deboss, is a special operations soldier who ensures her safety. The tension between duty and passion becomes undeniable as they struggle through danger.
5 Female Bodyguard Romance Books
Female bodyguard romances provide a delightful twist to the conventional bodyguard trope, showcasing strong, capable women in protective roles. Here are five romance novels featuring female bodyguards:
In Her Sights by Katie Ruggle: Bounty hunter Molly Pax fights to capture the most wanted man in the Rocky Mountains, but she ends up teaming up with her handsome police officer rival, John Carmondy, creating a mix of rivalry and romance.
Guarding His Body by A.C. Arthur: Tisha Adams, a professional bodyguard, is tasked with protecting the irresistible playboy, Scott Danger. As threats against Scott escalate, so does the heat between him and Tisha.
Nothing to Fear by Juno Rushdan: Former operative Maddox Kinkade is an expert at defending the innocent, and her latest assignment is protecting a brilliant scientist. As they work together, they can't deny the chemistry between them.
Tempted by the Badge by Deborah Fletcher Mello: Former cop Marian Lassiter is dedicated to keeping District Attorney Madison Steele safe. As the threats against Madison intensify, so do the feelings between the two women.
The Bodyguard by Ruchi Singh: Major Esha Sinha, an operative in an elite unit, is assigned to protect the charismatic and stubborn industrialist, Aryan "AJ" Rathod. They struggle with threats from an unknown adversary, and their professional relationship becomes more personal.
The dynamics of female bodyguard romances challenge traditional gender roles and create layered, intense relationships against a backdrop of danger and suspense.
5 Bodyguard Dark Romance Books
Dark romance focuses on more intense themes, sometimes exploring morally gray areas, possessiveness, and high-stakes emotional scenarios. Pairing this with the bodyguard trope can make for some very intriguing stories. Here are five dark romance novels that center around a bodyguard or protector theme:
The Bodyguard by Skye Warren: A complicated relationship forms between a former military man turned bodyguard and the daughter of his mafia boss client. The lines between duty and desire blur amidst danger and betrayal.
Raw: Rebirth by Belle Aurora: Twitch, previously thought dead, comes back to reclaim what's his. He's focused on protecting his family at all costs, but the dark underworld and his dark tendencies play a significant role in this gritty romance.
Twisted Palace by Erin Watt: Part of the "Royals" series, this book continues the tale of Ella Harper, who's now under the protection of her bodyguard. Dark secrets, suspense, and a twisted royal family set the stage for a steamy and tumultuous romance.
Mercy by Debra Anastasia: A winged vigilante named Fenix rescues a woman named Becca, and their bond grows. With dark undertones, the story focuses on Fenix's traumatic past and the lengths he'll go to to protect the woman he loves.
Blackwood by Celia Aaron: When a young woman named Elise inherits a Southern plantation, she becomes a target. Garrett, a man with a mysterious past, becomes her protector. The secluded woods and the dark secrets they hide form the backdrop of their intense relationship.
These books deal with mature and potentially triggering themes.
5 Age-gap Bodyguard Romance Books
Age-gap romances combined with the bodyguard trope add an extra layer of tension. Here are five romance novels that blend both themes:
American Queen by Sierra Simone: This story revolves around Greer Galloway and her relationships with President Maxen Colchester and his best friend, Embry Moore. Maxen, the older, protective figure, has known Greer since she was a child. The novel deeply covers power dynamics and politics, with an age gap adding complexity to the relationship.
Scandalous by L.J. Shen: This story involves a single father, Trent Rexroth, and his much younger intern, Edie Van Der Zee. Their relationship is further complicated by Trent's protective nature and Edie's secrets.
The Idea of You by Robinne Lee: Solène Marchand, a sophisticated art gallery owner in her late 30s, begins a whirlwind romance with Hayes Campbell, a young member of a popular boy band, who also takes on a protective role in their relationship.
Misadventures with My Bodyguard by Elizabeth Hayley: Cayden, an older, experienced bodyguard, is tasked with protecting young heiress Quinn, leading to a passionate relationship filled with suspense and challenges.
Protecting Jessyka by Susan Stoker: Part of the SEAL of Protection series, this novel showcases the relationship between Jessyka, a woman with a traumatic past, and Kason "Benny" Sawyer, the older SEAL assigned to protect her. Their age difference adds another dimension to their budding relationship.
5 Clean Bodyguard Romance Books
Here are five clean bodyguard romance books that focus on the relationship and emotional connection between characters without explicit content:
Protecting Caroline by Susan Stoker: In this thrilling tale, Caroline helps foil a hijacking on a plane. Matthew, a Navy SEAL on leave, is instantly taken with her bravery. When circumstances throw them together again, he becomes her protector as danger continues to follow her.
Sworn to Protect by DiAnn Mills: Special Agent Dana Duval is determined to keep her promises, even when it puts her directly in harm's way. Army Intelligence Officer Alex Price becomes her partner and protector in this suspense-filled novel as they work together to prevent an international disaster.
Her Secret Guardian by Sally Tyler Hayes: A former Special Forces agent is tasked with watching over a diplomat's daughter without her knowing. However, he reveals his identity when danger approaches and vows to keep her safe, deepening their relationship.
Guarding the Witness by Margaret Daley: Alexis has seen something she shouldn't have, and now her life is in danger. As threats escalate, she's placed under the protection of a seasoned bodyguard, leading to trust and mutual respect as they try to stay ahead of those out to silence her.
Deadly Pursuit by Irene Hannon: A former Secret Service agent turned private investigator is tasked with guarding a reporter who's gotten too close to a dangerous truth. As they face the threats, they also find themselves navigating their feelings for each other.
These novels emphasize the romance and suspense elements while keeping the content clean and focusing on the deepening relationships between the characters.
---
These novels offer a perfect blend of danger and desire, making them a thrilling reading choice for anyone who enjoys multifaceted stories.
Read More Similar Books:
Possessive Mafia Romance Books
Books With Extremely Possessive Obsessed And Jealous Heroes