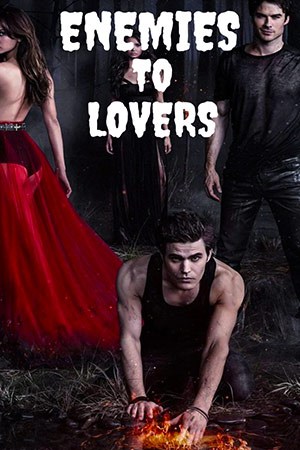 There are many sub-genre of romance, and bullying or enemies to lovers is one of the most popular sub-genre for the romance reader. This type of reader also loves slow-burn romance, where the plot and characters can establish properly. It is a very common and real-life situation described through the books.
7 Slow Burn Enemies To Lovers Books (Bully Romance)
Most of the relationships start with the bully or teasing each other. This type of relationship builds strongly, which takes many times. People love it because it gives all types of excitement and feelings. To keep your feelings live, I will review the top 7 slow burn enemies to lovers books that you will love to read.
1. Obsidian (Lux)
Our main character, Katy, and her mother moved to a new town next door to Daemon. Daemon is extremely attractive but an arrogant prick. The exciting thing about him and his sister is that they are aliens. They also have enemies, and the only way for Katy to stay safe is to stick close to Daemon.
Katy was a strong character, and she stood up to Daemon. She was quite a relatable character, especially for readers, because she's a book lover. The fact that she does book blogs. However, she never gives you evidence that she writes until the live show. She's so joyful. But then we have Daemon. Sometimes he seems to redeem himself, but then he turns around, and he's a jackass again, even though he was doing it for a reason. Sometimes he was an over-the-top jerk like he's so mean.
Author: Jennifer L. Armentrout
Average Customer Review: (4.5 out of 5, on Amazon)
Category: Aliens Sci-Fi Action & Adventure, Bully Romance
Available: Paperback | Kindle | Audio CD
---
2. Vicious (Sinners of Saint)
This book is about Emilia and Vicious, and it is a story told from two different timelines. We get modern-day, Vicious and Emilia, who has been brought back together under shitty circumstances. In Emilia's case, she ends up working for Vicious, and then we get flashbacks to high school and their interactions in their enemy's situation and how they became enemies.
Emilia ended up dating one Vicious friend, but they both hate each other. So they're unrequited love pining element as well as the enemy. Vicious is one of those characters distinctive in new adult books.
Author: L.J. Shen
Average Customer Review: (4.5 out of 5, on Amazon)
Category: Action & Adventure, Slow-Burn Romance
Available: Audiobook | Paperback | Kindle | MP3 CD
---
3. Scorpio Hates Virgo (Signs of Love)
This is the second book of the Signs of Love series. It is the one book in the series that is an enemy-to-lover situation. The story follows Percy and Callaghan Glover as they reunite after a childhood rivalry. They both end up either moving back, or one of them moves back into their childhood homes next to each other. You get to see their witty banter and a little bit of flashback into their previous tension.
It is lighthearted and fun, and some slightly more serious topics are handled. One of the guys has a bad relationship with his family. They aren't accepting that he is gay, but overall, it is a pretty lighthearted story. If you're looking to diversify your slow burn enemies to lovers reading and want to get into LGBT, then this is an excellent place to start.
Author: Anyta Sunday
Average Customer Review: (4.3 out of 5, on Amazon)
Category: College Romance
Available: Audiobook | Paperback | Kindle
---
4. Punk 57
The story is about Misha and Ryen, who have been pen pals since elementary school. They're now in high school, but they've been writing to each other since elementary school. They know each other's deepest, darkest secrets, but they don't know their last names. On the last day at school, they agreed not to look each other up on Facebook or social media. So this friendship exists in a vacuum, which is super exciting and a different spin on many new adult slow burn enemies to lovers.
They both become aware of who the other person is, and we get to see them grapple with the fact that they know each other intensely and know each other's deepest, darkest desires. But they don't know the facade that each other puts out into the world. So they end up not liking each other through the majority of this book.
You get to know without knowing their whole story, seeing what someone's withholding is interesting, and the idea that you can build history between two characters through a pen pal situation. Compared to many of Penelope Douglas's other Bully romances in this one, it is more than the romance.
Author: Penelope Douglas
Average Customer Review: (4.5 out of 5, on Amazon)
Category: Adult & College Bully Romance
Available: Audiobook | Paperback | Kindle | Audio CD
---
5. Pestilence (The Four Horsemen)
This book starts with a firefighter named Sara drawing the short end of the stick and fighting one of the Four Horsemen of the apocalypse. Sara is someone who will remind you of a lot of other paranormal or urban fantasy heroines. The world is ending, and Pestilence is spreading his plague across the globe. So Sara knows that Pestilence is in her town. This is set in Canada, and she has to shoot him.
Unfortunately, Pestilence is immortal and is not happy about being shot in his washboard abs. So the story follows Pestilence and Sara. Pestilence kidnaps her and takes her across the world as he spreads his plague. So it is a slow burn enemy to lovers situation.
The book starts with both of them doing pretty equally messed up things to each other. In the beginning, Sara shoots him, and then Pestilence drags her behind a horse. She has to walk behind a horse for days without resting. So they start with the true enemy situation.
Author: Laura Thalassa
Average Customer Review: (4.4 out of 5, on Amazon)
Category: Mythology & Folk Tales, Fantasy Romance, Science Fiction (Best Seller)
Available: Audiobook | Paperback | Hardcover | Kindle | Audio CD
---
6. Filthy Gods (American Gods)
There is a gentlemen's society at Yale, and our hero Gabriel is a part of it. Gabriel, over the years at Yale, this is his and the heroine's junior year at Yale. They have been battling it out, trying to get the best grades, and they argue and banter back and forth in class. Juliet, our heroine, comes from less money than Gabriel doesn't have that trust fund lifestyle.
Juliet decides to work as a maid at a local sushi hotel one summer. Gabriel's mother owns a set hotel, so she ends up being his maid. But there's also the enemies aspect since they battled it out in college. It is very angsty and steamy, but it's also incredibly well-written.
Author: R. Scarlett
Average Customer Review: (4.5 out of 5, on Amazon)
Category: Erotic Literature & Fiction
Available: Paperback | Kindle
---
7. Heir of Fire
Heir of Fire is the third book in the Throne of Glass series. So this book picks up right after the bomb dropped at the end of Crown of Midnight, and Celaena is on a journey to Wendland. She's been sent away. You get to see every side of things. The author creates this whole elaborate world full of magic.
Celaena still shows her soft side at times, and you're able to see that when you're reading from her perspective. Sarah Mass is trying to turn us away from Dorian. Manon is an interesting character because, as a witch, she's supposed to be ruthless about any one person, but she doesn't. She does have a little bit of heart to her.
Author: Sarah J. Maas
Average Customer Review: (4.8 out of 5, on Amazon)
Category: Teen & Young Adult Fantasy Romance
Available: Audiobook | Paperback | Hardcover | Kindle | MP3 CD
---
More Romance Books: 7 Dark Romance Fantasy Books