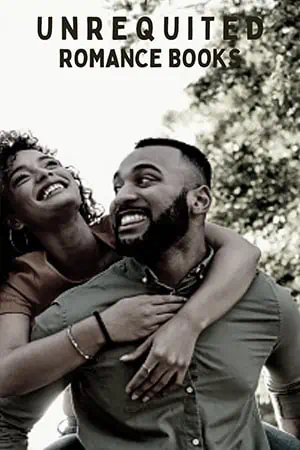 Unrequited love is when one person secretly loves the other one, and then the other one never knows that they love them, and then finally, in the end, they say it. They both realize that they're supposed to be together. When it comes to unrequited love, you're hoping that the situation will resolve itself!
You are solo in this situation. Any connection with that person in the way you want it to is fictional. Emotions are designed to be temporary. The inability to process keeps the energy stuck in our bodies. So when we're stuck in this loop of loving somebody, we're not stuck because there's some destined way we're supposed to feel. We refuse to accept that it will not happen, even on a subliminal level.
Usually, unrequited love is such a big focus that it's hard to shift and make it believable. Romance books with unrequited love go one of two ways. Way number one is that the beloved suddenly has their eyes opened for whatever reason and realizes that they love that other character and fall in love. The second way happens when another character comes along, and sometimes the lover character will ask that person to make another person jealous. Then they fall in love. Or it's some random person that shows up, and then they realize that this other person is better.
7 Unrequited Love Romance Books (One-sided Love Story)
Unrequited love isn't a trope I'm a big fan of because I don't want to pine for long, specifically when a heroine does it. There are a few cases where I am okay with it, but I generally like it more if a hero is pining. There's a legitimate reason why the person hasn't noticed the other person.
For some, unrequited love doesn't last a long time. It gets fixed faster. Let's go ahead and dive into this, and we'll start with a couple of historical that I have. Also, I'm going to start with a classic to get it out of the way because it's one of my favorites. Here are 7 unrequited love romance books for you.
| Name | Key Focus | Review (Goodreads) |
| --- | --- | --- |
| North and South | A boy meets his tutor's daughter and builds a secret feeling for her. | 4.1 |
| Seduce Me at Sunrise | Two childhood friends feel for each other, but none confess. | 4.0 |
| Romancing Mr. Bridgerton | A man loves his sister's friend who has another wish. | 3.9 |
| Captivated | A comedian woman falls in love with her landlord, and she expresses it through her comics. | 3.9 |
| For Her Own Good | The heroine struggles with her mental health and builds emotions for her doctor. | 3.5 |
| Scoring off the Field | The story of two best friends where one is a professional player and one is his assistant. | 3.7 |
| Hurt | Two hotel worker feels and cares for each other. | 4.2 |
Unrequited Love Romance Books
1. North and South
North and South is a classic historical fiction with enemy-to-lovers but unrequited love. It's because one of the lovers love's hard and the other person is not seeing it. This book was a BBC mini-series, so that's where you heard about it. It has Richard Armitage plays Mr. Thornton, but the book is about a girl (Margaret) whose family lives in the South.
Because of specific religious principle reasons, Margaret's father quit his job as a minister there. Then they moved to the north, which is a textile mill town. Her father becomes a tutor, and one of his students is Mr. Thornton, who owns one of the mills. When Mr. Thornton meets Margaret, he has a feeling for her immediately. He puts off Margaret because she sees him before she meets him, and she sees him beating one of his employees, screaming at them, and firing them.
Margaret doesn't know that this man was caught smoking in one of the side rooms, which could have caused a fire that could have killed everyone there. She only sees him screaming at one of his people. Then he doesn't know that she's watching. When he comes to be tutored by her father, he is immediately entranced with her. They both learn a lot of lessons. Thornton is a good man, but Margaret has the wrong idea about him.
So I consider this unrequited love because Thornton has a big heart for her throughout the book, and Margaret refuses to see it. It's a good story and a few non-steamy romances that always melts my heart. Check out the book if you love classics or if you want to read a calm romance or watch the show. If you watch the show, the sexual tension in it is so good.
Author: Elizabeth Gaskell
Publisher: Penguin Classics (Revised ed.)
Tropes: Classic, Victorian, British-literature
Number Of Pages: 480
Item Weight: 12 ounces
Dimensions: 5.04 x 0.85 x 7.77 inches
Available: Audiobook | Paperback | Hardcover | Kindle | Mass Market Paperback
2. Seduce Me at Sunrise (The Hathaways)
Seduce Me at Sunrise is book two in The Hathaway series. We follow Kev and Win. Kev is half Irish, half Romani. He's been adopted into the Hathaway family. When he was a little boy, they found him beaten and left for dead. So they take him in, and he becomes a part of their family. When the Hathaway parents die, he becomes their estate manager and helps care for them. Kev and Win have a connection. They've connected since he came to their family, but he doesn't think he's good enough for her.
When Win is very sick as a child, Kev fears that childbirth will kill her because that's what happened to his mother. Also, he doesn't think he's good enough for her. So it's a case of them loving each other. That's not unrequited because they both do, but it's unsatisfied because Kev won't go for it. So when one goes away to get taken care of, which happened at the beginning of this book.
Win goes away with her brother Leo because Leo needs not to be an alcoholic anymore, and she needs to need her help to get better. Then she comes back with a possible fiance. So Kev needs to decide whether to make a move or let her go. If you want a regency vibe with angst unrequited love, you must read it at any time.
Author: Lisa Kleypas
Publisher: St. Martin's Paperbacks (First edition)
Tropes: Regency, Friends-to-lovers, Healing, Grumpy-hero, Angst
Number Of Pages: 384
Available: Audiobook | Paperback | Hardcover | Kindle | Mass Market Paperback
3. Romancing Mr. Bridgerton (Bridgertons)
Romancing Mr Bridgerton is an unrequited historical romance. There's lots of witty banter and fun social situations. It's one where society's view is very important, but we talk about it less. Bridgertons is a family of eight kids who is finding their love. Penelope is Colin's younger sister's best friend, and they are always around each other. Penelope has had a thing for him for a very long time.
They're both in their thirties. Penelope's going to be an old maid forever. Her other sisters are wed, and her family loves her. But they do take a bit of advantage of her because they assume she'll always be around. She's never going to find a husband, so they take advantage of her that way. Even though they still love families, Colin gets caught saying he would never marry someone like Penelope.
That's never going to happen, and it gets said in a joke because his brothers are teasing him about her. He says it to get them off his back. So, he hurts Penelope's feelings, and then Colin realizes he might love her too. Penelope is also a plus-size heroine.
I love how the thing that endures me to Colin the most, and he's my favorite Bridgerton brother. He has the least amount of issues going on as some of them. But once he sees Penelope for who she is, he demands that her family see it too. I appreciate that about him because he's not mean to her family. There is some negative comment about the book because the story and romance are not believable and satisfying. But the unrequited love made me mad, and I finished it in one sitting.
Author: Julia Quinn
Publisher: Avon (Reissue edition)
Tropes: Humor, Brother's-best-friend, Emotional
Number Of Pages: 480
Available: Audiobook | Paperback | Hardcover | Kindle | Audio CD | Mass Market Paperback
4. Captivated
Captivated is a darker BDSM romance with unrequited love, which is fun. The story is about a girl (Autumn) who is Australian, and she wants to be a comedian. She also writes funny little comics. Her boyfriend cheats on her, and she must decide if she will move back to Australia and get the veterinary job her family wants her to get.
It's been a while since I read this book or stayed there and became a comedian. So the way that this is unrequited is that Autumn has had a boyfriend for most of this time, but her landlord (Blake) is a grumpy hero. He has a crush on her, and he's been imagining doing things with her. Then one day, he comes in to get rent. Autumn has been making naughty comics about her and her landlord, mostly because she thinks Blake's attractive. Then she's made dirty little comics, which are captor-captive comics because that's her kink.
They agreed to a limited number of dates or sexual encounters. Blake wants to use those times to get her to like him because he's liked her since she moved there. Also, he has been waiting for her boyfriend to mess up so he can have a chance. So that's why I love this unrequited love.
Blake's had feelings for her for a while, been attracted to her, and now she's free of her boyfriend, and she's found someone to try her fantasies with. The plot, storyline, characters, narration, and dialogue are excellent, but the writing style could be much faster. Overall, you can enjoy the steaminess and arc, which make the story enjoyable.
Author: Tessa Bailey
Publisher: Dangerbailey
Tropes: Comedy, Alpha-hero, Arc, Neighbor-to-lovers, Grumpy-sunshine
Number Of Pages: 351
Available: Paperback | Kindle
5. For Her Own Good
For Her Own Good is another one with mutual unrequited love because the characters don't know that either one loves them. It's an age gap, a daddy kink book. Our heroine (Starla) has mental health issues. When she meets our hero (Dr. Lowry), she's 18, and he has feelings for her, and she's having feelings for him. Lowry decides to leave because he needs her to have the mental health help that she needs. He can no longer be that person because he has desires for her. So he leaves. This devastates her because not only does she have feelings back, but he is the one who understands her the best.
Even though he felt he needed to go for her good and his good, he left her emotionally vulnerable, which wasn't the best. Fifteen years later, Starla has her own company, and she gets given her father's company to run when he dies. So there's a lot of pressure happening.
Lowry keeps an eye on her and finds out that her father has died. So, he moves back to town and gets his old job back, which is the place she's still going for psychiatric care, and not he doesn't take over her case. So there's a lot of longing going back and forth between them. However, he has tried to live a life all this time and has only stayed away from her because he thought he was doing the best.
I love that devotion because Starla's so angry, and it will take a lot for her to forgive him. But he was right to do that. So, the book has an exciting form of unrequited love; the longing between these two people and their kinks match up so well, and they're beautiful together. Author Tamsen Parker writes impressive stories, and her books are so unique. I recommend the book to you.
Author: Tamsen Parker
Tropes: Mental Health, LGBT, Age-gap, Slow-burn
Number Of Pages: 472
Available: Paperback | Kindle
6. Scoring off the Field (WAGS)
Scoring off the Field is an interracial sports romance with one-sided love. So this is one of those I wasn't 100% a fan of because I'm not too fond of the pining. But the moves that the heroine is trying to get over the pining. It's one of those stories where it's the same as with romancing Mr. Bridgerton, where the heroine is finally at the point where she's over it.
The story is about two best friends. They grew up in the foster care system together. Dominic got adopted, and Tennyson didn't, but they still stayed friends. He's a professional football player. She is his assistant, and she's been in love with him for a long time. The other time, she moved on him as she kissed him.
Tennyson wants to get into social work, and she has her degree. So, she will move back to their home state, become a social worker, and try to help kids. Dominic doesn't want any other personal assistant. They agree to be friends with benefits, but it's unfair because she's more into him than he is into her. I listened to the audiobook, which was very sexy and fun.
Author: Naima Simone
Publisher: Entangled: Brazen
Tropes: Sports, Multicultural, Friends-to-lovers, Arc
Number Of Pages: 232
Available: Audiobook | Paperback | Kindle | Audio CD
7. Hurt
Hurt is a dark romantic thriller. It's a mutual unrequited love. There's a couple, Emery and Callan. Callan MacGregor used to be a killer for the mob in Scotland. Emery Tanner and he both work at a hotel. He works in the bar at the hotel. She works the front desk, and he's worked there for a few years. So, they both have feelings for each other. Callan is hiding his past. He's not legally in this country because he had to escape what happened. Moreover, he has a niece he's taking care of because his sister can't mentally do it.
So there's a lot of things Callan's trying to keep under wraps, a lot of things he's trying to do. Even though he has feelings for Emery, he thinks she's cute. He doesn't want to involve her in any of his drama or risk the situation that he's in. One night, Emery is brutally raped at their place of work, so he is left for the night, and she gets attacked by a patron in the bathroom.
Callan returns to get his coat finds her, and takes care of her because she has no family. It's a painful thing for them because he has also been assaulted in the past. We have dual storylines where we're talking about what happened with Callan in the past and then what's happening with Emery. There are many trigger warnings, so make sure you look those up. Avoid the hardcover because of negative quality issues, but the paperback is excellent for font size, color, cover, binding, and page quality.
Author: Lydia Michaels
Publisher: Bailey Brown Publishing (1st edition)
Tropes: Organized Crime, Suspense, Thriller
Number Of Pages: 446
Available: Audiobook | Paperback | Kindle
These are my picks for best-unrequited love romance novels, a trope where I try to find real love. Let me know your favorite one. Also, share the article with your BookTok/BookTube community and friends and mention your secret love to express your feelings.
Read more similar books:
7 Books Where The Guy Falls In Love First