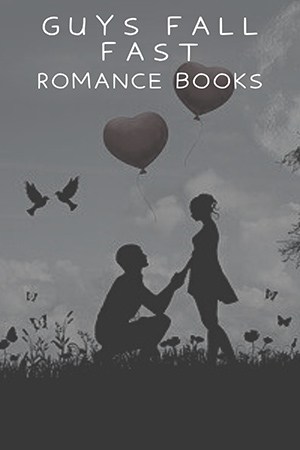 Dr. Helen Fisher is an anthropological biologist who has done a ton of research and wrote a book called Why We Love. In this book, she breaks down about love. When we fall in love, we get a rush of neurochemicals that flood our brain, chemicals like dopamine, norepinephrine, and serotonin that put us in this euphoric state of being. Also, she talks about how when guys fall in love first.
Many men report that 80% of their day is consumed with thoughts of the woman he loves. When he's in love with you, he feels an energetic expansion and sense of aliveness. So, romance books where the guy falls in love first talk about the feelings and psychology of men, love that helps you to understand them as a girl. Do you want to read? Follow me till last.
7 Books Where The Guy Falls In Love First
The vast majority of men report that when they're intensely attracted to a woman, they find themselves analyzing her moves, actions, and texts to find out does she reciprocate the same feeling he has for her. About 73% of men report daydreaming about having sex with the woman he is in love with. I'll share some romance recommendations with the Guy Falls First trope. It's when the guy catches feelings or falls in love with the girl before the girl falls in love with the guy.
Every book you read has a different dynamic, but when the hero first falls in love with the girl, there is something about it. This one is of my all-time favorite tropes, and I fell in love with it specifically when I originally read Throne of Glass and A Court of Thorns and Roses by Sarah Mass. Here are 7 novels where the hero falls in love first. Let's go!
| Name | Key Focus | Review (Goodreads) |
| --- | --- | --- |
| Addicted to You | A sex addict girl and alcoholic boy start fake dating to forget their past, but they form real feelings for each other. | 3.8 |
| Indigo Ridge | A policewoman finds an exciting guy in a bar, and they make a one-night stand where the guy builds an emotion. | 4.2 |
| From Lukov with Love | An ice skater guy finds his partner attractive and falls in love. | 4.3 |
| The Wall of Winnipeg and Me | A football player is missing his assistant, who can not tolerate bad behavior, and he feels an attraction toward her. | 4.2 |
| Dear Ava | A high school girl searches for the guy who assaults her, and she finds a boy who secretly loves her. | 4.1 |
| The Deal | A hockey player tries to make a girl jealous and chooses a girl who can tutor him, but he starts to like his tutor. | 4.2 |
| Playing with Fire | A college girl struggles with her burning face and life, whereas a boy finds her attractive, and they form friendships. | 4.1 |
Books Where The Guy Falls In Love First
1. Addicted to You (Addicted)
Addicted is a collection of ten books, and you're following six characters and three different romances. We have Lily and Lo and Connor and Rose, and both of them, the guy, fell first. In the first one, the story starts with Lily and Lo, who are both addicts.
Lily is a sex addict, and Lo is an alcoholic. They're both fake dating each other so they can have their addictions and do what they want without their family on their backs or knowing what they're going through. Then throughout the series, they get over their addictions. They try to handle it, and at the same time, they fall in love.
Lily and Lo have been best friends since they were children, but they started fake dating in their senior year of high school. Then fake dating turns into real dating. Also, you will meet Connor, Rose, Daisy, and Ryan. Connor and Rose have known each other their whole lives also. One day they're going to start dating. It does feel like the guy fell first in that scenario, too. So in this series, you will not be disappointed if you are willing to commit and fan of Guy Falls First.
Author: Krista Ritchie
Narrator: Erin Mallon
Publisher: Audible Studios
Tropes: Mental Health, Abuse, Shy-heroine, Childhood
Number Of Pages: 335
Available: Audiobook | Paperback | Kindle | Audio CD
2. Indigo Ridge (The Edens)
Indigo Ridge is small-town romantic suspense. The story follows a girl (Winn) who got a job as the new chief of police in a tiny town in the middle of Montana. One night she goes to a bar and picks up a guy she thought was passing through. They have a one-night stand, and then it's a week later, and they're at lunch and realize that Griffin wasn't passing through.
Griffin lives there, and they made a mistake because they didn't want to sleep with anybody that would cause complications. After all, it's a small-town vibe, but they liked each other. So they form a romance. Also, there is a mystery going on in the book.
A girl was killed on this guy's property. Griffin owns a very big ranch. Then she will have to be on his property a lot to try and figure out the mystery because she's the new chief of police who survives. The story, plot, theme, and dialogue are excellent, but the mystery confused me. If you like mystery-thriller romance, try it.
Author: Devney Perry
Narrator: Vanessa Edwin, Jason Clarke
Publisher: Devney Perry LLC
Tropes: Suspense, Thriller, Small-town, Insta-love
Number Of Pages: 324
Available: Audiobook | Paperback | Hardcover | Kindle
3. From Lukov with Love
From Lukov with Love is a very slow-burn sports romance where the hero falls in love first. Jasmine and Lukov are professional ice skaters who've hated each other for a long time. Everybody knows they don't get along. Then one day, for some reason, they're going to end up getting partnered up with each other. Now they have to work with each other, creating forced proximity vibes.
There's going to be a romance slowly but surely. It happens to be the guy who falls at first in the book, which is amazing. Mariana Zapata is the queen of romance, and she can divert romance in any situation without hurting the plot or story. The way Lukov feels for Jasmine and tries to show his tension for Jasmine is fascinating. Don't miss it!
Author: Mariana Zapata
Narrator: Callie Dalton, Teddy Hamilton
Tropes: Enemies-to-lovers, Sports, Toxic-relationship
Number Of Pages: 493
Available: Audiobook | Paperback | Kindle | Audio CD
4. The Wall of Winnipeg and Me
The Wall of Winnipeg And Me is a Goodreads Choice Award nominee for YA football romance. You're following a grump guy (Aiden), a pro football player, and then a girl (Vanessa), his assistant. Vanessa hates her job because Aiden doesn't appreciate her. So one day, she finally decided to quit her job and start her own graphic design business.
Then a month later, he happens to show up at her doorstep and proposes to her to rejoin the job. Then the story goes from there. Aiden, the guy, falls first in this book. I was emotional and happy at the same time while reading it. The story takes a long time to finish the banter and develop the chemistry. I highly recommend it if you are down for a very slow burn.
Author: Mariana Zapata
Narrator: Callie Dalton
Publisher: Tantor Audio
Tropes: Alpha-male, Slow-burn, Marriage-of-convenience
Number Of Pages: 537
Available: Audiobook | Paperback | Kindle | Audio CD
5. Dear Ava
Dear Ava is a new adult book that takes place in high school. There are trigger warnings in this book for sexual assault. If you're cool with that, then I recommend this. The story follows Ava, who a long time ago got sexually assaulted by one of the football players in her school, but she doesn't know who it was. So she decides to return to school and find out who hurt her. When she gets there, she's getting bullied by everybody there.
Then one day, Ava gets a note in her locker that was privately read to her, "Dear Ava, I've liked you for a long time, but I'm not the one who did it. You're also following the guy's point of view, and then you watch him as he gets closer to her, and they slowly discover who did this to her. They're also going to have a romance where the boy falls in love fast. So it is a charming story.
Read it if you are cool with the trigger warning and a bit of the heavier topic vibe. Many readers found the bad quality issue of hardcover, but the paperback is awesome for font size, color, cover, binding, and page quality.
Author: Ilsa Madden-Mills
Narrator: Savannah Peachwood, Zachary Webber
Tropes: Slow-burn, Bully, Mental-issues
Number Of Pages: 376
Available: Audiobook | Paperback | Kindle
6. The Deal (Off-Campus)
The Deal is the first book in the Off-Campus series. There are eight books within this series and its spinoff series, specifically Garrett and Hannah's story. It's a fake dating romance where the guy (Garrett) is on the hockey team in his college, and he's not doing well in class.
So Garrett decides to ask one of the girls doing well in this class to tutor him. In exchange, he'll do something, and she's not interested in doing that. She doesn't want anything to do with him because she has a crush on somebody else.
So Garrett will promise to fake date her to get her crush jealous, and in exchange, she will tutor him, and then they will do all of this. Then he will fall in love with her before she falls for him. They can not hold their physical tension so long as they grow emotional feelings. The romance was smutty, where you could feel their breath and feelings.
Author: Elle Kennedy
Narrator: Christian Fox, Lorelei Avalon
Publisher: Audible Studios
Tropes: Enemies-to-lovers, Fun, Hockey
Number Of Pages: 342
Available: Audiobook | Paperback | Kindle | Audio CD
7. Playing with Fire
Playing with Fire is a college romance where the main male character falls in love first. Our heroine, Grace, has a lot of burns on her. She used to be very beautiful and then she was in a fire. So, half of her face is full of scars. She is extremely self-conscious about that. She works at a food truck, and she's also in college. One day a very popular guy in her college who happens to be an underground fighter comes to her at a food truck and asks for a job.
Then they're going to start to work together, and they're slowly going to become friends. It will turn into a romance, and the guy falls first before the girl falls for him. This book has a more serious tone to it. The only negative side of the book is that the story shows a double standard which is confusing for some readers in the BookTube community! If you've read November Nine by Colleen Hoover, you probably enjoy it. I recommend looking up trigger warnings for this one before you pick it up.
Author: L.J. Shen
Narrator: Desireé Ketchum, Christian Fox
Tropes: Fighters, Slow-burn, Small-town
Number Of Pages: 436
Available: Audiobook | Paperback | Hardcover | Kindle | Audio CD
Those are my YA books where the guy falls in love first. I hope that you found some excellent recommendations in this article. If you have any books with the trope that I didn't recommend, please leave me a comment below. I'm always looking for good recommendations. Also, if you have a specific trope that you wanted me to make an article of that I haven't done already, then inform me.
Read more romance books:
7 Alpha Male Possessive Romance Books
7 Sunshine Grumpy Romance Books