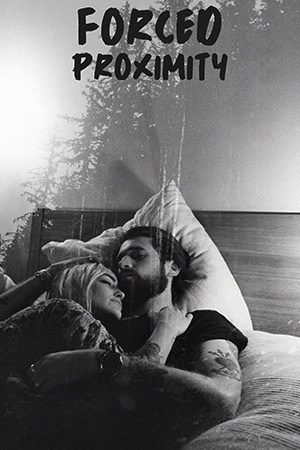 Force proximity is when two people are always having in the same situation together. It forces the two main characters to spend time together or get stuck in the same place. Either they can help each other or avoid this situation. But most of the time, two opposite-sex people feel attraction to each other or fall in love. Then a force proximity romance happens/creates.
In this forced proximity romance, a steamy or erotic scene is very common and frequently occurs. In a story or book, we see the enemy to lovers or friends with benefits theme most of the time.
15 Forced Proximity Romance Books
Forced proximity romance leads to the trope of only one bed, which people like. There's more of a mixture of different scenarios that end up with people staying together, whether tragedies or fake situations where people have to disguise what they're doing. Maybe they are colleagues, friends, or it's a road trip. Now, I will review the top 15 forced proximity romance books to read anytime. Let's read!
1. In Bed with Mr. Wrong (Out of Uniform)
This book is about Bri and Ryan, and they have an instant miscommunication with each other. It becomes an instant hate situation because people think the wrong things about each other and miscommunications so much. However, in the situation of this book, we're dealing with two people that miscommunication is ripe for it to happen, and here's why we're dealing with Bri.
She is a mousy town librarian, and she's run away from some boring situations in her life. A couple of her friends try to set her up on a blind date. It so happens that one of her friend's brothers named Ryan, who is home for leave for two weeks, is coming to town. So his brother and her friend set her up with each other.
Ryan is not in the special forces. But in this special sniper unit, He has a lot of baggage. He has a seemingly bad reputation around the town which is a key point. So everyone that he sees feels like they're judging him for things that happen because back when he was a kid, many things went wrong, and he ended up burning down the high school at one point.
When these two meet for their first blind date, they instantly get the wrong idea about each other. Ryan thinks that she has heard all these horrible things about him. Its force proximity is because they have a horrible first date, but they still end up banging, and there is intense sexual chemistry. Then there is a party they go to, and they end up having sex in his car.
So their friends hear them saying they hate each other but see their sexual chemistry. There's also only one bed, but there's a fireplace. They get along well whenever they can stop arguing, but they have problems doing that, and it's adorable.
Author: Katee Robert
Average Customer Review: (4.1 out of 5, on Amazon)
Category: Contemporary Romance Fiction
Available: Audiobook | Kindle | MP3 CD
---
2. Lovewrecked
This is another hate-to-love situation and forced proximity romance. If people hate each other, you need that pressure cooker of the time alone. So this one is a shipwrecked love story, but it's also set us up in this situation, and our couples aren't in danger. The story is about four people. Daisy travels to New Zealand for her older sister's wedding, and she's superficial. She's flighty, and her sister's future brother-in-law, Tai, comes to pick her up at the airport.
They have instant like and don't get along right away. Tai thinks she's flighty and immature. So they get off to these bad perceptions about each other. But this all works because the honeymoon for the couple getting married, the boat they were supposed to take ends up getting double booked.
Tai owns a small sailing vessel, and he's always wanted to take it on a farther trip than he gets to. So he agrees to take this newly married couple to their honeymoon destination. Then the sister goes Daisy into coming with because Daisy is afraid of many things, and her sister goads her in the coming with. So there's a lot of time spent on the boat, and the chemistry is crazy between them. So they end up being on this island together for two months, waiting for someone to come and get them.
It's about our journey, but it's a classic disaster scenario. So it became more about the romance and the sister relationships that needed to be worked on because there's a lot of jealousy and problems.
Author: Karina Halle
Average Customer Review: (4.3 out of 5, on Amazon)
Category: Women's Action & Adventure Fiction, Inspirational Romance
Available: Paperback | Kindle | Audio CD
---
3. The Unhoneymooners
It is forced proximity because Olive and Ethan hate each other. Olive's sister and Ethan's brother got married to each other, and they have these bad perceptions of each other. But when the entire wedding party all gets a horrible stomach bug because of a buffet. Olive and Ethan didn't eat it. So only they are out of danger.
They take this honeymoon for their sister and brother because Olive is her sister's twin, and Ethan uses his name like his brothers because it was one vacation. So they end up taking this honeymoon to go to Hawaii. There's only one bed, even though it's a huge suite and other comfortable places to sleep. But they also have to fake date so that the hotel thinks that they're together and run into Olive's future boss at this place. So it was a good mix of fake dating and forced proximity.
Author: Christina Lauren
Average Customer Review: (4.5 out of 5, on Amazon)
Category: Humorous American Literature
Available: Audiobook | Paperback | Kindle | Audio CD
---
4. Romancing the Duke (Castles Ever After)
This is about a girl named Isolde Ophelia. An old relative has gifted her a castle. A duke wanted to make sure that these women had something that belonged to them. He needs this castle very badly because her father left a lot of debts, but he also left her the titles of the novels he'd written. Now he'd written these fun adventure romance novels.
Ophelia's been left destitute by her father, and then she gets given this castle. So she's determined to fix it up to sell it and be able to get a small home somewhere else that she'll be able to maintain and live out her days. When she gets to this castle, she meets Ransom, a scarred hero. He is mostly blind as well. He has been injured badly, and he still believes that he owns this castle. So they end up living in the same place, and she ends up awakening his heart again.
Author: Tessa Dare
Average Customer Review: (4.4 out of 5, on Amazon)
Category: Historical Romance
Available: Audiobook | Paperback | Mass Market Paperback | Kindle | Audio CD
---
5. The Bride Test (The Kiss Quotient)
This one is about Chi, who thinks he has no feelings. He's on the autism spectrum, and his mother wants him to have a wife. So she goes to Ho Chi Minh City and finds Esme Tran, who wants to come to America and bring her daughter. She meets Chi's mother through reasons, and his mother offers to bring her to America if she tries to meet his son and fall in love with him.
So this becomes forced proximity romance because this woman is living in his space. For Chi, that is upsetting his world because he organizes things in a certain way. He has plans for his life, like how things are supposed to go, which throws that all up in the air. Esme is trying to win him over. As well as, she's frightened that if she doesn't, she'll get sent back. Chi doesn't think he has feelings, but he's catching feelings for her. It makes me cry.
Author: Helen Hoang
Average Customer Review: (4.4 out of 5, on Amazon)
Category: Asian American Literature & Fiction
Available: Audiobook | Paperback | Hardcover | Kindle | Audio CD
---
6. On the Island
This book is about Anna and Callahan. Anna is Callahan's tutor, so he was held back in school. He's behind because he had cancer as a kid. So at the start of this story, he is almost 17. Anna will stay with the family for the summer on vacation while she helps Callahan catch up on his schooling.
So she and Callahan are on a charter flight together, and the pilot has a heart attack. It's very hatchet, that's what happens, and they go down, and they are stuck on an island for three years. So there eventually is an age-gap romance between the two of them. Anna is more than ten years older than him. This isn't a viable situation and why it makes it a fantasy. They almost die together so many times. There's so much forced proximity, and it is a survival story.
Author: Tracey Garvis Graves
Average Customer Review: (4.5 out of 5, on Amazon)
Category: Romantic Action & Adventure
Available: Audiobook | Paperback | Hardcover | Kindle
---
7. Starry Eyes
So this book is about Zorie and Lennon, who used to be best friends, and they were on the brink of something more happening between them. On the night of homecoming, something goes wrong. They hate each other, and they don't talk to each other. But a year or so later, they both end up on a camping trip together. The rest of the people they're with aren't people they completely associate with.
When you read it, you'll see the reasoning for how they end up in the same place anyway. The reasons are interesting, but they end up stuck together camping. Now Zorie is into astronomy. That's why this is called Starry Eyes, and they're not that far away. There's this cool conservatory that she wants to go to see Lennon.
Through that, they work out why they got stuck together and not how they worked out, why their relationship fell apart. It wasn't a miscommunication between the two of them. Should they stick with their friends this time because they loved their friendship? What are they going to do?
Author: Jenn Bennett
Average Customer Review: (4.5 out of 5, on Amazon)
Category: Young Adult Fiction about Dating & Sex
Available: Audiobook | Paperback | Hardcover | Kindle | Audio CD
---
8. Anything You Can Do
This follows Daisy and Lucas. They were in high school enemies, but they were always rivals, always competing against one another. Then they both went to college. They both ended up going to medical school and becoming doctors. Now they're both back in their hometown, and it turns out they're competing for the same job.
So they're competing for the same job at the same clinic they always like in each other's ways. There's a lot of sexual tension with one another. They have to spend the night together because they are locked in at some point.
Author: R.S. Grey
Average Customer Review: (4.4 out of 5, on Amazon)
Category: Medical Romance
Available: Audiobook | Paperback | Kindle | MP3 CD
---
9. Shipped
It's a great romance as well because it is frenemies to lovers. They're not enemies, and they have frenemies. So in this appalling Henley Evans works at cruise company and does management for them in marketing. She's mocking them for a while, and she is finally up for a promotion. Also, another candidate, Graeme, deserves the same promotion.
You have to compete to see who will get the promotion. Evans is pissed because Graeme started early a little bit ago. He's a remote social media manager. He doesn't even turn up to the office. One day he took credit for her work, and she's hated him ever since.
Graeme doesn't understand why she hates him because there was a huge miscommunication that ended up happening. But they both end up being forced to go on one of their cruise ships to the Galapagos to develop a pitch, a marketing idea for how they can increase their sales.
So it's forced proximity romance because they're both stuck on this cruise ship together for a week. Also, it is frenemies to love because the miscommunication that made her hate him, in the beginning, gets dealt with very quickly.
Author: Angie Hockman
Average Customer Review: (4.1 out of 5, on Amazon)
Category: Contemporary Romance
Available: Audiobook | Paperback | Library Binding | Kindle | Audio CD
---
10. Rafe: A Buff Male Nanny (Loose Ends)
This book is about Rafe, who is a buff male nanny. Sloan is a doctor and has a nasty divorce. So she's moved and her two twin daughters to Los Angeles, and she's scrambling to find a nanny. That's where Rafe comes in. So the forced proximity part is he's the nanny. He's always there, and they're always together.
They have sexual tension and also for us to be together. It's a steamy sexual tension between them as they're in the house all the time. You don't see a lot of male nanny romances out there, so this is one for the points.
Author: Rebekah Weatherspoon
Average Customer Review: (4.3 out of 5, on Amazon)
Category: Multicultural Romance
Available: Audiobook | Paperback | Kindle | Audio CD
---
11. The Rogue Not Taken (Scandal & Scoundrel)
In this book we're following, Sophie Talbot and her sister are notoriously known throughout the time for being scandalous. One day something is up happening, and she has to play London. Then we have Kingscote, the Marquess of Evilly, and he's known around for being a bit of a lady charmer. He has a reputation, even though it's not accurately representing who he is. But he ends up getting a summons that he has to go back home. His house is on the border of the Scottish border. So he's in his carriage going there, and he's reluctant about this.
It's not a happy camper. Then Kingscote realizes that a beautiful lady is stowing away in his carriage. He's on what is going on. Is this woman trying to do this to ruin herself, to force him to marry? It's so great because the character is traveling together. Kingscote can't go back because Sophie is in there.
Author: Sarah MacLean
Average Customer Review: (4.4 out of 5, on Amazon)
Category: Regency Romance
Available: Audiobook | Paperback | Mass Market Paperback | Kindle | Audio CD
---
12. Hooked on the Game (Sterling Shore)
We have Kate and Raya, and they are in college. They both live off-campus. Kate lives in his house with his other four frat brothers. His dad owns the house he lives in, so none pay rent. On the other hand, Raya lives next door. She did have two roommates who would help her pay rent until her two roommates ended up getting expelled.
One night her neighbor was Kate throwing a party, and then a bulldozer gets involved, and her house gets ruined. Raya is going to now live with Kate while people fix her house. So it's a forced proximity relationship because they're together living in this house.
Author: C.M. Owens
Average Customer Review: (4.5 out of 5, on Amazon)
Category: Women's New Adult & College Fiction
Available: Paperback | Kindle
---
13. Whiteout (Survival Instincts)
This is a survival force proximity romance. Angel is working at a research station in Antarctica that's only a couple of days left before they're done, and they can leave. What ends up happening is on the final days, a group of people ends up attacking the research station. So she and one of the glaciologists, Ford, narrowly escaped these attackers. The only problem is that now they find themselves out in the Antarctican wilderness.
They have to find a way to get themselves back to safety while they're in these awful conditions. So they are trying to survive in the outlines of Antarctica with these people pursuing them, trying to attack them. Also, it is very high stakes this a lot of steamy tensions with one another. How do you stay warm in Antarctica, guys? So it's a great suspense novel. It's a unique premise that you don't hear about.
Author: Adriana Anders
Average Customer Review: (4.3 out of 5, on Amazon)
Category: Mystery & Suspense
Available: Audiobook | Mass Market Paperback | Kindle | Audio CD
---
14. When a Scot Ties the Knot (Castles Ever After)
We have the next historical romance, and this one is hilarious. In this one, Madeline has no desire to get married doesn't want to go into society. So she will create a fake person who is going to court her. Then she creates this fake man, Captain MacKenzie, a Scottish Highlander. He writes beautiful letters, so she ends up quoting him for a few years through this fake relationship.
Madeline ends up sending it out to the camps. But there's an actual Captain MacKenzie out there. After four years, she will kill him off by the story because it's gone on for too long. She goes in a mourning period for a couple of years now. One day, MacKenzie turns up on her doorstep and expresses himself as her fiance. So the forced proximity is that fiance says they got to bed together.
Author: Tessa Dare
Average Customer Review: (4.5 out of 5, on Amazon)
Category: American Historical Romance
Available: Audiobook | Paperback | Mass Market Paperback | Kindle | Audio CD
---
15. Bratva Sinner
This book is about Cara and Luke. Luke is part of the Mars rovers. He does have his group of men that he looks over and runs. They do their illegal stuff. Then one day, this hit is put out on this person, and he makes a crap ton of money. So he goes to go, do that. When he kills the guy, his daughter walks out of the bar. Then other rival mafias come in, looking to take the daughter as reparations for the father's actions.
So even though his dad and everyone wanted him dead, the sins carry over to the door. This goes hot and attractive, so Luke will kidnap Cara and bring it back to his place so she can stay safe. He forcibly kidnaps her brings her to one of his safe houses.
Cara's dad stole sensitive secret information from other mafia groups. They're going to keep trying to kill her unless they figure this stuff out. So Cra hates her dad anyway but ends up agreeing to help Luke out, and she falls for him in the end. In the process, you learn more about the mafia, realize that she has a place, and become a kickass woman.
Author: B. B. Hamel
Average Customer Review: (4.4 out of 5, on Amazon)
Category: Women's Action & Adventure Fiction
Available: Kindle
---
Read More Similar Books: 15 Forbidden Romance Books Alltime