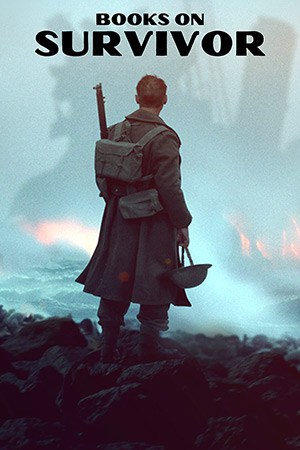 Survivors have high emotional intelligence, which helps them face complex relationships and effectively manage their emotions. They are adept at understanding their feelings and those of others, allowing them to build strong connections and effectively communicate their needs. They accept change and are willing to learn and grow from their experiences.
A survivor struggles with life, does hard work, and faces challenges. When something hard comes up in life, most of us wouldn't know how to handle it because of fear and lack of strength. Any life can not grow without struggle. We face pain because we are strong enough to handle it, and pain creates new things. You survived all your challenges in the sport and will survive whatever is coming.
Books about survivors share extraordinary stories of people who have overcome immense challenges and adversity. These stories can serve as a powerful source of inspiration and motivation, showing us the strength of the human spirit and the ability to triumph over seemingly insurmountable obstacles.
10 Books About Survivor (Wilderness/Survival History)
Survivors show strong determination and an unwavering commitment to their goals. They can stay focused and motivated even in the face of setbacks and hardships. Our struggle is a part of our life story, making us who we are today. Nobody wants to hear the man's story that was given everything without pain or survival.
We want to hear the stories of men and women who endure pain and turn their struggles into gifts. The reality is a struggle and survival. To keep your motivation alive, I will discuss ten books on Survivor. They remind us of our shared humanity and the limitless potential within each of us to overcome obstacles and thrive. Let's go!
1. Lone Survivor
Lone Survivor is about four military men: Marcus Luttrell, Michael Murphy, Danny Dietz, and Axelsson. It's for Navy SEALs who went into Afghanistan on a mission to capture a high-value target. They didn't want to do anything wrong, and three things killed them. They're probably frozen or starve to death if they leave them tied up. So they let them go. They said the operation was compromised, so they would call in to pull it out and go back to base.
People commented there's no way these guys would have been taking the shots. First, they shoot once, and that person goes, the Taliban goes down, but they don't. A Navy SEAL is trained to be a beast. Second, their machinery is a bit higher caliber that they could pick somebody off. They do that because it's one shot, one kill. So they're tougher, and they have better weaponry.
Marcus Luttrell is the lone survivor. It's breaking you down what they will fight for a guest. The Taliban was trying to get Marcus Luttrell, the lone survivor. They're trying to get him, and he is in the village, and the village is fighting the Taliban. Then, at that time, someone came and took Marcus.
Author: Marcus Luttrell
Average Rating: 4.8/5
Category: War Biographies, Survival Skill
Available: Audiobook | Paperback | Hardcover | Kindle | Mass Market Paperback
2. Survivor Song
Survivor Song is a post-apocalyptic story set shortly when the rabies strain affects wildlife and humans. People are becoming feverish, delusional, and getting an instinct to bite. The story follows a young pregnant woman named Natalie and her husband.
At the story's beginning, they are attacked by a feverish man. Her husband does not fare well, and Natalie is bitten and is forced to go on the run to get medical help. She reaches out to her college best friend, a pediatrician, and together they seek out help to hopefully save her and the life of her unborn child.
This book resembles the cabin at the End of the World in terms of suspense and action. Paul Tremblay likes to take these different horror subgenres, but he puts more of a spin and does his take on the subgenre. So here he takes a post-apocalyptic story, which typically in horror is this big global story often told from multiple perspectives. You get to see the ramifications all around the world. But instead, he takes a very intimate approach, so most of the story is simply the traveling of these two women trying to get help.
The book starts with conversations around self-isolation quarantine. There are fights at the grocery store and limitations on supplies and groceries. It was horrifying that the book was probably not entirely intended because it struck such a personal note.
This is a science-based outbreak where the symptoms have a few references that sound similar to zombies. Some of the characters do joke around and call this a zombie pandemic. It is one of the best books on Survivor I have ever read.
Author: Paul Tremblay
Average Rating: 4.1/5
Category: Psychological Thrillers, Post-apocalyptic Pandemic
Available: Audiobook | Paperback | Hardcover | Kindle | Mass Market Paperback
3. The Survivors
The Survivors is about Kieran, who returns to his hometown in Tasmania with his partner and his newborn child. They return to Kieran's family home, where his father has dementia. So his mother is looking after his father and is having a rough time. Kieran isn't well-liked in this town because of something that happened as a teenager. It's better to discover it as you go, mainly because what happened then is linked to what is happening today, which is also a mystery.
Jane Harper does an excellent job of writing her plots that focus on the present day, go back in time, and interweave these different timelines and events. You will love how the main characters always have cousins and childhood friends who come out of the woodwork and either become suspects or help out the main character. There was also some exciting caving in this book because the main characters keep going into caves for one reason, and it's freaking creepy.
Author: Jane Harper
Average Rating: 4.2/5
Category: Mystery, Thriller & Suspense, Crime Thrillers
Available: Audiobook | Paperback | Hardcover | Kindle | Audio CD
4. Born Survivors: Three Young Mothers and Their Extraordinary Story of Courage, Defiance, and Hope
Born Survivors is a non-fiction book about three women during the Holocaust who were pregnant when they arrived at Auschwitz. They go from Auschwitz to labor camps to eventually mount houses where they wind up at the end of the war with their newborn babies. It's an incredibly heartbreaking story about these three women and so incredibly touching. It covered these three women from birth to death, like mini-biographies of each one.
Many books focus solely on the time of the Holocaust, whereas this book covers each of the women's lives in their entirety. It was hard to read because of the specific details, and these three women survived. So you weren't getting one story in a memoir or one fiction book. You were getting the accounts of these three individuals who sometimes survived with their friends, and it was utterly worthwhile. Wendy Holden summarized many basic events leading up to World War Two, leading to the Holocaust.
Author: Wendy Holden
Average Rating: 4.7/5
Category: Jewish Holocaust History
Available: Audiobook | Paperback | Hardcover | Kindle | Audio CD
5. Survivors Club: The True Story of a Very Young Prisoner of Auschwitz
Michael Bornstein and Debbie Bernstein wrote Survivors Club. Michael Bornstein is also the book's main character an autobiography. But at the same time, it tells a story you see better. When the book starts, it starts in the third person before Michael is born, and then it starts getting into his perspective. The book had some sad moments because it is about a sad part of history.
Jewish soldiers would kill people on the streets, and it was horrible. Then after that, it starts getting into how Michael's family was separated and how he went to Auschwitz. From there, his mom was transported to another camp, so he separated from his mom. He was left there with his grandma and in Auschwitz. He was separated from his brother and his father. They both died in the gas chambers. In the end, they finally got out.
After that, Michael returned to his old town with his grandma to Suzuki and met up with a few of them. He met up with the remaining part of his still-alive family. They were also there. After living there for about a few months, he didn't want to stay there anymore. So with his mom, he went to Munich, Germany, where he was learning to speak German. Then he stayed with his grandma, other cousins, and cousins.
Where he moved to America six years after he was freed from Auschwitz. He earned his Ph.D. from the University of Iowa and worked in medical research and development for over 40 years. Michael lives now in New York City and New Jersey and frequently speaks to schools and other groups about his experiences in the Holocaust.
Author: Michael Bornstein
Average Rating: 4.8/5
Category: Military & War History, Survival Story
Available: Audiobook | Paperback | Hardcover | Kindle | Audio CD
6. Into the Wild by Jon Krakauer
Into the Wild is a captivating non-fiction book exploring the true story of a young man who abandoned his comfortable life in the Alaskan wilderness. Krakauer's meticulous research and detailed storytelling bring his life journey, focusing on self-discovery, nature, and the allure of the unknown. This adventurous book serves as a cautionary story and a tribute to the power of the human spirit to survive.
7. Alive: The Story of the Andes Survivors by Piers Paul Read
Alive shows the extraordinary story of the Uruguayan rugby team that crashed in the Andes Mountains in 1972 and their subsequent struggle for survival. Paul's detailed and empathetic narrative paints an accurate picture of the physical and emotional challenges faced by the survivors. This best-seller book explores the limits of human endurance, the complexities of moral dilemmas, and the unwavering will to survive against all odds.
8. Wild: From Lost to Found on the Pacific Crest Trail by Cheryl Strayed
In "Wild," Cheryl shares her memoir of hiking the Pacific Crest Trail alone to heal and find herself after a series of personal tragedies. Her beautiful writing style allows readers to connect with her journey intimately. She battles physical hardships and confronts her inner demons to survive. This non-fiction book is a testament to the transformative power of nature and the resilience of the human spirit.
9. Unbroken: A World War II Story of Survival, Resilience, and Redemption by Laura Hillenbrand
Laura presents an extraordinary true story of survival in "Unbroken." The book follows the life of an Olympic athlete turned World War II bombardier who survives a plane crash only to be captured by the Japanese. Hillenbrand's meticulous research and gripping storytelling skills capture the brutality of war, the indomitable spirit, and the power of forgiveness in the face of unimaginable adversity.
10. The Martian by Andy Weir
The Martian is a gripping science fiction novel that tells the story of astronaut Mark Watney. He is left stranded alone on Mars after his crew mistakenly believes him dead. Weir's attention to scientific detail and Watney's resourcefulness creates a thrilling narrative that keeps you on the edge of your seats.
The book skillfully explores isolation, problem-solving, and the strength of the human intellect. If you want to see a real hardship survivor, read it or watch the movie adaptation I enjoyed most.
Romance Books About Survivor
Outlander by Diana Gabaldon: Outlander follows the story of a World War II nurse who is transported back to 18th-century Scotland. Amid the political turmoil and danger of the time, she falls in love with a Highland warrior. Their love blossoms amidst survival challenges, forging an intense, enduring bond that transcends time.
The Island by Elin Hilderbrand: This captivating survivor romance is set on Nantucket Island. A plane crash strands four people on a deserted island. They rely on one another for survival. They face their circumstances' challenges and unexpected connections, and a romance develops, leading to heartfelt relationships.
The Nightingale by Kristin Hannah: This gripping historical romance is set during World War II. It tells the story of two sisters in Nazi-occupied France who face unimaginable challenges and danger. Amidst the chaos and hardship, love and sacrifice emerge, showcasing the strength of human resilience and the power of love even in the darkest times.
Survivor in Death by J.D. Robb: This is part of the popular In Death series. In this futuristic romantic suspense novel, Lieutenant Eve Dallas investigates a series of murders that lead her to a woman who survived a brutal childhood. Eve and her husband, Roarke, work to protect the survivor. They also strengthen their bond, proving that love can be a lifeline even in danger.
Loving the White Liar by Kate Stewart: This contemporary romance follows a journalist who finds herself stranded on an island with a captivating and enigmatic man. They struggle with survival challenges and fall into passionate and unexpected love.
Fiction Books About Survivor
Life of Pi by Yann Martel: This is the story of a young Indian boy who survives a shipwreck and finds himself adrift in the Pacific Ocean with a Bengal tiger as his only companion. Yann weaves together spirituality, resilience, and the power of storytelling in this captivating novel.
Lord of the Flies by William Golding: British schoolboys are stranded on a deserted island in this classic novel. Their struggle for survival reveals the dark and primal aspects of human nature. William's exploration of civilization, power dynamics, and the human capacity for savagery makes it an exciting read.
Station Eleven by Emily St. John Mandel: This story takes place in a post-apocalyptic world devastated by a pandemic. It follows a group of survivors connected by a common past. They face the challenges of a fragmented society. Emily's hauntingly beautiful prose, exploration of humanity's resilience, and the power of art make this novel stand out in the genre.
The Hunger Games by Suzanne Collins: This is set in a dystopian society where teenagers are forced to participate in a televised fight to the death. The series' protagonist becomes a symbol of resistance and survival. She fights not only for her own life but also for the freedom of her people. Suzanne Collins creates a gripping narrative that explores survival, sacrifice, and the consequences of power.
The Road by Cormac McCarthy: The Road is a post-apocalyptic novel that follows the journey of a father and his young son. They traverse a devastated landscape, facing numerous hardships and threats. Cormac's exploration of the bond between parent and child amidst dire circumstances makes this a haunting and deeply affecting read.
Non-Fiction Books About Survivor
Into Thin Air by Jon Krakauer: A journalist and mountaineer, recounts his personal experience of the 1996 Mount Everest disaster, where multiple climbing teams faced severe weather conditions and tragic consequences. The book offers insights into the physical and psychological challenges of surviving in one of the world's most extreme environments.
Endurance: Shackleton's Incredible Voyage by Alfred Lansing: Alfred Lansing recounts the incredible journey of explorer Sir Ernest Shackleton and his crew on the ill-fated Imperial Trans-Antarctic Expedition. Stranded on the ice for months, the men face extreme conditions and complex challenges to survive in the Antarctic wilderness.
The Long Walk: The True Story of a Trek to Freedom by Slavomir Rawicz: This tells the gripping story of Slavomir Rawicz, a Polish soldier captured by the Soviet Union during World War II. Rawicz's subsequent escape from a Siberian prison camp and his treacherous journey through the harsh landscapes of Siberia, the Gobi Desert, and the Himalayas showcase the resilience and determination of the human spirit.
438 Days: An Extraordinary True Story of Survival at Sea by Jonathan Franklin: This gripping true story shows the survival of Salvador Alvarenga, a Salvadoran fisherman who spent 438 days adrift in the Pacific Ocean. He was facing hunger, extreme weather, and isolation. Alvarenga's story of survival against all odds is both harrowing and inspiring.
---
I highly recommend these books to anyone fascinated by survival, resilience, and the triumph of the human spirit. Each book offers a unique perspective and narrative style, drawing readers into the gripping stories of individuals facing extraordinary challenges.
From real-life to fictional explorations, these books provide deep insights into the human condition and leave a lasting impact on readers long after the final page is turned.
More Similar Books:
Survival Books Similar To My Side Of The Mountain
Survival Adventure Books Similar To Life of Pi
Wilderness Books Like Into Thin Air
Adventurous Survival Romance Novels