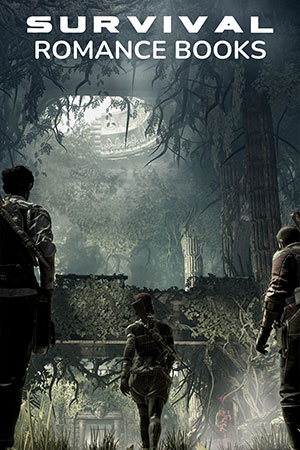 Books with survival romance represent adventure, mystery, love, action, drama, etc. In this story, the main characters are in a forced proximity situation. There are many reasons they get stuck together and try to survive. It's a popular sub-genre of romance where the central focus is on the protagonists' survival and developing a romantic relationship between them.
They face dangerous circumstances such as natural disasters, shipwrecks, or post-apocalyptic scenarios. It's full of adventure, suspense, and romance with a strong emphasis and challenges. The characters have different stakes levels where we share a carriage or only one bed. Keep scrolling if you are waiting to read survival romance novels or stories!
7 Survival Romance Books (Mysterious Adventure Love Story)
Survival romance shows love and adventure and teaches us some basic survival techniques we can use while traveling. The authors describe the whole situation where the characters live in lousy weather or risky condition and how their love forms.
We also see the day-to-day survival scenario with some exciting time frames. I love it because I can enjoy the story with thrill, suspense, and sometimes a horror vibe. Nobody feels bored while reading, which makes it a cliffhanger to read the last page. I have an extensive list, but I want to share my 7 favorite wilderness or survival romance books. Let's go!
| Name | Key Focus | Review (Goodreads) |
| --- | --- | --- |
| Whiteout | In a research center, two people are stuck, and they try to survive where romance occurs. | 3.7 |
| A Wilderness Within | A man struggles with a pandemic and helps a girl who also faces the same situation. | 3.9 |
| Transcendence | A caveman and a girl help each other and develop some deep feelings. | 4.0 |
| Wild | A man travels in a jungle where he falls into danger, and a man saves him. Then they make a relationship. | 4.2 |
| Last Light | A man and woman are dealing with their loss simultaneously in the same town, and they make a connection. | 4.0 |
| Fall | In prison, a girl must choose her partner to survive, but her hero is trying to escape. | 3.9 |
| Alaska Wild | After a plane crash, the hero and heroine struggle to survive and build strong feelings for each other. | 4.1 |
Survival Romance Books List
1. Whiteout (Survival Instincts)
Whiteout is the first book in the Survival Instinct series, and there are two books out in this series. Our heroine is Angel Smith, who is a cook at a research center. Our hero is Ford Cooper, who is a glaciologist scientist there. Everyone's leaving to winterize, and only he and one other person stay there for the winter when they get attacked. Someone is there trying to steal information, and they are stuck there and need to try to make it from this station to another station to escape.
They all need to travel across the Antarctic ice with only a tent and each other to get to safety. So the story is danger-banging. Danger banging is where we bang when it's scary, and we might die, but we do it anyway. Only a little opportunity for that in this one because of the situation. I enjoyed this situation with their sudden romance, and the audiobook especially was great.
Book two, Uncharted, is also in a cold place, but it's in Alaska and not as cold. We're able to get a little bit more frisky in it. This one is about Leo Edwards, who is our heroine. She is African American, and our hero is Elias Thorn, hiding in Alaska because he is on the most wanted list. Leo gets sent there to warn him about something, but she gets there almost too late.
There are already bad guys coming after them. So she crashes and lands on the pond near his home, and he, his dog, and she need to go on the run to get to safety before these men kill them. The book's first half is interesting, but the second half's ending is dull. You must try the series if you are a beginner in YA survival romance.
Author: Adriana Anders
Publisher: Sourcebooks Casablanca
Tropes: Adventure, Suspense, Mystery, Arc
Number Of Pages: 352
Available: Audiobook | Mass Market Paperback | Audio CD
2. A Wilderness Within (Unlikely Heroes)
A Wilderness Within is book two in the Unlikely Heroes series. The first book needs to be connected. It's more of the archetype, which is what connects it. So you can read this as a standalone. The book will blow your mind because it accurately predicts so much of our pandemic that it's terrifying. Emma Castle researched what it would look like if it happened, and it's scary.
So imagine if COVID was a more deadly virus and nine out of ten died instead of the actual statistic. Our hero's name is Lincoln. He was in the bunker with the acting president of the United States until he got the disease, and Lincoln had to put him out of his misery. Now he doesn't know what he's living for, so he leaves the bunker.
Then Lincoln sees our heroine, Caroline, trying to make it to her family. He comes upon her and decides that he wants to help her. So he approaches her, and Caroline tries to run. She ends up falling and hurting herself. So, Lincoln kidnaps her, but not in the wrong way. I called the book a pandemic fairy tale. It isn't about us trying to survive and make do with what we have.
The story is about going from having everything to having nothing to trying to make the world come back again. The beginning half of this book will scare you because it will remind you of what we've been through. Also, it worked for me because our hero is very protective. I loved their relationship a lot, so don't miss it.
Author: Emma Castle
Tropes: Dystopia, Fantasy, Forced-proximity, Alpha-male
Number Of Pages: 267
Available: Audiobook | Paperback | Audio CD
3. Transcendence
Transcendence won Goodreads Choice Award Nominee for Romance (2014), which is on many survival lists you might see. It's a time travel story. We follow a caveman named Ehd and our heroine, Elizabeth, but he calls her Beth, who we don't know how because this is all from the hero's point of view. Beth falls back in time. She doesn't know how this happened, and I'm putting this in a survival situation because it's day-to-day for this couple.
Ehd lost his group due to a fire accident and didn't have the encouragement to live. Then Beth is thrust back in time and falls into one of his animal traps. He realizes that she's his woman. I also want to mention that Shay Savage has many survival books, one of which is Surviving Rayne is on my TBR. Another survival love story of Shay is Outnumbered, about a guy who lives in the wilderness, and a girl falls into his lap. They discover something very peculiar about her while he's living with her in his cabin.
Author: Shay Savage
Narrator: Chris Chambers
Publisher: Tantor Audio
Tropes: Time Travel, Historical, Stuck-together
Number Of Pages: 312
Available: Audiobook | Paperback | Kindle | Audio CD
4. Wild
Wild is a male-male survival romance with a plane crash plot that won Lambda Literary Award Nominee for Gay Romance. The story follows a hero (August Vallory) who is a model, and he's traveling with his cheating boyfriend. They end up crashing over. Our hero is the only survivor. He awakens to a bear going through the corpses of his friends and coworkers and eating them. Then he gets pulled from the wreckage by a big bear of a man (Keegan).
Keegan rescues him and brings him back to a cabin that's nearby. It's not his cabin because he doesn't even live in a cabin. He lives in the woods taking care of himself that way. August has broken ribs and severe injuries. The bearish hero, Keegan, has to take care of him through the winter because they can't even try to go for help until the spring.
This is the case because they share the same sexual proclivities. The relationship is beautiful, but it has tension because our model hero wants to return to civilization, and Keegan cannot wait for specific reasons. There's a reason why he's been hiding in the wilderness for ten years. This one seriously is a fight almost every day. Because they have a cabin does not mean that they're safe.
So the book kept me on the edge of my seat the whole way through. Take advantage of adventure and romance! Avoid hardcover because it has major quality issues, but the paperback is excellent for font size, cover, binding, color, and paper quality.
Author: Adrienne Wilder
Tropes: Dark, Disability, Suspense, Mystery, Age-gap
Number Of Pages: 341
Available: Paperback | Kindle
5. Last Light
Last Light is a post-apocalyptic romance with a survival theme/background. The vibe I got was a grumpy hero (Travis) with nothing else to live for in an apocalypse situation. The heroine (Layne) and the hero are from the same town. They knew who each other was. Travis had a wife who's now an ex-wife, and he had a daughter who had recently died. Layne had a grandmother who had recently died. So they were both in the same town and trying to make it together.
In doing that, they must try to survive survivors and the elements and decide to be survivors with benefits. Travis is so fierce and protective and doesn't want to do anything to hurt Layne. It's very obvious to us that he is obsessed with her. The storyline, dialogue, narration, plot, and ending are all excellent, making a good survival vibe. The character's development and world-building were good, but the negative side is poor dialogue delivery. I recommend it if you like alien and zombie romance survival with a dystopian situation.
Author: Claire Kent
Tropes: Post Apocalyptic, Fantasy, Angsty, Slow-burn,
Number Of Pages: 337
Available: Audiobook | Paperback | Hardcover | Kindle
6. Fall (Hold)
Fall is the third standalone book in the Hold series, and it's a prison survival romance because the female protagonist (Lenna) gets thrown into a multi-sex prison. Lenna must find the strongest prisoner and offer herself to have protection. So she becomes his prison and in the term to survive. But our hero (Rone) has the plan to escape, and she hopes that she will make him care for her enough that he will take her with him when he goes and then falls in the series.
So different planets have these things. Lenna pisses off the wrong people and gets dropped onto a prehistoric planet, a caveman planet. The same situation goes when she needs to find the strongest Neanderthal and make him her mate so she can have food, clothing, and all these things. It's another fierce but sweet hero. Rone reminds me of Ehd quite a bit, except he's smarter than Ehd. The story contains many angsty situations and emotional scenes. If you love primitive romance with survival, check this one out.
Author: Claire Kent
Tropes: Zombies-aliens, Apocalyptic, Angst, Enemies-to-lovers
Number Of Pages: 160
Available: Audiobook | Paperback | Kindle
7. Alaska Wild
Alaska Wild is military fiction with a suspenseful survival story. The book is about a heroine (Kate), an FBI agent, who ends up in a plane crash with our hero (Mason). He's been on the run from a court martial where he was going to have to answer for some things that happened that he may or may not have been a part of.
They are in a plane crash together and need to survive the elements and other people on the plane who don't want them to survive. That's an excellent way to explain that one. The hero and heroine start having feelings from the forced proximity. I loved that it had the survival situation and mystery. The dual narration was enjoyable, so listen to the audiobook also.
Author: Helena Newbury
Tropes: Adventure, Action, Mental-health, Crime
Number Of Pages: 403
Available: Audiobook | Paperback | Kindle
Those are my best survival romance novel recommendations for you. Please let me know your favorites. I still have quite a few on a list from which I'm working, but I'd love to know yours.
Read more similar books:
5 Survival Books Like Into Thin Air
5 Travel Survival Books Like My Side Of The Mountain
5 Survival History Books On Survivor