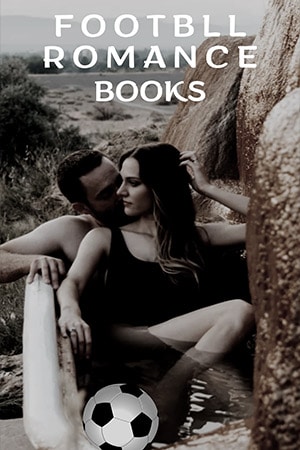 Football is a popular and exciting game that creates many stories and history. As a football lover, I love to know the relationship status of my favorite players like Messi, Ronaldo, Neymar, Mbappe, etc. I also love to read football romance novels or movies because they are full of romance tropes: banter, friends-to-lovers, campus love, slow-burn, forced proximity, etc. These books give me an instant boost of my feelings where I can connect myself with the story. You also agree with me if you are a sports lover.
7 Football Romance Books (Sports Love Stories)
Romance with football makes sports fiction more likable and exciting. We often see a popular bodybuilder football player fall in love with an ordinary campus girl, news reporter, assistant, or fan. So, at first, it seems impossible to build a relationship because there are many rules for players. But love happens when it wants, and it breaks all the rules. That makes a book or story more hype. If you want to read this type of book, follow me because I'll discuss my 7 favorite football romance books. Let's go!
| Name | Key Focus | Review (Goodreads) |
| --- | --- | --- |
| The Perfect First | A university football player finds freedom, and a girl follows her fashion. They make a friendship that turns into love. | 3.9 |
| The Hook Up | A football champion falls in love with a girl who is not serious about love and relationship. | 3.9 |
| The Hot Shot | A football player instantly falls in love with a girl who is a photographer, and both create romantic tension. | 4.1 |
| The Cheat Sheet | A professional football player is doing a fake date with a dancer, and their dating creates a serious relationship. | 3.7 |
| Hands Down | A childhood friendship meets again ten years later, and they have forced proximity. | 3.9 |
| Beauty and the Baller | A neighbor to lover story where the football player faces life problems and the heroine helps him overcome them. | 4.2 |
| Fumbled Hearts | A possessive football player and a strong girl build a rivalry situation that turns into romance later. | 4.2 |
Football Romance Books
1. The Perfect First (Fulton U)
The Perfect First is the first book of the Fulton U series about college football romance. It is sexy, and sweet, and gives a lot of the right verse. Our footballer, Reece, is at the top of his game. He's the best receiver for the Fulton University football team. Our college girl, Persephone, is so misunderstood. Her father was possessive of her, and she was hostage to everything she was told: what to do, what to wear, how to act, and how to do everything.
The one thing Persephone wants to do is have a college experience. Also, she wants to enjoy attending Fulton University over Harvard but doesn't want to be a math genius. Instead, she wants to be a violinist and is beautiful at what she does. But her dad has dictated her life for so long, and she's out to do what she wants.
One day, Reece meets Persephone. He changes her first, and it also changes it for him. I love that in this story, you find out that Persephone wants all these firsts and wants it with this first guy she met. But then she starts wishing that she had had those first with Reece. This friendship turns into a bond, and the bond turns into love.
As you read the book, you fall in love with how protective Reece gets of Persephone. You get this cat-and-mouse game. Finally, when these two come together, it's passionate and loving. That's what I loved about this story and how these two are the perfect match. There is some lack of chemistry and character building, but the healing process and end were good enough. You will love the whole series if you love sports romance with a supportive hero.
Author: Maya Hughes
Tropes: Arc, Insta-love, Friends-to-lovers
Number Of Pages: 344
Available: Audiobook | Paperback | Hardcover | Kindle
2. The Hook Up (Game On)
The Hook Up is another football book in the Game On series. The story is about Anna and Drew. Anna wants to finish her college life successfully and start a new life. Drew is two National Championships pro footballers. They are making a class, and Drew is instantly attracted to Anna. What starts then is a bit of instant banter and chemistry.
They meet up, and Drew wants to pursue her a little bit. He wants to make out with him maybe a bit more. They end up hooking up as you do, and Anna decides they can do the hookup. She has needed that in her life, which I liked about Anna as a character. She was a sexual person and wasn't afraid of being sexual. So that's how to get fans interested in reading.
While Anna's happy to hook up with Drew, she doesn't want him as a boyfriend. Also, she doesn't want part of that lifestyle that he lives in, which is the football lifestyle. The cockiness, the banter they have in the beginning, early on, is incredibly awesome. It sets the table for their relationship regarding how they play with each other, which then translates to how they physically play with each other.
Half of the book takes a dramatic edge when a big event happens. That's required and steps it up a bit in the melodrama. The negative side of this book is the predictable plot twists and unnecessary past information, which was boring for me. Overall, I enjoyed the best football love story.
Author: Kristen Callihan
Publisher: Plain Jane Books
Tropes: Coming of Age, Alpha-male, Angsty, Steamy, Emotional
Number Of Pages: 354
Available: Audiobook | Paperback | Kindle | Audio CD
3. The Hot Shot
The Hot Shot is Book Four in the Game On series. I can't get enough of Kristen Callahan's writing as addictive. Some cameos from previous characters pop up occasionally, but they're not playing integral roles in the story. So you don't have to worry about reading one book to get another. Our heroine is Chess, a photographer who has the pleasure of shooting the entire New Orleans football team.
All these hulking, muscled football players standing right before her camera do not affect her except Finn. Finn is the quarterback of the New Orleans football team. She does notice that Finn has an intense animal magnetism to him. She is drawn to him. But the other thing she noticed is that he's sensible. They have bickered back and forth a few times and only known each other for 2 minutes.
Finn returns to test his feelings. In full measure, he is somehow mysteriously attracted to her, even though she is nowhere near his type and he is nowhere near hers. But they are both intensely attracted to one another. Moreover, they have an intense magnetism for one another, and it's inexplicable. Finn finds himself going to seek her out even after the photo shoot. As reluctant as Chess and Finn are even to be friends, they can't deny that they like each other and want to know more.
Neither one of them is looking for a relationship together. Finn has only had hookups in the past. He's never been in a relationship, and Chess has never found the right guy to be with. So she's not interested in a relationship either. It seems simple enough, except for the intense sexual attraction between Chess and Finn. This sexual tension was so gripping. Kristen Callahan is the best author regarding sexual tension, romantic chemistry, and banter between the two main characters. There are many negative comments about the hardcover, but the paperback is awesome for font size, color, binding, and cover.
Author: Kristen Callihan
Tropes: Humor, Snarky-heroine, Celebrity
Number Of Pages: 337
Available: Audiobook | Paperback | Kindle
4. The Cheat Sheet
The Cheat Sheet is a YA football romance with best friends. I love it when characters are best friends who fall in love rather than strangers-to-friends-to-lovers. Also, it does have fake dating. We follow Bree and Nathan, who are the best of friends. Bree is a dance teacher, and she owns a dance studio. In contrast, Nathan is a professional football player. They lived in LA in their late twenties and met in high school. For study purposes, they eventually talked one day, exchanged numbers, and started running together on the track on Tuesday mornings. That became a tradition for them.
The story opens up from Bree's perspective but is a dual POV. Right away, Bree is entirely in love with Nathan, but he has always had girlfriends. So she assumes that he's never been interested in her, and she doesn't think he would ever want to date her because they have such a good friendship.
Then we get Nathan's point of view and see that he is as in love with Bree as she is with him. They're both in love and won't tell the other because they assume the other one isn't in love with them, which would ruin their friendship. So they're both stuck in fear and miscommunication, which is frustrating as a reader because we switched to their different point of view. I recommend it if you are looking for a wholesome book that helps you to feel excited and wait for the last page.
Author: Sarah Adams
Publisher: Dell
Tropes: Fun, Fake-dating, Slow-burn
Number Of Pages: 322
Available: Audiobook | Paperback | Kindle | Audio CD
5. Hands Down
Hands Down achieved Goodreads Choice Award Nominee, contemporary romance and football fiction. This book is about Bianca and Zac. Bianca is a YouTuber. She bakes and cooks and puts that on her YouTube channel. Also, she works part-time at a gym. Then we have Zac, a professional football player and a quarterback. They have known each other since they were young and had an age difference. But they're childhood friends, and it is childhood friends to lovers, one of my favorite tropes.
Bianca's cousin Boogie is best friends with Zac. So that's how Bianca got to be friends with Zac. They would all hang out together. When Bianca was growing up, they always hung out together because Bianca was so close to Boogie that naturally, she got close to Zac, too. But Zac and Bianca haven't seen each other for ten years because something has happened. This is where our story starts.
I don't want to spoil anything for you. There are cute moments, dual perspectives, and a slow-burn plot, which is the best for the storyline. The friendship was confusing for me, and the last thirty minutes were boring, which is the book's negative side. You can enjoy the characters' forced proximity, love triangle, and chemistry.
Author: Mariana Zapata
Narrator: Callie Dalton, Chris Brinkley
Tropes: Age-gap, Forbidden, Second-chance-romance, Female-lead
Number Of Pages: 550
Available: Audiobook | Paperback | Kindle
6. Beauty and the Baller (Strangers in Love)
Beauty and the Baller is a romantic comedy that presents sports, friends-to-lovers, and many exciting tropes. NFL quarterback Ronan has gone over some life problems and is not ready to move on. His NFL career ended abruptly due to a serious accident, and he's sad. But his best friend knows he must get back on the horse again and enjoy life. So what does his best friend do? They will get together with most of the NFL players on their team, and a beautiful girl (Nova) walks in dressed as Princess Leia. Ronan was so attracted to her.
Nova is a burst of sunlight because she is very eclectic and doesn't care. She had a rough life, but she smiles all the way and knows what she will do with it. Something happens, and these two have their fated moment, and it ends abruptly. Years later, Nova had to move back to her small town to help out with her sister. Her mom tragically dies unexpectedly, and she's now her sister's caregiver. That's in high school, and Nova is trying to put one foot in front of the other. She's struggling emotionally and mentally, losing her mom unexpectedly.
Ronan and Nova met again and started their banter and friendship. I love their dark games because it's a humorous time when they're together. They must evolve to overcome their past to get to their fun times. This couple fought their past to get to their future and fight off some exes that need to be left out. So, one of those stories makes you laugh and swoon at great and sexy times. You have to read the book to understand it.
Author: Ilsa Madden-Mills
Narrator: Sebastian York, Savannah Peachwood
Publisher: Brilliance Audio
Tropes: Office-romance, Small-town, Fake-relationship, One-night-stand, Neighbours-to-lovers
Number Of Pages: 314
Available: Audiobook | Paperback | Kindle | Audio CD
7. Fumbled Hearts (Tender Hearts)
Fumbled Hearts is the beginning of the Tender Heart series. It's about a girl named Kalani who goes through the life-altering situation of losing her grandfather and her parents on the same day. She's at the hospital saying goodbye to her grandfather and finds out that her parents were in an accident and died while in the hospital saying goodbye to her grandfather. At that point, she quit high school!
When we start this book, she agrees to go back. She moves next door to her cousin and will finish high school and start living her life again. So, she's very mature, and it's interesting to read about her as a high school student because she lives alone and takes care of herself. In one of the other situations in the book, Molly's mother had a twin sister, her cousin's mother. So, through this book, she will have to come to terms with how she wants to have a relationship with her aunt.
The book's romance will be with a football player, Nate. Nate is the high school quarterback, and he undervalues himself. He thinks the only reason people would be interested in him is his body and being able to tell everybody else that they slept with him. At the beginning of Nate's story, there is a moment where he's sleeping with everything that moves. As you continue reading, you'll understand that without that part of the book and their behavior. If you want high school football romance, you'll enjoy it.
Author: Meagan Brandy
Narrator: CJ Bloom, Alexander Cendese
Publisher: Tantor Audio
Tropes: Enemies-to-lovers, Angst, Possessive-hero, Strong-heroine
Number Of Pages: 412
Available: Audiobook | Paperback | Kindle
Please let us know in the comment section if you have any recommendations for football, romance, or fiction. I'm waiting for your favorite book lists and opinions.
---
Read more similar books:
7 Books Like The Wall Of Winnipeg And Me For Sports Lover
5 Sports Love Books Like The Deal
5 College Romance Books Like Punk 57