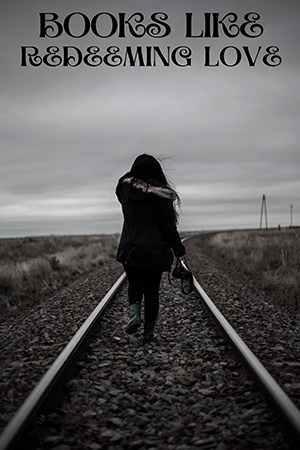 Redeeming Love by Francine Rivers is historical fiction and Christian romance. There's been a lot of hype about this book. But it was originally published in 1991 and then rereleased in 97. Also, it sold over 3 million copies and has been translated into 30 languages, which is phenomenal. Francine Rivers is one of the leading authors of women's Christian fiction, and she's published nearly 30 novels with a Christian theme, including Masterpiece Bridge to Heaven and the Mark of the Lion series.
The book cover represents the protagonist. If you're a fan of this book, you might want to grab a hardback copy. This unconditional love story is set in the 1850s Californian Gold Rush, but it's inspired by Hozier, a book in the Bible, and the story of a prophet and a prostitute in Redeeming Love.
Angel is a beautiful protagonist who has had the most heart-wrenching upbringing. She was sold at the age of eight, and her life has been heartbreaking every step of the way. She's hardened against men and doesn't know what it is to love or be loved. Then a man called Michael comes into her life, a simple farmer with a heart for God.
The flawed characters are so well-written. They will have you rooting for Angel as she finds her way and learns to be loved. Also, it will have you grieving alongside Michael as he lives with this utter frustration. Some fantastic secondary characters add to the depth of the redemption story and thicken the plot. If you want to read books like Redeeming Love, keep scrolling!
10 Books Like Redeeming Love
Redeeming Love represents the powerful picture of God's unshakeable love and faithfulness toward us forgiveness, redemption, healing, and hope. It's a vivid reminder of how the author of Love pursues us. With the 1850s Californian Gold Rush backdrop, this novel is a compelling love story that pulls on the heartstrings repeatedly.
Christian romance novels I used to read, and I was intrigued. About 95% of the books in this genre are set between 1750 to 1920. It's not uncommon for the author to point out obscure things that are alluring that don't make any sense. Because modesty was so different than it is now. You can see the variation through the books. Now, I will review 10 Christian romance books similar to Redeeming Love. Let's go!
1. In Search of a Prince
This is a contemporary story, but it follows a girl (Brielle) who finds out that she's a princess of an African country. So her mom kept it a secret for so long because her dad (prince) did pass away. The mom decided to cut ties and not associate with the kingdom. But her daughter is the only heir to the throne. So the king calls her up and requests to bring her.
Brielle discovers that she is a princess, and she goes to the kingdom. It was a fun story, and I found that the characters were so real, and I enjoyed their interactions. Also, there is a sweet romance, and the faith is incredible in this one. So, I would recommend if you love Christian romance with a regency vibe as Redeeming Love.
Author: Shiloh
Publisher: Bethany House
Average Rating: (4.5 /5)
Tropes: Heroine-addict, Spiritual-supernatural, Religious view
Number Of Pages: 384
Item Weight: 12.1 ounces
Dimensions: 5.5 x 0.96 x 8.5 inches
Available: Audiobook | Paperback | Hardcover | Kindle
---
2. All That Really Matters
The story follows a girl who's a social media influencer, and she's trying to qualify herself to be a host of a new TV show. She needs more volunteer stuff on her resume to make her more eligible to be the host of this show. So she gets her brother, a pastor, to link her up with a place to get some experience. Then she ends up going to a youth house. The guy who's the manager of it is her love interest, and she learns how to put other people first.
It was a great character development story, and then the romance was sweet too. You'll get a bit heavier topics because it follows youth who are either homeless or have some addiction problem. Like Redeeming Love, the healing process from the religious point of view is exciting and effective. So if you are a believer and want to connect with God, pick this book.
Author: Nicole Deese
Publisher: Bethany House
Average Rating: (4.8 /5)
Tropes: Murder-mystery, Self-help, Psychology
Number Of Pages: 416
Available: Audiobook | Paperback | Hardcover | Kindle | Audio CD
---
3. Tacos for Two
This book is funny and lighthearted, and it follows the two characters that have separate food trucks, and they're both entering a competition to be able to be the only food truck for their city. So they're both trying to win, but they don't know how to cook. Then they have to help each other, and they butt heads a lot. So there's a bit of drama to do with that. But overall, it was a fun story.
They also have instant messaging, and they don't know it. It's anonymous texting, which was a fun part of this book. So if that sounds good to you, I recommend it after Redeeming Love because I want to see more people reading it.
Author: Amant
Publisher: Revell
Average Rating: (4.2 /5)
Tropes: Enemies-to-lovers, Rom-com
Number Of Pages: 384
Available: Audiobook | Paperback | Hardcover | Kindle
---
4. A Broken Kind of Beautiful
We follow a model who is aging out of the model industry. As her last chance to model, she books a wedding dress campaign in the town where she grew up. So she has to go back there. In a way, she has to go back and face her past and deal with the hurts from that. Then also, the photographer's love interest is a solid Christian man. He treats her with such respect that she's not used to. So it was such a good story.
Overall the story was about the girl realizing her worth, value apart from her look, and finding faith in Jesus. The romance section is charming and fresh, encouraging you to fall in love with a Christian boy. So if you like Redeeming Love, you must read it.
Author: Katie Ganshert
Average Rating: (4.7 /5)
Tropes: Religious Romance, Drama, Inspirational
Number Of Pages: 322
Available: Audiobook | Paperback | Library Binding | Kindle
---
5. The Lady's Mine
This book is about a girl who inherited her uncle's mine and a little shop in this small Californian town. It is set in the 1800s. So she moves there and tries to make a life for herself. At this time, women didn't have as many rights. They were expected to only marry and stay at home and have kids.
But the girl wants to work, and she is very passionate about news and women's rights. So she stirs up the town, especially being one of the only single women in the city. All men want to marry her, so she has to deal with that.
Overall it was a fun story similar to Redeeming Love. There's a bit of a murder mystery in it. A couple of harsher things were brought up because of women's rights and how men treat women. That was played within this book. Moreover, there is romance, and that part wasn't my favorite! The story was so good that I would still recommend this book.
Author: Francine Rivers
Publisher: Tyndale House Publishers
Average Rating: (4.6 /5)
Tropes: Historical Christian Fiction, Suspense, Fun
Number Of Pages: 464
Available: Audiobook | Paperback | Hardcover | Kindle | Audio CD
---
6. The Tutor's Daughter
Emma Smallwood and her dad go to a house to tutor the two younger sons. They also had two older sons that they also tutored, and they were the same age as the daughter. So there is a romance between her and one of the brothers. It is a humorous story because the family they go-to tutor has a lot of secrets, and it comes to light. There's some suspense and mystery that was fun to discover.
I liked the big house setting, and they were on the water as well. As a very slow-burn romance with Christian faith, the happy ever after ending made me sigh. I reread this book and always refer to my friends to read.
Author: Julie Klassen
Publisher: Bethany House
Average Rating: (4.6 /5)
Tropes: Religious Historical Fiction, Mystery, Love-triangle
Number Of Pages: 418
Available: Audiobook | Paperback | Hardcover | Kindle | Audio CD
---
7. Stay with Me (A Misty River Romance)
This book follows Genevieve Woodward, a Christian speaker, and devotional writer. Also, she's popular among Christian girls and women. But she is also addicted to prescription drugs, so she's struggling with her addiction. Then she ends up back in her hometown to recover.
Genevieve is trying to write a new book and struggling with it in this town. Then she runs into Sam Turner, whose circumstances happen that she rents from him. He almost becomes her accountability partner for staying clean off the drugs. So it's a romance between the two of them. Like Redeeming Love, you get to see a quality story, and there is also a little mystery with her family in it.
Author: Becky Wade
Average Rating: (4.7 /5)
Tropes: Inspirational, Family-ties, Humor
Number Of Pages: 396
Available: Audiobook | Paperback | Hardcover | Kindle | Audio CD
---
8. Her Faith Restored (Welcome to Ruby)
We follow the two characters, Matt and Mel, who work at the same organization. They put on events and run an old folk home. The two characters butt heads a lot because Mel feels a little bit threatened by Matt. Matt came in only a couple of months ago, and she's been there for five years. So she feels he has all these fresh ideas, and she is intimidated by them.
It's funny because Mel gives them a hard time a lot. Then eventually, they do connect and have a friendship. I found the relationship enjoyable because they leaned on their faith, and I liked seeing that.
Also, there's one man in particular that they've been trying to witness about Jesus, and Matt's very resistant to it. So you do follow how they end up talking to him about it. You will get the same theme and story as Redeeming Love, so I recommend checking out this one.
Author: Cynthia Herron
Publisher: Mountain Brook Ink
Average Rating: (4.9 /5)
Tropes: Christmas, Healing process, True life
Number Of Pages: 297
Available: Paperback | Kindle
---
9. My Hope Next Door (The Fairfield)
Our heroine, Katie Stone, goes back to her hometown because her mom is sick. Her parents are not Christians. So, it's a pretty volatile environment in her home. She recently became a Christian, trying to straighten up her life. She had an issue with drugs and guys who used her in the past.
So she's trying to figure out a new way of living with Jesus. The guy that owns the house beside her parent's house is the pastor's son of the town. So they strike up a friendship, and they both have things that they're working through.
The son also had a falling out with the church over something pretty intense. So they both are healing, and their friendship is a part of that. Then it turns into more. Seeing the progression of the relationship was so satisfying. Overall, it was about hard things but told so beautifully compared to Redeeming Love.
Author: Tammy L. Gray
Publisher: Brilliance Audio
Average Rating: (4.6 /5)
Tropes: Small towns, Southern fiction, Self-help
Number Of Pages: 320
Available: Audiobook | Paperback | Library Binding | Kindle | Audio CD
---
10. Lulu's Cafe
The romance is super sweet, but the circumstances are harsh because you follow a woman running from an abusive marriage. There are pregnancy and physical abuse issues, and it starts right away. But eventually, the girl runs away, and she ends up in a small town. Lulu owns a cafe, sees her, and offers her a job and a place to stay. So you follow this girl recovering from her life and making new friends in this town.
Then there is a guy with whom there's a romance, but it's super slow and methodical. The faith in it is good too. The more challenging life topics were satisfying to see come to a closure. So I would recommend if you want to read like Redeeming Love.
Author: T.I. Lowe
Publisher: Oasis Audio
Average Rating: (4.7 /5)
Tropes: Social abuse, Romance, Comedy
Number Of Pages: 336
Available: Audiobook | Paperback | Kindle | Mass Market Paperback
---
Those are my favorite historical Christian romance. I want to see your list. If you have any questions or recommendations, please inform me in the comment section. I'm always here for your message. Together we will enhance our reading list. Happy reading!
---
Read More Similar Books:
5 Religious History Books About Mary Magdalene