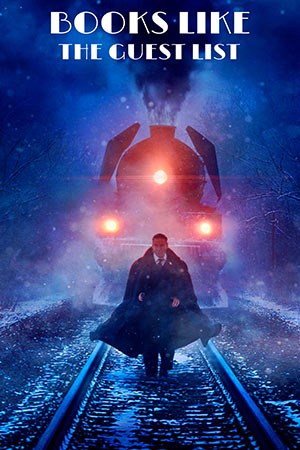 The Guest List by Lucy Foley is a thriller story on an island. A wedding is taking place on this island, and a person is murdered on this island, and you have to figure out who killed this person. The story's setup is very interesting because it's told in dual timelines. One follows the characters as they arrive at the island and the time up to the wedding. Then the other timeline is the murder itself when it happens on the wedding day. They're trying to put the pieces together, who died, and who killed them.
There is a huge cast of characters, which is always fun because it's very Agatha Christie and style the whodunit. So that was interesting. The point of view is, are the bride who is this magazine published publisher? She owns it. Then you have the husband who is this reality TV show star, and then you have the groomsmen, wedding planner, all of these different characters.
They're written in an entertaining way that you want to see how this story progresses and what happens to them. If you want to read like The Guest List and feel the same thrills, you are very close to it because I'm here for you.
10 Books Like The Guest List
The Guest List is a story about terrible characters, and you get to see everything unfold. Also, you get to follow them, and you don't care if they live where they die. So it's a fun experience getting to see what happens to them. Don't go into this thinking. It's going to be super gripping and thrilling.
You're going to be on the edge of your seat. Moreover, you can't wait to see who's behind all of this. After reading this book, I read more mystery/thriller books and made lists that match, The Guest List. I will review them for you. Let's go!
1. Sadie
The main character is Sadie, who has recently run away from home to find and take revenge on the man who killed her sister. The other main character is a radio personality named West, who finds himself searching for Sadie and uncovering what has happened to her. His perspective is told through a podcast format. The audiobook for this novel is unbelievable.
For example, there are scenes when West is doing interviews outside, and you hear birds chirping and immersive. But the story of Sadie is extremely powerful. It is a raw and honest depiction of revenge, sexual abuse, and missing women. Also, it handles all of these topics in a not sensationalized way, which is the most important aspect of this book.
The story has many layers because not only are we finding out about what happened to Maddy through Sadie's eyes, we are watching her develop as a character. Then we are also finding out what happened to Sadie through West's perspective. I'd highly recommend it if you're interested in dark mysteries and a fan of The Guest List.
Author: Courtney Summers
Average Rating: (4.4 /5)
Category: Literature & Fiction
Number Of Pages: 308
Available: Audiobook | Paperback | Hardcover | Kindle | Audio CD
---
2. Genuine Fraud
This book is a massive psychological trip about unconventionally unraveling the truth. Moreover, it is sincerely one of the unique books I have ever read. That's mainly because this book is told backward. Once you finish a chapter, the following chapter goes back in time a little bit. So everything you read hasn't happened yet.
The story follows two girls who had a very intense friendship and all of the repercussions of their time together. So the story itself isn't all that intense, and it's not like a traditional "Whodunit" mystery with one crime to be solved. The plot twists and reveals are not the most shocking that I've ever read. But it is the process of understanding those reveals, and the storytelling was super alluring to me after The Guest List.
Author: E. Lockhart
Average Rating: (4.1 /5)
Category: Mystery & Detective Fiction
Number Of Pages: 262
Available: Audiobook | Paperback | Hardcover | Kindle | Mass Market Paperback
---
3. Truly Devious
Our heroine, Stevie, travels to the elusive Ellingham Academy, where she will study true crime. Her main goal in attending the school was to solve the cold case that occurred in 1936 related to the family of the founder of Ellingham Academy. So this book is told in two timelines like The Guest List:
In 1936 when we are getting more information about what occurred all those years ago, our only lead is that the perpetrator goes by Truly Devious. We follow Stevie at the same school as it appears that Truly Devious has returned.
I've read a good handful of YA mysteries, and I feel like a lot of times, they are very predictable. They don't go super into the depth of the characterization. But this story stands out from all of them because it is so clever, witty, and well-structured. Not only are the characters super charming and easy to fall for, but the mystery itself is so beautifully constructed. There are so many twists and turns that you will never expect going into it.
Author: Maureen Johnson
Average Rating: (4.5 /5)
Category: Mystery & Detective Fiction
Number Of Pages: 416
Available: Audiobook | Paperback | Hardcover | Kindle | Audio CD
---
4. A Study in Charlotte (Charlotte Holmes)
This is a four-book mystery series following the descendants of Sherlock Holmes and John Watson named Charlotte and Jamie. The first installment takes place at a boarding school in Connecticut, where Charlotte and Jamie are both being framed for crimes that suspiciously resemble the most iconic Sherlock Holmes mysteries.
Charlotte is intellectual and calculated, albeit a little unhinged. On the other hand, Jamie is grounded and supportive, if not a little impulsive. Unlike any pair I've ever read about in literature, the two of them complement each other. Some romantic feelings do develop between them, but the core of this story relies on their friendship. The construction of the plot reveals, and the information gathering, the detective work gets better each time. You can relate the mystery aspects with The Guest List.
Author: Brittany Cavallaro
Average Rating: (4.3 /5)
Category: Romantic Suspense
Number Of Pages: 321
Available: Audiobook | Paperback | Hardcover | Kindle | Audio CD
---
5. An Anonymous Girl
This story follows a makeup artist named Jessica, who signs up for a psychological study to make a little extra cash. She doesn't expect to be roped into this mess of paranoia, manipulation, mistrust, and deceit. She begins to learn how deadly obsessions can be.
This book is told from two different perspectives, one in first person from Jessica's point of view, but the other does write in second person told to Jessica. This creepy and disturbing factor added to thinking about someone whose entire internal monologue is dedicated to another person without their knowledge. Much like The Guest List, the story goes further than you would have expected.
Although it's not my favorite thriller out there, it's a book that is a great introduction to the world of adult mystery thrillers. If you're someone who has read some YA mysteries or you're interested in getting into the genre, this book will hit all the marks to grasp you and keep you wanting more. So, it is very entertaining and an enjoyable read, especially if you're new to thrillers and looking for a more psychological twisting novel instead of something.
Author: Greer Hendricks
Average Rating: (4.3 /5)
Category: Psychological Thrillers
Number Of Pages: 375
Available: Audiobook | Paperback | Hardcover | Kindle
---
6. Dark Places
Our main character is Libby, who, as a child, was the survivor of the brutal murder of her mother and sisters and testified that her brother was the one who killed them. So while her brother Ben is in prison for those murders, Libby begins to interact with a secret group called the Kill Club, where all the members are obsessed with true crime. They try to get information out of Libby to free Ben.
It's another dual timeline story similar to The Guest List! Part of it takes place in 1985 following both Ben and Libby's mother named Patty. Then we also follow Libby and the president as she's working with the Kill Club and trying to uncover what happened all those years ago.
Libby is one of my favorite unlikable protagonists because she begins very rude, mean, disrespectful, and aggravating. As the story goes on, we get to know her more, and she begins to grow due to revisiting her personal history. She becomes very determined, motivated, and compassionate, and I loved seeing that soft side of her.
Author: Gillian Flynn
Average Rating: (4.2 /5)
Category: Women Sleuth Mysteries
Number Of Pages: 349
Available: Audiobook | Paperback | Hardcover | Kindle
---
7. Night Film
The story follows a journalist named Scott who blackballed himself in the industry after speaking out against the cult horror filmmaker named Stanislas Cordova. Cordova's daughter has recently been found dead. It is being ruled as a suicide, but Scott does not believe that all is as it seems.
Driven by a need for revenge, Scott decides to investigate the days leading up to Ashley's death and expose the Cordova family once and for all. This book is gripping and exhilarating for 'The Guest List' lovers. It was vivid and easy for me to visualize Scott running around New York City trying to find the last people who interacted to get a scrap of truth.
Moreover, this book is a mixed media where you will often come across web pages and newspaper articles, all of which add to the story. Scott was very selfish, and his priorities were totally out of whack. But the secondary characters were unexpectedly very charming and kept the story going.
Author: Marisha Pessl
Average Rating: (4.0 /5)
Category: Psychological Fiction
Number Of Pages: 640
Available: Audiobook | Paperback | Hardcover | Kindle | Audio CD
---
8. Pretty Girls
This story follows two estranged sisters. We have Claire, who has married a millionaire and lives her best rich life. Then we have Lydia, a single mother struggling to make ends meet. The two of them are plagued by the unsolved disappearance of their sister. But they have not communicated for almost two decades until one night when Claire's husband is murdered.
This book is not for the faint of heart. It deals with murder, violence, sexual abuse, and more that we saw in The Guest List! Also, it is a deep examination into the true wickedness of humanity, and I loved watching that unfold.
Author: Karin Slaughter
Average Rating: (4.3 /5)
Category: Crime Thrillers
Number Of Pages: 688
Available: Audiobook | Paperback | Hardcover | Kindle | Mass Market Paperback
---
9. The Push
The story is about motherhood that overcame all the mystery and created many thrilling things. Blythe Connor has a daughter. She starts questioning if there's something wrong with a child or if she's going crazy. There's the fact that there are some flashbacks to the mom's childhood and then her mom and grandmother. It hints at possible intergenerational trauma or mental illness that could explain what's going on.
Also, there's the fact that the ending was overall way more satisfying than the ones that I've read in the other books. The writer didn't know how to finish the book, which means you stuck. It's about 300 pages, and a psychological thriller read as The Guest List. There are a few scenes that are a little intense, so maybe you look up trigger warnings.
Author: Ashley Audrain
Average Rating: (4.3 /5)
Category: Domestic Thrillers, Family Life Fiction
Number Of Pages: 307
Available: Audiobook | Paperback | Hardcover | Kindle
---
10. Every Last Fear
This book's first sentence is that they found the bodies on a Tuesday. So it is a solid start for creating mystery. Matt Pine was accused of murdering someone, and then his family was murdered in Mexico. It looks like national debt, gas leak thing, but it is suspected of murder. Like The Guest List, you flip flop between these two timelines of the family going to Mexico and then him trying to figure out what the agents are what's going on.
It tells the story of a family made infamous by a true-crime documentary, a tragic scene made to look like an accident, and the surviving son left to say to the true quote. That traces the fate of the Pine family. After a late-night of partying, NYU student Matt Pine returns to his dorm room to devastating news. His parents, brother, and sister have been found dead from an apparent gas leak while vacationing in Mexico.
The local police claim it was an accident, but the FBI and State Department seem less certain. They won't tell Matt why the tragedy makes headlines everywhere because this isn't the first time the Pine family has been thrust into the media spotlight. Matt's older brother, Danny, is currently serving a life sentence for the murder of his girlfriend, Charlotte.
The Pine family was the subject of a viral true crime documentary, suggesting that Danny was wrongfully convicted. Though the country has rallied around Danny, Matt holds a secret about his brother that he's never told, anyone. The night Charlotte was killed, Matt saw something that made him believe his brother was guilty of the crime. When Matt returns to his small hometown to bury his parents and siblings, he's faced with a hostile community that was villainized by the documentary Constant Media Scrutiny and memories he'd hoped to leave behind forever.
As the deaths in Mexico appear increasingly suspicious and connected to Danny's case, Matt must unearth the truth behind the crime that sent his brother to prison and discover the truth behind the deaths of his parents and siblings. So the story is a page-turning thriller and a poignant about a family managing heartbreak and tragedy. To find out the truth about the Pine family, read this book.
Author: Alex Finlay
Average Rating: (4.3 /5)
Category: Psychological Thrillers
Number Of Pages: 368
Available: Audiobook | Paperback | Hardcover | Kindle | Mass Market Paperback
---
Read More Similar Thriller Books: 5 Books Like The Cellar