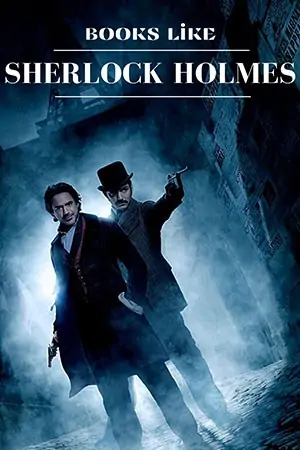 Sir Arthur Conan Doyle writes many Sherlock Holmes stories. Sherlock Holmes is constantly on our TVs, cinemas, and even bookshelves. That doesn't necessarily mean that we know anything else about him or the series of stories he stars in. Sherlock Holmes stories were first written at the end of the 1800s, and Sir Arthur Conan Doyle continued to write them into the early nineteen hundred.
Their set in Sir Arthur Conan Doyle's contemporary London and follow the amateur detective Sherlock Holmes and his companion Dr. Watson and a whole host of other reoccurring characters. Sir Arthur Conan Doyle went to university to study medicine, and he got the idea for his Sherlock Holmes character from one of his medical professors at university.
The detective genre itself was quite new and was still very much in its developing stages when Sir Arthur Conan Doyle started to write his stories. One thing he wanted to capture with the Sherlock Holmes character was the analytical process and methodology of the detective himself. It is the way the server is safe to say the mysteries themselves don't lend themselves to being solved by the reader. This is because of the narrative structure of the stories. One of the most distinctive aspects of the Sherlock Holmes series is their narrative structure, and this is why Dr. Watson narrates them.
We unveil this incredibly complex mystery and how the cream took place in how Sherlock Holmes solved it all to our complete surprise. That's an aspect that I enjoy about the books, which are full of surprises. Using Dr. Watson as the narrator is quite effective because Sherlock Holmes is a bit of a misanthrope. Dr. Watson provides that identifiable narrator and character for the author to put themselves in the shoes of and work alongside Sherlock Holmes. It also helps maintain the mystery of Sherlock Holme's mind itself. If you want to read books like Sherlock Holmes, stay with me!
10 Books Like Sherlock Holmes (Detective & Mystery Books Review)
The Sherlock Holmes series is one of the most famous detectives and mystery genres and creates huge detective reader fans. Do you want to read more books similar to Sherlock Holmes? I'm going to review the top 10 books like Sherlock Holmes. These books have the same writing style, feeling in writing, or the same type of mysteries as Sherlock Holmes. Let's start!
1. Father Brown Complete Murder Mysteries
Father Brown is a Catholic priest, and he is more focused on saving the souls of the criminals that he tracks down. That makes for some interesting situations because the criminals end up in jail most of the time, and Father Brown calls in the police. But he always gives that criminal a chance to repent of their sins first or after they're in jail. Then he'll go to them and try to offer them confessionally.
So Father Brown is a different detective, and I feel like Sherlock is that same way. He's not so concerned with the law getting the justice that some social justice is done. So, a lot of the time, Holmes and Watson'll let things slide, and they won't call in the cops. Like Sherlock Holmes, this book is full of mysteries and thrill.
Author: G. K. Chesterton
Average Customer Review: (4.2 out of 5, on Amazon)
Category: Court Rules Procedures, Mystery & Detective Literary Criticism (Best Seller)
Available: Audiobook | Kindle
---
2. Raffles: The Amateur Cracksman
It was written by Sir Arthur Conan Doyle's brother-in-law, E.W. Hornung. He wrote the book almost a counterpoint or an answer to the Holmes books that his brother-in-law had written. So Raffles, instead of being on the side of the law like Holmes's raffles, is a criminal. He is a gentleman thief.
Raffles is so good at what he does, and he does it with the flair that you want him to win. You don't want him to get caught. At one point, he steals something from the British Museum and then sends it to the Queen for her birthday.
What would Holmes be without his Watson? So naturally, Raffles has his sidekick, if you will, affectionately nicknamed Bunny, and Bunny is an amateur craftsman himself. So he follows along with raffles whenever he needs a second person, and they get up to all high jinks and craziness. If you want to be surprised like Sherlock Holmes, you must read it.
Author: E. W. Hornung
Average Customer Review: (3.8 out of 5, on Amazon)
Category: Action & Adventure Short Stories
Available: Audiobook | Paperback | Hardcover | Kindle | Mass Market Paperback
---
3. The 39 Steps
This is not necessarily a series of mysteries, but it's more like spy thriller mysteries set during World War One. In the first book, Richard finds himself involved in the spies' plot. So it's all very mysterious, and it has this feeling of mystery. But then there's also the spy stuff in there, too.
Richard tends to work alone. He doesn't have a Watson most of the time, but these books remind me of Sherlock Holmes books because of the writing style. It very much has this semi-formal writing style that leaves these little details to entice you into the mystery.
Author: John Buchan
Average Customer Review: (3.8 out of 5, on Amazon)
Category: Espionage Thrillers, War Fiction
Available: Audiobook | Paperback | Hardcover | Kindle | Audio CD
---
4. Enola Holmes and the Black Barouche
The story begins with a new missing case. Enola takes up the case and tries to help a woman who finds her missing twin sister. Also, it is very mysterious, with lots of twists and turns. Enola talks to the reader, which feels like when she breaks the fourth wall in the movies and turns to the camera.
This book strikes the right balance, like remaining true to who Sherlock Holmes is supposed to be as a character. Enola describes her outfits, the dimensions of food, and how certain characters are written. However, Enola herself is a feminist character. She is a go-getter, and she will do whatever she needs to do to save the day.
Author: Nancy Springer
Average Customer Review: (4.6 out of 5, on Amazon)
Category: Action & Adventure, Mystery & Detective Fiction
Available: Audiobook | Hardcover | Kindle | Audio CD
---
5. The Cuckoo's Calling
This book follows a man named Cormoran Strike, an Afghanistan war vet, and he's come back to England to restart his life there. Unfortunately, things aren't going super well for him. He is running his private investigation agency, and he only has one client. He has PTSD, and he's missing part of his leg, causing him many problems. So Corpsman, at the beginning of this novel, does not have the best look. He's also recently broken up with his longtime girlfriend.
He's been using temporary secretaries for his agency to help him organize his life, and this one comes named Robin. She seems to be the thing that will help kick start his private investigation business again. As this happens, a man says, I want you to investigate my sister's death. Her name is Lula Landry, and she is a model who had a very famous suicide earlier that year. Her brother doesn't believe that it was a suicide, and he believes it's a murder and launches this tale of how this comment strike solves this mystery. Is it a murder? Is it a suicide? Who does it?
He and Robin team up, and they see themselves through London, interviewing people and visiting places that have to do with Lula Landry and what might have been the actual outcome. Was it a murder, or was it a suicide? This book was a perfect crime murder mystery similar to Sherlock Holmes. They all had very distinctive personalities.
Author: Robert Galbraith
Average Customer Review: (4.2 out of 5, on Amazon)
Category: Private Investigator Mysteries, Crime Fiction (Goodreads Choice & Award Nominee)
Available: Audiobook | Paperback | Hardcover | Kindle
---
6. The Murder Of Roger Ackroyd
You cannot guess who is the murderer in this book talking about the story of this book. Roger Ackroyd is a rich man. But he is a man who knows too much. He knew he was the only person, and maybe not the only person who knew that his lover poisoned her first husband, and somebody was blackmailing her before she committed suicide.
Before Roger Ackroyd could see who the blackmailer or a blackmailer was, he was found dead. The question is now, who killed Roger Ackroyd? Was it the blackmailer, or was it someone with some other agenda or motive? Who was the killer discussing the plot of this book?
The timeline of the events very much drives it before and after the book. The plot is more built around the timeline of the events and who was where and what and everything. It gets so enjoyable because of how Florida is, and it remains the same throughout the book as Sherlock Holmes.
In this book, you will particularly love you and Kathleen, who was the narrator's sister, because they are amazing talking about the writing of this book. The narrative structure makes this a classic, and it is so amazing. So he's telling the entire story, and he tells it amazingly.
Author: Agatha Christie
Average Customer Review: (4.6 out of 5, on Amazon)
Category: Traditional Detective Mysteries, Crime Fiction
Available: Audiobook | Paperback | Hardcover | Kindle | Mass Market Paperback
---
7. A Study in Charlotte
A study in Charlotte is a modern-day retelling of Sherlock Holmes in that we are following the descendants of both Sherlock Holmes and James Watson. It's not a straightforward retelling, and we're not going through each mystery in a more modern way. But the killer in this book, whoever is behind all of these crimes, is fascinating. Some of the most famous mysteries from the Sherlock Holmes stories, luckily for two protagonists, they are very versed in those stories.
Jamie Watson has transferred over to a very prestigious private school in America, and that's where he meets Charlotte Holmes, and he has known about Charlotte his entire life. Their families are still close. Not exactly close, but he is always known of her. He's always known of the Holmes family.
Ever since he was little, he has imagined them becoming friends, going on adventures together, and solving mysteries. When he meets her in real life, she's not exactly the girl of his fantasies, but they are thrust together. Once one of their classmates is murdered, they're being framed for it. This craziness started happening, and this was a fun book to read.
Charlotte is exactly Sherlock Holmes, down to all personality traits, even plays the violin like the drugs, everything, and even Jamie Watson is very Watson ESC. The only real difference was that he was a little bit more sporty. Otherwise, these characters were very carbon copies. Because of that, it took away some of the intrigues with wanting to learn more about these characters as the story went on because they became very predictable. Sherlock's character is supposed to be super mysterious. You're supposed to get it all from Watson's, but there's something more going on with Charlotte, and it's interesting and cool.
Author: Brittany Cavallaro
Average Customer Review: (4.3 out of 5, on Amazon)
Category: Romantic Suspense, Mystery & Detective Fiction (Goodreads Choice & Award Nominee)
Available: Audiobook | Paperback | Hardcover | Kindle | Audio CD
---
8. A Study in Scarlet
This book is 162 pages long that is split into two parts. Each part has seven chapters with the first Sherlock Holmes story. The novel begins with the meeting of Sherlock Holmes and Dr. John Watson, but Sherlock doesn't have enough money to afford lodgings of his own. So Dr. Watson and Sherlock decide to put the money together and buy a flat at 221B Baker Street.
We then find out that Mr. Sherlock Holmes is a consulting detective, although Sherlock Holmes is a master in the science of deduction. Dr. Watson is shocked that he does not know basic facts, such as the Solar System. He makes a list of things that come across as common knowledge but that Sherlock doesn't seem to know about. You'll have to read the novel to find them out.
The basic plot is one day, Holmes receives a note stating that there has been a murder in London. Holmes and Watson decide to go to the place of the murder, which is a creepy old house in South London. Upon their entrance, they are met which Dr. Gregson and Dr. Lestrade. Two detectives from Scotland Yard in the house, Holmes, and Watson, enter a room, and they see that there is a man face down on the floor dead. However, he has no wounds upon his body on the wall scrawled into the plaster.
Everyone is mystified of how a man could die yet have no wounds, where the novel starts. The first part is Holmes and Watson. They tried to decipher how the men died and whatnot. Then the second part happens. Halfway through the novel, it goes to America, in which we find two travelers in the Wild West who Mormons save.
Author: Arthur Conan Doyle
Average Customer Review: (4.5 out of 5, on Amazon)
Category: Crime & Mystery Action Fiction
Available: Audiobook | Paperback | Hardcover | Kindle | Mass Market Paperback
---
9. Mycroft Holmes
The book feels a close enough brother to the Sherlock Holmes novels. It shows a lot of promise and keeps the reader engaged. It is a slow-moving book at first. Once the adventure truly begins, the book picks up and regales a pace that is advantageous and proper to this tone and tenor of the story. Every canonical example of Mycroft we have it's sedentary. Mycroft Holmes is popular in the BBC show Sherlock and appears in Sherlock Holmes A Game of Shadows with Robert Downey Jr. and Jude Law.
So the true character of Mycroft was always a mystery in this particular novel. His past is explained. Mycroft Holmes is a university graduate and is beginning his life. He has a beautiful fiancee, Georgiana Sutton, a great position in the secretary of state's office, and great friends.
So all is going well until one day. A close colored friend of his, Cyrus Douglas, gets news of terrible ongoings in his home of Trinidad. Children are being brought to their deaths by evil spirits. So shortly after receiving the news, Mycroft's fiancee has decided to leave to visit her family on the island, wanting to solve the case and chase after her.
Mycroft goes on a dangerous journey with Cyrus to solve this mystery. But nothing ever goes as planned. Mycroft and Cyrus have made attempts on their lives several times. These two friends press on to find the answers to the murder of Trinidad and figure out who is trying to kill them.
It is written in the third person, focusing mostly on Mycroft and Cyrus. The story flowed nicely from one chapter to the next. Nothing dragged out too long or too short. The transitions fit pretty well, and the story itself had a decent pace. However, I was surprised by how many fight scenes there were and how well the characters got up and moved on to the next adventure. So, the ending was also quite predictable.
Mycroft and Cyrus are a great pair, and one couldn't survive without the other literally. Mycroft knows what he is doing in terms of solving the mystery. In that sense, Microsoft's character isn't that original. The story was an interesting take on the tale of Mycroft Holmes, even though it was a predictable plot.
Author: Kareem Abdul-Jabbar, Anna Waterhouse
Average Customer Review: (4.4 out of 5, on Amazon)
Category: Traditional Detective Mysteries, International Mystery & Crime
Available: Audiobook | Paperback | Hardcover | Kindle
---
10. The Lord Peter Wimsey Mysteries
The next one I want to tell you about is not classic. It's a little more contemporary, but it's the Lord Peter Wimsey series by Dorothy Sayers. These books are set in the 1920s and 30s, and they follow a gentleman again, Lord Peter. After being disillusioned by the First World War and having a large income and nothing to do, he throws himself into detective work.
He has his faithful Batman from the war, who is now his butler. The two of them are this Holmes and Watson team, the type of mysteries that Lord Peter goes into. Figuring out and detecting are the same type of mysteries that Holmes solves with strange coincidences and weird little details that don't make sense initially.
The best thing about this series is that about three or four books into the series, Lord Peter falls in love, and the lady doesn't like him. So he spends the rest of the series trying to win his lady love and solve mysteries.
Author: Dorothy L. Sayers
Average Customer Review: (4.5 out of 5, on Amazon)
Category: Traditional Detective Mysteries, Historical Mysteries
Available: Audiobook | Paperback | Hardcover | Kindle | Audio CD
---
Series book-lists orderly:
Whose Body? (Lord Peter Wimsey Series Book 1)
Clouds of Witness (The Lord Peter Wimsey Mysteries Book 2)
Unnatural Death (The Lord Peter Wimsey Mysteries Book 3)
Lord Peter Views the Body
The Unpleasantness at the Bellona Club
Strong Poison (The Lord Peter Wimsey Mysteries Book 6)
The Five Red Herrings (The Lord Peter Wimsey Mysteries Book 7)
Have His Carcase (The Lord Peter Wimsey Mysteries Book 8)
Hangman's Holiday: A Collection of Mysteries (The Lord Peter Wimsey Mysteries Book 9)
Murder Must Advertise (The Lord Peter Wimsey Mysteries Book 10)
The Nine Tailors (The Lord Peter Wimsey Mysteries Book 11)
Gaudy Night (The Lord Peter Wimsey Mysteries Book 12)
Busman's Honeymoon (The Lord Peter Wimsey Mysteries Book 13)
In the Teeth of the Evidence: And Other Mysteries (The Lord Peter Wimsey Mysteries Book 14)
Striding Folly: A Collection of Mysteries (The Lord Peter Wimsey Mysteries Book 15)
---
Read More Adventure Book: 7 Books Like Indiana Jones