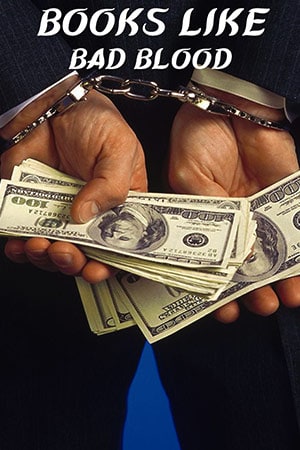 Bad Blood by John Carreyrou is a true-crime business and biographical book to teach many lessons. The book tells the story of Elizabeth Holmes and the company she founded, Theranos. Holmes was only 19 years old when she founded this company.
Over the next decade, she raised hundreds of millions of dollars. Her net worth was in the billions of dollars, and she was one of the most respected leaders in the world. The only problem was that none of it was real. The Theranos there was rampant fraud. The technology she claims to have never existed.
This book focuses entirely on Holmes and what made her tick. Why did she go down this path of fraud and lies? A lot of it was because she wanted to be the next Steve Jobs. Steve Jobs was her idol, even to the point where she supposedly lowered her voice and, even worse, Steve Jobs type clothing to fit that picture of this. So overall, this is a wild book. It's worth reading even twice, and if you want to read similar to Bad Blood, you are on the way.
7 Books Like Bad Blood (Business/Finance Crime)
Bad Blood is a must-read book for new investors who want to start trading or the stock market. As a true-crime story, this book helps us make decisions, take action, and be honest. I learned a lot about leadership and the importance of corporate culture. Also, I learned how not to lead, treat others, and stay out of jail.
While at the same time, I'm also super entertained by these books. It's part of human nature to catch on to these crime stories and read about others making these mistakes. I will review 7 white collar crime books similar to Bad Blood. So let's get into the list.
1. The Smartest Guys in the Room: The Amazing Rise and Scandalous Fall of Enron
This book tells the story of Enron, one of the biggest corporate scandals of all time. It's a long and detailed book, and that's because the Enron fraud was pretty complex. So this book dives into all areas of the fraud as Bad Blood. Enron was a massive company. There is one of the darlings of Wall Street. They're making billions of dollars a year, and they were on top of the business world. But a lot of the revenue they claimed to have made didn't exist. It existed on paper only!
So they use many accounting tricks and schemes and straight-up lies to report to the public that they were making billions of dollars when they were not. To hide this, they had to make all these different companies and do all these complex financial things.
So the book dives into it. Since the fall of Enron, regulators have cracked down on a lot of what Enron did. They have many more reporting requirements and more things they need to do to ensure that a company doesn't defraud the public as Enron did.
Author: Bethany McLean
Average Rating: (4.6 /5)
Category: Economic History, Corporate Law, Collar Crime Mystery
Number Of Pages: 480
Available: Audiobook | Paperback | Hardcover | Kindle
---
2. Den of Thieves
This is the oldest book on the list, and it deals with insider trading in the 1980s. If you think of Gordon Gekko and Wall Street, it was the era of big deals and mergers and acquisitions. It is when a company would go and purchase another company. What happened is this group of people? They realized whenever a company said they were going to buy another company, that company's stock price usually rocketed up.
So what they did is before they announced that a company was going to purchase another company, they went and bought that company's stock. It was announced that they would get taken over, and suddenly those people could make more money. This is very illegal. It's called insider trading, and there were many of them, and it took down. Like Bad Blood, the scandal took down quite a few people in this book explores it.
Author: James B. Stewart
Average Rating: (4.6 /5)
Category: Business Ethics, True Crime Biography
Number Of Pages: 592
Available: Audiobook | Paperback | Hardcover | Kindle | Audio CD
---
3. Billion Dollar Whale: The Man Who Fooled Wall Street, Hollywood, and the World
This book is about a man named Jho Low, who was a Malaysian businessman. He defrauds the Malaysian government's fund, 4.5 billion dollars. It's one of the biggest frauds of all time. He did it by himself, and he was also a crazy, massive partier. He threw some of the wildest parties in Las Vegas. Jho invested $100 million in that production. He was often seen partying with Leonardo DiCaprio.
It is a crazy story of someone who had access to an insane amount of funds and went crazy with it. The exciting thing here is he had a lot of that money. He had nearly a billion dollars in cash in his bank accounts.
When you hear about very wealthy people, about billionaires, a lot of their wealth is tied to their investments, assets, and stocks. So they don't have cash in the bank that reflects their net worth. But Joe Lowe had a billion dollars in cash. You can relate the mastermind game with Bad Blood.
Author: Bradley Hope
Average Rating: (4.5 /5)
Category: Con Artists, Hoaxes & Deceptions Crime, Finance & Politics
Number Of Pages: 400
Available: Audiobook | Paperback | Hardcover | Kindle | Mass Market Paperback
---
4. Billion Dollar Loser: The Epic Rise and Spectacular Fall of Adam Neumann and WeWork
This is the story of Adam Neumann and his company (WeWork). It was one of the most overvalued companies of all time. At one time, it was valued at almost 50 billion dollars, and then it crumbled away. Once investors found out about Adam Neumann, the crazy, eccentric CEO who was not a good business leader. They weren't that great of a business with almost no ways to profitability.
Adam Neumann and his company were never convicted or proven guilty of any crimes, but this book fits the mold of these other books on this list. The title billion-dollar loser is being applied to him. It talks about how he convinced investors to invest hundreds of millions of dollars into WeWork, even though the business plan didn't make sense. It talks about the corporate culture like Bad Blood. We read about all-night parties and getaways, about drug use, nepotism, and not the smartest business decisions of all the leaders I've read.
Author: Reeves Wiedeman
Average Rating: (4.4 /5)
Category: Biographies of Business Leaders, Workplace Culture, Crime & Law
Number Of Pages: 352
Available: Audiobook | Paperback | Hardcover | Kindle | Audio CD
---
5. American Kingpin: The Epic Hunt for the Criminal Mastermind Behind the Silk Road
This book is about a person who built a billion-dollar drug empire inside his bedroom. The significant part is everything written in this book is a thrill. It is a true story, and I'm not supporting any acts that have been done in this book. I'm only sharing my thoughts and opinions on how great the book is written and how remarkable the story is.
It primarily revolves around the deep web. For those who don't know what the deep web is, I highly suggest that you search it up. It is a more secure place on the internet where they use bitcoins, which can be used as money on the deep web. The storytelling is unique and exciting. There are two books, but they are both fantastic for storytelling. I highly recommend you pick one up after Bad Blood.
Author: Nick Bilton
Average Rating: (4.7 /5)
Category: Crime & Criminal Biographies, Organized Crime True Accounts
Number Of Pages: 328
Available: Audiobook | Paperback | Hardcover | Kindle
---
6. Red Notice: A True Story of High Finance, Murder, and One Man's Fight for Justice
Bill Browder is President Putin's name at the infamous Helsinki press conference. It is the book you need to read if you want to know. This book gives a detailed account of when Browder first got to Russia. He was the largest investment businessman in the country at the time. The Russian government ends up framing him in a tax fraud scheme. So he hires a lawyer, Sergei Magnitsky.
Bill starts digging around and unearths massive government corruption in Russia. They arrest him, torture him for about a year, and kill him. The Russian officials do. Bill Browder escaped the country in time, but he has made it his mission to get justice for his lawyer.
So he comes back to Washington, and he advocates for the Magnitsky Act. The U.S. government signed the Magnitsky Act and Magnitsky Act into law, which sanctions these Russian officials hard. So it's affecting Putin's money. In retaliation for the Magnitsky Act, Putin bans all Americans from adopting Russian babies.
This book is super fun to read, but it's true. It also gives you some much-needed background if you're trying to make sense of the Russia investigation right now, which is a total project in itself. If you're trying to follow that, this book will help.
Author: Bill Browder
Average Rating: (4.7 /5)
Category: Historical Russia Biographies, Politics & Finance
Number Of Pages: 380
Available: Audiobook | Paperback | Hardcover | Kindle
---
7. Black Edge: Inside Information, Dirty Money, and the Quest to Bring Down the Most Wanted Man on Wall Street
This book is about Wall Street and specifically the hedge fund industry, which got started. It tells the story of this man, Stephen Cohen, who started one of the largest hedge funds and pioneers in the hedge fund industry. The hedge fund was called SAC. Sac Capital and Black Edge stand for what that means in financial.
Hedge Funds make money by minor small changes in the stock market. So any information they can get about, what a company stock's going to go. This book delves a lot into a particular case that had to do with the pharmaceutical biotechnology industry.
The government started getting suspicious that insider trading was going on because it's illegal for people who work in industries traded on the stock market to share confidential information that may affect the stock price. So Black Edge is inside its lingo for inside information, and the hedge fund SAC Capital made that into fine art.
Suppose you could say that gathering inside information and funneling that to make billions of dollars. The book offers a revelatory look at the gray zone in which so much of Wall Street functions. It's a riveting true-life legal thriller that takes readers inside the government's pursuit of Cohen and his employees and raises urgent and troubling questions about power and wealth. The characters and plans are very relatable with Bad Blood, and you will get the same flavor and lessons.
Author: Sheelah Kolhatkar
Average Rating: (4.5 /5)
Category: Crime & Criminal Biographies, Investing & Trading
Number Of Pages: 295
Available: Audiobook | Paperback | Hardcover | Kindle | Spiral-bound
---
Read More Similar Books: 7 True-Crime Books Like If You Tell