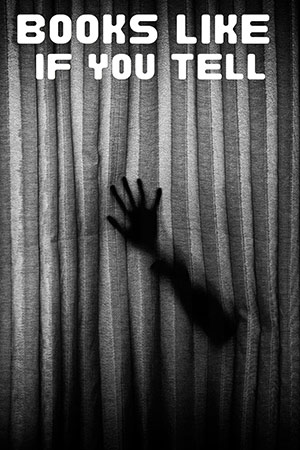 If You Tell by Gregg Olsen is a true-crime story. We saw a brutal mother, and Shelly tortured her children. So the story opens telling about her life, and she's always been a troubled woman. She had three daughters, Nikki, Sami, and Tori. She tortured Nikki, locked her in her room for weeks, called her ugly, worthless everything.
So Nikki was used to the abuse. Shelly then moved in with Kathy, who has some mental illness. We saw the murder mystery and the character's development throughout the suspense. You are on the way if you want to read like If You Tell.
7 Books Like If You Tell (Murder Mystery & Criminology)
If You Tell is about a unique true murder story where we enjoyed many tropes like mystery, suspense, thrill, detective, and action. The author is an excellent writer who successfully keeps the secrets at the end. I felt overwhelmed and excited to know the main culprit when I read it. Do you want to read more crime suspense books? I will review 7 murder mystery books like If You Tell.
1. In Cold Blood
The story represents a murder mystery. The Clutter Family Murders refers to the 50th November 1959 in the small town of Holcomb in Kansas. Here four members of the Clutter family were brutally murdered at gunpoint, all in separate rooms. Some were tied up, and some were not. There was no motive for the crime. Everyone liked the clutter family, and they had a good reputation.
The case was eventually solved, and this book is super interesting because it follows in the footsteps of the murderers before the crime happened and talks about the clutter family. It's so well-written, and everything in this book happened similar to If You Tell. It talks in-depth about the perpetrators and the victims, making for an incredibly layered story.
Author: Truman Capote
Average Rating: (4.6 /5)
Category: U.S. State & Local History, Criminology
Number Of Pages: 343
Available: Audiobook | Paperback | Hardcover | Kindle
---
2. I'll Be Gone in the Dark: One Woman's Obsessive Search for the Golden State Killer
This is a story of the Golden State Killer, who was unidentified at the time of writing this book, but we now know to be it. The author of this, Michelle McNamara, dedicated all of her time to solving this case. It was pretty much unknown by the public before she drew attention. So, this is an incredible book, and the way that Michelle can set the scene of each crime blows me away. You can relate many situations and trauma with If You Tell.
The research she put in for this is impeccable. She goes into so much detail about each crime, and it's for this reason that I struggle to read this so much. Everything in this book is so vivid that it's not exactly something you can blast through in a couple of days. The investigative journalism went into this book which I aspire to be.
Author: Michelle McNamara
Average Rating: (4.7 /5)
Category: Serial Killers True Accounts, Law Enforcement Biographies
Number Of Pages: 352
Available: Audiobook | Paperback | Hardcover | Kindle | Audio CD
---
3. And the Band Played On: Politics, People, and the AIDS Epidemic
The tagline is politics, people, and the AIDS epidemic. This is a chunky book with teeny tiny writing, and I've read every single page of this. You need patience for this one. Sometimes the contents and the topics make me so angry that I have to put them down. But I've read enough of it to recommend it in good conscience.
It's outstanding investigative journalism that looks into the 80s AIDS crisis in the USA. However, it does explore other areas of the world about AIDS. They spoke highlighted the many ways in which the U.S. government failed when it came to the AIDS epidemic. It was dismissed as a gay disease. Gay cancer made it anything less worthy of paying attention to it.
The author talks about Reagan's failures as president how he tried to dismiss the CDC's advice because he didn't like what they said. There are a lot of parallels that could be made to the USA's circumstances today, and it talks about the race to a cure.
Author: Randy Shilts
Average Rating: (4.8 /5)
Category: Health Policy & Administration
Number Of Pages: 660
Available: Audiobook | Paperback | Hardcover | Kindle | Audio CD
---
4. The Lighthouse: The Mystery of the Eilean Mor Lighthouse Keepers
Maybe you haven't heard this case before: three lighthouse keepers and rock off the coast of Scotland disappeared. It's an enduring mystery, including a strange and mysterious look like If You Tell. The country's bad-tempered men were missing clothing. It's very to the point but informative, which is sometimes the thing you need when researching.
This book focuses on what it means to be a lighthouse keeper the conditions they found themselves in on the rock. Then it delves into the theories around this case. I found it well researched, which I'd say is the most important thing in a true-crime book.
Author: Keith McCloskey
Average Rating: (4.2 /5)
Category: Great Britain History
Number Of Pages: 228
Available: Paperback | Kindle
---
5. The Search for the Green River Killer: The True Story of America's Most Prolific Serial Killer
This is an absolute must-read or must-listen if you're into serial killers. It was written before Gary Ridgway was caught, which adds a non-biased voice to the book. It mostly focuses on the search. I love to see the investigative techniques, and this book focuses on that which is similar to If You Tell.
The story talks about how underfunded the investigation was, and it's super strange in hindsight, knowing the Gary Ridgway was a killer because it feels like the investigation gets so close at some point. But it's never quite there. I would recommend doing this one as an audiobook. There are a lot of names and victims.
Author: Carlton Smith
Average Rating: (4.2 /5)
Category: Serial Killers True Accounts, Detective
Number Of Pages: 544
Available: Audiobook | Mass Market Paperback | Kindle | Audio CD
---
6. One of Your Own: The Life and Death of Myra Hindley
As the title suggests, this is about the life of Myra Hindley, who is one part of the jury responsible for the Moors murders, along with Ian Brady. Most true crime books tend to be about men, so reading about a female killer is very interesting. The psychology behind it is very different. It's why did Hindley stay with Brady for so long? Was she always inclined to kill herself? Was it a response to being with a killer?
This book gives no answers to those questions because no one would ever know the answer apart from making Myra herself. But it makes you think as If You Tell. Also, it is meticulously researched and so well-written. It gave me chills at some points, and the settings of these murders are inherently creepy anyway. Moreover, this is one for the faint-hearted, though it includes many graphic descriptions about child murders, and that's not for everyone.
Author: Carol Ann Lee
Average Rating: (4.5 /5)
Category: Crime & Criminal Biographies
Number Of Pages: 464
Available: Paperback
---
7. The Lost Girls: The True Story of the Cleveland Abductions
This is a horrifying story about the three girls kidnapped, imprisoned, and abused in a house for many years by Ariel Castro and how they miraculously managed to escape alive. You can't help but remember this is a true story about real girls who went through the worst imaginable and came out the other side alive somehow.
This book covers everything from Castro's past and family to each girl's life. It's a well-written account of what went on, and it has a happy ending, which is unusual for a true-crime book. So we get to see the crimes of the Long Island serial killer, who is still yet to be apprehended. The way this is written is gripping to the point where you forget this is a non-fiction book. If you are a fan of If You Tell, you must try it.
Author: John Glatt
Average Rating: (4.7 /5)
Category: True Crime Memoir
Number Of Pages: 384
Available: Audiobook | Mass Market Paperback | Hardcover | Kindle | Audio CD
---
Read More Similar Thriller Books: 5 Spy Thriller Books Like The Gray Man