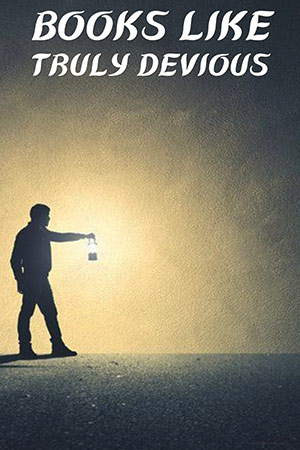 Truly Devious by Maureen Johnson is a crime novel about murders and mystery. This is also once again set in a boarding school. The story is about Stevie Bell, and she wants to be a detective one day. Then she gets to go to Ellingham Academy, a school for all children with special abilities. It gives me all the Hogwarts vibes, which is great. We love that in 1936, some gruesome kidnapping and possible murders might have happened at Ellingham Academy, and one student was killed.
So Stevie writes an essay saying she thinks she can solve the Ellingham case and gets accepted. The books follow her going to school and trying to solve the case. Then you also get snippets from scenes in the 1930s. So you slowly get more and more information about Ellingham and what was going on. Stevie has anxiety, and this book also talks about mental health, which is a very precious thing to happen. Overall, the excitement and mystery were unique, and if you want to read more like Truly Devious, we are on the right track.
5 Books Like Truly Devious
Maureen Johnson is a good mystery writer who knows exactly when to reveal things and hold them back. That gives you enough to try and work it out. She has a very sarcastic, witty tone, so even when some quite dark things are happening, there's always this element of humor running through it. I will review 5 books similar to Truly Devious to give you the same flavor. Let's go!
1. The Diviners
This book has been immensely popular on YouTube for the past couple of years. It is about Evie O'Neill, who has special powers. She can touch objects and then know what happened to them or the people whose object it is. Because of the special power, she gets wrapped up in some scandal in her hometown. So she gets shipped off to New York to live with her super eccentric uncle, who runs a museum for the occult.
The book is set in the 1920s, so it's beautifully historically written and super funny. It has a lot of good humor and quirky characters. Evie is quite the gal. This supernatural power that she has could help solve some terrible murders that have been happening in the city of New York when she gets there. So the story is filled with mystery and has beautiful historical elements. You should check out if you like Truly Devious.
Author: Libba Bray
Average Customer Review: (4.4 out of 5, on Amazon)
Category: 20th Century United States Historical Fiction
Number Of Pages: 603
Available: Audiobook | Paperback | Hardcover | Kindle | Audio CD
---
2. Ninth House (Alex Stern)
This book is the perfect example of a beautiful, dark academic story. The story is about Alex Stern, and she has survived a horrible murder where some of her very closest friends were murdered. So she thinks they're probably going to charge her for the murder, even though she did not do it. But then she wakes up in the hospital, and she's recruited by one of Yale's secret societies named Leith.
All secret societies do dark, occult magic surrounding the university. Yale and Leith is the one society that controls all the other societies, and these societies do rituals where they do magical things. Alex is specially recruited because she can see ghosts, so they need her to guard the rituals.
Someone gets murdered, and Alex thinks this has to do with the secret societies. But she's not sure, and she cannot prove it yet. Then she goes out on a journey to prove that this murder has something to do with the societies and that's more happening than you can see at first glance. You can relate to Alex with Stevie that we saw her in Truly Devious.
Author: Leigh Bardugo
Average Customer Review: (4.5 out of 5, on Amazon)
Category: Supernatural Thrillers, Occult Fiction
Number Of Pages: 496
Available: Audiobook | Paperback | Hardcover | Kindle
---
3. The Naturals
This book is like Criminal Minds but written for youth, and it's beautiful. It's about a special unit in the FBI where all teenagers with extraordinary abilities get recruited, so some are good with numbers. They're good at recognizing things and remembering things. The girl we follow in this book has a unique talent for reading other people's emotions. She's with another guy in that unit that's also a profiler.
Then they get to solve all cool murders. But also, this girl's mother was murdered as well. So there's an intrinsic or mystery happening to this is a very short read similar to Truly Devious. You can fly through it, but it's a good book. If you're starting with reading more murder mysteries, I would recommend one.
Author: Jennifer Lynn Barnes
Average Customer Review: (4.6 out of 5, on Amazon)
Category: Law & Crime Stories, Mystery & Thriller Action & Adventure
Number Of Pages: 336
Available: Audiobook | Paperback | Hardcover | Kindle | Audio CD
---
4. The Cuckoo's Calling (Cormoran Strike)
Robert Galbraith is a pen name for J.K. Rowling. I still enjoy many things she has made and created, like Harry Potter. This book is about a supermodel who falls off her balcony in London, and everybody thinks it's a suicide. But her brother thinks it was not a suicide. He gets a standard detective strike to look into the case and Kaufman's assistant Robin Ellacott.
Robin and Cameron make a beautiful duo, and this book has great humor. Also, the mysteries are always so beautifully plotted as Truly Devious. The detectives keep your excitement always up and make you sometimes fool.
Author: Robert Galbraith
Average Customer Review: (4.2 out of 5, on Amazon)
Category: Private Investigator Mysteries
Number Of Pages: 456
Available: Audiobook | Paperback | Hardcover | Kindle
---
5. A Study in Charlotte (Charlotte Holmes)
This is a reimagining of Sherlock Holmes, and it's about two teens who are the descendants of the Watson and the Sherlock family. She's so Sherlock. But at the same time, she's her person. I have a trigger warning for this book about rape and sexism, but it is dealt with in a great way. There was a murder on a school campus again, and it's set up exactly like a Sherlock Holmes murder.
Someone is trying to set up Charlotte and Jamie Watson. But they didn't do it, so they started investigating what was happening and what happened. The character development and plots are very relatable with Truly Devious. If you love the Sherlock Holmes series and want to read like Truly Devious, you must read it.
Author: Brittany Cavallaro
Average Customer Review: (4.3 out of 5, on Amazon)
Category: Mystery & Detective Fiction, Romantic Suspense
Number Of Pages: 321
Available: Audiobook | Paperback | Hardcover | Kindle | Audio CD
---
Read More Similar Crime Thriller Books: Books Like The Guest List