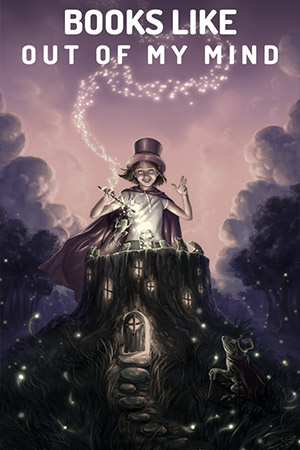 Out of My Mind by Sharon M. Draper is contemporary realistic fiction. Some things happen in this story that can happen in real life. Also, it has many parts of the subgenre with growing up in a family and learning that dynamic coming of age. We might think being silent for a day would be lovely for moms. But what if you can never say anything? What if you could never give a hug or do something as simple as taking yourself to the bathroom or dressing? That's what happens in our protagonist, Melody's world.
Melody has cerebral palsy, and from birth, she has never been able to do much. She never did the normal baby things of rolling over, crawling or walking. But in her brain, she is a genius because she can remember things from her earliest infancy, even information she's watched on TV. All of it is trapped in her mind, and she has no way to share that. As the story goes along, Melody also helps her be able to use a little board on her wheelchair. That allows her to, with her thumbs, which are her way of communicating.
Most important, Melody discovers that there is a computer available to a girl that can speak for her. It is revolutionary and changes her world, but it doesn't change everything. When she has the opportunity to be a part of a fantastic competition that the school values, she does wonderfully and makes great strides in showing her intelligence. But at the last minute, things fall apart, and she has to deal with a lot of disappointment. So. this is a book that we could not put down. If you want to read books like Out Of My Mind, keep scrolling.
10 Books Like Out Of My Mind
Out Of My Mind has a beautiful message that readers can not forget in life. After reading this book, I was shocked and inspired to read more children's realistic fiction with disability representation. So I have a big list, but I will discuss my top favorite 10 books similar to Out Of My Mind. You can read them alone or read with students and children. Let's go!
| Name | Key Focus | Review (Goodreads) |
| --- | --- | --- |
| Rules | A sibling relationship with helping each other and self-discovering. | 3.9 |
| Fish in a Tree | A girl is struggling with dyslexia with friends, teachers, and family. | 4.2 |
| Counting by 7s | A girl is dealing with family problems and learning to socialize and challenge with difficulties. | 4.1 |
| The One and Only Ivan | A gorilla shows his life condition in a zoo and describes his mental situation. | 4.2 |
| Wonder | A brilliant kid experiences his new life, school, and difficulties. | 4.3 |
| Smile | A girl is dealing with her looks and self-esteem with many issues. | 4.2 |
| Restart | A bad boy is going through a healing process and making a new identity in his life. | 4.2 |
| Esperanza Rising | A rich girl is searching for ordinary life and freedom. | 4.0 |
| A Mango Shaped Space | A girl is going through self-discovery and overcoming her disability. | 4.2 |
| 11 Birthdays | A cute friendship faces difficulties, and both characters try to fix it. | 4.1 |
Books Like Out Of My Mind
1. Rules
This book tells the story of a 12-year-old girl named Catherine who has a younger brother with autism, and his name is David. Catherine finds a way to help David fit into society by giving him a book in which she writes down basic rules. David has a hard time understanding. So she helps them by writing down the rules for him to know what to do or what not to do when he's around people.
The book itself is so endearing and heartwarming, and you get to see it from the perspective of the sister, the kid with autism. You also get to know how everybody feels about autism and sees it. So it's cool because it's such a real view of what a family that deals with autism daily struggles with.
Like Out Of My Mind, the author does an incredible job at communicating how everybody in the family feels regarding the person dealing with autism. I would use to describe this book are: coexisting with autism, frustration, acceptance, heartwarming, and innocent.
Author: Cynthia Lord
Publisher: Scholastic Press (First Edition, 4th printing)
Average Customer Review: (4.6 out of 5, on Amazon)
Tropes: Neurodiversity, Psychology
Number Of Pages: 208
Item Weight: 12.8 ounces
Dimensions: 6 x 1 x 8.75 inches
Available: Audiobook | Paperback | Hardcover | Kindle | Audio CD
---
2. Fish in a Tree
The story is about a girl named Ally. The book opens with a baby shower for her teacher, and she has picked out a card. The teacher's up in front of the room opening presents and cards. She opens a card from Ally. Her face falls when she opens the card, and she immediately sends Ally to the principal's office. When Ally gets to the principal's office, the principal wants to know why he has given this card to her teacher because it is a sympathy card.
But Ally doesn't know this because she can't read. So she's been harboring the secret for a long time and can cover it up. Fortunately, as her teacher is out, an excellent substitute teacher comes in, discovers that Ally has dyslexia, and puts her on the road to recovery she can. She's very smart, and she does learn how to read. The characters were stereotypical and not well-developed, but the story is interesting. Fish in a Tree is a good choice after Out Of My Mind if you're looking for a great, realistic fiction book.
Read similar: 5 Books Like Fish In A Tree
Author: Lynda Mullaly Hunt
Publisher: Nancy Paulsen Books
Average Customer Review: (4.8 out of 5, on Amazon)
Tropes: Friendship, Bullying, Anger
Number Of Pages: 320
Grade level: 5 – 9
Reading age: 9 – 11 years
Item Weight: 9 ounces
Dimensions: 0.88 x 5.06 x 7.75 inches
Available: Audiobook | Paperback | Hardcover | Kindle | Audio CD
---
3. Counting by 7s
We follow a young girl named Willow, who is extremely intellectual. She's a student by nature and likes to study. Also, Willow has a habit of counting by 7s everywhere she goes, which is a little socially awkward. At the beginning of the book, she doesn't quite understand the value of socializing and struggles with it. Her adopted parents get in an accident. So, Willow is adopted, which is somewhat of an obstacle for her, especially socially. She grew up in an affluent household with two nonbiological parents.
Whenever they get in an accident, she's put in a situation where she has to figure out what friendship and family are. Also, she forges these bonds with some of the least expected people, a taxi driver, challenging students who get into trouble where Willow never did. She gets into many shenanigans with them but also creates heartwarming family bonds.
There's nothing that is super straightforward or expected in this book. As realistic fiction, it starts as a sad story. It pulled in my heartstrings and got me emotional. Anyone will appreciate this book like Out Of My Mind. One other thing I love about this book is the number of diverse characters that are here. We have all of the diverse circumstances present in this book's characters. The heartwarming plot and writing are quite good, but I'm not convinced at the end of the book.
Author: Holly Goldberg Sloan
Publisher: Rocky Pond Books (Reprint edition)
Average Customer Review: (4.7 out of 5, on Amazon)
Tropes: Orphans & Foster Homes, Survival, Arc
Number Of Pages: 416
Available: Audiobook | Paperback | Hardcover | Kindle | Audio CD
---
4. The One and Only Ivan
This book is an award-winning middle grade that is based on truth. Ivan is a gorilla who lives at the mall and is a spectacle. Not only do people come to stare at him, but they also fork over cash for his drawings. Ivan, who narrates this book, doesn't call himself exploited. That would be too on-the-nose for the lyrical story about what it means to be a living, feeling being with a need for connection, even purpose. But any animal-loving reader will recognize the cruelty of Ivan's situation and await his liberation.
The fact that this liberation comes as Ivan reaches outside himself to help another brings welcome humanity to this animal tale. Though we can never know what goes on inside an animal's head, the book had me believing in Ivan and in what he was thinking and feeling.
More significantly, it reminded me of the preciousness of every aspect of creation. You don't have to commit to reading for 15 minutes. Sometimes chapters can be long and take half an hour to read an entire chapter aloud.
Author: Katherine Applegate, Patricia Castelao
Narrator: Adam Grupper
Publisher: HarperAudio
Average Customer Review: (4.8 out of 5, on Amazon)
Tropes: Ape & Monkey, Humor
Number Of Pages: 307
Available: Audiobook | Paperback | Hardcover | Kindle | Audio CD
---
5. Wonder
Wonder is an incredibly popular middle-grade novel about a fifth-grader named August Pullman. He has Treacher Collins Syndrome, which causes severe facial deformities. Consequently, his parents have chosen to homeschool him all his life. But he's progressing from elementary to middle school, and his parents suggest he go to a school with other children.
It isn't a concern academically because August is a brilliant kid. But in terms of social interaction, they're very scared of how the other children will treat him and how well he will adjust. So everyone's a little bit worried. The story follows August as he experiences his new life at this new school, similar to Out Of My Mind. You see him encounter all the different things you find at school, including the bullies that make fun of him or his friends.
So you see how he's going to school, and other things in everyone's lives shape how their family dynamic turns out. August's our main character, so we spend a lot of time in his head. But we also read from other characters' perspectives, including August's older sister and new friends at his new school. Every character is layered and well-developed. As for the movie adaptation, it was good because the source material was good. Everyone at any age can enjoy it, so I recommend it.
Author: R. J. Palacio
Narrator: Kaya McLean, Lila Sage Bromley
Publisher: Listening Library
Average Customer Review: (4.8 out of 5, on Amazon)
Tropes: Self-Esteem, Emotions, Realistic-fiction (Best Seller)
Number Of Pages: 315
Available: Audiobook | Paperback | Hardcover | Kindle | Audio CD
---
6. Smile
This book is based on a true story like Out Of My Mind. When the story begins, Raina is in 6th grade and is 11 years old. Raina has an overbite, so she needs braces, and if she doesn`t get it fixed, it could cause problems later in her life. One night after a Girl Scout meeting, she was dropped off at her house. They were racing her to her house, and something bad happened!
Raina trips and falls on the pavement causing her two front teeth to come out. Unfortunately for her, they were her permanent teeth. It causes more frustration now with on and off again braces. When Raina thought things could not get worse, they did. Raina got a retainer with fake teeth and headgear.
To make matters worse, there's still more Raina has to deal with: a major earthquake, boy problems, and friends who aren't good. If you want to know how the book ends, you'll have to run out and get it. The hardcover quality is poor, but the paperback is satisfying in color, font style, and page quality.
Author: Raina Telgemeier
Publisher: Graphix
Average Customer Review: (4.8 out of 5, on Amazon)
Tropes: Biography Comics, Diseases & Physical Illness
Number Of Pages: 224
Reading age: 9 – 12 years
Item Weight: 12.8 ounces
Dimensions: 5.5 x 0.75 x 8 inches
Available: Paperback | Kindle
---
7. Restart
Restart is a great book to discuss bullying, starting over, and getting second chances. In this story, the main character (Chase) falls off a roof at the beginning of the story. He is OC but has amnesia and doesn't remember who he is. Throughout the story, through his interactions with the other characters, he begins to learn about the person he was before and wonders if he's still that same person or has changed.
Chase meets people who like him and think he's fantastic. Then the people he meets are terrified of him because he's a bully. Since he hit his head on the floor and lost all this memory, it's a restart for him to become a better person.
Though the book is boring and slow, it would lead to amazing conversations with your students in your classroom. I highly recommend reading this with your upper, elementary, or even middle school students. A lot of good things can come out of the book, so either you read it or put it in your classroom library for your students to grab. The book's theme and characters are very relatable to Out Of My Mind.
Read similar: 5 Books Like Restart
Author: Gordon Korman
Publisher: Scholastic Press
Average Customer Review: (4.7 out of 5, on Amazon)
Tropes: Action, Adventure, Friendship, Bullying (Best Selling)
Number Of Pages: 256
Available: Audiobook | Paperback | Hardcover | Kindle | Audio CD
---
8. Esperanza Rising
This is a historical fiction novel and the winner of the Pura Belpre Award. The story is about a girl named Esperanza growing up in 1930 in Mexico. She's very rich, and her family owns a large and very successful ranch, but they're not snooty rich people. Esperanza doesn't necessarily think of herself as better than everybody else, but she takes what she has for granted.
So when her father dies unexpectedly, and they are suddenly left homeless, they have to move to America and work. It contrasts with your typical Cinderella story, where Esperanza learns to appreciate the things she has to not take for granted and be a little more humble. I fell in love with Esperanza's transformation, and I hope you will, too. If you like Out Of My Mind, you must read it.
Read similar: 5 Books Like Esperanza Rising
Author: Pam Muñoz Ryan
Publisher: Scholastic
Average Customer Review: (4.8 out of 5, on Amazon)
Tropes: Homelessness & Poverty, Historical, Culture
Number Of Pages: 262
Grade level: 6 – 7
Available: Audiobook | Paperback | Hardcover | Kindle | Audio CD
---
9. A Mango Shaped Space
This is a middle-grade contemporary novel about a young girl with synesthesia. Mia was different her entire life. She knows that not everyone associates colors and textures with numbers and letters the way she does. But she's never told anyone because she's afraid of being labeled as different or abnormal in some way. Eventually, it does come out, and she winds up on a journey of self-discovery throughout this book.
I reread it in New Year for the book to preview the fun. It was for the prompt of something that would make you cry. The pace in this book feels like everything happens way too quickly as in Out Of My Mind. It's hard to connect when everything is flying past you as a reader. Even with the sentences done poorly, it's worthwhile regarding the family and friendship dynamics.
Author: Wendy Mass
Publisher: Little (Reprint edition)
Average Customer Review: (4.7 out of 5, on Amazon)
Tropes: Loners & Outcasts, Disability
Number Of Pages: 221
Grade level: 3 – 7
Item Weight: 8 ounces
Available: Audiobook | Paperback | Library Binding | Kindle | Audio CD
---
10. Eleven Birthdays
Our main characters are Amanda and Leo. They were both born on the same day at the same time. When their parents are in the hospital, walking down the hall, they meet a woman named Angelina. Angelina is different, magical, mysterious, and has a duck birthmark on the side of her cheek. So whenever she talks, people get distracted and keep looking at the duck that wiggles up and down.
After that, Angelina introduced herself to Amanda's and Leo's parents. She asks, Are you going to celebrate your kid's birthdays together every year? Their parents shook their heads, saying yes and sure. But at that moment, everybody knew that wasn't true, and they never thought they'd meet each other again. But a year later, they met again at Amanda's and Leo's first birthday party because they both booked their kids' birthday parties simultaneously.
After that, they reunited again, and parents celebrated their kids' birthdays every year until their 10th birthday. On their 10th birthday, they got into a huge fight that greatly affected Amanda's feelings. Because of that, they didn't celebrate their 11th birthday together. If you want to find out what the big fight was about, read 11 birthdays. The only problem with this book is that it is very repetitive, but it was fun to read.
Author: Wendy Mass
Publisher: Scholastic Paperbacks
Average Customer Review: (4.8 out of 5, on Amazon)
Tropes: Time travel, Magical Realism, Mystery
Number Of Pages: 272
Item Weight: 6.6 ounces
Dimensions: 5.31 x 0.66 x 7.62 inches
Available: Audiobook | Paperback | Library Binding | Kindle | Audio CD
---
Read more similar books:
5 Children Fantasy Books Like The Phantom Tollbooth
7 Children Realistic Fiction Books Like The Penderwicks
5 Child Abuse Books Like Spilled Milk
5 Children Adventure Books Like The City Of Ember
5 Children Mystery Books Like The Westing Game