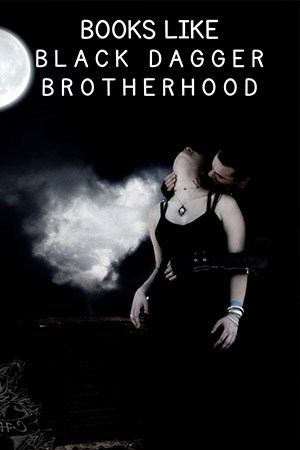 Black Dagger Brotherhood by J.R. Ward is a paranormal vampire romance series that won RITA Award, America Nominee, RT Award, and so on. Series or books like Black Dagger Brotherhood largely represents dragon, vampire, witches, action, drama, adventure, friendship, banter, suspense, and thriller with a gothic vibe.
All the books in the series are character driven. Other stories are all intertwined with the Black Brother Brotherhood series. We also have the Black Dagger Legacy series or Trilogy X, which is also intertwined with the series. Every book contains a different character and a different love interest.
They are uncensored and sarcastic. The banter and the relationship between these characters are undeniable. I love all these characters if there are many sexy moments, especially Beth. If you want to read more similar, then keep scrolling!
7 Books Like Black Dagger Brotherhood (Vampire Love Story)
Black Dagger Brotherhood is about finding the women they're bonded to, how they've tracked them down, and how they find them. Then the whole big romance thing and sex scenes are steamy and awesome. After reading the series, I read The Immortals After Dark series, which is incredible too.
Both series are fantasy-type books along the same werewolves, witches, valkyrie, demons, angels, and romance. I have a vampire romance list and found some similar to the Black Dagger Brotherhood series. So, I'll talk about my 7 favorite paranormal vampire romance books like Black Dagger Brotherhood. Let's go!
| Name | Key Focus | Review (Goodreads) |
| --- | --- | --- |
| Love by Night | A vampire King feels attraction toward a psychic girl. | 3.5 |
| Queen Takes Knights | A girl discovers herself as a powerful vampire, and a team protects her and makes a reverse harem. | 3.8 |
| Dark Prince | A girl tries to break the curse for her brother and a man where she has to sacrifice more. | 3.9 |
| Vampire Seduction | Two vampires are in a relationship and from rival families. | 3.9 |
| Halfway to the Grave | A half-vampire girl tries to take revenge, but her mind changes into love. | 4.1 |
| Vampire Academy | An informative vampire love story with many characters. | 4.1 |
| Moon Called | A shop owner girl starts to discover paranormal things. | 4.1 |
Books Like Black Dagger Brotherhood List
1. Love by Night: A Black Vampire Story
Love by Night is a black-love vampire romance. Our heroine (Adirah) is a psychic, not necessarily psychic, but she has abilities. Our hero is a vampire king (Kesh) to a specific clan. It takes place in North Carolina at a historic school where a lot of slavery was happening. Also, there are a bunch of vampires living there disguised on campus. Kesh is super attracted to Adirah.
They come together pretty quickly. Kesh is immediately attracted to her and wants her to be his queen. After a couple of meetings and his persuading her, they connect. He forces her to come together with him, and she doesn't have much choice. I recommend this one with the audiobook. It was a fun time on Audible Plus.
Author: Stina
Narrator: iiKane
Publisher: Urban Audiobooks
Tropes: Vampire, African American Literature, Urban, Hea
Available: Audiobook | Paperback | Mass Market Paperback | Kindle | Audio CD
2. Queen Takes Knights (Their Vampire Queen)
Queen Takes Knights is a reverse harem paranormal romance and the first book in the Vampire Queen series. Without mentioning this series, I cannot do a vampire romance like the Black Dagger Brotherhood recommendation. The story is about Shara Isador, who thinks she is human and has monsters always following her. She doesn't understand what's going on. Two guys come to save her, and they discover she is a vampire queen because she's about to sacrifice herself.
Shara finds out that she's at least half vampire-half human. We eventually discover other things about her, but she is one of the very powerful vampires in the series. These follow her taking on the blood, who is the army. They protect her and strive to ensure her house is always safe, and she specifically takes knights that she loves. So this is a polyamorous story with multiple partners. There's lots of blood playing here, which reminds me a lot of Black Dagger Brotherhood series. The whole series is very consumable and addicting. If you love a popcorn story, this one is for you.
Author: Joely Sue Burkhart
Tropes: Reverse Harem, Paranormal, Dark, Taboo, Love-triangle, Fun
Number Of Pages: 190
Available: Audiobook | Paperback | Kindle
3. Dark Prince (Blueblood Vampires)
Dark Prince is another very consumable and fun vampire-witches romance. We have Lucca, our hero, who has a curse on him. So he is hibernating, falling asleep, and taking a very long time to wake up. The next time he falls asleep, he will not wake up again because he has to break a curse. This curse is that he has to find a specific bloodline and drink from them. If he can stop himself before killing them, he will live and break the curse.
Our heroine is roped into being around him. After all, she has to steal his necklace because her brother has done something to cause issues among these other people. She has to get the necklace for them to save his life. So she takes a potion to disguise herself as a vampire to go to a vampire school that he's a part of. It reminds me of high school but not high school because it's a training ground for a specific type of vampire. Lucca is one of the blue blood. He's one of the higher-ranking vampires, and their romance is fun.
They have a fast attraction and find a reason to always be around each other. But the smut doesn't happen too fast at the appropriate time, and I loved their attraction to one another, how long they fought it, and how long they wanted to go forward with it. The whole theme of the book is very similar to the Black Dagger Brotherhood series or Dark Lover book. This is exactly what I was looking for when I read it. So take it!
Author: Michelle Hercules
Narrator: Troy Duran, Mindy Kennedy
Publisher: Tantor Audio
Tropes: Magic, Witches, Forbidden, Mystery, Dragons, Philosophy
Number Of Pages: 276
Available: Audiobook | Paperback | Hardcover | Kindle | Audio CD
4. Vampire Seduction (Real Men of Other cross)
Vampire Seduction is a very short and fast shapeshifters romance novella. We have two vampires (Alena and Luca) who are beloveds, they are mates, and they have no idea. They're from rival families. Her family is framing Luca, and he's on trial. Alena decides to take over the trial and represent him as his mate. It was precious and adorable because they would do anything for each other.
The characters are well-developed, and I enjoyed their personalities are felt throughout the story. The vampire and love elements are slightly matched with Black Dagger Brotherhood. The plot and storyline are average for me. Read this if you want a fast, fun, instant-love, and smutty lawyer romance.
Author: Celia Kyle
Narrator: Justine O. Keef
Publisher: Tantor Audio
Tropes: Paranormal, Shapeshifters, Arc
Number Of Pages: 86
Available: Audiobook | Kindle | Audio CD
5. Halfway to the Grave (Night Huntress)
Halfway to the Grave is an urban fantasy vampire love story. You can tell the romance is happening. Like Black Dagger Brotherhood's Beth, the heroine (Catherine) is half-vampire, half-human. A vampire raped her mother, and Bones is a full-blown vampire. He's a vampire hitman. Catherine lures him out and tries to kill him. Somehow they form a cute relationship where they fight their attraction.
Catherine's mother is very against vampires. It's very prejudiced, and Catherine will be evil for dating a vampire and giving in to her vampire side. So, she discovers herself as a half-vampire through Bones. The series was fun, and I cannot wait to continue it. If you're looking for a good paranormal series and a little more adventure, check it out now. The hardcover has negative issues, but the paperback is fantastic for font size, color, cover, binding, and paper quality.
Author: Jeaniene Frost
Narrator: Tavia Gilbert
Publisher: Blackstone Audio, Inc.
Tropes: Urban Fantasy, Age-gap, Humor, Ghosts, Female-lead
Number Of Pages: 358
Available: Audiobook | Paperback | Mass Market Paperback | Kindle | Audio CD
6. Vampire Academy
Vampire Academy is a YA paranormal romance with a vampire world. The mythology of this world that the book creates is unique. There wasn't much world building. You figure it out as you go along. The author tells you the three sub-parts of vampires, which are based in a high school academy, separated from the real world in Montana. The characters didn't feel two-dimensional, but everyone's motivations made sense. Also, the part about the inspiration as far as the villain goes does make sense.
I enjoyed the strong female lead (Rose), which was refreshing. She's training to be a guardian and has a bond with the story she's guarding, which is her best friend, Lissa. The more you know about Rose, the more you feel Beth from Black Dagger Brotherhood. I loved their relationship. So the romance in this is not a spoiler. You figured it out early, and it was a real reason why it was a forbidden age-gap thing for many people.
As the story continued, mythology was easier to pick up on and didn't drag quite similarly. By the end of the book, the different hierarchy almost talks about classism there. So it was an exciting addition and carrying into the other books. The writing gets better in the second book, which gets more descriptive. I'm very excited to continue reading the rest of the series.
Author: Richelle Mead
Narrator: Stephanie Wolf
Publisher: Listening Library
Tropes: Mystery, Thriller, Suspense, Dystopia
Number Of Pages: 332
Available: Audiobook | Paperback | Library Binding | Kindle | Mass Market Paperback
7. Moon Called (Mercy Thompson)
Moon Called is an urban slash paranormal fantasy romance and the first book in the series. Instead of finishing the series, I reread the first five books and continued those before I read the last one. A book like Black Dagger Brotherhood, the story follows a strong heroine, Mercy Thompson, a mechanic. She owns her shop and lives in a world where the faith and paranormal have started coming out.
So they've been in the world and society for a long time, but they've remained hidden for their safety. However, the Gray Lords, which rule the FE and Fey, is described as anyone who could use glamour to protect themselves and to hide their true identity from humans that they have come out into the open.
At first, there was a huge backlash, and people started accepting them. However, there are a lot more paranormal creatures than the Fey. Vampires, werewolves, shifters, and walkers are still under the radar. Their people might know they exist, but it's not discussed. While the Fey has put on this persona of harmless and it's they're safe to be around, vampires will have a much more negative connotation. So they have remained in hiding still.
Mercy is the only skinwalker she knows of, which means she shifts into a coyote. So she spent most of her life growing up with adoptive parents in a werewolf. When her mother realized what she was, she shipped her off through a long-distance family connection to Bran, the leader of these werewolves. So he took her under his wing. She had an adoptive family there and grew up immersed in the werewolf society. It has its own set of rules and laws that they follow.
So the first book involves how Mercy tries to find her way in the world and how these societies try to interconnect. I still enjoyed it, although I have problems with the pack structure and that women are weak and women only take the rank that their mate does. So it's easy to get a grasp on versus having to start from the ground up with a high fantasy book.
Author: Patricia Briggs
Narrator: Lorelei King
Publisher: Penguin Audio
Tropes: Urban Fantasy, Love-triangle, Fae-elves
Number Of Pages: 289
Available: Audiobook | Paperback | Hardcover | Kindle | Mass Market Paperback
---
More series if you like Black Dagger Brotherhood series:
Dark Hunter series by Sherrilyn Kenyon: This series follows a group of immortal warriors called the Dark Hunters, who protect humanity from demons and other supernatural threats. Like the Black Dagger Brotherhood, the Dark Hunters are a close-knit group of alpha males who have their own unique powers and abilities. The series also has a strong romantic element, with each book focusing on a different Dark Hunter finding love with a mortal partner.
Midnight Breed series by Lara Adrian: This series centers around a group of genetically enhanced warriors called the Breed, who fight against rogue vampires. It also features a well-developed world with its mythology and lore, similar to the Black Dagger Brotherhood series.
Immortals After Dark series by Kresley Cole: We follow a diverse cast of immortals, including vampires, werewolves, and Valkyries, who battle for supremacy in a supernatural realm. The story strongly emphasizes romance, with each book focusing on a different couple and their struggles to be together.
Guild Hunter series by Nalini Singh: This series follows a group of vampires, angels, and mortals who work together to maintain order in a world where the archangels and their armies of angels rule. The series features alpha male heroes and strong heroines, which will remind you Black Dagger Brotherhood series.
Demonica series by Larissa Ione: The story follows a group of demons who work at an underworld hospital, healing supernatural patients and fighting against evil forces. It has a strong focus on brotherhood and loyalty, with the demon heroes forming close bonds with one another. This series also has a steamy and sensual romance element.
Those are all the paranormal romance books I want to recommend for the vampire trope, similar to the Black Dagger Brotherhood series. What are your opinions on each of the books and any other series? I'm always looking for something new to read.
Read more similar books:
Black Dagger Brotherhood Reading Order Guide
5 Vampire Romance Books Like Crave
5 Paranormal Books Like The Vampire Diaries
10 Fantasy Books Like From Blood And Ash