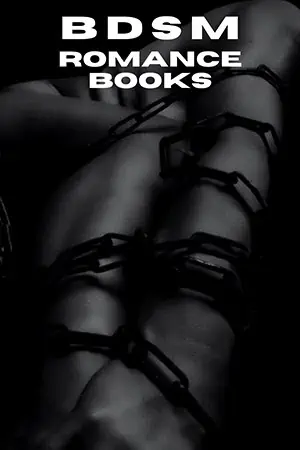 Romance books with BDSM are very steamy and have a little power dynamic. So there's usually a dominant and a submissive in a relationship. This type of book has a bunch of fun, wild times. Sometimes you have role play, bondage, and safe words. The BDSM world in real life and romance novels is so vast. You can honestly play around with it and see all the different types of things explored in romance books.
These books are fantastic because they're super sex-positive, body-positive, and wild. BDSM had its moment in the romance community because of Fifty Shades of Grey, where BDSM came onto the scene very hard. Some so many authors are doing it so great. There's something about the power dynamic that I enjoy.
So, BDSM is an incredibly romantic subgenre. That might be a little bit of a controversial opinion because it is essentially smut. But there is something incredibly romantic about it because of the trust it takes to be in that type of relationship. I have a reading list of BDSM romance which I will share with you. Follow me!
10 BDSM Romance Books (Dom-Sub Love Story)
The term BDSM was first coined in 1991 and was used to refer to any sex player who is a bit kinky. Also, the term kinky itself is quite a fluid phrase. Even though the acronym BDSM is only a four-lettered acronym, it stands for three pairings of letters. These are B and D, which represent Bondage and Discipline. Then you've got D and S, which are dominance and submission. In the end, you've got the S and M, which are sadism and masochism. We group these letters into their pairs because within those pairs, you can't have one without the other. They go hand in hand.
In BDSM romance, discipline is the act of enforcing obedience through some form of punishment. So, the dominant partner would set rules that the submissive partner would have to abide by. If that rule is broken, there would be some form of punishment. Punishments can include anything. There is some power play at hand, and it automatically puts one partner in control.
So they'll become the dominant partner, and the other automatically is submissive. These roles are not necessarily fixed. Someone's dominant doesn't mean that they're always dominant. A lot of people enjoy both roles equally. I learned many unknown facts by reading BDSM romance books. Now, I'll talk about them. Let's play!
| Name | Key Focus | Review (Goodreads) |
| --- | --- | --- |
| The Goode Girl | To pay her boyfriend's debt, the heroine sells herself to an older gentleman, and they have a steamy relationship. | 3.3 |
| Feed (Hunger Duet) | A monster heroine finds her partner in a dating app who is her coworker, and both build a romance. | 3.7 |
| Hook (Lost Boys) | An orphan boy finds his love, but both deal with crime and mental issues. | 4.3 |
| Being Hers (Irresistibly Bound) | A bar girl accidentally falls in love with her client, and they form Dom-Sub relationships. | 3.9 |
| Being Hospitable | Two girls finally discover their romantic and sexual tension. | 3.6 |
| Logan (Dad Bod Doms) | A married couple does as usual work and feels bored, but they again discover their attraction through BDSM romance. | 4.3 |
| The Magic of Discovery | In a magic academy, the hero finds her faded mate, and when he gets a magician girl, they form an erotic love. | 4.2 |
| A House East of Regent Street | To buy a property, the heroine deals with the hero to stay two days at any cost. | 3.3 |
| Tempt Me | A girl is trying to overcome her past and doing duty in a hotel where the hotel owner likes her, and they build a sexual love. | 4.0 |
| Desperate Measures | It's a Disney retelling where the Disney characters make polyamory relationships with BDSM. | 3.5 |
BDSM Romance Books
1. The Goode Girl
The Goode Girl is a BDSM novella available on Kindle Unlimited. I will give some trigger warnings that this book has cheating. The author did it so well in all these books because they are more steamy and play on more taboo topics, not only BDSM, but many of them have age gaps and other taboo topics. So be safe and read the Goodreads reviews if you know that those are some trigger warnings for you.
In this book, our heroine (Mia) is engaged, and her fiance is not that great. He has accrued massive gambling debt, and the loan sharks are after them. They're threatening her and trying to convince her to pay her boyfriend's debt. She's put in a bad position. So Mia finds out about an auction where she can essentially auction off her body and services to a wealthier, older gentleman and woman to pay off her debt. So that's what she decides to do.
When Mia gets to this auction, she meets an older gentleman who pays for her services, and they have an instant attraction. It's meant to be a one-time thing. Still, they develop almost a relationship-making agreement that he will pay for her services, and they will have a relationship with one another in the days leading up to her wedding.
Then they'll break things off after she gets married. It's tough because she is in a relationship. This book doesn't condone cheating. Mia has consequences for her actions and is trying to find herself. The romance was very erotic, and the relationship and chemistry between our characters were amazing.
Author: Shiloh Clark
Publisher: Independently
Tropes: Daddy-kink, Cheating, Women's Fiction
Number Of Pages: 234
Item Weight: 9.1 ounces
Dimensions: 5 x 0.59 x 8 inches
Available: Paperback | Kindle
2. Feed (Hunger Duet)
Feed is in an enemies-to-lovers BDSM monster romance. The story follows Avirin, who is a succubus. She's a paranormal creature that feeds off sex, intimacy, and relationships. She hasn't fed in a long time, which can be dangerous. So, she goes on a monster dating app. The app is a service for monsters to help them with their needs. It's a service where you can put in your requests for a sexy paranormal time.
Avirin does that, and she gets randomly matched with her coworker (Pye), who has an enemy silver situation with comes knocking on her door. She's hesitant to jump into any type of relationship with Pye, but she is desperate to feed, and they have one steamy night. He's a little bit bossy in the bedroom. The story was boring, but the sexual tension between the characters was exciting. This one is good if you're getting introduced to the BDSM realm.
Author: Aveda Vice
Publisher: Bad Bite LLC
Tropes: Transgender Erotica, Folklore, One-night-stand
Number Of Pages: 62
3. Hook (Lost Boys)
Hook is a dark LGBT contemporary BDSM gay romance. It is the second book in the series, but you can read it as a standalone. Also, it's a Captain Hook retelling of male-male romance. We have Captain Hook and John Darling. His brother has drug abuse and sexual assault.
So please read the trigger warnings. The author did a good job of unpacking all of those very sensitive topics. Our hero, Captain Hook, went to an orphanage called the Lost Boys Orphanage, where he met Peter Pan and the Lost Boys. A horrible family ran this orphanage. The man in charge was involved with some sex and drug trafficking.
Captain Hook is involved with an underground motorcycle gang. It is how he reconnects with John Darling because he is an FBI agent trying to bring down the guy who ran this orphanage. Finally, John gets him behind bars to work together to find enough evidence to get this guy arrested. Then it follows their hate-to-love relationship because of everything he's gone through. Hook has a lot of emotional struggles that he's going through. To be in a relationship, he has to have control, which is where the BDSM element comes in.
Hook is the more dominant one in the relationship, and John is more submissive, balancing each other perfectly. The love and attraction between them are so beautiful. The way that John cares about Hook is so beautiful. It is so incredibly romantic and heartbreaking but steamy at the same time.
Author: Gina L. Maxwell
Publisher: Gina L. Maxwell, LLC
Tropes: LGBTQ+, Suspense, Dark, Retellings
Number Of Pages: 375
Available: Audiobook | Paperback | Kindle
4. Being Hers (Irresistibly Bound)
Being Hers is a sapphic romance with BDSM erotic elements. It also has a little bit of an age gap. One of the heroines, Melanie, works at a bar, and there's a mysterious owner that everyone talks about, but she's never met before. Finally, she ends up meeting what she thinks is a client, instantly attracted to her. They have this out-of-the-world chemistry, and it turns out to be her boss. Her boss is a dominatrix, has sworn off relationships, and finds a submissive. But she is insanely attracted and drawn to her employee. So they form a BDSM relationship.
They're so beautifully crafted. It is another good thing for people unfamiliar with BDSM because it discusses the importance of safe words and trust within that type of relationship. In BDSM, there are a lot of terminology and codes and different types of Dom-Sub relationships. This one describes it in the book, which is so helpful. It seamlessly ties into the romance. So it feels like you're reading something boring, informative, well-written, steamy, and lovely.
Author: Anna Stone
Narrator: Lexy Rebe
Publisher: Violet Ocean Press
Tropes: FF, Age-gap, Workplace
Number Of Pages: 232
Available: Audiobook | Paperback | Kindle
5. Being Hospitable (Desert Rose Hook-Ups)
Being Hospitable is another short lesbian novella. The protagonist, Charley, has had a crush on her best friend's best friend for the longest time. But our other heroine, Kiki, is entirely oblivious to that. So Charlie stays at Kiki's apartment because of a job opportunity. Kiki lets her best friend's little sister stay with her. Charlie takes the initiative to further their potential romance around the apartment, flirting with her. They also have a dom-sub relationship.
This book is light BDSM in terms of storminess, but it's so sweet. I often loved the book's communication with my brother's best friend. They're not good at communicating and try to keep the relationship secret. Everyone was so rational and reasonable, and it was handled well. The story, plot, and writing styles are average. If you like sapphic romance with BDSM, pick it.
Author: Meka James
Narrator: Phoenix McKay
Publisher: Meka James
Tropes: Friends-to-lovers, Smut
Number Of Pages: 70
Available: Audiobook | Paperback | Kindle
6. Logan (Dad Bod Doms)
Logan is the first in a series, but you can read them as standalone. It is a marriage in trouble type of book. Our couple used to have a BDSM type of relationship, but they got married, got older, had kids, and lost that spark with one another. They're at a part of their relationship where they're almost considering getting divorced. So they decide that they're going to revamp their relationship and go on.
Then they get back to their BDSM type of relationship, which is how they started their second chance romance in the first place. At first, the couple begins by building their trust, building back that steam with one another, going on a weekend getaway without the kids, and trying out a new BDSM club.
Golden Angel writes a ton of smut. She also has a whole BDSM erotica series of this club that we read about in this book. So if you're into spicy books, this one is for you. The hardcover has negative issues, but the paperback is good enough for font size, color, binding, cover, and page quality.
Author: Golden Angel
Narrator: Michelle Price
Publisher: Golden Angel LLC
Tropes: Literature, Second-chance, Fun
Number Of Pages: 141
Available: Audiobook | Paperback | Kindle
7. The Magic of Discovery (Emerald Lakes)
The Magic of Discovery is reverse harem shapeshifters romance series that you do have to read in order. The story follows a town called Emerald Lake. Saige has controls and connections to nature and plants. She meets her harem of guys. She has six guys that she forms a poly romance world. Every person has a different magical affinity. There are shapeshifters and green witches. One of our heroes controls fire, and the other controls thunder and lightning. So everyone has a different power.
Our heroes work for the magic academy that helps people learn how to control their powers, but they also hunt down people who are taking advantage of them. There are also faded mates and a prophecy with all these characters. It does have a sword crossing, meaning that the heroes are also in relationships. Some of them have existing relationships before they even meet our heroine. In one of those relationships between two heroes, there is a BDSM type of romance.
One of the heroes is Fisher, who can control people's minds, read their thoughts, and even have them think things they weren't thinking before. His power is dark, and he has trouble controlling it. He controls it by allowing himself to be a little more submissive in the bedroom. It relieves distress, and he relies on one of the guys to help him control his powers. That's how the BDSM element comes in, and I loved how it presents throughout the story.
Author: Britt Andrews
Narrator: Bridget Bordeaux, Jake Bordeaux
Publisher: Britt Andrews
Tropes: Magic, Shapeshifters, Witches, MM
Number Of Pages: 290
Available: Audiobook | Paperback | Kindle
8. A House East of Regent Street
A House East of Regent Street is historical fiction with a BDSM erotic relationship. It's a short novella that I read in the script. I listen to the audiobook, and it's only a three-hour audiobook. We follow Jack and Cleo. Jack is a wealthy military man. He comes home from the military and wants to buy a building to turn it into a business.
The building was previously a Bordeaux. It used to house ladies of the knights, prostitutes, and gambling halls. So he's trying to purchase the building and switch it to a different business type. Cleo, our heroine, is also trying to buy the building. She was previously a lady of the night and a madam. So, she wants to run her own house where she can care for women who choose that profession.
Cleo can't afford to buy the business because Jack is much more wealthy. He finds out that she wants the business and makes a deal with her that he has. She has to spend 48 hours with him doing anything that he wants. They spend the weekend together forming a contract, and there is light BDSM in it.
Our hero is a little more submissive in this book, and our heroine is the dominant one. This one was interesting. I never hear anyone talk about this historical romance. It's very different from a regency because it's super character driven. It follows our two characters, their contract, and their slowly falling for each other. The story was sometimes boring, but the romance covered it successfully.
Author: Pam Rosenthal
Publisher: P&M Editorial Services
Tropes: Historical, Military-men
Number Of Pages: 158
Available: Paperback | Kindle
9. Tempt Me (The Wolf Hotel)
Tempt Me is an office romance as well as an age gap. This book is so messy, but I love all the messiness. The main characters are Henry and Abigail. Abigail is recently going through a breakup. She graduated high school and is in a moment of wanting to find herself. So she decides to apply for the internship for a job in Alaska. The job is at a huge hotel chain that is popular, and she decides to apply there and start a whole new life. Henry hires her as his assistant, forming a taboo work relationship.
Abigail is on this path of reinventing herself. So they form a dom-sub relationship. It is a pretty steamy series but not too heavy on BDSM. You have to read in order. If you love office romances that are a bit more messy and taboo, this one is a good one to try.
Author: K. A. Tucker
Narrator: Avery Reid
Publisher: Tantor Audio
Tropes: Age-gap, Insta-lust-love, Smut
Number Of Pages: 282
Available: Audiobook | Paperback | Kindle | Audio CD
10. Desperate Measures (Wicked Villains)
Desperate Measures is a dark fantasy retelling. Katie Roberts writes some of the steamiest, taboo, excellent books worldwide. The series has six books, and the entire series is a play on Disney villains. So it's a darker steamier version of Disney Fairy Tales, where the villains are the heroes in the story. For instance, there's a romance between Jafar and Jasmine.
There's a poly romance between Hercules, Meg, and Hades, and the list goes on. The villains have their hero moment, which revolves around a BDSM club. So they're all leaders in this town called Carver City and are all involved in the BDSM club Hades owns and has all kinks. Jafar has always been in her life, and they've always had very intense chemistry. Jasmine consents to role-play, where they pretend to have non-consensual interactions. Everything is consensual, and they tend to role-play and play games where he's chasing her or trying to own her.
The second book in the series features Hercules, Hades, and Meg. Hades is the ruler of this underground BDSM club, and he is in a DOM sub-relationship with Meg, and he meets Hercules almost in a revenge plot. There are some awful things to Hades and his family, and he is out for revenge. He decides to use Hercules to get back at Hades. But it falls into a polyamorous relationship where Hercules joins Hades and Meg's relationship. Hercules is more submissive. Hercules is such a cinnamon roll. I love his little submissive nature.
Author: Katee Robert
Narrator: Lessa Lamb
Publisher: Trinkets and Tales LLC
Tropes: Crime, Adventures, Myth
Number Of Pages: 230
Available: Audiobook | Paperback | Hardcover | Kindle
Those are my best BSDM romance novels. If you have any recommendations or share your thoughts, please let me know in the comments below. Add these books to your TBR and share them with your BookTube/BookTok community. Stay happy and healthy, and I'll see you next time.
Read more romance books:
15 Steamy Paranormal Romance Books
20 Erotic Historical Romance Books