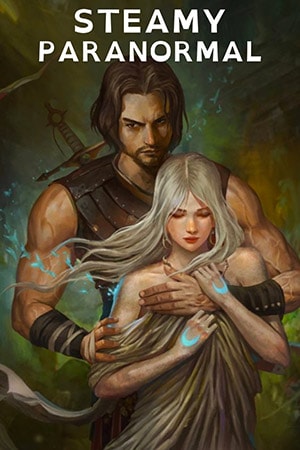 A paranormal romance is a story that focuses primarily on the romance that is the main driving plot point of the story. It features characters that either one or both of the main characters are supernatural. The world also has paranormal elements, but for the most part, it is set in a contemporary or urban setting that is easily recognizable to us.
Steamy paranormal romance novels are a subgenre of romance literature that combines supernatural or paranormal elements with romantic and often explicit or erotic storylines. These novels typically feature romantic relationships between humans and supernatural beings like vampires, werewolves, witches, or other mythical creatures.
This type of romance also defines the age of the characters. If the characters are somewhere between 13 to 18, meaning they're young adults, even though it can have a paranormal element to the story. It would be a new adult paranormal romance if the characters fit within that age group.
Reading steamy paranormal romance novels can be a rewarding experience for several reasons, especially if you enjoy both the romance genre and elements of fantasy or the supernatural.
15 Steamy Paranormal Romance Novels (Erotic Fantasy)
The steamy paranormal romance is when the sex scene is over in a magical world. Many steamy paranormal romance novels explore themes such as forbidden love, immortality, power dynamics, and the nature of humanity. The settings can vary greatly, from historical to contemporary, and include a world-building component where the supernatural elements are integral to the plot. Paranormal romance features complex characters, like vampires, werewolves, or witches, with unique backgrounds and experiences. This can add depth and intrigue to their romantic interactions.
The word fantasy doesn't mean that it has paranormal characters. It doesn't have to have any paranormal or supernatural elements. It has to be set in a world that it's made up. If you are a big fan of paranormal romance, you like the steamy one. As a romance reader, I have a big list of it. I am going to talk about 15 steamy paranormal romance novels for you. These novels offer a world of fantasy and escape from everyday life. The supernatural elements provide a backdrop that is imaginative and captivating. Let's go!
1. From Blood and Ash (Blood and Ash)
This book is about vampires, magic, and prophecies, and it follows the story of Poppy, the chosen maiden. The gods choose her for the kingdom, and she is not seen. She has to wear a veil when she goes out, and it is kept secret. So, her life is very sheltered and boring. But she has a chance encounter with Hawke, who ends up being part of her royal guard, and they have very intense chemistry.
The ending is such a cliffhanger, and there are a lot of steamy scenes. We're experiencing things through Poppy's eyes. There's almost a tone of naivety as well. Poppy is a fighter, and she's a very strong female lead. She fights for her glory and herself. Hawke is very witty and brooding but charming, and he's a very sexy written character. They had great chemistry, and their banter with each other worked well.
Author: Jennifer L. Armentrout
Average Rating: 4.7/5
Category: Romantic Fantasy
Available: Audiobook | Paperback | Kindle | Audio CD
2. Fated
This book is an enemies-to-lovers romance about fallen angels and demons. It follows the story of Luna, who's trying to live her life. She's getting on with her existence, and she's sucked into a paranormal world by one traumatic event. Then she meets Elijah, and they hate each other at first. Elijah is traumatized, brooding, and hates everyone, and Luna is completely the opposite. They clash, and their chemistry is very fiery.
So Elijah is very cruel and self-destructive, and Luna is very sweet. She's a strong character because of this traumatic event. It builds her character, so she's much stronger and fights for her beliefs. The second book is in this series, but it's from Luna's sister's perspective. There are good subplots and good sub-characters to go with this story.
Author: Liza James
Average Rating: 4.3/5
Category: Fantasy & Futuristic Romance
Available: Paperback | Kindle
3. Depravity (Beastly Tales)
Depravity is a 'Beauty And The Beast' dark retelling, and it's very erotic. The main character, Benella, is similar to the A Court of Thorns and Roses series. She is struggling with her two sisters and her father and trying to escape the torment and abuse of the village boys. She ends up stumbling into the beast's gardens at his castle.
We discovered a lot with Benella, and I like her character. She makes stupid decisions, but that's okay because it's also quite human. We're in mystery, especially in the first book. We don't know much about him until about three-quarters of the way through the book. There's always that weight on your shoulders that he's looming, but we don't have many interactions with him.
Author: M.J. Haag
Average Rating: 4.3/5
Category: Fairy Tales Romance
Available: Audiobook | Paperback | Kindle
4. Blood's Fury (Deadly Beauties)
The steam section is very high, as you can tell from the book cover. It's very spicy, and this book is about Alyssa. She knows that she's a witch, but she wants to move away from her mum, a witch, and lead a normal life in a normal town. Also, she wants a regular boyfriend, so she meets Kane, a seemingly normal human boy, and everything unravels from there on out.
Alyssa is a cool character, but she is very blind to Kane. At the end of the book, the big plot twist is one way ahead of her, even though we're reading it from her perspective. But in the second book, there's a love triangle between Kane and another character. The magical aspects and romance are very sensitive, so handle it safely.
Author: C.M. Owens
Average Rating: 4.4/5
Category: Paranormal Witches & Wizards Romance
Available: Paperback | Kindle
5. A Deal with the Elf King (Married to Magic)
There are a few steamy scenes, but the sexual tension is perfect. This is a story about Luella, who is forced into a marriage with the elf king Eldas to save his kingdom, and Luella is very cool. She's very smart in knowing all her herbs and spells, but she can also be rash with her decisions, which is annoying to read.
We need that balance when we read these characters. Eldas is very cold and regal, and he seems to only have a one-track mind about saving his kingdom. He doesn't care who he must eliminate to achieve that goal. The pacing and paranormal world-building are unique.
Author: Elise Kova
Average Rating: 4.4/5
Category: Paranormal Erotic Romance
Available: Audiobook | Paperback | Hardcover | Kindle
6. Desolation (Darkness Rising)
This is a reverse harem romance. So it's one female character and five male characters, which already you can tell that the steam is coming off this book right now. This book is about Lana, a damaged character who grows up in a foster home with five other boys she sees as her brothers. But soon, they become much more than that.
It's based in a futuristic world where there's almost an apocalypse night, and there are storms every day, and it's a regular occurrence. But then this one freak storm throws them into a world they never knew existed. Also, it's a fight-or-flight situation with Lana and her five boys. Lana is a strong character, and she has a lot of demons to deal with in this book.
Her five mates, Hail, Ash, Leo, Zedd, and Luke, are all different characters, which is stereotypical. They all have contrasting traits. So one of them is a very brooding, alpha male, and then one is a very sweet, joking, and best friend. So, in a way, it's a bit stereotypical in that characterization. We see their inner monologues throughout the story as the chapter changes with the character.
Author: R.L. Caulder
Average Rating: 4.5/5
Category: Paranormal Romance
Available: Audiobook | Paperback | Kindle
7. Good Intentions (The Road to Hell)
This is based in a post-apocalyptic world where River, the main character, has powers. She's taken from her family to help this encampment, and she soon meets Kobal, a demon. Kobal's trying to get back to Hell because River has powers. She has to practice and harness her powers to stop Hell from escaping and ruling the whole earth.
River is a fighter who fights so hard for what she believes in. She's family-orientated. She loves her siblings but hates her mom. You figure out why, at the beginning of the book, she's always bargaining with Kobal.
Kobal is sexy, brooding, military-style, very commanding. He's always ordering River what to do, and she hates it. So you can imagine the chemistry is clashing, and there's a lot of action, magic, and demons.
Author: Brenda K. Davies
Average Rating: 4.6/5
Category: Paranormal Romance & Suspense
Available: Audiobook | Paperback | Kindle
8. Fortuna Sworn
This book follows a girl (Fortuna) who is a siren, and she happens to be the last kind, except for her brother, who has gone missing. Fortuna happens to be living a regular life out in the human world, where she is a bartender. Moreover, she will do whatever is necessary to try to find him. So, she runs across a man (Collith) from the fairy realm.
Collith decides to make her an offer because he thinks she is very sexy and seductive. But anyway, he makes an offer that she cannot refuse. This offer has something to do with her brother, so she follows him to the fairy realm. They go to the fairy realm semi-willingly and fall in love with their captor from there.
Author: K.J. Sutton
Average Rating: 4.2/5
Category: Supernatural & Erotic Romance
Available: Audiobook | Paperback | Hardcover | Kindle | Audio CD
9. Kiss the Fae (Vicious Faeries)
The story is about a girl (Lark) who wanders into the fae realm for some reason. While in this realm, she runs into the King of a kingdom she finds herself in. So he makes her a deal. If she can live and survive in the fairy realm for 13 days, he will let her and her sisters go free because he ends up kidnapping her sisters along the way.
Lark loves her sisters, so she agrees to this offer, but there is a catch. The realm in this paranormal world is not rainbows and sunshine, and no majestic unicorns are running around. It's scary, and there is a whole ton of solitary fae. Those are the fae that do not live in groups. They live on their own because they are very dangerous.
Lark will have to run around in this crazy place of a kingdom, and she has to make sure that she doesn't get killed in the process. While she starts to compete in this competition of sorts to try to survive 13 days and 13 nights, she has to fight off her attraction for Fae Lord (Cerulean). Who doesn't love good enemies to lovers and sexy bad Fae Lord?
Author: Natalia Jaster
Average Rating: 4.2/5
Category: Fantasy & Futuristic Romance
Available: Paperback | Hardcover | Kindle
10. Illusions of Grandeur (The Impossible Julian Strande)
This book is about a girl named Alice, and she is somebody who is not ordinary. She is very strange, and she likes to explore. So, when she sees that the mansion needs a caretaker, she signs up for it. This mansion is haunted. It's known for being very supernatural and mysterious. She ends up becoming the caretaker of this creepy attic mansion.
While Alice is at this mansion, she meets an amateur magician of one of the men living there. He specializes in illusions and is also somebody in the back of this book. So, is this guy going to be a love interest? This book also involves a ghost who haunts the mansion, and he will be doing some crazy things to Alice.
Author: Kathryn Ann Kingsley
Average Rating: 4.6/5
Category: Paranormal Ghost Romance
Available: Paperback | Kindle
11. Reborn (Shadow Beast Shifters)
Reborn is the third and final book of the Shadow Beast Shifters trilogy. It involves an amazing enemies-to-lovers type of trope I can't stop loving. There are shifters or werewolves in this book. Mera is a shifter, and nobody likes her and the little shifter community that she lives in. One day, she ends up shifting into a werewolf for the first time, and it's here that she finds out that her soul mate happens to be the Alpha Torin.
The Alpha Torin does not like this because he doesn't like her. So, he ends up rejecting her. Mera from here ends up very upset because who wouldn't be upset if somebody rejects you, especially a soul mate? She ends up praying to the alpha god to come and get her out of this situation.
So this guy (Shadow) answers her prayers. Shadow comes and gets her out of this inconvenient situation. Here, she ends up living with this man and a huge mansion. They do not like each other whatsoever, but they still have to live together. So this book is like enemies to lovers.
Author: Jaymin Eve
Average Rating: 4.7/5
Category: Werewolf & Shifter Romance
Available: Audiobook | Paperback | Hardcover | Kindle
12. Angels' Blood (Guild Hunter)
This book is about a vampire hunter named Elena, and an archangel contracts her to go and seek this person and kill them. In this society, Angelic creatures spawn vampires. So, if you want to become a vampire, you cannot simply be bitten by another vampire. You have to contact your local archangel. They can only allow a certain number of people to become vampires yearly.
In exchange for becoming a vampire, you have to live in servitude for a couple of years to the archangel who turned to you. That's where vampire hunters come in. They're bounty hunters. They will wrangle vampires who have broken their contracts with their archangels. Anyway, that's a leader's job. But Elena is contacted by this sexy archangel of New York. That's where the series starts. The first main couple in the series is Rafael and Elena, but not all books follow their story. There are other creatures and other hunters that get their own love story.
Author: Nalini Singh
Average Rating: 4.4/5
Category: Occult Horror Fiction
Available: Audiobook | Paperback | Mass Market Paperback | Kindle | Audio CD
13. Night Pleasures (Dark-Hunter)
This is a good series for fans of Percy Jackson, the Olympians, and people who enjoy Greek mythology. Dark hunters are these immortal creatures that the Goddess Artemus created to battle demons that kill humans to live beyond their 27th birthday. So these demons are beautiful and almost immortal, but they committed a terrible death on their 27th birthday unless they stole the soul of a human being.
There are werewolves and dream hunters. The basis of it is based on Greek mythology, and some of the later books dive into that mythology. These hunters are in service to Artemus, and they're not allowed to smash. So the series is about how each Dark-Hunter finds his ladylove, goes against Artemus, and has to find a way to break his contract with Artemus. The romance scene is very steamy and hot.
Author: Sherrilyn Kenyon
Average Rating: 4.6/5
Category: Vampires Romance
Available: Audiobook | Paperback | Hardcover | Kindle | Mass Market Paperback
14. Darkfever (Fever)
Darkferver is about a girl named Mac trying to discover how her sister died in Ireland. Her sister was studying abroad. No one knows what happened to her. So, Mac decides to travel to Ireland and figure out what happened to her sister. I like this series because the tone differs from most paranormal books I've read in the first book. Mac does not have most of the characteristics you would expect from a paranormal protagonist.
Mac is blonde, and she never thought she'd be in a position where she had to go and seek her sister's killer. But she ends up in Ireland and meets this bookseller who seems to know things not necessarily about her sister but about the world of Ireland and Fae. Mac also finds out that she is a seer. She can see the valley creatures, and it happens from there. The bookseller helps her figure out who she is and helps her find out who killed her sister. Overall, this is a solid series.
Author: Karen Marie Moning
Average Rating: 4.4/5
Category: Gothic Romances
Available: Audiobook | Paperback | Hardcover | Kindle | Mass Market Paperback
15. Dark Lover (Black Dagger Brotherhood)
The books are about an ancient warrior race called the Black Dagger Brotherhood, meant to protect the vampire race from extinction against their mortal enemies. The mortal enemies are humans who have gotten into the league with the devil and turned demonic. As a result, the task of the Brotherhood is to kill the lessers because the lessers are trying to kill the vampires.
In the beginning, the Brotherhood is barely functional. They don't have a very good leadership team and are not friends. But as the series continues, you see their unbreakable bond, how they come together, and their character growth as friends. But you also see them fall in steamy love with their respective lady or male counterparts. There are not a lot of paranormal romance series that end up doing a successful job at having male-male romances. But J.R. Ward did that.
Author: J.R. Ward
Average Rating: 4.5/5
Category: Paranormal Ghost Romance
Available: Audiobook | Paperback | Hardcover | Kindle | Mass Market Paperback
---
5 Steamy Monster Romance Books
"Radiance" by Grace Draven: This novel is a part of the 'Wraith Kings' series. It features a human heroine and an otherworldly hero whose appearance is considered monstrous by human standards. Their relationship develops in a beautifully written narrative of romantic and cultural complexities.
"King of Battle and Blood" by Scarlett St. Clair: This story revolves around a vampire king and a human woman forced into marriage. The novel explores their complex relationship, filled with power dynamics, intrigue, and intense passion.
"Dragon Bound" by Thea Harrison: The first book in the Elder Races series involves a dragon-shifter hero and a human heroine. The novel blends elements of fantasy, danger, and erotic romance, creating a captivating storyline.
"Cry Wolf" by Patricia Briggs: Part of the 'Alpha and Omega' series, this novel explores the relationship between a werewolf and a woman with latent supernatural abilities. The series is known for its rich world-building and steamy, emotionally charged romance.
"Slave to Sensation" by Nalini Singh: This book is the first in the 'Psy-Changeling' series and features a world of changelings (shifters), Psy (humans with psychic abilities), and humans. The romance between a changeling hero and a Psy heroine is steamy and emotionally deep, set against political intrigue and societal tensions.
5 Steamy Paranormal Series
"Black Dagger Brotherhood" by J.R. Ward: This series is renowned for blending vampire lore and sensual romance. It follows a group of vampire warriors protecting their race against enemies. Each book focuses on a different warrior and his romantic and often turbulent relationship.
"Immortals After Dark" by Kresley Cole: This series is a mix of various supernatural beings like vampires, werewolves, witches, and more. It's known for its strong and complex characters, steamy romance, and action-packed storylines.
"The Carpathians (Dark Series)" by Christine Feehan: This series revolves around the Carpathians, a race of powerful beings who must find their lifemate to prevent them from turning into vampires. Each book tells the story of a Carpathian finding and wooing their mate, combining fantasy, romance, and suspense.
"The Night Huntress Series" by Jeaniene Frost: Focused on a half-vampire heroine and her vampire bounty hunter partner, this series combines urban fantasy and paranormal romance elements. It's known for its witty dialogues, thrilling action sequences, and passionate love story.
"Psy/Changeling Series" by Nalini Singh: This series is set in a futuristic world where psychics and changelings (shape-shifters) coexist. The books explore the tensions and romances between different factions, offering a mix of science fiction, fantasy, and erotic romance.
5 Steamy Paranormal Romance Novels on Kindle Unlimited
"Feral Sins" by Suzanne Wright (The Phoenix Pack Series): This novel introduces a world of werewolves with a fiery romance at its center. The story follows Taryn Warner, a latent wolf shifter, and Trey Coleman, an alpha male with a notorious reputation. Their intense and steamy relationship is set against pack politics and supernatural intrigue.
"A Mate for York" by Charlene Hartnady (The Program Series): In a world where vampires are real and seeking mates, this novel focuses on York, a vampire king who participates in a mate-finding program. The story combines the allure of vampire romance with steamy meets and a touch of humor.
"Kissed by a Dark Prince" by Felicity Heaton (Eternal Mates Series): This novel revolves around Olivia, a scientist, and Loren, a powerful elf prince. Their paths cross unexpectedly, leading to a sizzling romance filled with dark secrets and supernatural battles.
"Dragon Actually" by G.A. Aiken (Dragon Kin Series): This novel introduces a world where shape-shifting dragons exist. Annwyl the Bloody, a fierce warrior, finds an unexpected ally (and more) in Fearghus, a dragon with a mysterious past. The story is popular for its humor, action, and passionate romance.
"Dark Lover" by J.R. Ward (Black Dagger Brotherhood Series): Although this is part of a series, the first book, "Dark Lover," is available on Kindle Unlimited. It introduces the world of the Black Dagger Brotherhood, focusing on Wrath, the leader of a band of vampire warriors, and his unexpected relationship with Beth, a half-human, half-vampire.
5 Steamy Paranormal Romance Novels Read Online
"Darkfever" by Karen Marie Moning (Fever Series): This is the first book in the Fever Series and introduces MacKayla Lane, who travels to Ireland to solve her sister's murder and gets drawn into a world of dark magic and ancient secrets. The series shows complex characters and steamy, romantic elements intertwined with supernatural mysteries.
"Halfway to the Grave" by Jeaniene Frost (Night Huntress Series): This book introduces Cat Crawfield, a half-vampire hunting the undead with the help of a vampire bounty hunter. The novel blends action, suspense, and a sizzling romance, creating a captivating paranormal story.
"Moon Called" by Patricia Briggs (Mercy Thompson Series): Although more urban fantasy with romantic elements, this series follows Mercy Thompson, a shapeshifter with a knack for getting into trouble. The series follows a strong heroine and the romantic tension that unfolds amidst supernatural adventures.
"Pleasure Unbound" by Larissa Ione (Demonica Series): This novel is set in an underworld hospital run by demons and follows a demon slayer who finds herself irresistibly drawn to one of the demon doctors. It's filled with passion, dark secrets, and thrilling supernatural elements.
"Slave to Sensation" by Nalini Singh (Psy-Changeling Series): This book introduces a world where psychics and changelings coexist. It features a changeling who falls for a powerful Psy, leading to a passionate and forbidden romance amidst political and psychic intrigue.
---
These novels feature suspense, action, or mystery. The paranormal aspect can introduce unique plot twists and conflicts, making the stories gripping and unpredictable.
Read More Steamy Romance Books:
20 Best Steamy Historical Romance Novels
Paranormal Books Like The Vampire Diaries
Magical YA Fantasy Romance Books