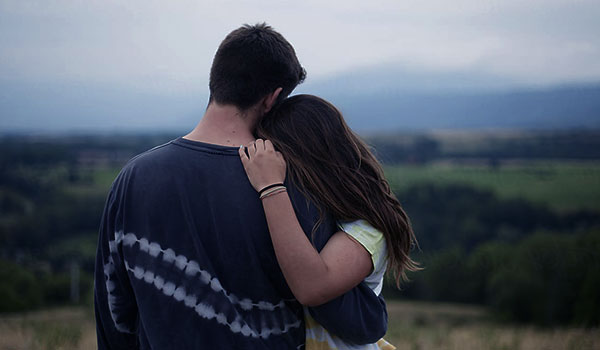 "Closed-door romance" refers to a romantic relationship that occurs off-screen or behind closed doors. In literary works, movies, TV shows, or other forms of media, when a romantic scene is depicted as a "closed-door" situation, it means that the intimate or sexual aspects of the relationship are implied or alluded to rather than explicitly shown to the audience, leaving the details to the imagination of the audience. This technique suits conservative or family-friendly audiences and specific genres where explicit content is not the main focus.
In contrast, an "open-door romance" would involve more explicit or detailed depictions of romantic or sexual scenes, which might not be suitable for all audiences or genres. The choice of closed-door or open-door romance depends on the tone, target audience, and content guidelines of the medium or platform where the story is presented.
So, Closed-door romance books allow stories to be enjoyed by a wider range of audiences, including those who prefer a more subtle or discreet approach to romantic or intimate content. By keeping the focus on emotions and relationships rather than explicit scenes, the story can appeal to a broader demographic.
10 Closed Door Romance Books
Every reader has a different comfort level when reading about intimate scenes. For some, explicit content may detract from their enjoyment of the story, so they prefer books focusing more on emotional connections, character development, and plot. Some readers prefer romance novels that leave more to the imagination. They appreciate the subtlety and suggestion instead of explicit detail.
Here are ten romance books that involve closed-door settings, which create an intimate and emotionally charged atmosphere for the characters:
| Name | Average Rating (Goodreads) | Pages |
| --- | --- | --- |
| The Hating Game by Sally Thorne | 3.9 | 365 |
| Wallbanger by Alice Clayton | 4.0 | 384 |
| Better than the Movies by Lynn Painter | 4.3 | 356 |
| The Temporary Roomie by Sarah Adams | 3.7 | 286 |
| Shipped by Angie Hockman | 3.6 | 336 |
| Luck in the Shadows by Lynn Flewelling | 4.0 | 479 |
| The Flatshare by Beth O'Leary | 4.0 | 394 |
| The Summer of Broken Rules by K.L. Walther | 4.0 | 386 |
| Twice Shy by Sarah Hogle | 3.7 | 302 |
| The Summer I Turned Pretty by Jenny Han | 3.8 | 276 |
Closed Door Romance Books List
1. The Hating Game by Sally Thorne
The Hating Game is an enemies-to-lovers workplace romance between two coworkers who share an intense dislike for each other behind closed doors. This Goodreads Choice Award Nominee winner contemporary comedy centers around Lucy Hutton and Joshua Templeman. They are two executive assistants forced to share an office at a publishing company formed through a merger of their respective employers. They're constantly at odds with each other, engaging in various "games" and competitions at work that they hope will give them the upper hand.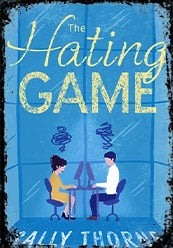 Despite their constant bickering, both characters harbor secret feelings for each other. As the plot progresses, these feelings gradually come to light and their dynamic changes. We explore love, competition, and self-discovery, showcasing how people can grow and learn to understand each other better. Sally's use of humor and sexual tension makes it a compelling read. She portrays the romantic tension between the two main characters, making the readers anticipate their eventual union.
2. Wallbanger by Alice Clayton
Wallbanger is a steamy romantic comedy where the protagonist finds herself living next door to a handsome, womanizing neighbor. This contemporary neighbor romance is the first book in the Cocktail series. The story centers on Caroline Reynolds, a successful interior designer with everything she wants except for one thing: a deep pleasure.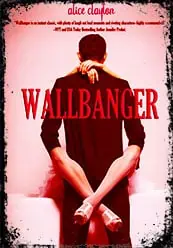 She hasn't had one since her ex-boyfriend, and this becomes a running theme throughout the book. Her life gets more complicated when she gets a new neighbor, Simon Parker. He has a penchant for loud late-night sexual escapades against the shared wall of their apartments. This earns him the nickname "Wallbanger."
As the story progresses, Caroline and Simon's relationship evolves from neighbors who can't stand each other to friends and eventually lovers. Their sexual tension and banter are a significant part of the novel's charm. They must face their feelings, fears, and past relationships to find happiness together. The subsequent books in the series continue to explore the lives and loves of the characters introduced in "Wallbanger."
Many intimate scenes between the characters are indeed described in detail. I found many steamy scenes, which make it more of an open-door romance than a closed-door one. But some readers of the reading community consider this a closed-door love. So the choice is yours.
3. Better than the Movies by Lynn Painter
Better than the Movies is a young adult romantic comedy novel published in 2021. The story revolves around Liz Buxbaum, a high schooler who's grown up idolizing romantic comedies, wishing her life could be like one. When her childhood friend and longtime crush, Michael, moves back to town, she sees it as her chance to make her dream come true. But there's one problem: Michael's best friend, Wes Bennet.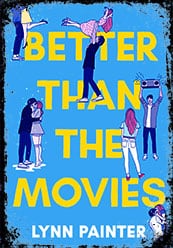 Wes and Liz have been at odds for as long as they can remember, but Liz needs Wes's help to win Michael's heart. Wes agrees to help Liz if she helps him win the heart of his crush. In classic rom-com fashion, as Liz and Wes spend more time together in their matchmaking scheme, sparks fly between them. This is a delightful rom-com in book form, full of classic movie references, humorous banter, and heartfelt moments. It captures the excitement and confusion of young love, the complexities of friendship, and the process of growing up and finding oneself.
The book is an excellent closed-door romance because the intimate moments between the characters are not explicitly described or happen "off-page." Readers who enjoy rom-com, young adult fiction, and stories about high school relationships and drama will enjoy it.
4. The Temporary Roomie by Sarah Adams
The Temporary Roomie is the second contemporary clean romance in the "It Happened in Nashville" series. The story follows Jessie Ryan, who, after being recently fired and dumped on the same day, moves in temporarily with her brother's best friend, Devin Holder. Devin is a tech genius who has made his fortune by developing successful apps. Their dynamic is complicated, not only because of the "bro code" but also due to Jessie's unreciprocated crush on Devin from their teenage years.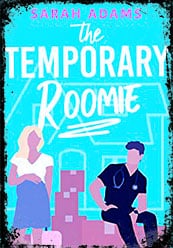 Living together, they get involved in various humorous and awkward situations. Despite their differences, Jessie's effervescence wears down Devin's more serious and reserved demeanor. As the story progresses, they both have to face their feelings for each other while maintaining their friendship and professional relationships. I loved the humor, the chemistry between the main characters, and the emotional growth they experience throughout the story. The novel showcases Sarah Adams's skill for creating relatable characters and engaging romantic plots that balance humor, heart, and heat.
5. Shipped by Angie Hockman
Shipped is a closed-door romantic comedy Audiobook. The story is narrated for listeners, allowing them to enjoy the book during commutes, workouts, or any time they prefer an audio experience over a traditional reading. The novel is set against the backdrop of the travel industry. It tells the story of Henley Evans, a marketing manager who's never taken a vacation, and her professional nemesis, Graeme Crawford-Collins. They are both vying for the same promotion at their adventure cruise line company.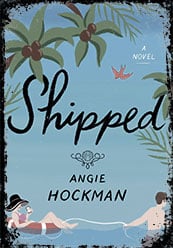 When their boss sends them on a company cruise to the Galapagos Islands to draft a proposal that could score them a promotion, they discover more about each other and the stunning islands they're exploring. Despite their rivalry, they start appreciating each other's strengths, leading to unexpected feelings.
This delightful romantic comedy is filled with beautiful descriptions of the Galapagos Islands, environmental conservation themes, and a healthy dose of office rivalry turned to romance. The characters' development and the humorous and sometimes awkward situations they find themselves in keep the listeners engaged throughout the story.
6. Luck in the Shadows by Lynn Flewelling
Luck in the Shadows is the first closed door LGBTQ romance book in the "Nightrunner" series, a fantasy saga. The series was first published in 1996 and spanned seven books and a few short stories. The story begins with the young and resourceful Alec of Kerry, who is taken prisoner for a crime he didn't commit. He meets Seregil of Rhíminee, a spy, thief, and nobleman, who takes him under his wing.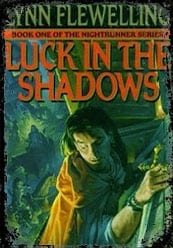 Seregil recognizes potential in Alec and trains him in the art of spying, or "night running." As they journey together, they uncover a plot that threatens their homeland and must work together to save it. The relationship between Seregil and Alec forms the emotional core of the series. Their MM bond deepens throughout the series, and it develops from mentor-student to companionship and eventually evolves into a romantic relationship. However, Flewelling handles their romance subtly, especially in the first few books of the series.
7. The Flatshare by Beth O'Leary
The Flatshare is a YA contemporary proper romance that was highly successful and received praise for its unique premise, endearing characters, and the balance between light-hearted romance and more serious themes. The story focuses on two main characters, Tiffy and Leon, who share a one-bedroom flat but have never met. Leon, a palliative care nurse, works night shifts, while Tiffy works a regular 9-5 job as an assistant editor at a DIY crafting book publisher. To save money, they devise an unusual arrangement where they will each live in the flat at different times and never cross paths.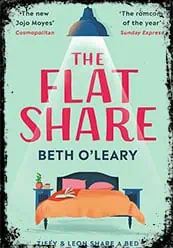 They start communicating through post-it notes left around the flat, leading to a charming and quirky form of getting to know each other. Throughout the novel, they develop a unique bond before they even meet, their relationship evolving from flatmates to friends and then into a romantic relationship. Beth O'Leary also addresses serious topics in the book, such as emotional abuse, trauma, wrongful imprisonment, and the importance of mental health, weaving these themes seamlessly into the storyline.
8. The Summer of Broken Rules by K.L. Walther
The Summer of Broken Rules is a young adult contemporary romance. The story follows Meredith Fox, who is still grieving the loss of her sister Kristen. To honor Kristen's dying wish, Meredith travels to Martha's Vineyard to spend the summer with her cousins for the traditional, competitive family Blitz tournament, a game they've played every summer since Meredith could remember.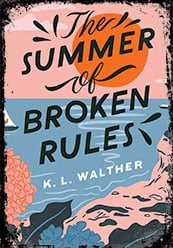 While on the island, she meets a charming guy named Witt, who is facing his struggles. Meredith is torn between keeping her sister's memory alive and moving forward with her own life. She breaks some of the Blitz family rules, something her older sister would never do.
This novel covers grief, love, and self-discovery through relatable characters, the significance of family and traditions, and the sweet romance that develops. Despite dealing with a heavy theme of loss, it offers a balance of humor, romance, and healing, making it a compelling read.
9. Twice Shy by Sarah Hogle
Twice Shy is a psychological pure romance popular for heartwarming storylines. Hogle's second book continues to reflect her unique voice in the genre. The story focuses on Maybell Parrish, who, despite her challenging life, always maintains a hopeful and romantic outlook. When she inherits a house from her great-aunt, she seizes the opportunity for a fresh start in the beautiful Smoky Mountains of Tennessee.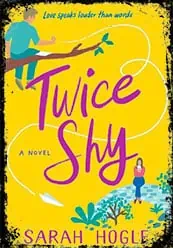 However, the property comes with a surprise: an unexpected co-inheritor, Wesley Koehler. Wesley is the grumpy groundskeeper of the estate and the polar opposite of Maybell. He is serious and practical and thinks the estate should be sold.
The two initially clash due to opposing views on what should be done with the property. But as they spend more time together fixing up the house, they start seeing past their first impressions of each other, and a slow-burning romance develops. You can learn more about self-discovery, personal growth, and overcoming insecurities, adding depth to this light-hearted love story.
10. The Summer I Turned Pretty by Jenny Han
The Summer I Turned Pretty is the first book in a young adult contemporary romance trilogy. The series, including "It's Not Summer Without You" and "We'll Always Have Summer," was published between 2009 and 2011. The story centers around Isabel "Belly" Conklin, who has spent every summer at the beach house of her mother's best friend, Susannah.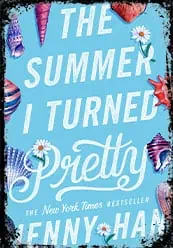 Belly has always looked up to Susannah's two sons, Conrad and Jeremiah. Although Belly's feelings towards the brothers have always been complicated, the summer she turns 16 marks a turning point, as she starts to be noticed in a different light. As the title suggests, the chronicles the changes occurring over this pivotal summer – in Belly's relationships, emotions, and self-perception.
The book explores the transition from childhood to young adulthood, the complexities of first love, and the pain and joy of growing up. Jenny Han's writing style is engaging and authentic, capturing adolescence's excitement, confusion, and heartache. Her characters are relatable, and the book's themes of friendship, love, and coming-of-age resonate with many readers, especially those in their teens.
10 Closed door romance fantasy books
Here are ten fantasy books that fall under the category of "closed-door" romance, where any intimate scenes are either lightly described or happen "off-page":
Uprooted by Naomi Novik: A standalone novel about a girl named Agnieszka, who is chosen to serve a wizard known as the Dragon to keep her village safe from the evil Wood.
The Night Circus by Erin Morgenstern: The story focuses on two young magicians, Celia and Marco, who are pitted against each other in a magical competition but fall in love despite the circumstances.
Stardust by Neil Gaiman: In this fairy-tale fantasy, young Tristran Thorn goes on a journey to catch a fallen star, who turns out to be a woman named Yvaine. Romance ensues amidst their adventures.
Graceling by Kristin Cashore: The heroine, Katsa, a Graceling with the rare ability to kill, meets and falls for Prince Po, who is Graced with combat skills.
Sorcery of Thorns by Margaret Rogerson: Elisabeth, an apprentice at a magical library, and Nathaniel, a sorcerer, develop feelings for each other while fighting to save their kingdom.
Carry On by Rainbow Rowell: A YA fantasy about the love story between Simon Snow, the chosen one, and his vampire roommate, Baz.
Howl's Moving Castle by Diana Wynne Jones: Sophie, cursed by a witch, ends up in the moving castle of the feared wizard Howl and strikes a bargain with a fire demon to break her curse.
The Raven Boys by Maggie Stiefvater: This is the first book in "The Raven Cycle" series where Blue, a non-psychic in a family of psychics, becomes involved with the Raven Boys from a local private school.
Shadow and Bone by Leigh Bardugo: Alina, a soldier, discovers a unique power that could be the key to freeing her country, which draws the attention of the Darkling, a powerful figure in the kingdom.
The Bear and the Nightingale by Katherine Arden: Set in Russia, this is the story of Vasilisa, who must defy societal norms and use her supernatural friends to save her family from a threat.
These novels focus on building a compelling world and developing deep character relationships. While romance is a significant element in these stories, any explicit scenes are kept off-page or are minimally detailed.
10 Closed door sports romance books
The Wall of Winnipeg and Me by Mariana Zapata: Vanessa Mazur knows she's doing the right thing when she quits her job as an assistant to professional football player Aiden Graves, but when he asks her to come back, she finds it hard to refuse.
Wait for It by Mariana Zapata: This story follows a woman named Diana who slowly falls in love with her neighbor, Dallas, a baseball coach.
The Deal by Elle Kennedy: In this college hockey romance, Hannah Wells makes a deal with Garrett Graham to help him pass an exam if he pretends to date her.
The Year We Fell Down by Sarina Bowen: Corey Callahan and Adam Hartley, injured in different sports incidents, face their new reality together in this hockey romance.
Catching Jordan by Miranda Kenneally: Jordan, the female quarterback for her high school football team, falls for the new guy, Ty, and her world is turned upside down.
The Perfect Play by Jaci Burton: Tara Lincoln, a single mom and event planner, falls for the football superstar Mick Riley but is unsure if their worlds are too different.
Moonshot by Alessandra Torre: The daughter of the Yankees' star closer, Ty Rollins, falls for baseball's bad boy, Chase Stern, leading to a complicated romance.
The Friend Zone by Abby Jimenez: This book tells the story of Kristen, who falls in love with Josh, a fireman, and former college athlete, but a health condition makes her wary of starting a relationship.
Flat-Out Love by Jessica Park: College freshman Julie Seagle develops complicated feelings for her host family's son, Matt Watkins, a genius and running enthusiast.
Scoring Wilder by R.S. Grey: This book tells the story of a female soccer player who falls for her off-limits coach.
These books focus on character development and building a romantic relationship, with the sports element providing an exciting backdrop to the story. They are ideal for readers who prefer romance novels without explicit scenes.
10 Closed door historical romance books
Edenbrooke by Julianne Donaldson: Set in the British Regency period, this novel follows Marianne Daventry. She faces love, adventure, and misadventures at the beautiful estate of Edenbrooke.
Blackmoore by Julianne Donaldson: This novel, also set in the Regency era, tells the story of Kate Worthington and her quest to travel to India, which is complicated by heart matters.
A Heart Revealed by Josi S. Kilpack: In this Regency romance, Amber Sterlington's beauty hides a flawed personality until she changes her heart.
The Secret of Pembrooke Park by Julie Klassen: Set in the 1800s, this novel involves mystery, intrigue, and romance as Abigail Foster moves to a derelict manor and uncovers its secrets.
The Silent Governess by Julie Klassen: This novel is about a woman forced to become a silent governess due to a dangerous secret.
An Assembly Such as This by Pamela Aidan: This novel retells Jane Austen's "Pride and Prejudice" from the perspective of Mr. Darcy.
Sorcery & Cecelia or The Enchanted Chocolate Pot by Patricia C. Wrede and Caroline Stevermer: Set in an alternate Regency England where magic exists, two young women struggle with societal pressures and magical mishaps.
Mara, Daughter of the Nile by Eloise Jarvis McGraw: A captivating tale set in Ancient Egypt where a slave girl turned spy finds herself in a dangerous game of political intrigue and, unexpectedly, romance.
Silent in the Grave by Deanna Raybourn: This is the first novel in a Victorian-era series about Lady Julia Grey, who, along with a detective, unravels the mystery of her husband's murder and handles her growing feelings for the detective.
The Maid of Fairbourne Hall by Julie Klassen: Avoiding a marriage she doesn't want, Margaret Macy disguises herself as a housemaid in the home of two brothers, both intrigued by her.
---
These closed-door romance books offer a mix of passion, tension, and emotional depth to keep you engrossed in the characters' love stories.
Read more similar:
20 Best Steamy Historical Romance Novels
15 Steamy Paranormal Romance Novels